*This post may contain affiliate links. Please see my
disclosure
to learn more.
Take your meal prep to the next level with this no bake chocolate peanut butter bar. Not only is it vegan and gluten free, but it is packed with wholesome nutrition that will also make your feel full. You'll have to restrain yourself because you'll find yourself going back for seconds.

Whether you're assembling weekly meal prep or looking for fun new recipes to try, Simply Oatmeal has you covered with a variety of creative food projects. In fact, there are a variety of no bake oatmeal bars that can be served as a power packed breakfast, a midday snack or even as a healthy dessert option, there is no limit to the versatility.

Satisfy your sweet tooth and get the energy boost you need to keep going throughout the busy day. This no bake recipe is easy to follow and only requires a handful of ingredients. Enjoy the combination of sweet chocolate and savory peanut butter with heart healthy benefits of oats, but this flavor profile is only the beginning.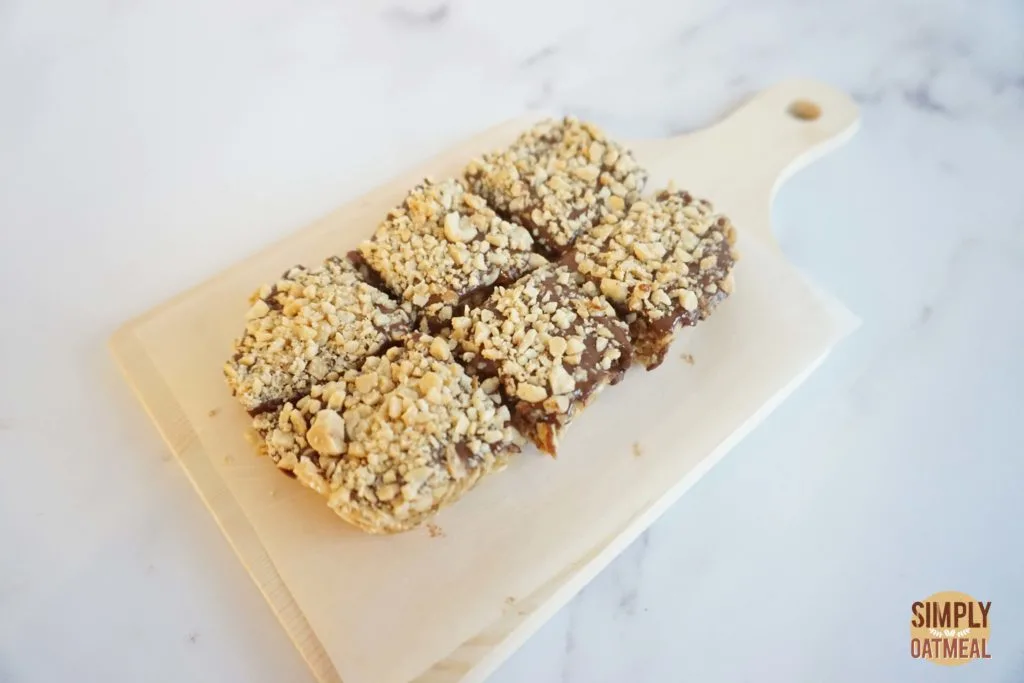 How to make no bake chocolate peanut butter oatmeal bars?
Not only is this recipe fulfilling, but it also nutritional basics like fat, fiber and whole grain carbohydrates. Each bar is packed with energy boosting nutrition that taste delicious and will make you feel full.

You may also like to try the 5 minute homemade peanut butter recipe! It only takes a few minutes to make and tastes incredibly fresh! I really like making my own peanut butter because the recipe allows me to customize with many different add-ins like chocolate, cinnamon and vanilla. With leftover peanut butter, try this Oatmeal with Peanut Butter!

Assembling no bake chocolate peanut butter oatmeal bars is really easy. All you need is a mixing bowl to combine all of the ingredients and 30 seconds in a microwave to melt the chocolate. Here are the quick and easy steps to follow:
No Bake Chocolate Peanut Butter Oatmeal Bars Ingredients: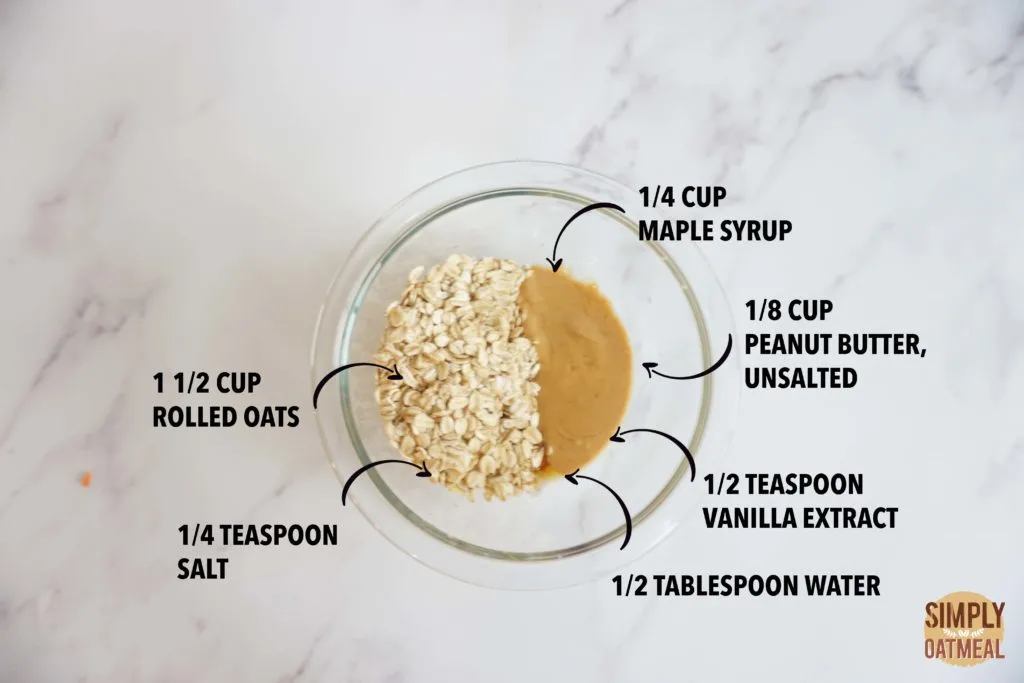 Chocolate chips
Peanut butter
Maple syrup
Vanilla extract
Salt
Water
Mix the rolled oats, peanut butter, maple syrup, vanilla extract, salt and a splash of water. If the oatmeal mixture seems to dry and crumbly, add an extra splash of water.

Prepare and 8×8 inch baking pan by lining it with parchment paper. Put the oatmeal mixture into the prepared pan and press it down so that it is packed into an even layer.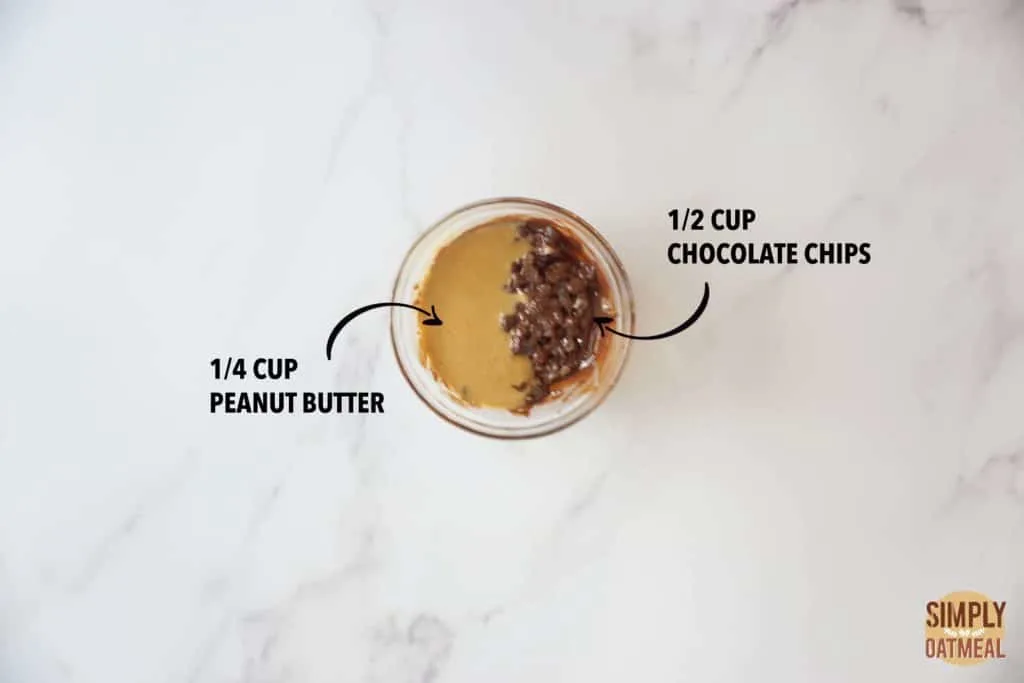 In a small bowl, mix the chocolate chips and peanut butter. Use 10 second intervals in a microwave to melt the sauce.

Spread the chocolate peanut butter sauce over the top of the oatmeal base. Allow the bars to harden the the fridge for 1 hour or the freezer for 15 minutes before trying to cut into 2×2 inch pieces.
No Bake Chocolate Peanut Butter Oatmeal Bars Tips
Enjoy a healthy dose of chocolate and peanut butter in this tasty no bak oatmeal bars recipe. The semi-sweet mixture takes the richness of chocolate and combines it with savory peanut butter. Here are a few tips to improve your no bake bars and keep them tasting fresh every time you take a bite.
Substitute almond butter, cashew butter or sunflower seed butter for alternative variations to this delicious combinations
Use unsalted and unsweetened nut butters when preparing this recipe
Use dark chocolate chips and unsweetened cocoa to keep the decadent taste and not be overwhelmed by sugar.
Rolled oats are the preferred type of oats for this recipe, but quick oats can also be used. Steel-cut oats are really chewy and are not recommended to eat raw.
For a double chocolate flavor, add a tablespoon of cocoa powder powder to the recipe. Consider adding a splash of water when preparing to adjust the mixture and account for the added dryness.
If the mixture is too crumbly when preparing, then add an extra splash of water so that the oatmeal base binds together.
The leftover will last up to 5 days when sealed in an airtight container and stored in the fridge.
MORE TASTY NO BAKE OATMEAL BARS RECIPES: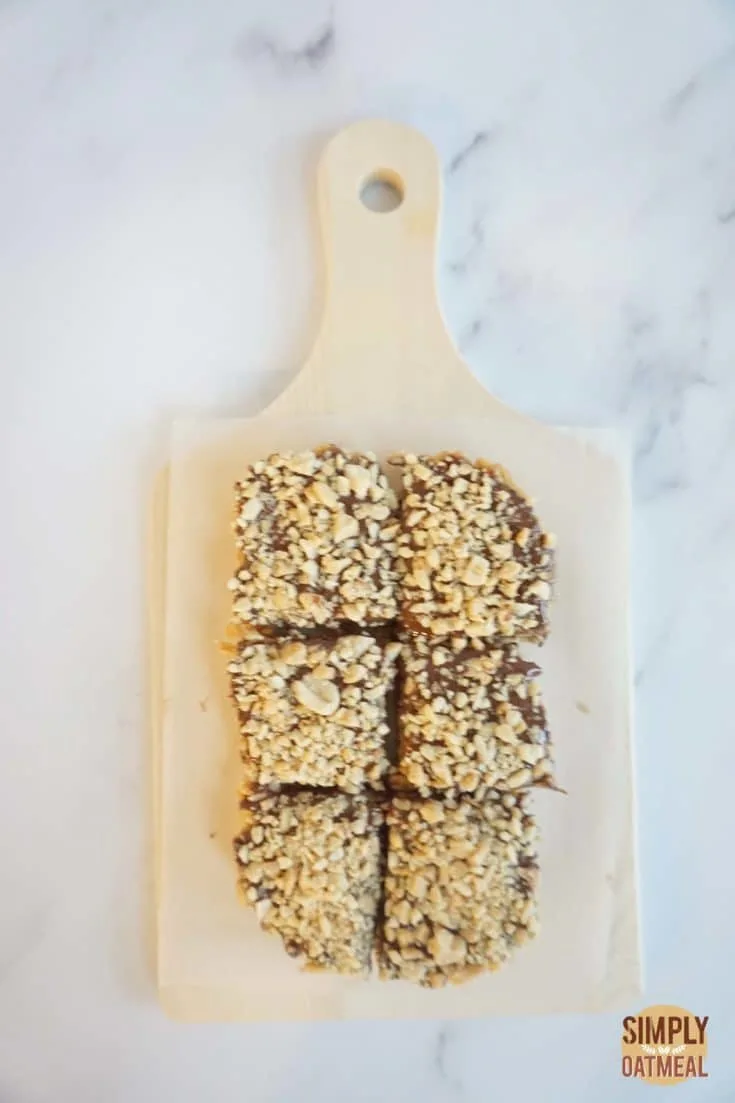 Yield:

16 Bars
No Bake Chocolate Peanut Butter Fudge Oatmeal Bars Recipe
Additional Time:
10 minutes
Fall in love with breakfast all over again when you dig into a serving of raspberry chocolate overnight oats. The mouth watering double chocolate is not rich or overpowering, and it aligns perfectly with the hearty oats.
There are a number of health benefits from eating oats, and cocoa also offers up a few of its own. This meal isn't like eating a candy bar because the chocolate is rich, but not sweet
Meal prep the overnight oats in a mason jar for a quick grab and go. No cook oatmeal is a great breakfast, and also works well for an afternoon snack when you're looking for a pick me up.
Ingredients
1½ cups rolled oats
¼ teaspoon salt
¼ cup maple syrup
½ tablespoon water
½ teaspoon vanilla extract
½ cup chocolate chips
¼ cup roasted peanuts, chopped
Instructions
Line an 8×8 inch baking pan with parchment or wax paper, and set aside.
In a medium sized bowl, stir together the maple syrup, ¼ cup peanut butter, water, vanilla and salt until it becomes smooth, then fold in the rolled oats.
Transfer the oatmeal mixture to the pan, use a second sheet of parchment on top to press it evenly and pack the mixture into the bottom of the pan.
In a separate bowl, carefully melt the chocolate and ½ cup peanut butter. Use a double boiler or a microwave safe bowl to heat in 20 second intervals in the microwave. Stir until smooth and pour the chocolate peanut butter sauce on top of the oatmeal crust inside the pan.
Sprinkle chopped roasted peanuts on top of the chocolate layer. Refrigerate for 1 hour or freeze for 15 minutes so that it becomes firm enough to cut squares.
Lift the edges of the parchment paper to remove the crust from the pan. Place it on a cutting board and cut 2x2 inch bars (16 pieces).
Notes
Make Ahead: Meal prep the no bake chocolate peanut butter oatmeal bars 1 day in advance. Store them in a sealed container in the refuge and save at room temperature.
Storage: Store the bars in an airtight container in the fridge for up to 5 days or the freezer for 1 month.
Nutrition Information:
Yield:
16
Serving Size:
1
Amount Per Serving:
Calories:

133
Total Fat:

9g
Saturated Fat:

5g
Trans Fat:

0g
Unsaturated Fat:

4g
Cholesterol:

15mg
Sodium:

45mg
Carbohydrates:

13g
Fiber:

1g
Sugar:

6g
Protein:

2g
Nutrition information isn't always accurate.