*This post may contain affiliate links. Please see my
disclosure
to learn more.
Are you searching for a healthy, tasty, and gluten-free pancake recipe? If yes, then your search ends here with this sweet potato oatmeal pancake recipe.
Serve with yogurt and berries or nut butter and syrup! Try the best oatmeal pancake recipes that take less than 20 minutes to prepare with hassle free cooking instructions.
Pancakes are widely famous for their marvelous taste. So, if you are looking for a delicious breakfast recipe that is easy to prepare and tastes amazing, then sweet potato oatmeal pancakes will be so apt for you!
Oven baked sweet potato, maple syrup and whole grain oats are a magical combination to start the day with! Additionally, the classic flavor combination pairs extremely well with your favorite pancake toppings.
Here at Simply Oatmeal, we've assembled the best whole grain oat recipes so that you never getting tired of having oats in your diet. From oat flour waffles to banana butterscotch oatmeal pancakes to lemon ricotta oatmeal pancakes, we have you covered with tasty and nutritious recipes.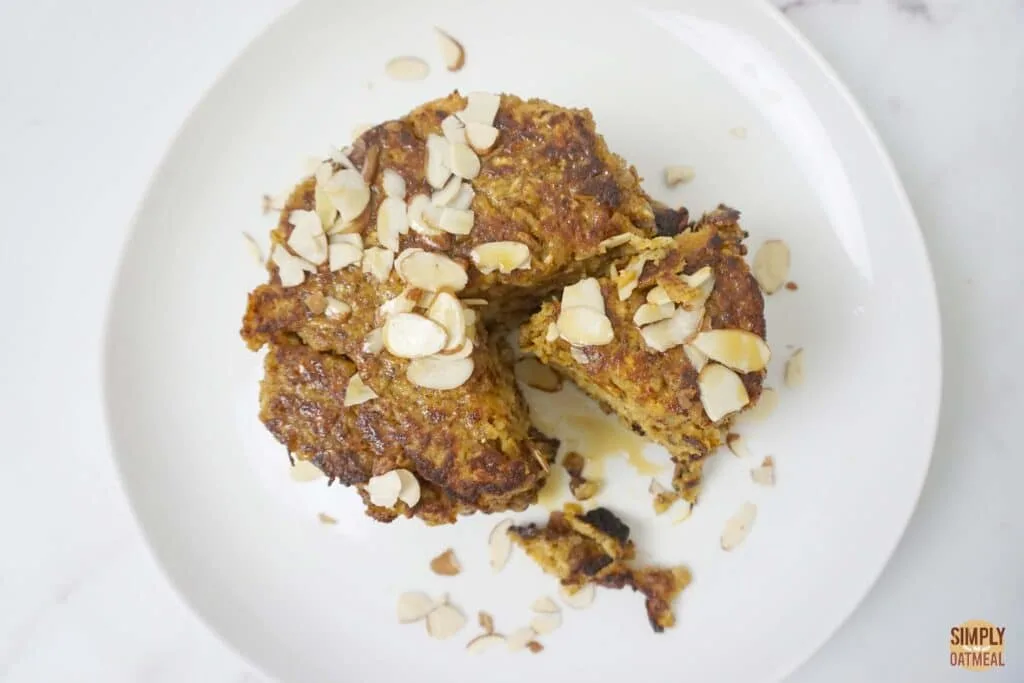 You will love sweet potato oatmeal pancakes because…
Require just 5 minutes to gather ingredients together and mix the oatmeal pancake batter.
Healthy recipe that contains plant based protein, dietary fiber and healthy fats.
Balance of sweet, savory and aromatic goodness.
Roasted sweet potato base imparts a delicious fall flavor!
Needless to say, this recipe offers a lip-smacking taste that every mouth craves for. What's more, this gluten-free and nutritious preparation will be a perfect breakfast for your kids and family members.
It's guaranteed that everyone who will taste these sweet potato oatmeal pancakes is bound to love and enjoy its mouthwatering taste.
In addition to the health benefits of oats, the pancake features plant-based protein and dietary fiber along with an array of essential vitamins and minerals.
This pancake technique was new for me, but I was willing to experiment with mashed sweet potato purée combined with rolled oats. I'm sure glad that I did because this batter turned out to be fantastic!
Level up the taste of your breakfast game by making a sweet potato and maple oatmeal pancake. If your schedule permits a bit of time to panfry a pancake, then this healthy recipe is the foundation for tons of exciting topping options!
Why eat sweet potato oatmeal pancakes?
The two main ingredients of this dish are sweet potato puree and oats. Well, oats are an incredibly nutritious ingredient that provides an array of health benefits. For example, this ingredient is a great source of antioxidants, vitamins, fibers, and minerals.
Oatmeal offers a number of nutritional benefits that will even protect your colon and heart. The anti-inflammatory and anti-itching property of oats will ensure adequate prevention against colon cancer, skin irritation, and coronary heart disease.
Similarly, sweet potatoes are a potent source of various essential minerals, for example, selenium, calcium, and iron. Plus, they contain vitamin C, fibers, and Vitamin B.
Sweet potatoes offer protective effects from duodenal and gastric ulcers. Even more, this ingredient is great for maintaining good eye health and managing type 2 diabetes.
Plus, oats are completely gluten-free, and this is surely an important benefit to this recipe. Nutrient-rich oatmeal prevents excessive hunger pains and helps you maintain a precise weight loss regime. What's more, oats are easily available and an affordable ingredient.
The antioxidants and fiber content collectively helps your body to lower the cholesterol level, improve intestinal health, and stabilize blood sugar. Thus, if you or your family members are looking for wholesome goodness, this sweet potato oatmeal pancake will definitely be an excellent choice option for you!
How to make sweet potato oatmeal pancakes?
The good thing about this recipe is that it requires minimal cooking and no hassle. All of us now have a busy and hectic life schedule, and it's totally justified that you may not have enough time to prepare a complex dish.
But, no need to be worried. Not only is this particular pancake recipe extremely easy to prepare, but it also extends a myriad of health benefits to all.
Sweet potato and maple oatmeal pancakes are a great way to satisfy your craving for something hearty, delicious and nutritious. The crunchy oats and caramelized sweet potato tastes amazing.
There are no artificial flavors or sweeteners added to this healthy recipe. Treat yourself to a meal packed with superfoods that taste delicious at anytime of day!
Sweet Potato Oatmeal Pancake Ingredients: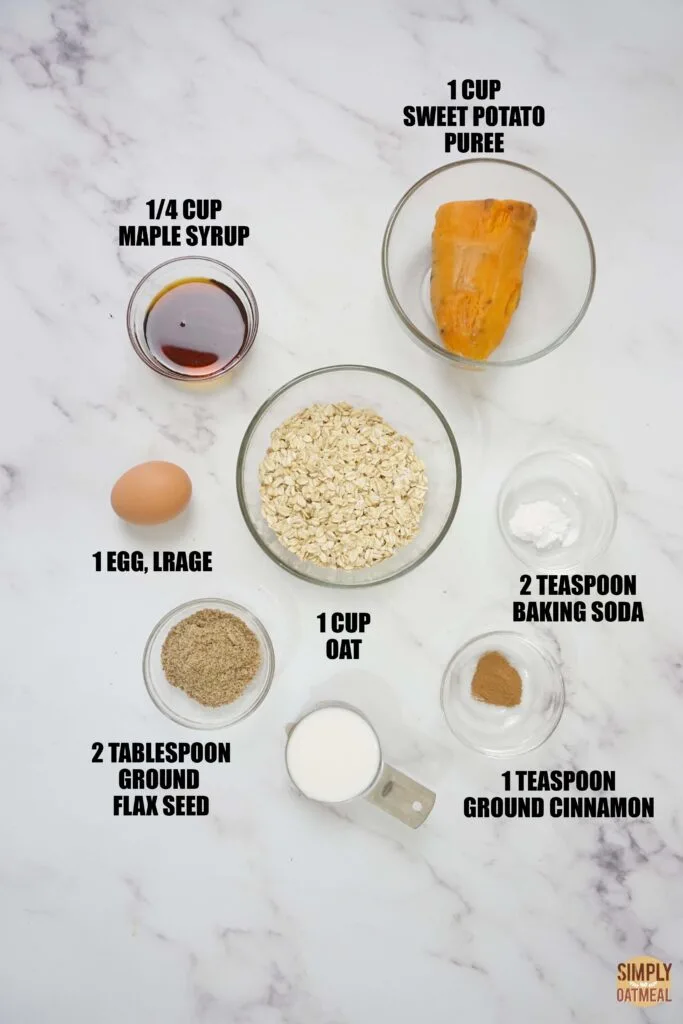 Old fashioned rolled oats
Sweet potato puree
Maple syrup
Almond milk
Eggs
Flaxseed
Baking powder
Cinnamon
In a medium sized bowl, combine the ingredients and let sit for 5 minutes for the oats can moisten
Heat pan over medium heat, melt a teaspoon of coconut oil and scoop ⅓ cup of batter into the hot pan. Flatten with the back of a spoon to make a disk shape pancake.
Cook until for about 2 minutes on each side or until the bottom is caramelize light brown.
Continue cooking all of the batter until finished.

Top with fresh berries, crushed nuts, maple syrup or any pancake toppings you enjoy most.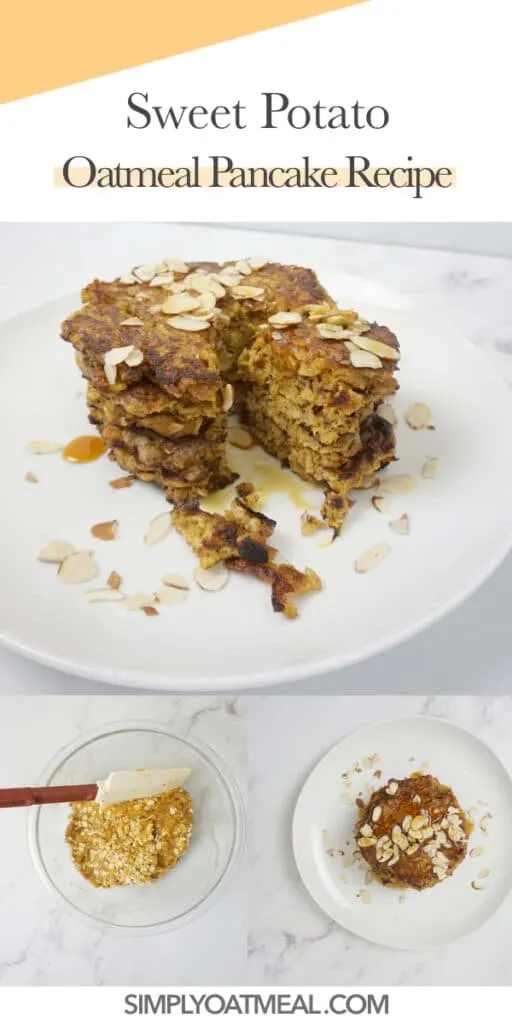 Sweet Potato Oatmeal Pancake Tips:
So, you have already revealed the health benefits of oats and sweet potato. It's further assured that the combination of these two core ingredients is a perfect addition to your balanced diet.
Eager to try out this amazing recipe today? If yes, then here are a few cooking tips for you that will make this preparation even more interesting and elevate its taste.
Sweet potato and maple oatmeal pancakes will taste much better if you level up your cooking skills and follow these handy tips.
Sweet potato: Please make sure to prepare a fine, smooth, and lump-free sweet potato puree for making this pancake recipe. Roast a sweet potato in the oven or purchase a can of sweet potato puree, the choice is yours. The puree adds a sweet and savory flavor that blends well with the oats.
Maple syrup: The combination of maple syrup with the oats and sweet potato is seamless. The aromatic spice just screams fall and winter flavors.
Oats: Rolled oats are preferred for giving this recipe extra crunch. However, quick oats or oat flour can also be used.
Fruit: Cranberries accent the sweet potato and maple components, but you can select any fruit combinations you wish. Diced apple, sliced banana, dates, figs, persimmons and raisins are some classic additions to consider.
Nuts: Walnuts and pecans pair well with sweet potato, maple syrup and toasted oats. However, you could substitute for any nuts such as almonds, hazelnuts, peanuts or pepita seeds.
Gluten free: Oat are naturally gluten free, however certified whole grain oats are recommended to avoid wheat contamination from the harvesting and packaging process.
Sweetener: Sweeten the panfried oatmeal cakes by adjusting the maple syrup to your taste.
Consistency: The pancake batter is drier compared to other recipes we tried, which makes it necessary to add the second egg as a binding agent. Stir in one egg and check the consistency, if necessary add the second to moisten the batter and bind the oats to the sweet potato.
High heat: Begin panfrying on a high temperature because it forces the bottom of the cake to set and hold its shape. Then, reduce the temperature to medium heat finish the bottom before flipping. The results are fluffy pancakes with a moist center crumb. Careful, the sweet potato does caramelize quickly, so watch how long you keep the high heat and the bottom of the cake can burn.
Make ahead: Oatmeal pancakes are an easy make ahead and can be reheated to serve as a tasty breakfast or delicious grab and go snack. Enjoy at room temp, or quickly rewarm the pancakes when the time is right.
Storage: Oatmeal pancakes stay fresh in an airtight container for up to 3 days, or can be frozen for up to 3 months. Frozen pancakes can be thawed in the refrigerator overnight, then brought up to room temperature to serve or reheat.
GRAB THESE OATMEAL PANCAKE RECIPES: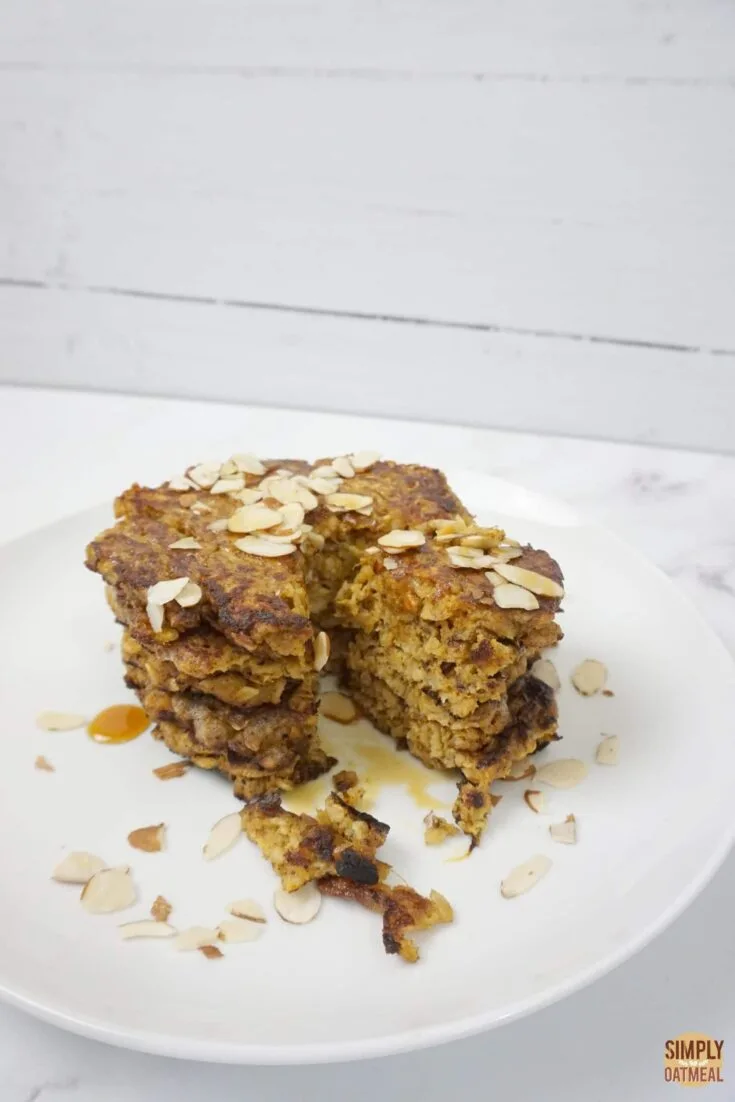 Yield:

8 pancakes
Sweet Potato Oatmeal Pancakes Recipe
Start your morning the right way with a serving of sweet potato pancakes! This healthy pancake recipe is gluten free because it is made with oats and sweet potato puree, which are packed with dietary fiber so you'll feel full all day long.
Ingredients
1 cup rolled oats
1½ cup sweet potato puree
¼ cup maple syrup
2 egg
2 tablespoons ground flaxseed
2 teaspoon baking powder
1 teaspoon ground cinnamon
Instructions
In a medium bowl, whip the eggs with the almond milk and maple syrup, then add the oats. Let sit for 5 minutes.

Fold in the sweet potato, flaxseed, baking powder and cinnamon.

Heat a skillet to medium heat and and a tablespoon of coconut oil. Use 1/3 cup to portion the batter into the hot skillet.
Cook for 2-3 minutes per side on medium heat until the edges set and the bottom becomes golden brown. Then, flip and cook the other side for another 2 minutes.

Repeat until the all batter is finished.
Serve with a tablespoon of almond butter, diced apples and warm maple syrup!

Notes
Fresh or canned: Make homemade sweet potato puree instead of using canned. Roast a medium sized sweet potato in the oven at 350°F for about an hour. Peel and mash to make fresh sweet potato puree.
Storage: Sweet potato oatmeal pancakes can be stored in an airtight container in the refrigerator for up to 5 days, or frozen parchment paper between each layer for up to 3 months.
Raw pancake batter is not recommended for longterm storage because the baking powder has already been activated and released part of the gas, therefore the pancakes may not be quite as fluffy as when cooked fresh.
Nutrition Information:
Yield:
2
Serving Size:
1
Amount Per Serving:
Calories:

527
Total Fat:

12g
Saturated Fat:

2g
Trans Fat:

0g
Unsaturated Fat:

9g
Cholesterol:

186mg
Sodium:

623mg
Carbohydrates:

91g
Fiber:

12g
Sugar:

35g
Protein:

17g