*This post may contain affiliate links. Please see my
disclosure
to learn more.
Build layers of a sweet and spicy flavor that will make you want to go back for more! Not only is this Korean bbq granola super delicious, but it gives you a boost of energy that'll get you back in action.
Kickstart your day with an energy packed serving of oats. Here are homemade granola recipes that combine dried fruit, nuts, and seeds with the heartiness of whole grain oats.

From sweet potato maple granola to french vanilla almond granola, we've rounded up the best tasting recipes for you. Save money and avoid packaged food temptations with these healthy eats.
You will love this Korean bbq granola because…
Takes only 10 minutes to prepare.
Packed with nutritional plant based protein, healthy fats and dietary fiber that'll energize your day!
Perfect amount of sweet, spice and umami flavor.
Tastes just like a crunchy ban chan with a hearty oatmeal base, its absolutely delicious!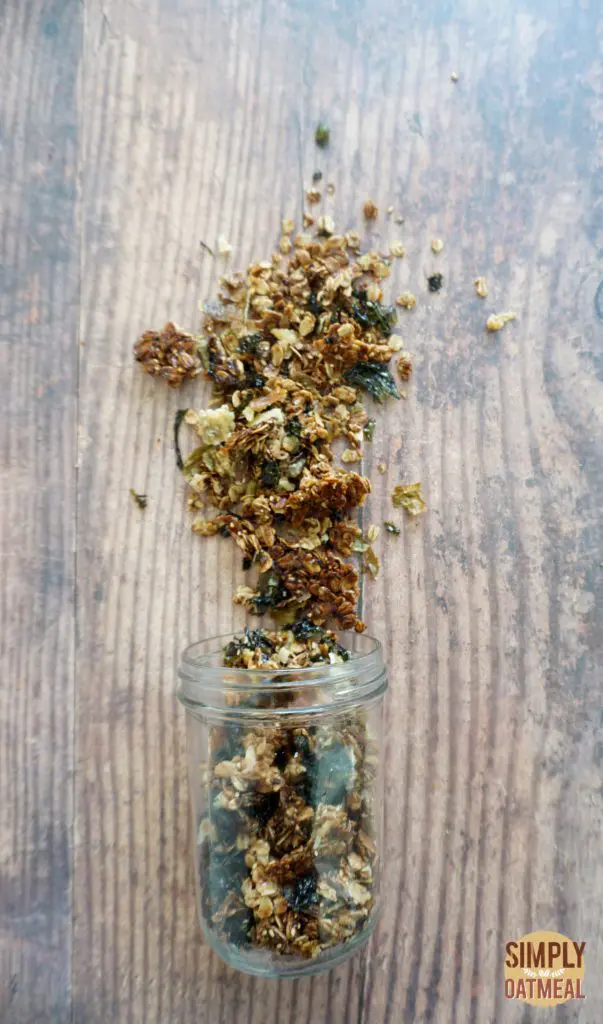 Whether you are searching for a flavorful new snack idea, or need a tasty topping for your rice porridge. Absorb the complete benefits of oats and let this Korean bbq granola be the answer for you.
How to make Korean bbq granola?
This recipe is a combination of sweet oat clusters with spicy and umami flavored add-ins. Grab a short list of ingredients to make this delicious Korean bbq granola come to fruition.
Korean BBQ Granola Ingredients: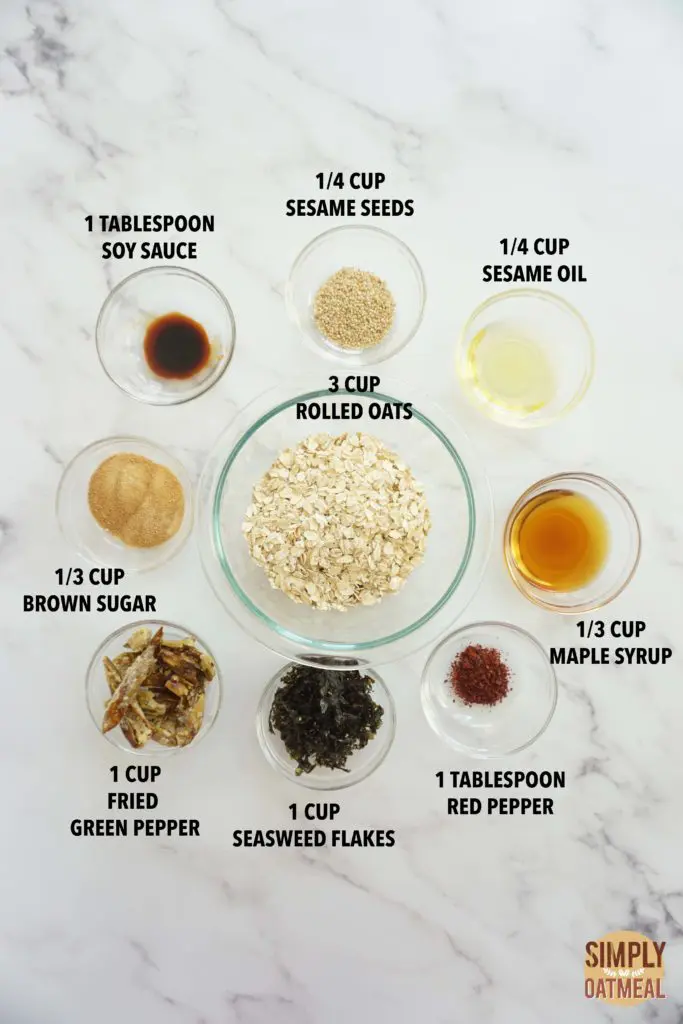 Brown sugar
Sesame seeds
Korean style red pepper
Maple syrup
Sesame oil
Soy sauce (gluten-free)
Seaweed flakes
Fried green pepper
In a medium sized bowl, combine the rolled oats with the brown sugar, sesame seeds and red pepper.

In a small bowl, stir together the maple syrup, sesame oil and soy sauce. Pour the wet ingredients over the dry ingredients and mix well.
Spread the oat mixture onto a baking sheet lined with parchment paper. Bake at 350°F for about 25 minutes until the edges of the granola begin to turn golden brown and crisp up slightly.

Remove the pan from the oven and allow the granola to cool to room temperature before adding the seaweed flakes and fried green peppers.
Korean BBQ Granola Tips
There are a few additional tips and tricks to making this the best granola with Korean seasoning and spice. Read through the following suggestions for a few simple adjustments that will improve the overall taste of this preparation.
Spicy: Spiciness is a signature flavor of Korean cuisine. This recipe captures spice in two different ways. First layer comes from the traditional Korean style red pepper flakes that add a base of heat to the crunchy oat clusters. Secondly, we incorporate a delicious fried chili pepper add-in because it is a traditional ban chan that is served with meals. Fair warning, the fried peppers can be addictively spicy!
Sweet: Sweetness compliments the bold spice. Add as much brown sugar and maple syrup as you need to match the sweetness for your personal preference. Coconut sugar, date sugar, palm sugar, agave and honey are substitutes for the brown sugar and maple syrup.
Umami: Umami is the fifth taste that is recognized by our tastebuds. Seaweed, sesame oil and soy sauce are all ingredients that impart a large amount of umami into this granola recipe.
Oats: Rolled oats are preferred because they are larger and thicker pieces that result in sizable clusters. Quick oats have smaller and thinner pieces that produce a crumbly finished result.
Nuts: Chestnut and walnuts are commonly used in Korean cuisine, so those are the recommendations for nutty additions to make to this recipe.
Seeds: Sesame seeds are already a part of this granola recipe, but chia seeds, flaxseeds and hemp seeds are some more superfood ingredients to add to this freshly baked pantry staple.
Vegan: This recipe is vegan. Avoid using honey if you are substituting the sweetener for another.
Gluten free: Although oat are gluten free, certified GF oats are recommended if you are on a strict celiac diet. Furthermore, regular soy sauce contains wheat. Select gluten free soy sauce to make this granola wheat free.
Clusters or crumble: When baking, gently stir the granola to avoid breaking up the big clusters of oats. Stirring frequently results in crumbly pieces of granola rather that clumps of crunch. Rotate the pan while baking to promote even cooking throughout.
Storage: Fresh baked granola remains fresh for up to 3 weeks when stored at room temperature inside an airtight container.
More granola recipes for your next meal prep: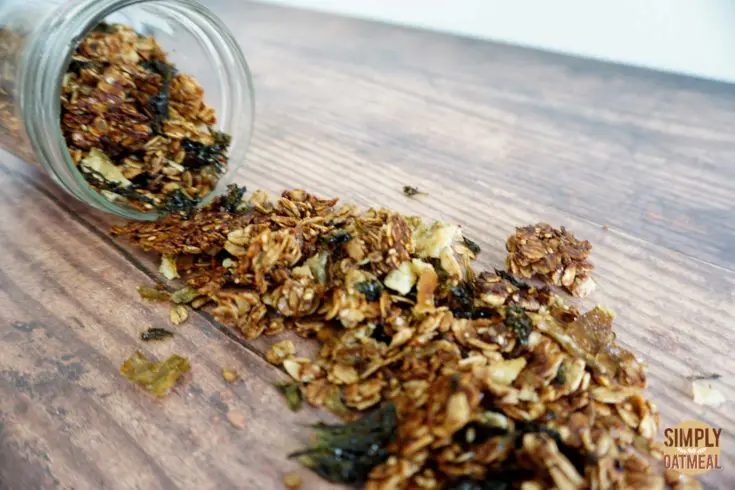 Yield:

16 Servings
Korean BBQ Granola Recipe
Korean bbq granola is a sweet and spicy combination of umami rich flavor. Make adjustments to the levels of sweetness and spiciness to match your personal preference.
Ingredients
3 cups rolled oats
⅓ cup brown sugar
¼ cup sesame seeds
⅓ cup maple syrup
¼ cup sesame oil
1 tablespoon soy sauce
Instructions
Preheat oven to 350 degrees F. Line two baking sheets with parchment paper.
In a large bowl, combine the oats, sugar, sesame seed, and red pepper.
In a separate bowl, combine maple syrup, sesame oil, and soy sauce. Combine both mixtures and fully coat the oats.

Spread evenly onto both sheet pans. Bake for 25-30 minutes, gently stirring half way through to achieve an even color.

Remove from oven and transfer into a large bowl. Add the seaweed flakes and fried green peppers, mix until evenly distributed.
Cool to room temperature and store in airtight containers. Stays fresh for about 3 weeks.

Notes
Make it vegan and gluten free!
Adjust the amount of sweetness if necessary.
Store inside an airtight container for up to 3 weeks.
Nutrition Information:
Yield:
16
Serving Size:
½ cup
Amount Per Serving:
Calories:

135
Total Fat:

5g
Saturated Fat:

1g
Trans Fat:

0g
Unsaturated Fat:

4g
Cholesterol:

0mg
Sodium:

60mg
Carbohydrates:

20g
Fiber:

2g
Sugar:

8g
Protein:

3g
Nutrition information isn't always accurate.