*This post may contain affiliate links. Please see my
disclosure
to learn more.
Enjoy the taste of blueberries, almonds and aromatic spice combined with the heartiness of whole grain oats! Starting off the busy morning with oats is a great way to energize your mind and body to get the day going in the right direction.
Here are easy granola recipes that can be prepped in just 10 minutes. Meal prep individual batches and store them in an airtight container. Grab a handful for a quick snack, or fill a bowl of cereal with milk for breakfast, either way your next meal is ready when you need it most.

From cashew curry granola to coconut lime pineapple granola, we've come up with tasty oat clusters that will satisfy your hunger cravings. The classic flavors blend with oats so well that you'll forget about the fact that you're actually eating a healthy meal.
You will love this blueberry muffin granola because…
All you need is 10 minutes to prepare this freshly baked recipe.
Whole grain nutrition containing plant based protein, dietary fiber and healthy fats.
Healthy meal prep that'll energize your mind and body!
Perfect blend of sweet, spice and crispy bits.
Tastes just like blueberry muffins packed into crunchy oat clusters, its absolutely delicious!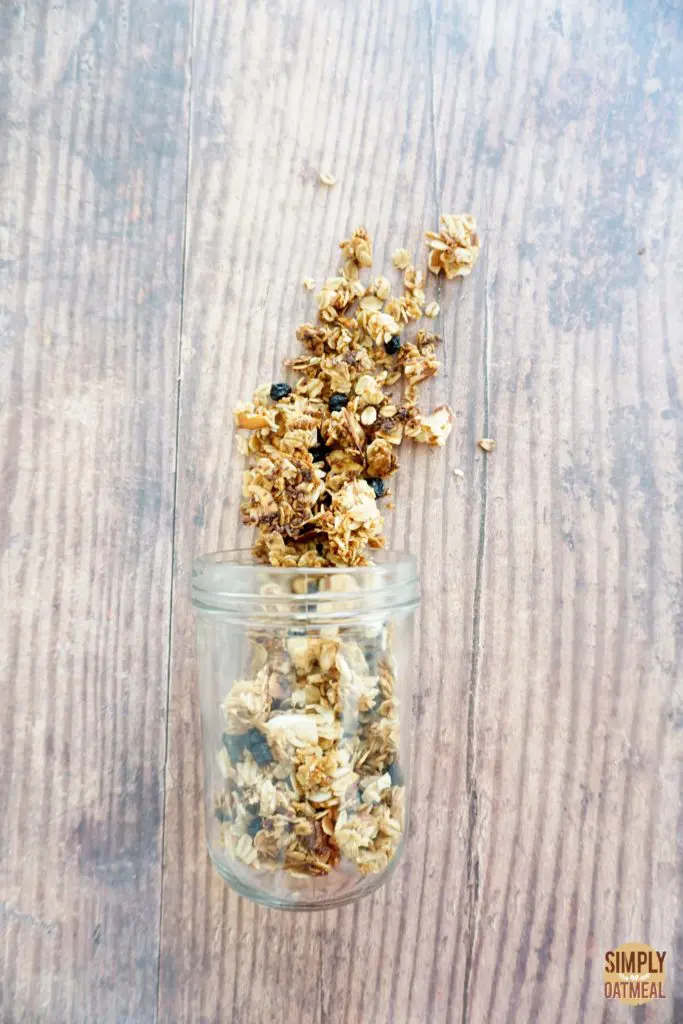 Oats are packed with heart-healthy benefits in addition to being a valuable source of plant based protein, dietary fiber, and an array of essential vitamins and minerals. This insanely delicious blueberry muffin granola will also give your body an antioxidant boost as an added bonus.
How to make blueberry muffin granola?
Depending on your preference, adjust the base ingredients like spice, sweetness or nuttiness. Prepare the oat mixture, bake until fully crisped up and store in airtight containers for ready to eat meal at any time of day.

It's that easy! Here are a few fixings that you need to get this party started:
Blueberry Muffin Granola Ingredients: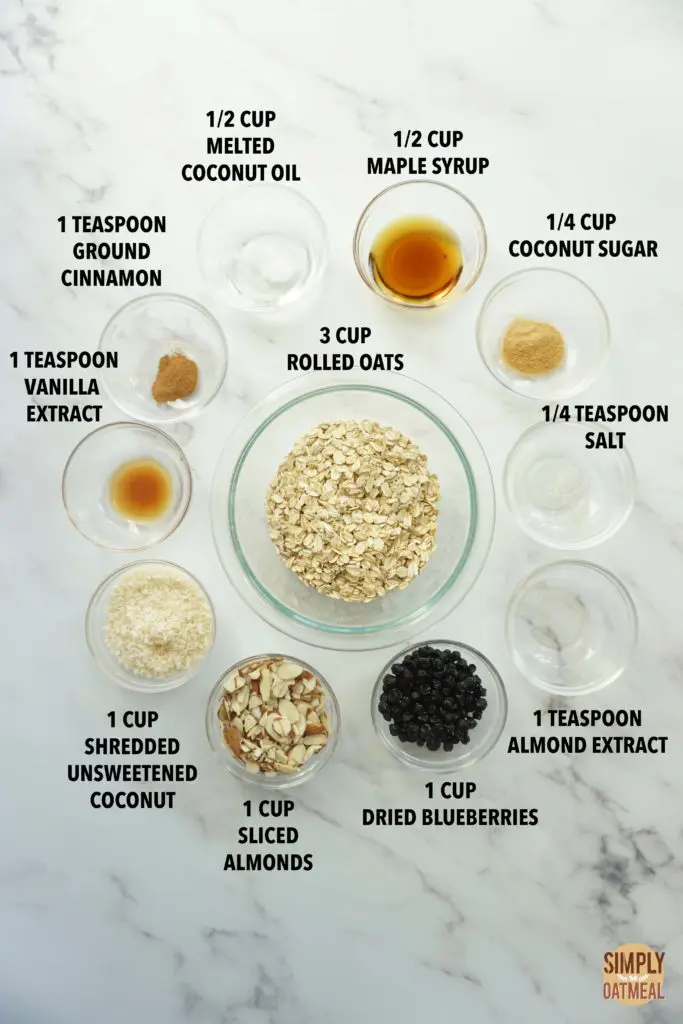 Almonds
Unsweetened coconut
Coconut sugar
Cinnamon
Nutmeg
Salt
Maple syrup
Coconut oil
Vanilla extract
Almond extract
Dried blueberries
Mix the oats, coconut milk, almonds, coconut, sugar, cinnamon, nutmeg and salt in a bowl.

In a separate bowl, stir together the maple syrup, coconut oil and both extracts. Combine the wet ingredients with the dry ingredients and mix well so that the oats are fully coated with the liquid.
Spread the mixture evenly onto a baking sheet lined with parchment paper. Bake at 325°F for about 35 minutes while stirring gently every 10 minutes to promote even cooking.

When finished baking, add the dried blueberries and cool to room temperature before storing in airtight containers.
Blueberry Muffin Granola Tips:
Calling all blueberry lovers! You're in the right place! Here are some tips and tricks to improve your blueberry muffin granola and make it the best tasting whole grain oats that you ever had:
Blueberries: Antioxidant rich and packed with beneficial vitamins and minerals, blueberries add valuable nutrition to your balanced diet.
Oats: Rolled oats work best when preparing this granola recipe because they retain large clusters. Quick oats are thinner and smaller bits, which result in small crumbly pieces.
Dried fruit: Dried blueberries are the main focus of this recipe, however you could easily substitute for a wide range of other fruits that compliment a muffin-like taste. Dried apples, banana, cranberries, dates, figs and raisins are just a few variations to consider.
Nuts: Almonds and coconut are bold flavored additions that stand out in the taste of this baked good. Pecans, pine nuts and walnuts are a few nut options that also pair well with blueberries..
Seeds: Chia seeds, hemp seeds and flaxseeds are some superfood options to easily add in this baked recipe.
Vegan: This recipe is vegan. Just avoid using honey if you substitute the sweetener.
Gluten free: Although oat are gluten free, certified oats are recommended if you follow a strict celiac diet.
Sweetener: Sweeten the oats to your personal preference. Feel free to substitute for any sweetener like agave, honey or stevia.
Clusters or crumble: Gently stir the granola while baking. Large clusters are easily broken apart if you stir aggressively, so it's best to stir infrequently and spread the granola evenly on the baking sheet so that it crisps into a light golden brown.
Storage: Cool the granola and store in airtight containers for a handy grab and go snack at anytime. The oat clusters will stay fresh for about 3 weeks when kept at room temperature.
More tasty granola recipes: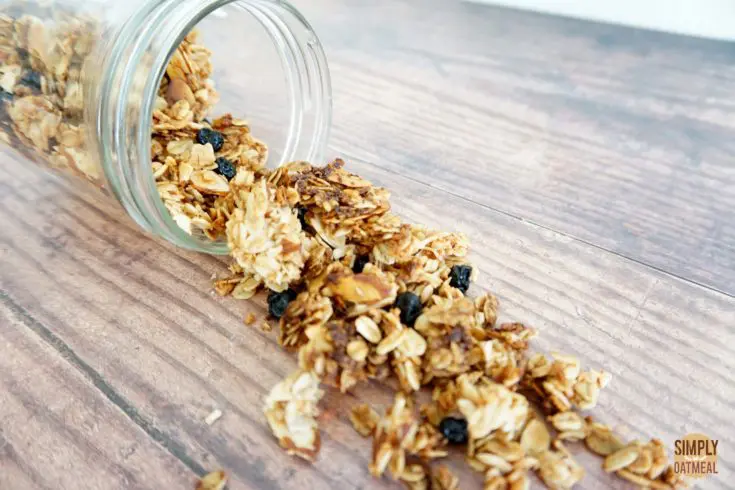 Yield:

16 Servings
Blueberry Muffin Granola Recipe
Flavor packed clusters with tons of dried blueberries make up this insanely addicting blueberry muffin granola. Top a scoop of greek yogurt, enjoy as cereal with milk or simply enjoy by the handful!
This vegan and gluten free recipe harnesses the nutrition of whole grain oats with a fresh baked taste.
Ingredients
3 cups old-fashioned rolled oats
1 cup sliced almonds
1 cup shredded unsweetened coconut
¼ cup coconut sugar
1 teaspoon ground cinnamon
¼ teaspoon ground nutmeg
¼ teaspoon salt
½ cup maple syrup
½ cup melted coconut oil
1 teaspoon almond extract
1 teaspoon vanilla extract
1 cup dried blueberries
Instructions
Preheat oven to 325°F. Line two baking sheets with parchment paper.
In a large bowl, combine oats, almonds, coconut, coconut sugar, cinnamon, nutmeg, and salt.
In a separate bowl, mix the maple syrup, coconut oil, almond extract and vanilla extract.

Pour the wet ingredients over the dry mixture, combine until the oats are fully moistened.
Evenly spread mixture onto both baking sheets.

Bake granola at 325°F 35-40 minutes or until the granola turns a slightly golden brown color around the edges. Stir gently trying not to break up the large cluster that are beginning to form.
Remove from oven, add the dried blueberries and let granola cool on the baking sheet. Break the granola into clusters and transfer to an airtight container.

Notes
Make it vegan and gluten free!
Adjust the amount of sweetness if necessary.
Store inside an airtight container for up to 3 weeks.
Nutrition Information:
Yield:
16
Serving Size:
½ cup
Amount Per Serving:
Calories:

239
Total Fat:

15g
Saturated Fat:

9g
Trans Fat:

0g
Unsaturated Fat:

4g
Cholesterol:

0mg
Sodium:

37mg
Carbohydrates:

24g
Fiber:

4g
Sugar:

11g
Protein:

4g
Nutrition information isn't always accurate.