*This post may contain affiliate links. Please see my
disclosure
to learn more.
Granola combined with oven baked sweet potato and maple syrup is a magical way to invite the taste of fall into your home! The classic flavor combination pairs extremely well with crunchy oven baked granola.
Serve as an easy grab and go snack or crumbly topping for your yogurt and berries! Try the healthy granola recipes that take less than 10 minutes to prepare with hassle free oven baking directions.

From oatmeal raisin cookie granola to dark chocolate cherry quinoa granola, we have you covered. Here at Simply Oatmeal, we've assembled the best ways to prepare whole grain oats without getting tired of eating the same combinations all the time.
You will love this sweet potato maple granola because…
Requires just 10 minutes to gather ingredients together and mix the oat based.
Healthy meal prep that contains plant based protein, dietary fiber and healthy fats.
Balance of sweetness, crunchiness and aromatic goodness.
Has a hint of sweet potato but not overwhelming, its full of delicious autumn flavor!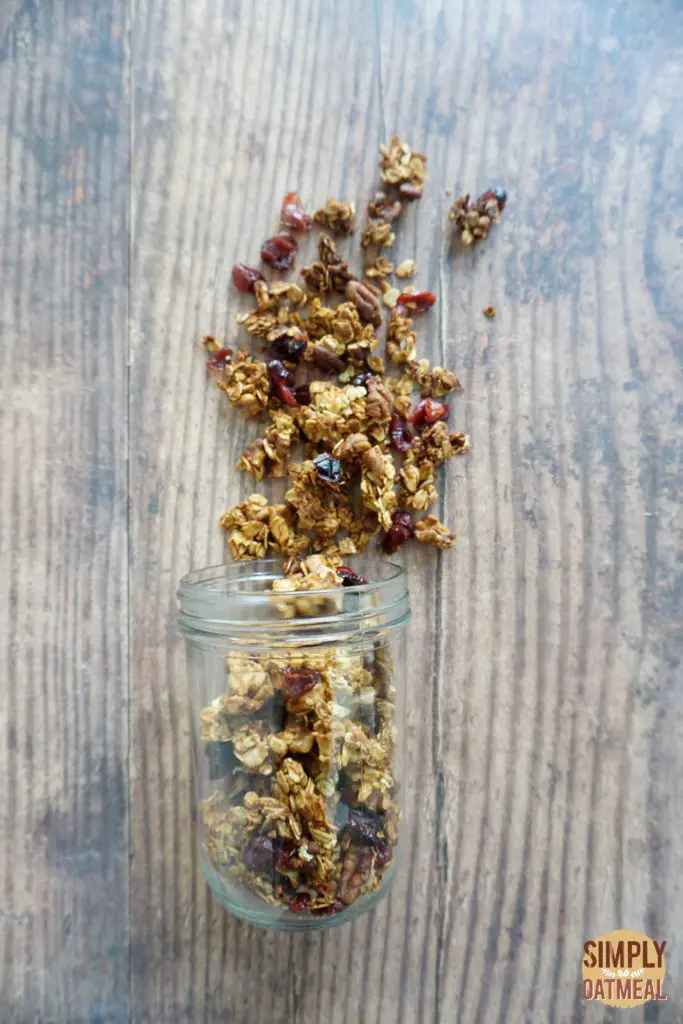 In addition to the health benefits of oats, the baked snack features plant-based protein and dietary fiber along with an array of essential vitamins and minerals.

This granola technique was new for me, but I was willing to experiment with mashed sweet potato purée. I'm sure glad that I did because this batch turned out to be fantastic!

Level up the taste of your breakfast cereal by making a crusty sweet potato and maple granola. If your schedule permits a bit of time to for freshly baked goods, then this healthy recipe introduces tons of exciting options!
How to make sweet potato maple granola?
Sweet potato and maple granola is a great way to satisfy your craving for something hearty, delicious and nutritious. The baked oats seriously tastes like a crispy cookie that has been crumbled into bitesized pieces.

There is no artificial flavors or sweeteners added to this healthy meal prep. So treat yourself to a superfood packed meal that is extraordinarily delicious to eat at anytime of day!
Sweet Potato Maple Granola Ingredients: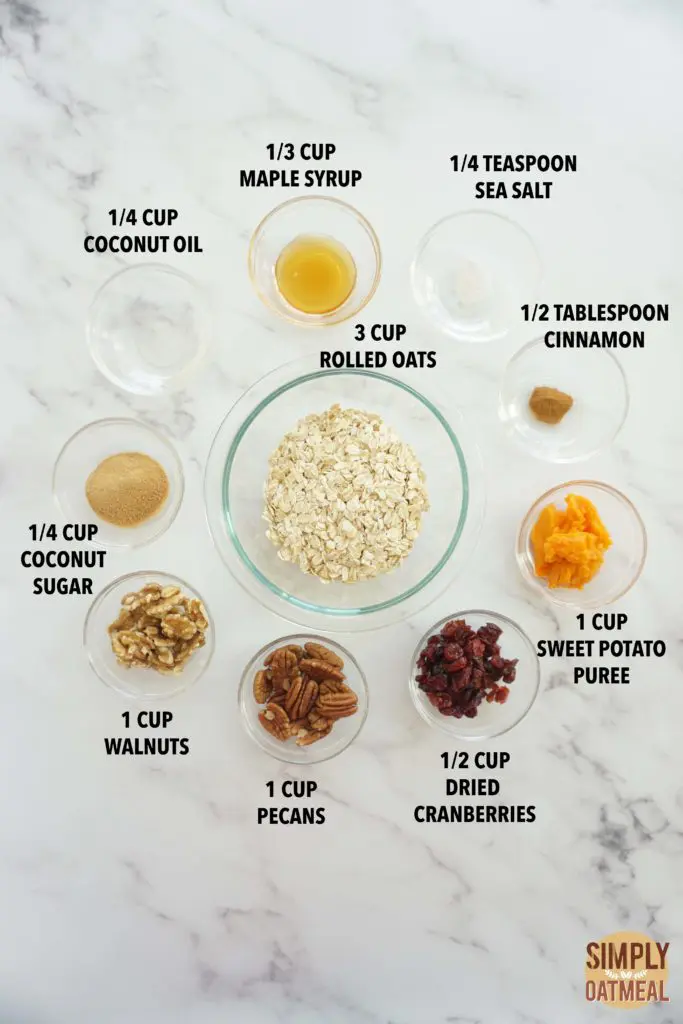 Pecans
Walnuts
Coconut sugar
Cinnamon
Sea salt
Sweet potato puree
Maple syrup
Coconut oil
Dried cranberries
In a medium sized bowl, combine the oats, walnuts, pecans, sugar, cinnamon and salt. Mix well.

In a small bowl, mash the sweet potato puree with a fork. Mix in the maple syrup and melted coconut oil until smooth.

Add the wet ingredients into the dry ingredients and stir well so that the oats are fully coated with the mixture.
Pour the mix onto a baking sheet lined with parchment paper. Bake at 325°F for about 30 minutes. Rotate the pan halfway through so that the granola bakes evenly and the edges don't burn.

Remove from the oven and mix in the dried cranberries, then cool on the tray. Store in an airtight container for up to 3 weeks.
Sweet Potato Maple Granola Tips:
Sweet potato and maple granola will taste much better if you follow these handy tips. Level up your cooking skills and keep your baked cereal fresh and enjoyable every time you take a bite.
Sweet potato: Bake a sweet potato in the oven or purchase a can of roasted sweet potato puree, the choice is yours. The puree adds a roasted flavor with a hint of natural sweetness.
Maple syrup: The natural sweetener and authentic taste pairs well with the nuts, sweet potato and aromatic spice that just scream fall and winter flavors.
Oats: Rolled oats are preferred for making this recipe extra crisp and crunchy. Quick oat will do, but the smaller bits and pieces won't proved a whole looking appearance.
Dried fruit: Cranberries accent the sweet potato and maple flavoring, but you can choose another dried fruit f you wish. Apple, banana, dates, figs, pineapple, persimmon and raisin are some options to consider substituting.
Nuts: Walnuts and pecans pair well with the taste of sweet potato and maple syrup. However, you could substitute for your favorite nuts such as almonds, hazelnuts, peanuts or pepitas.
Vegan: This recipe is vegan.
Gluten free: Even though oat are gluten free, certified whole grain oats are recommended to avoid cross contamination during harvest and packaging.
Sweetener: Sweeten the oven baked oats as needed by adjusting the maple syrup and coconut sugar. Steer clear of using any honey if you want a vegan recipe.
Clusters or crumble: To stir or not to stir, that is the question. Depending on the desired appearance of the finished granola. If you stir the granola while baking, it crisps up faster but the result will be more crumbly. If you want large clusters, then don't stir the granola while baking and instead just rotate the pan to promote even cooking.
Storage: Granola will stay fresh for up to 3 weeks when stored at room temperature inside an airtight container.
GRAB THESE GRANOLA RECIPES: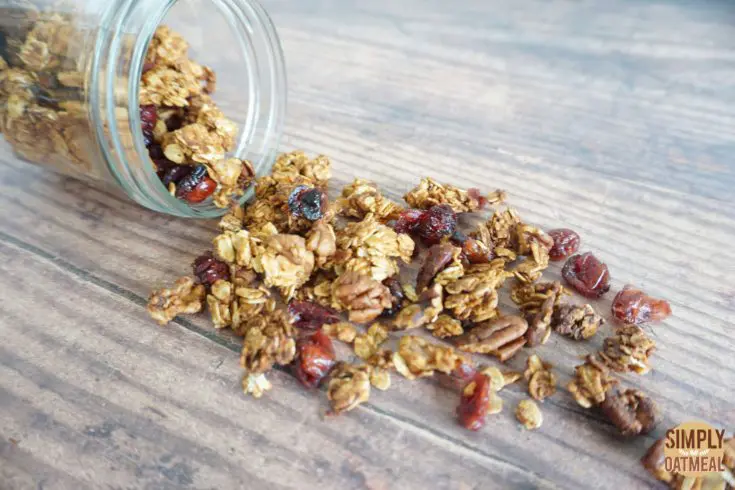 Yield:

16 Servings
Sweet Potato Maple Granola Recipe
Sweet potato and maple granola is a delicious, nutritious and wholesome recipe. It is the perfect topping for your yogurt or a healthy grab and go snack.
The crunchy cereal only takes a few minutes to prepare although it has a lengthy list ingredients. Allow the oats enough time to crisp in the oven and then fully cool before storing inside a container.
Ingredients
3 cups rolled oats
1 cup pecans, chopped
1 cup walnuts, chopped
¼ cup coconut sugar
¼ teaspoon sea salt
½ tablespoon ground cinnamon
1 cup sweet potato puree
⅓ cup maple syrup
¼ cup coconut oil, melted
½ cup dried cranberries
Instructions
Preheat oven to 325°F. Prepare two baking sheets lined with parchment paper
Mix the oats, nuts, sugar, salt and cinnamon together in a large bowl.
In a small bowl, whisk together the melted coconut oil, maple syrup and sweet potato puree.

Pour the wet ingredients over the dry ingredients and mix well.
Spread the mixture evenly onto both baking sheet.

Bake for 30-35 minutes. Rotate the pans and gently stir near the halfway point to spread out the center of the mixture, try not to break up the large clusters as they begin to harden.
Once the granola begin to turn a light brown color, remove from the oven and toss in the dried cranberries. Cool the granola on the sheet pan.
Transfer to an airtight container and keep at room temperature.

Notes
Make it vegan and gluten free!
Adjust the amount of sweetness if necessary.
Store inside an airtight container for up to 3 weeks.
Nutrition Information:
Yield:
16
Serving Size:
½ cup
Amount Per Serving:
Calories:

238
Total Fat:

14g
Saturated Fat:

4g
Trans Fat:

0g
Unsaturated Fat:

9g
Cholesterol:

0mg
Sodium:

40mg
Carbohydrates:

27g
Fiber:

3g
Sugar:

12g
Protein:

4g
Nutrition information isn't always accurate.