*This post may contain affiliate links. Please see my
disclosure
to learn more.
Have you tried coconut, lime and pineapple blended with crunchy granola clusters? If you haven't had a chance to try this specialty flavor combination, then here is an easy baking idea to add to your healthy eating routine!
If you have rolled oats, dried fruit, nuts, sweetener and oil, then you are all set to go! I highly recommend these homemade granola recipes to avoid prepackaged items and make a fresh baked good that is healthy enough to repeat over and over again.

From Korean bbq granola to sweet potato maple granola, there are so many tasty inspirations for you to explore. Select the base flavor that you enjoy most and personalize the easy bake recipes to fit the desire of your tastebuds.
You will love this coconut lime pineapple granola because…
Takes only 10 minutes to prepare the freshly baked recipe.
Healthy baked good that is filled with wholesome nutrition.
Nutritional ingredients contain plant based protein, dietary fiber and healthy fats.
Blends sweet, savory and nutty goodness into crunchy flavor packed clusters.
Resembles the taste of a tropical cookie with a crisp oatmeal base. The aromatic flavor makes a magically delicious combination!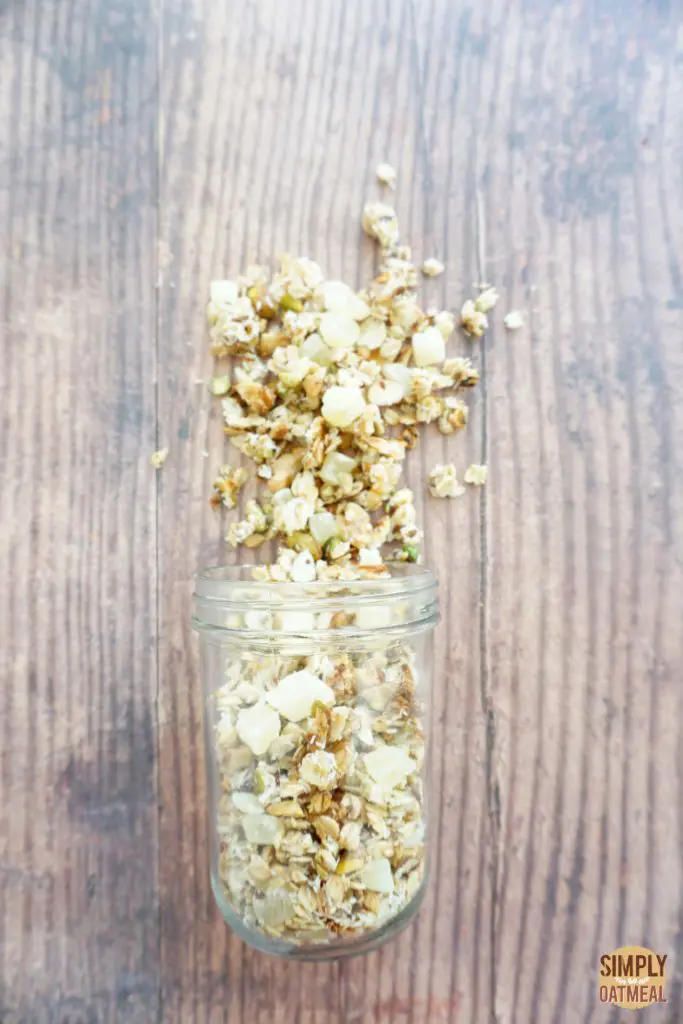 The healthy recipe is a great way to jumpstart your mind and body with the nutritional energy needed to perform. Every serving is packed with wholesome plant based protein, dietary fiber, and loaded with beneficial antioxidants.

This vegan and gluten free recipe is so simple to make, and it also stays fresh for up to 3 weeks. Eat as an easy grab and go snack, or with berries and yogurt for breakfast on a busy morning. Coconut lime pineapple granola combines the benefits of oats with a nutty and zesty taste.
How to make coconut lime pineapple granola?
Coconut lime pineapple granola is a delicious and healthy meal prep that has many different uses. Gather a few key components to begin assembling this tropical granola recipe.
Coconut Lime Pineapple Granola Ingredients: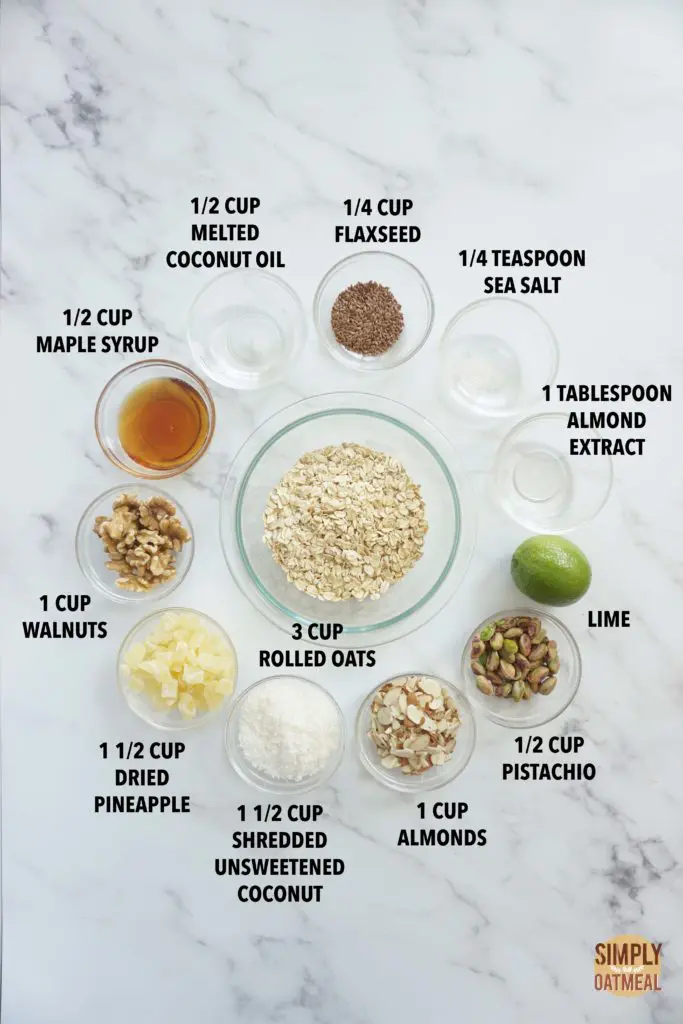 Almonds
Walnuts
Pistachios
Shredded coconut
Flaxseeds
Sea salt
Lime
Coconut oil
Maple syrup
Almond extract
Dried pineapple
In a medium sized bowl, zest the limes. Add the sea salt to the bowl and use a spoon to massage the zest with the salt to activate the essential oils and release extra flavor.

Afterwards, add the rolled oats, almonds, walnuts, pistachios, shredded coconut and flaxseed.
In a separate bowl, juice the limes. Then add the coconut oil, maple syrup and almond extract. Pour the wet ingredients on top of the dry ingredients and mix well so that the oat mixture is fully coated with gooey goodness.

Spread the concoction onto a baking sheet lined with parchment paper. Bake at 325°F for about 40 minutes until the oats are crispy and the edges of the mixture begin to turn a golden brown color.
Coconut Lime Pineapple Granola Tips:
Sweet pineapple, zesty lime, and nutty coconut combines beautifully with the crunchy oat granola clusters. The delicious treat has a perfect balance of flavor that you simply cannot ignore.
Coconut: Shredded unsweetened coconut adds to the healthy fat content without impacting the recipe with tremendous amounts of unnecessary sugars. In addition, they are a valuable source of antioxidants, vitamins and minerals that are easily absorbed into the body.
Lime: Lime juice and zest adds a tremendous amount of citrusy taste to this granola recipe. The combination of juice and zest adds tanginess along with the sweet tasting essential oils. Furthermore, immunity boosting vitamin C is another predominate benefit of adding citrus to this healthy granola.
Pineapple: Dried pineapple compliments this flavor profile quite well with both sweet and tangy taste. We were able to find dried pineapple in the bulk food section at the local market.
Oats: Rolled oats provide the best results when preparing this granola recipe. Quick oats have thinner and smaller pieces that result in a crumbly granola rather than holding their shape in large clusters.
Dried fruit: Dried fruit comes in sweetened and unsweetened preparations. It's best to select unsweetened so that you can control the amount of added sugars in the recipe. Apricots, dates, figs, mangoes, and strawberries are some of the dried fruit options to consider adding to the flavorful combination.
Nuts: This recipe is packed with nuts like almonds, coconut, pistachios and walnuts. Not only do the add crunch and flavor, but they also contain plant based protein, fat and fiber.
Seeds: Flaxseed are included in this tasty concoction of flavor, but chia seeds, hemp seeds and sesame seeds are also valuable superfood ingredients that can easily be added.
Vegan: This recipe is vegan. Avoid using honey if you do want to substitute for any other sweeteners
Gluten free: If you are celiac or on a wheat free diet, it's recommended to use certified GF rolled oats even though oats are naturally gluten free.
Sweetener: Adjust the amount of maple syrup as needed. Substitute for coconut sugar, brown sugar, honey or agave if you are looking for another alternative.
Cluster or crumble: Stir the oats gently while baking so that you avoid disrupting the large clusters that are forming. If you want smaller granola crumbles, then breakup the clusters into smaller bits while baking.
Storage: Cool the granola before placing inside an airtight container and storing at room temp. Enjoy within 3 weeks to maintain freshness.
ADDITIONAL GRANOLA RECIPES TO TRY NEXT: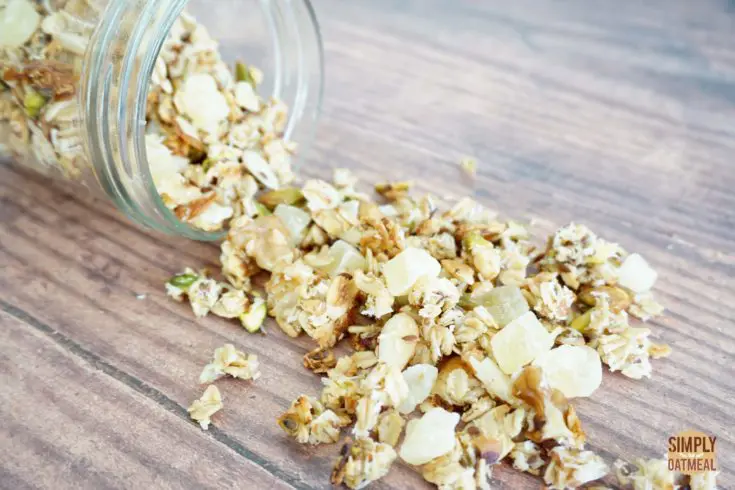 Yield:

16 Servings
Coconut Lime Pineapple Granola Recipe
A tropical flavor granola packed with fresh lime, shredded coconut and dried pineapple. Feel like you're soaking up rays of island sunshine while enjoying a handful of this tasty treat.
It'll make you feel like you're on an island basking in the rays of the summer sun.
This magical concoction of flavor is simply irresistible! You'll find yourself unable to stop digging in for another bite.
Ingredients
3 cups rolled oats
1 cups sliced almonds
1 cups chopped walnuts
½ cup chopped pistachios
1½ cups shredded unsweetened coconut
¼ cup flaxseeds
1/4 teaspoon sea salt
3 limes, zest and juice
½ cup melted coconut oil
½ cup maple syrup
1 tablespoon almond extract
1½ cup dried pineapple pieces
Instructions
Preheat oven to 325°F. Prepare two baking sheets lined with parchment paper.
In a large bowl, zest the limes. Add the rolled oats, nuts, seeds, and salt.
In a small bowl, mix the lime juice, coconut oil, maple syrup, and almond extract.

Combine the wet ingredients with the dry ingredients and mix until the oats are fully coated.
Evenly spread the mixture onto both baking sheets.

Bake at 325°F for 40-45 minutes or until the oats turn a slight golden brown color. Gently stir every 15 minutes, so that the edges don't burn.
Remove from oven and add the dried pineapple. Cool to room temperature on the baking sheet. Store the granola in an airtight container and it stays fresh for about 3 weeks.

Notes
Make it vegan and gluten free!
Adjust the amount of sweetness if necessary.
Store inside an airtight container for up to 3 weeks.
Nutrition Information:
Yield:
16
Serving Size:
½ cup
Amount Per Serving:
Calories:

361
Total Fat:

23g
Saturated Fat:

11g
Trans Fat:

0g
Unsaturated Fat:

10g
Cholesterol:

0mg
Sodium:

66mg
Carbohydrates:

35g
Fiber:

5g
Sugar:

19g
Protein:

6g
Nutrition information isn't always accurate.