*This post may contain affiliate links. Please see my
disclosure
to learn more.
Have you tried cashews, curry powder and raisins combined together with crunchy granola clusters? If you haven't tried making this spiced, flavor packed recipe from scratch, then here is an easy baking idea for you to add to your healthy eating routine!
Whether you enjoy sweet or savory, try these healthy granola recipes. Quickly find a variety of fresh baked recipes that are healthy and tasty enough to repeat.

From coconut lime pineapple granola to Korean bbq granola, there are so many flavorful inspirations for you to explore. Select your favorite spice, sweetener, dried fruit and nuts you enjoy most, that's all it takes to personalize granola recipes to your specific tastes.
You will love this cashew curry granola because…
Only takes 10 minutes to prepare the fresh baked recipe.
Healthy meal prep that is packed with nutrition.
Contains plant based protein, dietary fiber and healthy fats.
Blends aromatic curry with sweet, spice and crunchy goodness.
The sweet scented, aromatic flavor of curry spice, nuts and raisins coating a crunchy oat base is magically delicious!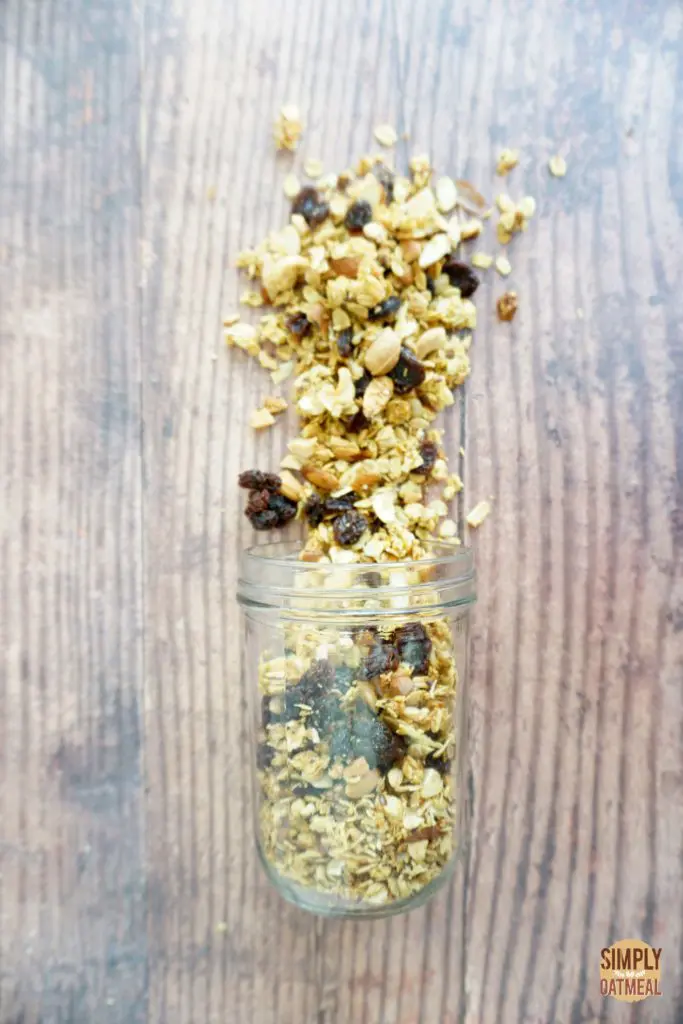 This vegan recipe is so simple to prepare, it stays fresh in an airtight container for up to 3 weeks. Every serving is loaded with protein, rich in dietary fiber, and packed with antioxidants. The results provide a great boost to your mind and body anytime you need a quick energy fix.

Take this easy grab and go meal anywhere and everywhere. Cashew curry granola combines the benefits of oats with aromatic spices and superfood seeds to make a meal that is full of wholesome nutrition.
How to make cashew curry granola?
Cashew curry granola is a delicious and healthy oven baked recipe. Gather a few key ingredients to quickly assemble this curry spiced granola recipe.
Cashew Curry Granola Ingredients: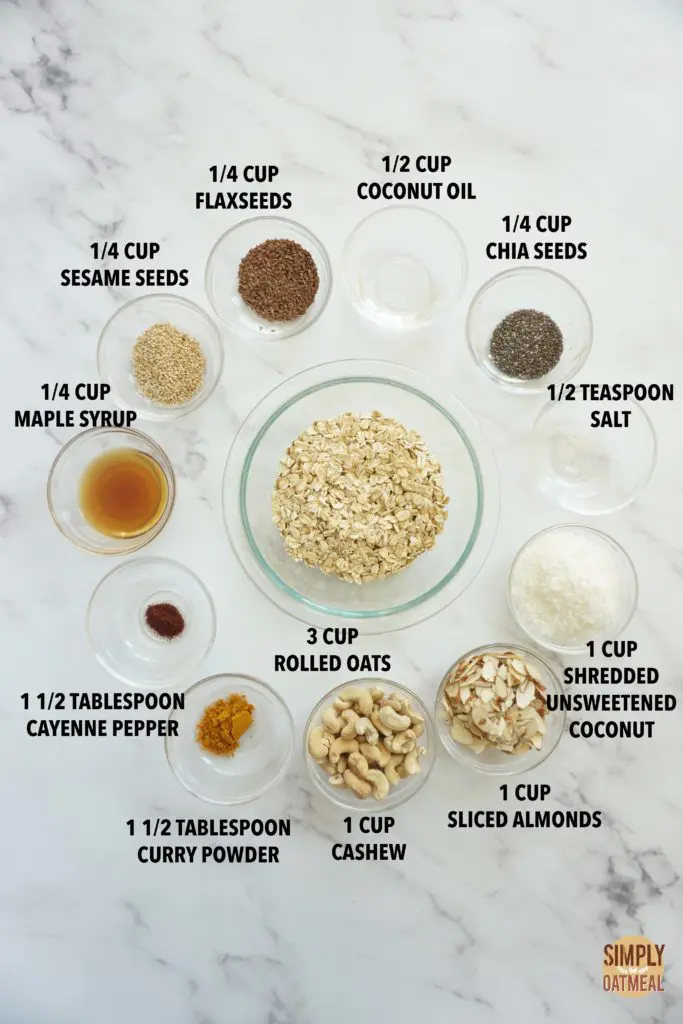 Unsweetened coconut
Almonds
Cashews
Flaxseeds
Sesame seeds
Chia seeds
Madras curry powder
Cayenne pepper
Sea salt
Coconut oil
Maple syrup
Raisins
In a medium sized bowl, combine the rolled oats, shredded coconut, almonds, cashews, flaxseeds, sesame seeds, chia seeds, curry powder, cayenne and salt.

In a small bowl, stir the melted coconut oil and maple syrup. Afterwards, mix together the wet ingredients with the dry ingredients so that the oats, nuts and seeds are fully coated with the liquid.
Spread the mixture onto a baking sheet lined with parchment paper. Bake at 325°F for about 35 minutes until the granola begins to crisp up and the edges begin to slightly turn golden brown.

Cool the granola to room temp and store in an airtight container.
Cashew Curry Granola Tips:
Sweet lemonade, coconut milk, and a delicately infused lavender tea combines beautifully with the creaminess of overnight oats. The delicious treat has a perfect balance of flavors.
Curry: Madras curry powder is such a unique blend of herbs and spices. The pungent, sweet scent leaves behind a recognizable taste that thoroughly enhances the granola. Combined with sweet and spicy ingredients, this recipe is a recognizable classic combination of flavor.
Dried fruit: Raisins genuinely compliment the bittersweet nature of curry by adding a sweetness that enhances the fragrant spice. Some other fruit options to explore are dried apples, apricots, banana, cherries, dates, figs and pineapples.
Nuts: Almonds, cashew and coconut add sweetness, nuttiness and crunch to the granola recipe. Each of the nuts are the most common complimentary combinations that benefit the intense flavor of curry powder.
Seeds: Chia seeds, flaxseeds and sesame seeds are sources of superfood nutrition added to the oat clusters.
Oats: Rolled oats produce the best results in this baked granola recipe. Quick oats result in a crumbly granola rather than maintaining large clusters.
Vegan: The ingredients are free of any animal byproducts and this recipes is vegan..
Gluten free: Oats are naturally gluten free, however certified gluten free oats are recommended if you are on a strict celiac diet.
Sweetener: As it currently stands, this recipe is not very sweet. Sweeten the baked granola by adjusting the maple syrup as needed. Substitute for brown sugar, coconut sugar, honey or stevia if you are looking for an alternative.
Clusters or crumble: Stirring while baking breaks up the large clusters into smaller crumble. If you prefer crispy clumps, then gently spread the bunches apart without spending too far apart. Rotate the pan to promote even cooking throughout the batch.
Storage: Cool to room temperature and then store the granola in an airtight container. Enjoy within 3 weeks to maintain freshness and quality.
ADDITIONAL GRANOLA RECIPES: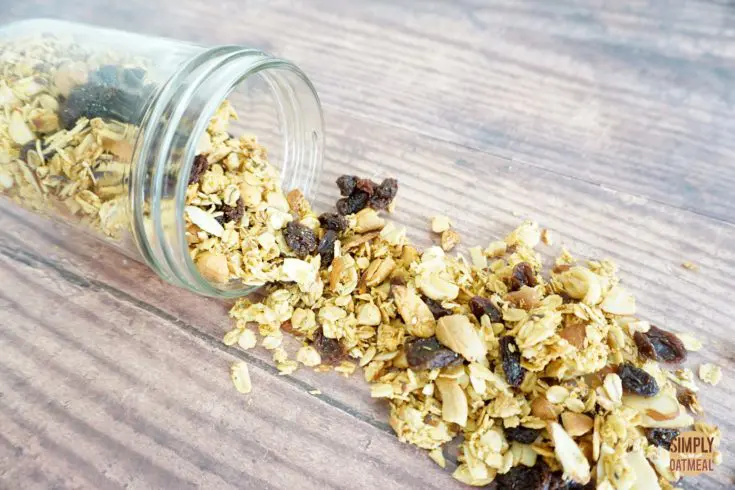 Yield:

16 Servings
Cashew Curry Granola Recipe
Cashew curry granola is the perfect balance of sweet spice, and delicious crunchy goodness. You'll find yourself repeatedly digging in for another handful of this magical concoction!
The healthy recipe is easy to make and only takes a few minutes to prepare. Combine all the ingredients and homemade granola can be at the tip of your fingers in no time at all.
Ingredients
3 cups old-fashioned rolled oats
1 cup shredded unsweetened coconut
1 cup sliced almonds
1 cup cashews
¼ cup flaxseeds
¼ cup sesame seeds
¼ cup chia seeds
1½ tablespoons Madras curry powder
1½ teaspoons cayenne pepper
½ teaspoon salt
½ cup melted coconut oil
¼ cup maple syrup
1 cup raisins
Instructions
Preheat the oven to 325°F. Prepare two baking sheets with parchment paper.
In a large bowl, add the oats, coconut, nuts, seeds, curry, cayenne and salt.
In medium bowl, combine the coconut oil and maple syrup.

Add the wet ingredients to the dry ingredients and stir to fully coat the oats.
Spread evenly onto both baking sheets and bake at 325°F for for 35-40 minutes or until the edges turn a slight golden brown color.

Remove from the oven and add the raisin. Cool on the baking pans, then store in an airtight container for about 3 weeks.

Notes
Make it vegan and gluten free!
Adjust the amount of sweetness if necessary.
Store inside an airtight container for up to 3 weeks.
Nutrition Information:
Yield:
16
Serving Size:
½ cup
Amount Per Serving:
Calories:

313
Total Fat:

21g
Saturated Fat:

10g
Trans Fat:

0g
Unsaturated Fat:

9g
Cholesterol:

0mg
Sodium:

127mg
Carbohydrates:

29g
Fiber:

6g
Sugar:

10g
Protein:

6g
Nutrition information isn't always accurate.