*This post may contain affiliate links. Please see my
disclosure
to learn more.
Banana bread taste and crunchy oatmeal granola makes a mouthwateringly delicious meal prep. Mashed ripe banana adds a natural sweetness that compliments the oats to make a perfect combination for this grab and go meal prep.
The mouthwatering flavor combination of mashed banana, crunchy walnuts and hearty oats is admirable. Here are more easy granola recipes are guaranteed to knock your socks off.

Whether you like to eat granola as cereal or as a crunchy topping on yogurt, we have created recipes you are definitely going to enjoy. From mint chocolate granola to oatmeal raisin cookie granola, every bite is guaranteed to quench your cravings with a fulfilling boost of energy.
You will love this banana bread granola because…
Only takes 10 minutes to prepare the oven baked recipe.
Healthy recipe packed with wholesome nutritional ingredients.
Balanced prep containing plant based protein, dietary fiber and healthy fats.
Perfect combination of natural sweetness and crunchy deliciousness.
Resembles the taste of banana bread with a crunchy oatmeal background. The hearty flavor is simply delicious!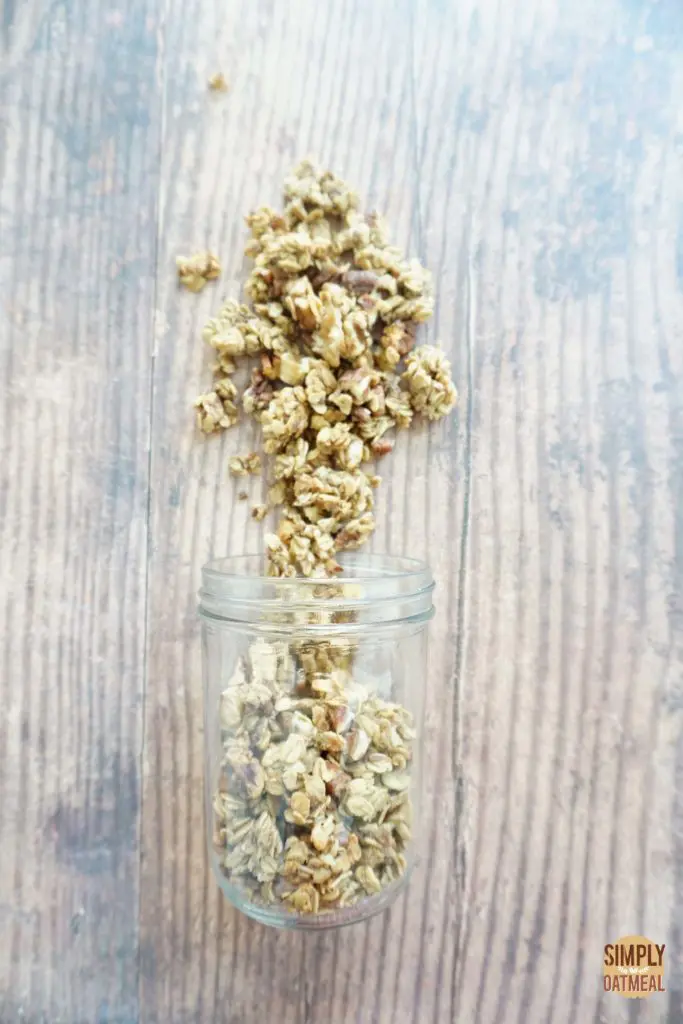 Stick to your vegan and gluten-free diet with the help of this delicious and nutritious recipe. The health benefits of oats are a noteworthy addition to any routine.

Whether you are looking to add crunchy granola to your breakfast routine, or need a quick fix afternoon snack idea that will tide you over, we have the perfect solution for you! Learn how to make this banana bread granola recipe!
How to make banana bread granola?
Banana bread granola is a simple twist on the classic baked loaf. Fill your body with whole nutrition rather than sugary treats that are full of empty calories. Prepare the make ahead meal prep with only a few staple kitchen ingredients:
Banana Bread Granola Ingredients: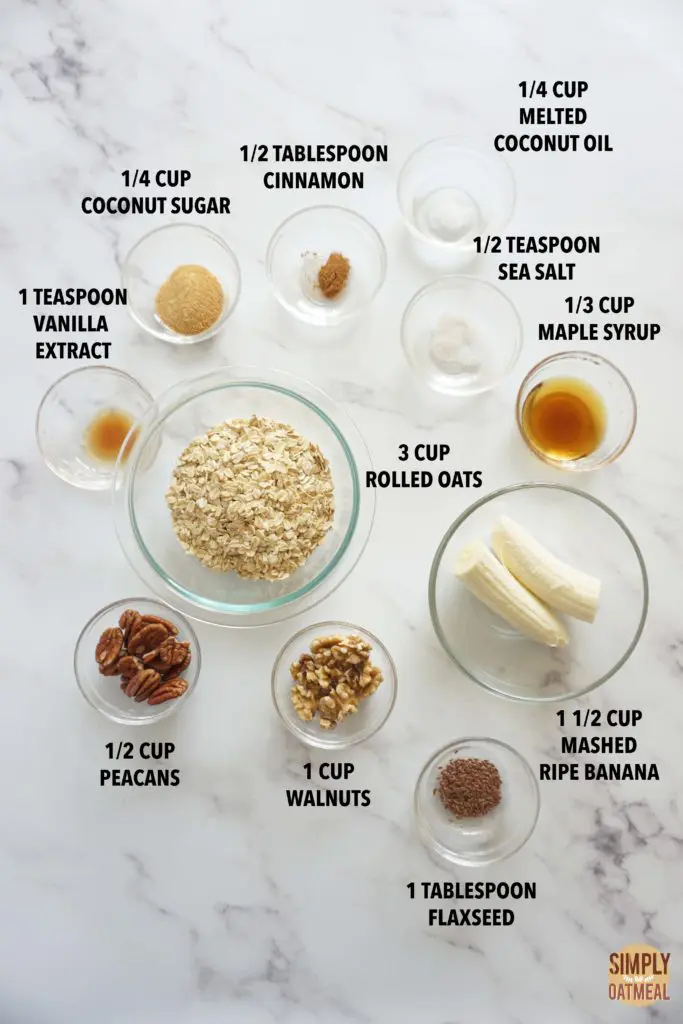 Walnuts
Pecans
Sugar
Flaxseed
Cinnamon
Sea salt
Coconut oil
Maple syrup
Vanilla extract
Banana
In a medium sized bowl, combine the oats, walnuts, pecans, sugar, flaxseed, cinnamon and sea salt.

In a small bowl, mash the banana with a fork. Then, mix in the coconut oil, maple syrup and vanilla extract.

Stir together the wet ingredients with the dry ingredients so that the oats are fully coated with the mixture.
Spread the mix onto a baking sheet lined with parchment paper. Bake at 325°F for about 35 minutes. Rotate the pan every 10 minutes and stir the mixture for even cooking.
Banana Bread Granola Tips:
Make a large batch of granola for the next few weeks and store separate portions in airtight containers. As a result, you have grab and go meals and snacks ready when you need them most.

Here are specific tips that are recommended to make your banana bread granola taste so fresh every bite you take:
Banana: In addition to being packed with nutrition, banana adds flavorful sweetness to oven baked granola. Mashed banana really makes the oats clump up into nice cluster and be quite sticky. Makes sure to fully bake the granola so that it completely dries out, this will help to remove the chance for mold to take root.
Oats: Rolled oats are recommended for making this oven baked recipe. Quick oats are much smaller sized pieces that turn into a crumbled texture rather than staying in clusters.
Dried fruits: Dried apples, banana chips, cherries, dates, figs and raisins would be a great addition to this recipe! Fold them into the clusters after the granola is baked and cooled to room temperature.
Nuts: Pecans and walnuts give this granola its signature banana bread taste. However, you could alter the proportions of each nut or even substitute them for an alternative like almonds, cashews, hazelnuts or pistachios.
Seeds: Hemp seeds and chia seeds can also be added to the flaxseeds for an additional superfood boost.
Vegan: This is a vegan recipe.
Gluten free: If you are on a celiac diet, then certified gluten free oats are recommended even though oats are naturally gluten free.
Sweetener: Sweeten the oven baked oats by adjusting the coconut sugar and maple syrup as necessary. Avoid substituting for honey if you want the recipe to be vegan.
Clusters or crumble: This granola recipe is very sticky and will result in large clusters. I recommend stirring the mixture while baking because the mashed banana adds a lot of moisture that needs to fully dry out before you can successfully store the granola.
Storage: Store the granola at room temperature inside airtight containers. It will remain fresh and crunchy for about 3 weeks.
LOOKING FOR MORE GRANOLA FOR THIS WEEK?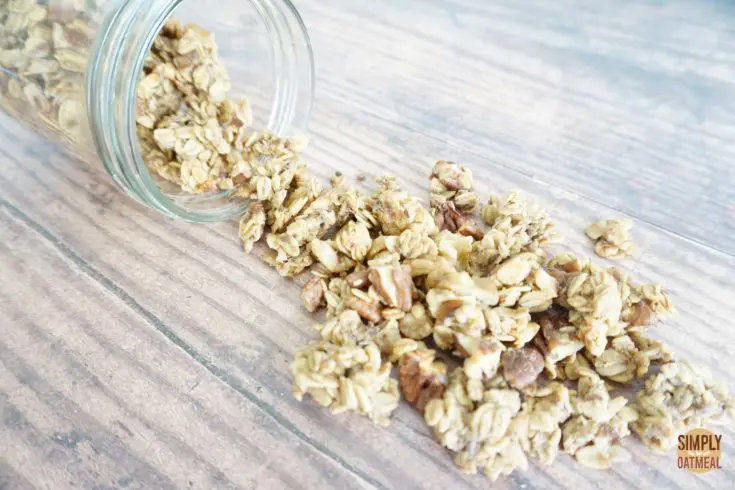 Yield:

16 Servings
Banana Bread Granola Recipe
Vegan granola that only takes 10 minutes to prepare and tastes just like fresh baked banana bread. This healthy recipes is loaded with plant based protein and rich dietary fiber along with omega-3 and omega-6 fats.
Prepare a batch today and have healthy snack within reach. Add on top of yogurt or eat a handful as a snack, this recipe is the perfect addition to your healthy eating routine.
Ingredients
3 cups rolled oats
1 cup walnuts
½ cup pecans
¼ cup coconut sugar
1 tablespoon flaxseed
½ tablespoon cinnamon
½ teaspoon sea salt
¼ cup melted coconut oil
⅓ cup maple syrup
1 teaspoon vanilla extract
1½ cups mashed ripe banana (about 3 medium bananas)
Instructions
Preheat oven to 325°F. Prepare two baking sheets lined with parchment paper.
Mix the oats, nuts, cinnamon, sugar, flaxseed, and salt in a large bowl.
In a small bowl, mash the banana with a fork. Next, add the melted coconut oil, maple syrup, and vanilla extract.

Pour over the wet ingredients over the dry ingredients and mix well.
Spread the mixture onto both baking sheets and bake for 35-40 minutes or until golden brown.

Stirring breaks up the bunches. If you don't disturb the granola while baking, it will form large clusters.
Once the granola is toasted and slightly browned, remove from the oven. Cool on the baking sheets and store in an airtight container for a couple of weeks.

Notes
Make it vegan and gluten free!
Adjust the amount of sweetness if necessary.
Store inside an airtight container for up to 3 weeks.
Nutrition Information:
Yield:
16
Serving Size:
½ cup
Amount Per Serving:
Calories:

202
Total Fat:

11g
Saturated Fat:

4g
Trans Fat:

0g
Unsaturated Fat:

7g
Cholesterol:

0mg
Sodium:

68mg
Carbohydrates:

24g
Fiber:

3g
Sugar:

10g
Protein:

4g
Nutrition information isn't always accurate.