*This post may contain affiliate links. Please see my
disclosure
to learn more.
Combine caramel, apple and cinnamon to make this velvety oatmeal smoothie. Combine sweet and spice in your next grab and go meal prep idea.
Learn how to make specialty flavors inside your no-cook oatmeal smoothies! Made with fresh ingredients and mouthwatering flavor combinations, these oatmeal smoothie recipes are guaranteed to knock your socks off. You will also love this Apple Cinnamon Oatmeal!

Whether you enjoy eating oatmeal hot or cold, we have created recipes you are guaranteed to fall in love with. From apple pie oatmeal smoothie to peach cobbler oatmeal smoothie, every bite will take you further away from your specialty juice bar cravings and much closer to a fulfilling energy-packed meal prep.
You will love this caramel apple oatmeal smoothie because…
Takes just 5 minutes to prepare.
Packed with nutritional elements like protein, fiber and healthy fats. Has wholesome ingredients that make you feel full all until your next mealtime!
Just the right amount of rich caramel flavor, creaminess and cinnamon spice.
Tastes just like you put a caramel apple in the blender. The hearty oatmeal base combines with the sweet caramel and fresh apple, its simply delicious!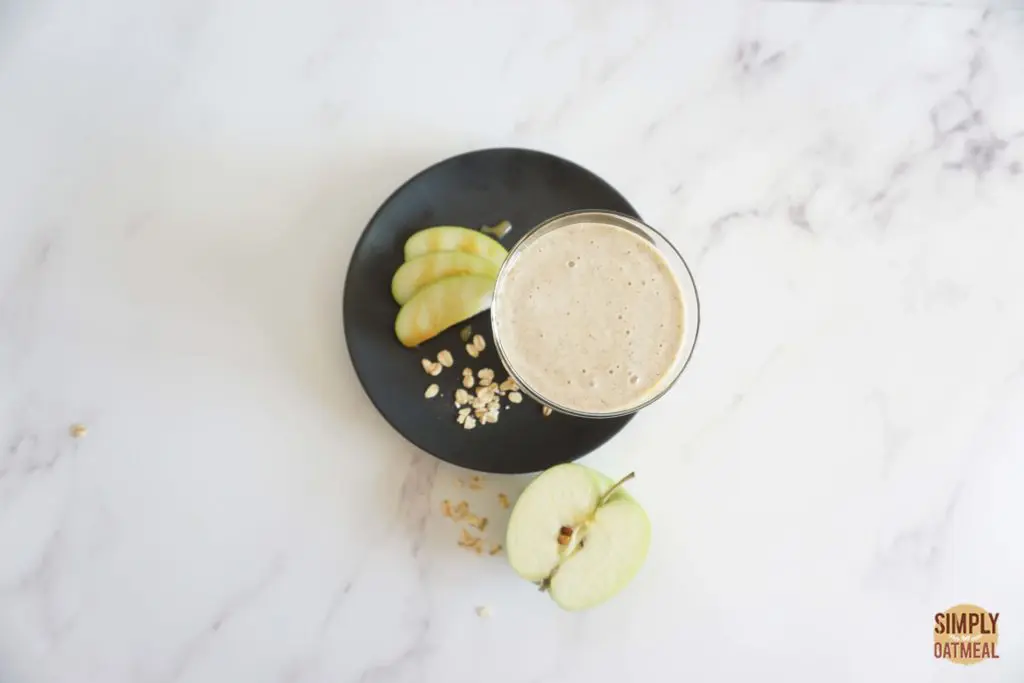 Stick to your gluten-free and vegan specification, without having to alter this recipe. In addition, you get the opportunity to include the health benefits of oats in your wholesome and nutritious diet.

Time is of the essence, and sometimes we are running short on the basic essential. Whether you're falling behind on your morning routine, looking for an afternoon snack or just bring to spruce up your meal prep routine, this caramel apple oatmeal smoothie will fit right in.
How to make caramel apple oatmeal smoothie?
Caramel apple oatmeal smoothie is an healthy twist on the classic dessert item. Fill your body with wholesome nutrition like fresh apple and hearty oats rather than overloading your senses with purely empty calories.

You may also like to make your own caramel sauce from scratch. This easy caramel sauce recipe doesn't require you to cook sugar at high heat. Instead, it substitutes brown sugar in place of the caramelized process. Give it a try for yourself and see how easy it really is.
Caramel Apple Oatmeal Smoothie Ingredients: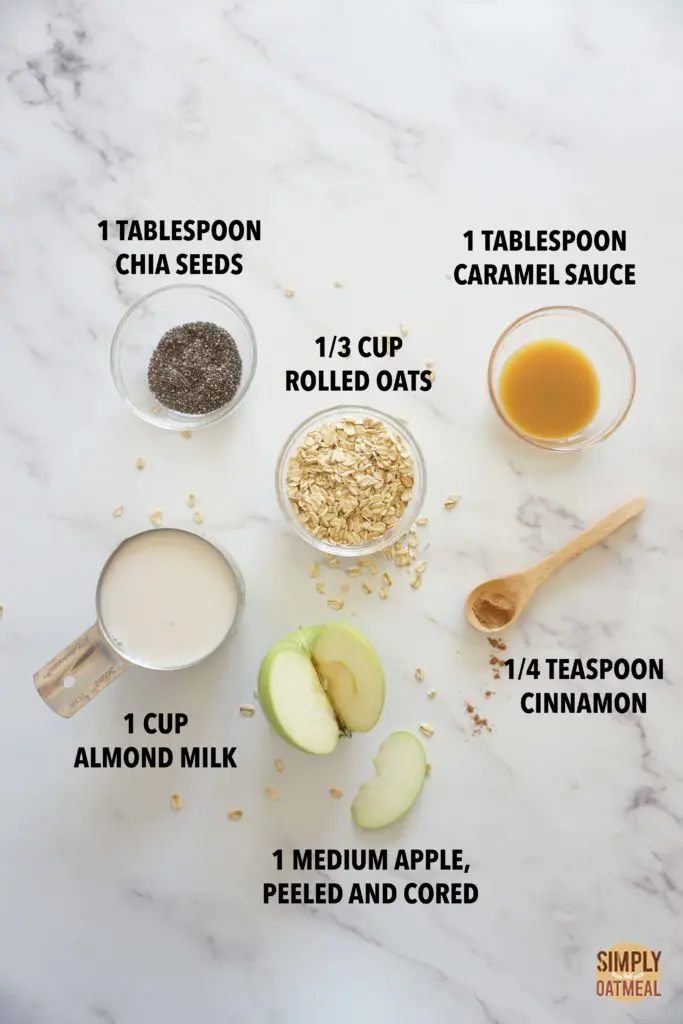 Almond milk
Apple
Caramel sauce
Chia seeds
Cinnamon
You can blend all of the ingredients together, or keep the chia seeds separate and stir them in at the last minute. The benefit to adding the chia seeds at the end is that they plump up when hydrated.

The resulting texture of saturated chia seeds resembles tiny jelly like seed pods. The are very similar to miniature boba because each seed swells up to produce a unique mouthfeel.
Caramel Apple Oatmeal Smoothie Tips:
Make no cook caramel apple oatmeal smoothie ahead of time and store it in airtight containers for an easy grab and go meal. Here are recommended tips to make your blended oatmeal taste fresh and delicious every sip you take:
Frozen apple: The apple is the main ingredient that adds sweet and tart flavors; it can either be fresh or frozen. Using frozen fruit will eliminate the need for ice if you want to make a cold blended beverage.
Oats: Rolled oats or quick oats are the preferred type of oats for making a smoothie. Steel-cut oats aren't recommended for raw food preparations because they are extremely tough to blend smooth.
Vegan: Select dairy free milk alternatives to make this without animal products.
Gluten free: Even though oats are gluten free, it's recommended to use certified oats if you strictly avoid wheat products.
Protein powder: Blend in a scoop of protein powder to boost the amount of available nutrition. Use your favorite unflavored, chocolate or vanilla protein powder.
Sweetness: Whether you make the caramel sauce from scratch, or you use a store bought brand from the ice cream aisle, adjust the level of sweetness to suit your sweet tooth craving. Balance of sweet and sour taste of the apple with the rich caramel and hearty oatmeal base.
Consistency: Add a splash of liquid or a few ice cubes to loosen up the mixture if the viscosity is too thick for your preference. If you're looking for an extra kick of fresh apple, throw in another half.
Make ahead: Meal prep ahead of time for an easy grab and go meal on the run. The smoothie will thicken when stored overnight. Loosen up the consistency with a splash of milk and give it a quick stir.
Storage: When kept in an airtight container inside the fridge, the oatmeal smoothie is good for about 3 days, store it in the freezer and it should last 1 month.
LOOKING FOR MORE OATMEAL SMOOTHIES FOR THIS WEEK?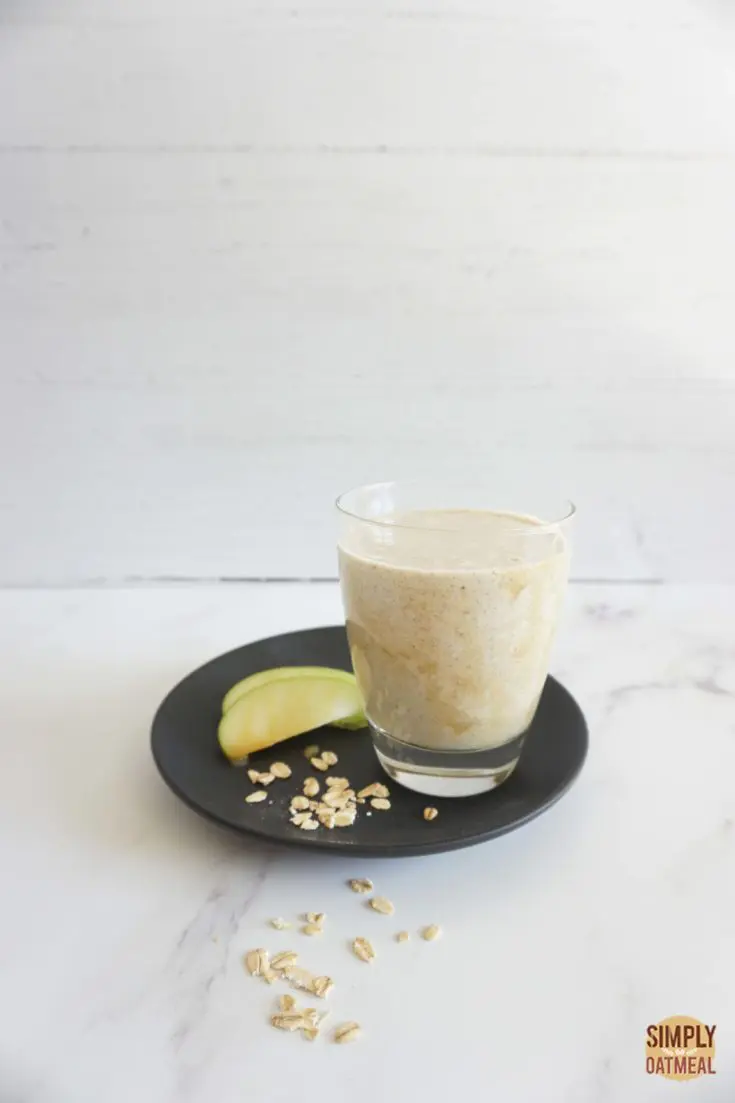 Yield:

10 fl oz
Caramel Apple Oatmeal Smoothie Recipe
Caramel apple oatmeal smoothie combines fresh apple flavor with the delicious goodness of caramel sauce. This fulfilling meal is guaranteed to satisfy your hunger craving and quench your sweet tooth.
Take your meal prep to the next level with this decadent grab and go. Next time you need a snack to boost your energy to the next level, reach into the fridge for a serving of this delicious make ahead meal.
Ingredients
⅓ cup rolled oats
1 medium apple, peeled and cored
1 tablespoon chia seeds
¼ teaspoon ground cinnamon
Instructions
Blend all of the ingredients until a smooth and creamy consistency is reached.
Add a bit more milk if the smoothie is too thick for your liking.
Transfer to a glass, and enjoy! Or, seal in an airtight container and store in the fridge for an easy grab and go meal.

Notes
Make it vegan and gluten free!
Recommended Products
As an Amazon Associate and member of other affiliate programs, I earn from qualifying purchases.
Nutrition Information:
Yield:
1
Serving Size:
1
Amount Per Serving:
Calories:

330
Total Fat:

8g
Saturated Fat:

1g
Trans Fat:

0g
Unsaturated Fat:

7g
Cholesterol:

0mg
Sodium:

78mg
Carbohydrates:

62g
Fiber:

12g
Sugar:

31g
Protein:

7g
Nutrition information isn't always accurate.