*This post may contain affiliate links. Please see my
disclosure
to learn more.
Looking for a delicious snack idea or healthy breakfast recipe to eat on a busy day? Oatmeal doesn't always have to be a steaming bowl of porridge, this smoothie recipe is made of oats, apples and spice. It taste just like you're drinking an apple pie!
It's not always easy to prepare a healthy grab and go breakfast or afternoon snack that will fill you up and also tastes great. Here at Simply Oatmeal, we've put together the best oatmeal smoothie recipes to inspire you with recipes ideas for all times of day.

Not only are oats packed with plant based protein, dietary fiber and antioxidants, but this superfood rich meal is mouthwatering. From almond joy oatmeal smoothie to caramel apple oatmeal smoothie, each recipe is guaranteed to satisfy even your strongest sweet tooth cravings.
You will enjoy this apple pie oatmeal smoothie because…
Require only 5 minutes to prepare.
Wholesome and nutritious; contains plant based protein, insoluble and soluble fiber, along with essential vitamins and minerals. Overall healthy breakfast idea that'll make you feel satiated until the next mealtime!
Perfect amount of sweet, spice and hearty crust.
Tastes just like you put a slice of apple pie in the blender. The taste of cooked apples and cinnamon combine super well with the hearty oatmeal base, its delicious and nutritious!
When you're in a rush in the morning, breakfast is the last thing we have time to focus energy on. Apple pie oatmeal smoothie is a perfect grab and go meal prep that will keep you feeling full until lunchtime.
How to make apple pie oatmeal smoothie?
Assembling apple pie oatmeal smoothie is as easy as one, two, three. In just a few minutes the grab and go meal prep is ready for you to take on the road.

When you're hungry, simply reach for a few ingredients and whip up a serving of this healthy smoothie. Grab that leftover applesauce and lets blend up a creamy apple pie smoothie.
You may also enjoy making homemade applesauce. This recipe is easy to make and one takes about 15 minutes to cook. Control the amount of sweetness and spice when you make it from scratch.
Apple Pie Oatmeal Smoothie Ingredients: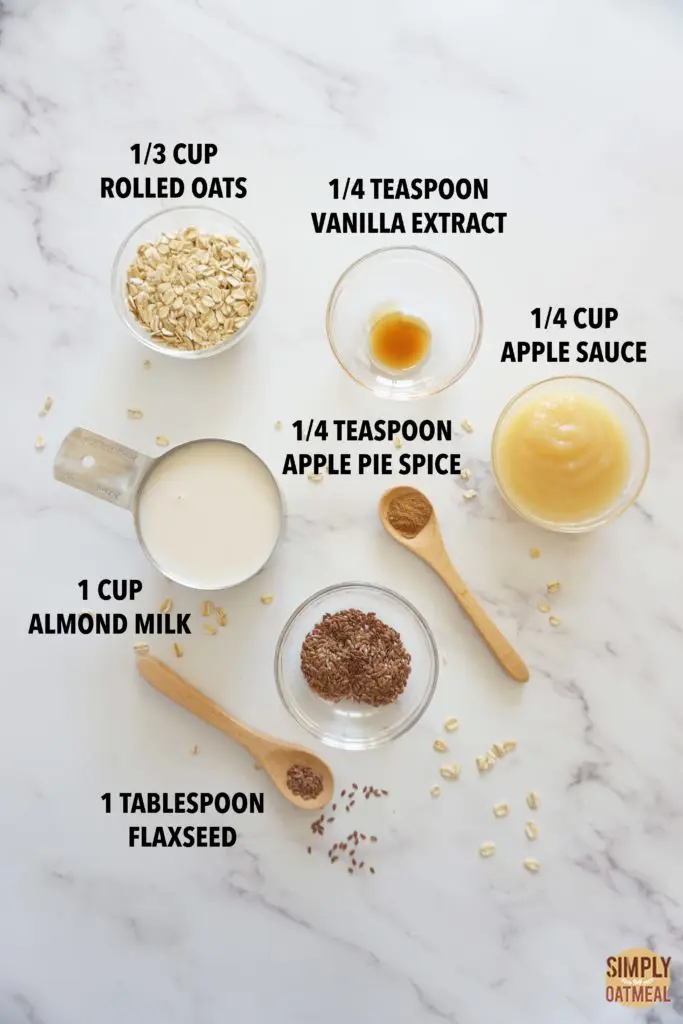 Almond milk
Applesauce
Flaxseed
Apple pie spice
Vanilla extract
Add all the fixings to the bowl of a blender and puree until smooth.

Depending on the type of applesauce you use, you may need to add a touch of sweetness to fit your preference.

Heat in the microwave or on the stovetop if you would like to drink a warm apple pie oatmeal smoothie.
Apple Pie Oatmeal Smoothie Tips:
Cooked apple and cinnamon are the perfect combination for a nutritious and healthy smoothie. Enjoy your delectably delicious meal prep with help from these quick tips.
Applesauce: If your applesauce is stored in the fridge, then it will add a nice coolness to the smoothie. This recipe uses unsweetened applesauce, however it still seemed to have the perfect amount of natural sugars.
Oats: Rolled oats or quick oats are the preferred type of oats for blending. Raw steel-cut oats aren't recommended for this type of preparation.
Vegan: Select a dairy free milk alternative to make sure this recipe is vegan.
Gluten free: Although oats are gluten free, certified oats are recommended if you stick to a strict wheat free diet.
Protein powder: For a quick boost of available nutrition, add a scoop of protein powder to this blended beverage. Unflavored, chocolate or vanilla protein powder will all taste great.
Yogurt: A spoonful of yogurt will make this recipe extra creamy and also add protein, fat and probiotics.
Sweetness: This recipe didn't include added sweeteners because the applesauce has natural sugars. Adjust the level of sweetness to accommodate your preference.
Spice: The key to the apple pie flavor is the aromatic blend of spices. Cinnamon is an acceptable substitute if you don't have apple pie spice in the pantry. Cinnamon, nutmeg, cardamom, ginger and allspice are the foundations for the classic pie taste.
Consistency: A few ice cubes or an extra splash of liquid will loosen up the mixture if the thickness is too much.
Heat it up: Warm the apple pie oatmeal smoothie in the microwave or on the stovetop for a steamy hot blended beverage. Tastes just like a slice of warm apple pie!
Make ahead: Meal prep beforehand and store in the fridge. Loosen up the consistency with a splash of milk and a quick stir when it comes time to serve.
Storage: The no cook oatmeal smoothie is best kept in the fridge for about 3 days or 1 month if stored in the freezer.
NEED MORE OATMEAL SMOOTHIE RECIPE IDEAS? TRY THESE: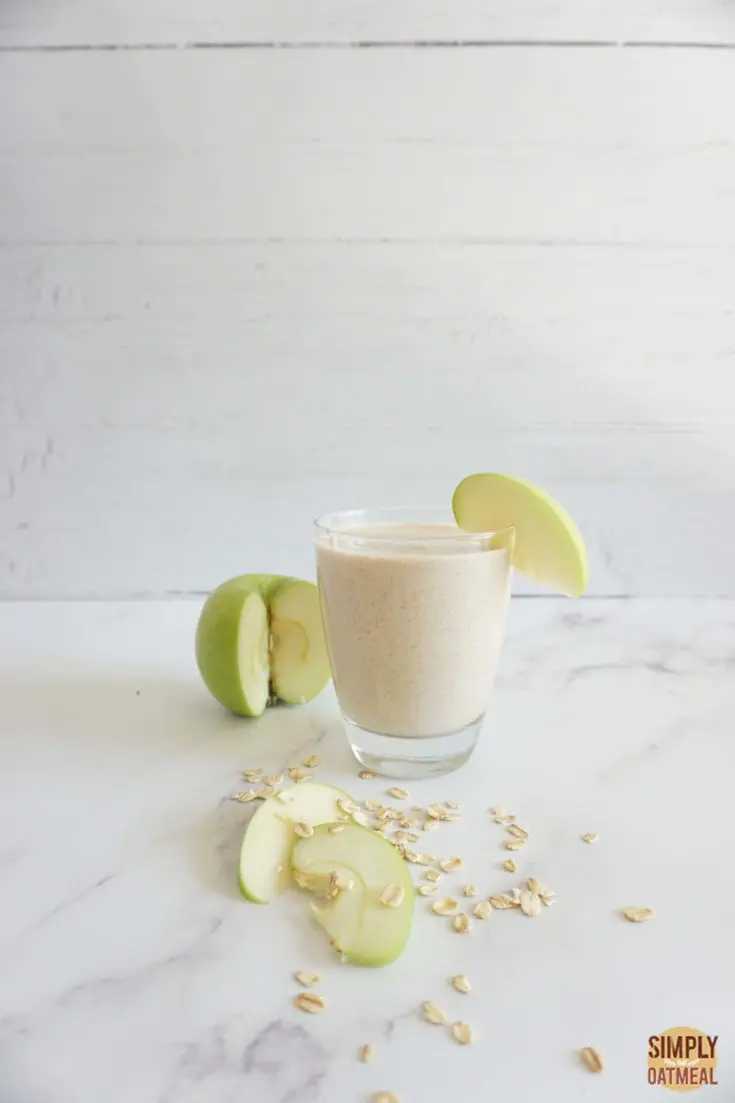 Yield:

10 fl oz
Apple Pie Oatmeal Smoothie Recipe
Apple pie oatmeal smoothie offers a good balance of hearty oats, cooked applesauce, and aromatic spice. The flavors blend well together and mimics the classic baked good.
Enjoy the health benefits of oats while activating your body with a boost of sustainable energy. Avoid the empty calories of a sugar beverages, and instead opt for a wholesome serving of oats in a smoothie.
Ingredients
⅓ cup rolled oats
1 tablespoon flaxseed
¼ teaspoon vanilla extract
Instructions
In a blender, combine almond milk, rolled oats, applesauce, flaxseed, spices, and optional sweetener.
Blend 30-60 seconds until smooth. Pour into a mason jar and drink immediately or store for later.
Seal with the lids on, and place in refrigerator for up to 3 days. Oatmeal smoothies will thicken overnight.

Notes
Make it vegan and gluten free!
Recommended Products
As an Amazon Associate and member of other affiliate programs, I earn from qualifying purchases.
Nutrition Information:
Yield:
1
Serving Size:
1
Amount Per Serving:
Calories:

212
Total Fat:

8g
Saturated Fat:

1g
Trans Fat:

0g
Unsaturated Fat:

7g
Cholesterol:

0mg
Sodium:

10mg
Carbohydrates:

29g
Fiber:

7g
Sugar:

7g
Protein:

6g
Nutrition information isn't always accurate.