*This post may contain affiliate links. Please see my
disclosure
to learn more.
What pairs extremely well with strawberries and oatmeal? The answer is chocolate! Sweet strawberries and rich chocolate goes together really well with whole grain oats!
When the temperature starts to rise and the weather is climbing into the summer season, adding fresh strawberries into your morning meal is great option. Here at Simply Oatmeal, every oatmeal smoothie recipe is easy to make and just takes 5 minutes to prepare.

With each quick blended beverage, you can make fun flavors like chocolate peanut butter banana oatmeal smoothie or blueberry lemon oatmeal smoothie. Use our easy preparation methods to create bold and fresh tasting flavors!
You will love this chocolate strawberry oatmeal smoothie because…
Only take 5 minutes to prepare the smoothie and dip the strawberries in melted chocolate.
All around nutritious breakfast loaded with plant based protein, dietary fiber and healthy fats. Wholesome meal that will keep you feeling full all morning!
Perfect combination of sweetness, heartiness and creaminess.
Tastes just like you put a chocolate covered strawberry into a blender. The rich cocoa and sweet strawberry merge well with the hearty oatmeal base. In addition, you get an actual chocolate covered strawberry to nibble alongside, its absolutely delicious!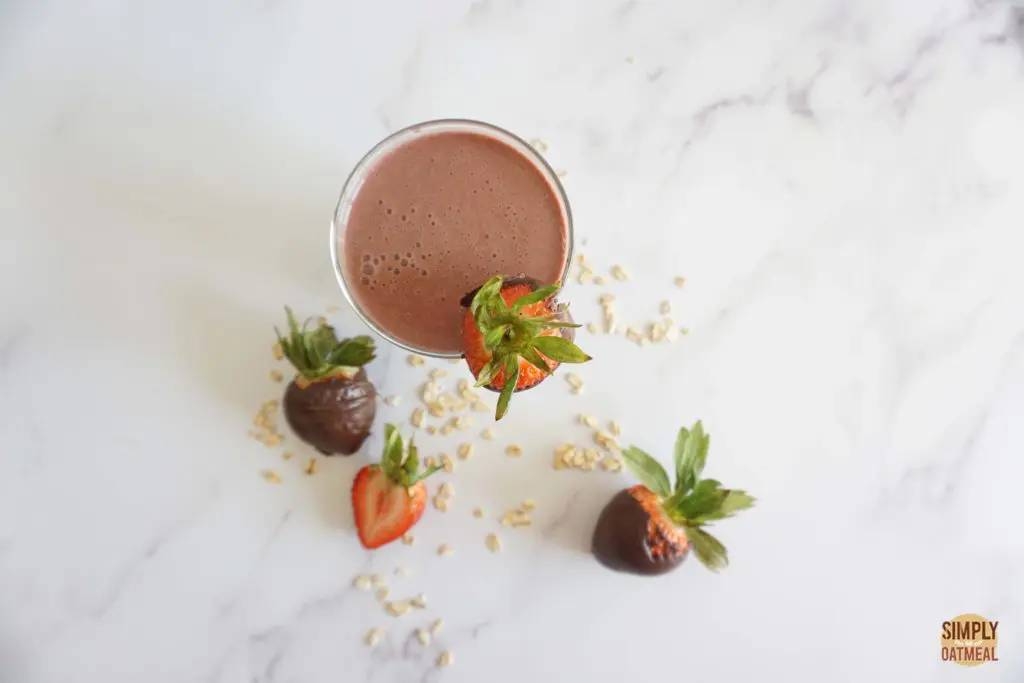 Transform your strawberries by dipping them in melted chocolate to take them up a notch. When combined with creamy no cook oatmeal, then you will feel like you're eating dessert no matter what time of day it is.

If you're looking to jazz up your regular routine, need a new breakfast idea or trying to incorporate new meal prep snacks, then look no further than this chocolate covered strawberry oatmeal smoothie.
How to make chocolate covered strawberries oatmeal smoothie?
In order to make chocolate covered strawberries oatmeal smoothie, combine rolled oat with fresh or frozen strawberries and incorporate a bit of unsweetened cocoa powder. Melt a little chocolate in the microwave and make a couple chocolate dipped strawberries to go with your delicious smoothie preparation!
Chocolate Covered Strawberries Oatmeal Smoothie Ingredients: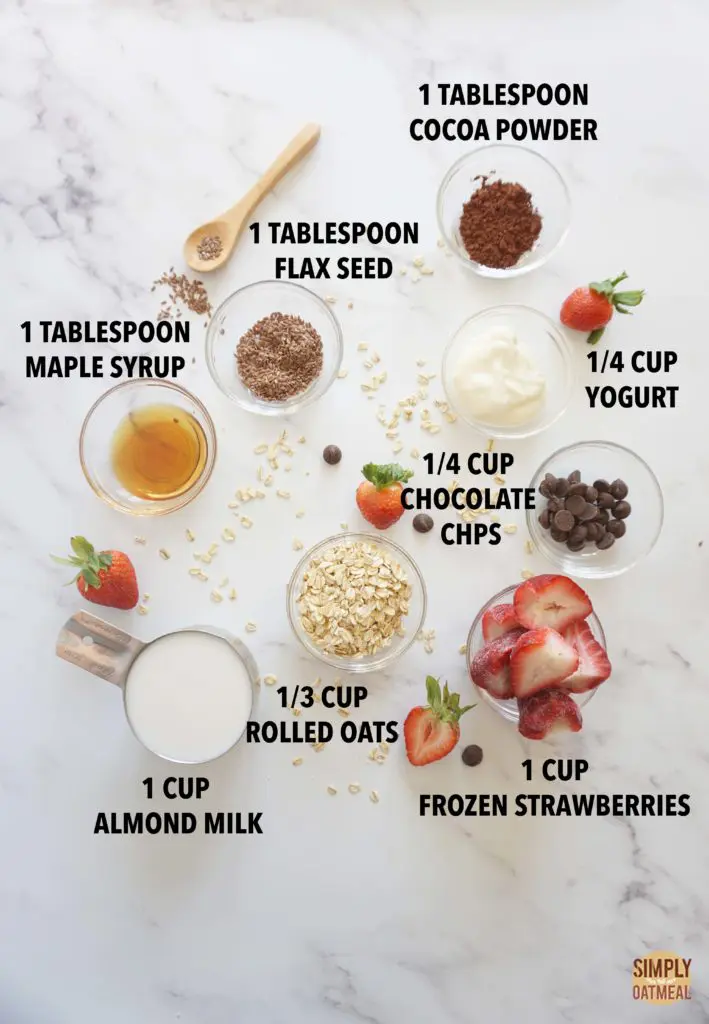 Dark chocolate chips
Strawberries
Almond milk
Yogurt
Cocoa powder
Flaxseed
Maple syrup
Melt the chocolate chips in a small bowl in the microwave. Use 10 second burst and stir in between each interval. The chocolate should fully melt in 20-30 seconds. Dip the fresh strawberries in the melted chocolate and then place them on a piece of parchment to allow the chocolate to solidify.
While waiting for the chocolate dipped strawberries to cool down, you can blend up the smoothie. Use frozen strawberries for the smoothie because it cools the beverage without the need for ice cubes.

Blend the remaining ingredients until they are velvety smoothy and extra creamy. Serve immediately with the chocolate dipped strawberries on the side, or cover and store in the refrigerator for a delicious make ahead meal for the next day.
Chocolate Covered Strawberries Oatmeal Smoothie Tips
Sweet strawberries, decadent chocolate, and hearty whole grain oats make the most amazing breakfast that is nutritious, delicious, and fulfilling. Here are helpful tips to guarantee you enjoy every last drop.
Frozen strawberry: Fresh or frozen strawberries can be used inside the smoothie. Using frozen fruits will eliminate the need to use ice if you are looking for a cold beverage to drink immediately. If you are meal prep for the next day, then you can use either fresh or frozen because you will be storing the smoothie in the fridge!
Chocolate: Use a 60% cocoa for optimal taste and semi-sweet flavor. The chocolate will be melted to make the dipped strawberries and is separate from the cocoa powder that will be blended into the smoothie.
Oats: Rolled oats or quick oats work best for smoothie making. Raw steel-cut oats aren't recommended for blending because they are the hard kernel and will no grind smoothly in the blender.
Vegan: Select a dairy free milk and yogurt alternatives.
Gluten free: Use certified oats if you are on a strict wheat free diet. Although oats are gluten free, it's recommended to prevent cross contamination during the production process.
Protein powder: A scoop of unflavored, chocolate or vanilla protein powder will enhance the available nutrition of your blended smoothie.
Cocoa: Unsweetened cocoa power is recommended so that you have better control over the amounts of added sugars. Add an extra tablespoon of cocoa powder if you would like a richer chocolate flavor.
Sweetness: There is a subtle balance of sweet strawberry, rich cocoa and hearty oatmeal base. The chocolate dipped strawberry on the side also makes for a delicious bite to nibble on. Adjust the level of sweetness in the beverage to accommodate your sugar craving.
Consistency: A couple ice cubes or an extra tablespoon or two of liquid will loosen up the viscosity if it is too thick for your liking.
Make ahead: Meal prep ahead of time for a tasty grab and go. If it thickens when stored in the fridge, loosen up the consistency with a splash of milk and give it a quick stir.
Storage: To guarantee optimal freshness of the oatmeal smoothie, consume within 3 days of preparation when kept in the fridge or up to 1 month if stored in the freezer. The chocolate dipped strawberries are best eaten right away but will last up to 24 hours if stored in the fridge.
MORE OATMEAL SMOOTHIE RECIPES: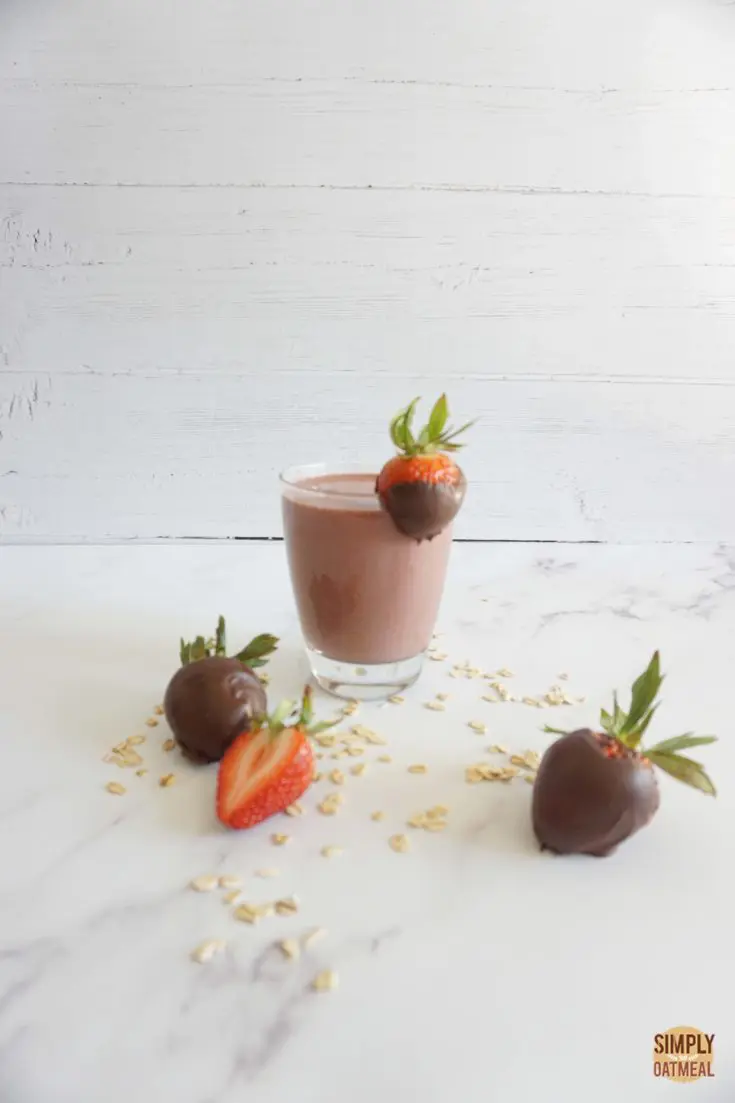 Yield:

10 fl oz
Chocolate Covered Strawberries Oatmeal Smoothie Recipe
Chocolate covered strawberries oatmeal smoothie is a healthy and balanced vegan option. The nutritious combination includes the benefits of oats, along with other antioxidant rich super foods like cocoa and strawberries.
The blended beverage is packed with wholesome nutrition including plant-based protein, omega 3 fats and dietary fiber. The meal prep also boasts an array of beneficial compounds along with essential vitamins and minerals.
Make ahead in a mason jar for an easy grab and go to take on the road. Don't leave home hungry when you have a healthy smoothie already prepared in the fridge.
Ingredients
⅓ cup rolled oats
1 cup strawberries, frozen
¼ cup yogurt
1 tablespoon unsweetened cocoa powder
1 tablespoon flaxseed
1 tablespoon maple syrup
Chocolate Dipped Strawberry
¼ cup dark chocolate chips, (60% cacao)
4 whole strawberries, fresh
Instructions
Add chocolate chips to a small microwave-safe bowl.
Heat in 10-second increments, stirring in between each interval until the chocolate is completely melted.
Dip strawberries in chocolate and allow to dry on a piece of parchment paper or a cold plate.
Add the remaining ingredients into a blender.
Blend for about 30 to 60 seconds until the mixture is smooth.
Adjust the sweetness and add more almond milk as needed.

Notes
Make it vegan and gluten free!
Recommended Products
As an Amazon Associate and member of other affiliate programs, I earn from qualifying purchases.
Nutrition Information:
Yield:
1
Serving Size:
1
Amount Per Serving:
Calories:

695
Total Fat:

24g
Saturated Fat:

9g
Trans Fat:

0g
Unsaturated Fat:

11g
Cholesterol:

7mg
Sodium:

231mg
Carbohydrates:

112g
Fiber:

15g
Sugar:

69g
Protein:

14g
Nutrition information isn't always accurate.