*This post may contain affiliate links. Please see my
disclosure
to learn more.
Take your oatmeal experience to the next level by combining blueberry and lemon with whole grain oats. Not only are you in for a treat, but the blended blueberry lemon refresher is hearty, fulfilling and satisfies basic sweet tooth cravings.
Plain oatmeal tends to get boring after a while, so fancy up your tastebuds with an easy oatmeal smoothie. Each unique recipe offers variations that'll meet your personal preferences.
Enjoy vegan and gluten-free combinations like oatmeal raisin cookie smoothie or peach cobbler oatmeal smoothie. Add variety by changing up the liquids and exploring add-ins like fruits spreads or nut butters.
This nutritious blueberry lemon oatmeal smoothie is perfect because…
Requires only 5 minutes to assemble.
Healthy meal packed with plant based protein, soluble and insoluble fiber and also include essential vitamins, minerals and antioxidants. Wholesome meal that'll fill you up!
Perfect blend of sweetness and creaminess with a bite of tartness.
Blueberries, lemon juice and a hearty oatmeal base, this smoothie blends tartness with spice. Tastes just like you blended up a slice of blueberry pie, which is absolutely delicious!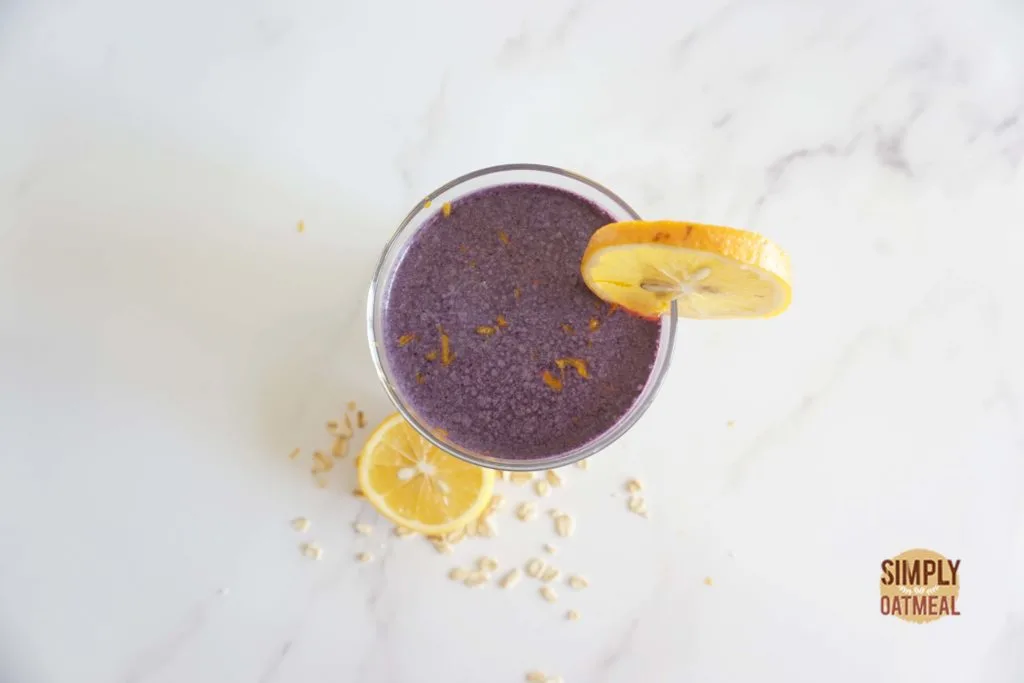 Combine the health benefits of oats with the nutritional potential of the superfoods lemon and blueberries, this wholesome meal is packed with plenty of balanced nutrition.

The combination of sweet blueberries, tart lemon and hearty oats is thoughtfully satisfying full of flavor. There is definitely potential for this recipe to be extremely delicious, so if you're looking for a refreshing grab and go, then look no further than this blueberry lemon oatmeal smoothie.
How to make blueberry lemon oatmeal smoothie?
Not only is this recipe tasty and fulfilling, but it also covers a wide range nutritional basics that benefit your immune system. The no cook recipe only requires a few ingredients, so gather together the necessary staples.
Blueberry Lemon Oatmeal Smoothie Ingredients: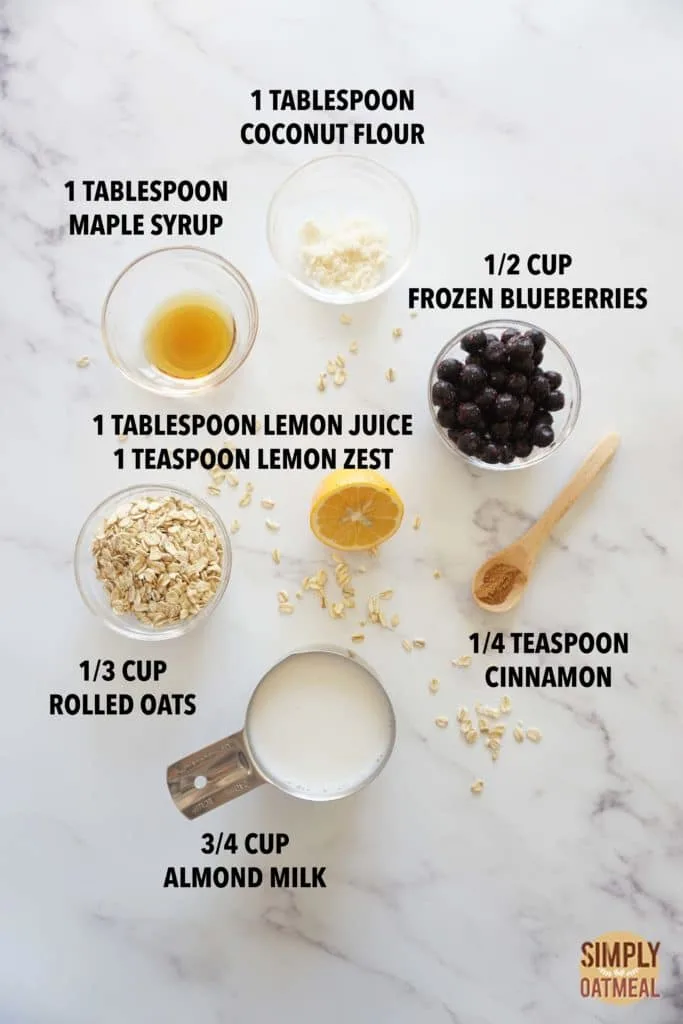 Almond milk
Blueberries
Coconut flour
Lemon
Maple syrup
Cinnamon
Blend all of the ingredients for 30-60 seconds until everything becomes smooth. If you use frozen blueberries and cold milk then there should be no need to add ice cubes to make the smoothie cool.

Chia seeds are one of my favorite additions because they impart a unique jelly-like texture that explodes in your mouth when kept whole and fully hydrated. Stir them in at the last minute after everything has been blended smooth, give them time to swell up into miniature boba balls that burst in your mouth when chewed.
Blueberry Lemon Oatmeal Smoothie Tips
Enjoy a healthy dose of nutrition in this blueberry lemon oatmeal smoothie. The semi-sweet and tart mixture takes the sweetness of blueberries and leaves out lots of unnecessary sugars that are commonly found in classic variations. Here are a few tips improve your smoothie and keep it tasting fresh every time you take a sip.
Frozen blueberries: Blueberries add sweetness and can be used either fresh or frozen. Opting for frozen fruits eliminates the need to use ice if you are looking to immediately drink a cold smoothie. Furthermore, frozen blueberries are generally cheaper than fresh.
Lemon: Use the zest and juice from the lemon. Zest gives a naturally sweet lemon essence, while the juice provides a sharp tartness.
Oats: Use rolled oats or quick oats for a smooth and silky texture. Raw steel-cut oats aren't recommended for blending because they have not been milled like the other types of oats.
Vegan: Select a dairy free milk alternatives to keep this recipe vegan.
Gluten free: Certified gluten free oats are recommend if you're on a strict wheat free diet. This decreases the risk of cross contamination during harvest even though whole grain oats are naturally gluten free.
Protein powder: A great way to increase muscle building protein for a post workout meal is to add a scoop of protein powder to this blended drink. Use your favorite brand of unflavored, vanilla or chocolate protein powder.
Yogurt: Adding a scoop of yogurt is another great way to add protein, creamy fat flavor and beneficial probiotics.
Sweetness: Balance the sweetness of the blueberries and tartness of the lemon to accommodate your tastebuds. Add enough sweetener to maintain the subtle balance of sweet and tart flavors in the oatmeal base.
Consistency: Ice cubes or an extra splash of liquid will help to loosen up the viscosity if the smoothie is too thick for your preference.
Make ahead: When stored overnight in the fridge, the oatmeal smoothie will thicken. Add a splash of liquid and give it a quick stir to loosen up the consistency.
Storage: The no cook oatmeal smoothie is best stored in the fridge for about 3 days or in the freezer for 1 month.
MORE TASTY OATMEAL SMOOTHIE RECIPES: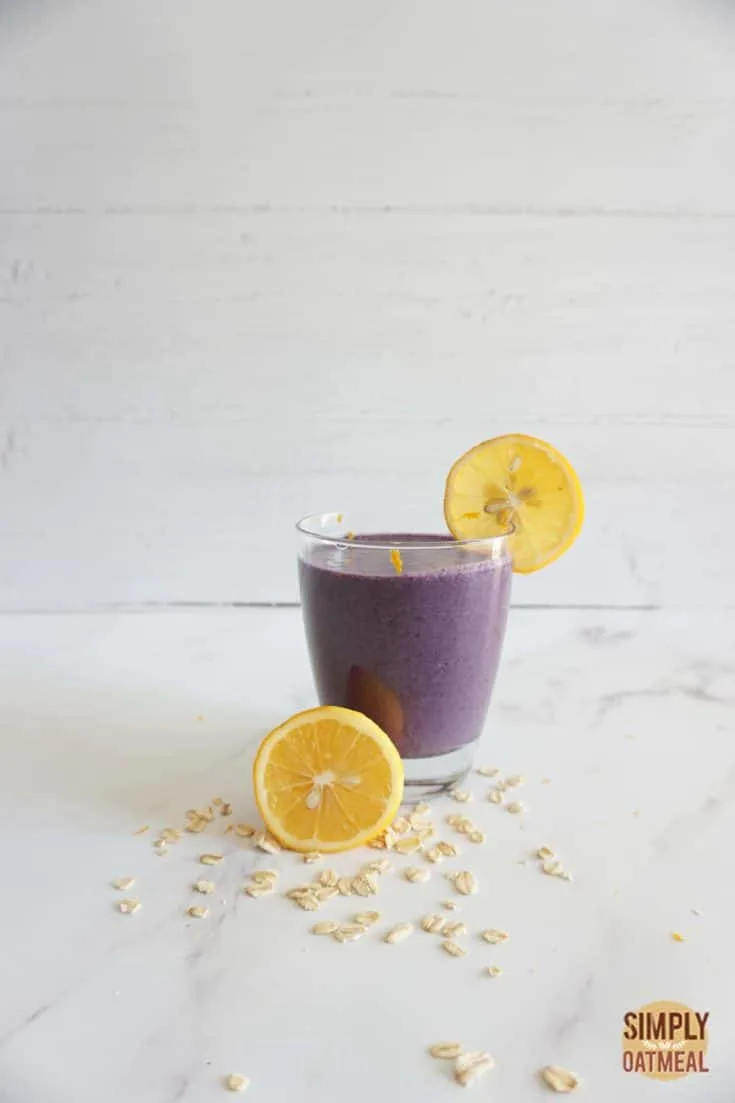 Yield:

10 fl oz
Blueberry Lemon Oatmeal Smoothie Recipe
Fall in love with breakfast all over again when you take a sip of this blueberry lemon oatmeal smoothie recipe. The mouth watering combination of sweet and tart is not overpowering, and it aligns perfectly with the creaminess of hearty whole grain oats.
There are a number of health benefits from eating oats, while blueberries and lemon also offer up a few of their own. This meal isn't like drinking a sweet juice bar smoothie, even though it tastes like you blended up a slice of blueberry pie.
Meal prep the oatmeal smoothie in a mason jar for a quick grab and go the next day. Oatmeal is a great breakfast, and also works well for an afternoon snack when you're looking for a quick energy boost to tide you over until dinnertime.
Ingredients
⅓ cup rolled oats
½ cup frozen blueberries
1 tablespoon coconut flour
1 tablespoon lemon juice
1 teaspoon lemon zest
1 tablespoon maple syrup
¼ teaspoon cinnamon
Instructions
Place all ingredients into a blender and blend until smooth. Either drink immediately, or this smoothie can be made in advance and stored in the fridge!

Notes
Make it vegan and gluten free!
Recommended Products
As an Amazon Associate and member of other affiliate programs, I earn from qualifying purchases.
Nutrition Information:
Yield:
1
Serving Size:
1
Amount Per Serving:
Calories:

266
Total Fat:

6g
Saturated Fat:

1g
Trans Fat:

0g
Unsaturated Fat:

4g
Cholesterol:

0mg
Sodium:

15mg
Carbohydrates:

48g
Fiber:

7g
Sugar:

21g
Protein:

7g
Nutrition information isn't always accurate.