*This post may contain affiliate links. Please see my
disclosure
to learn more.
Oats (Avena sativa) are a popular whole grain food consumed worldwide. They're linked to many health benefits and comprise a wholesome nutritional value.
Is it healthy to eat raw oats? Eating raw oats is healthy, however it is recommended to soak the oats before consuming. Soaked oats absorb the liquid which reduces phytic acid, and increases digestibility and nutrient absorption.
There are many types of oats allowing for various recipes that can be enjoyed both cooked and raw.
This article discusses whether eating raw oats is healthy, benefits of raw oats and the best way to eat raw oats.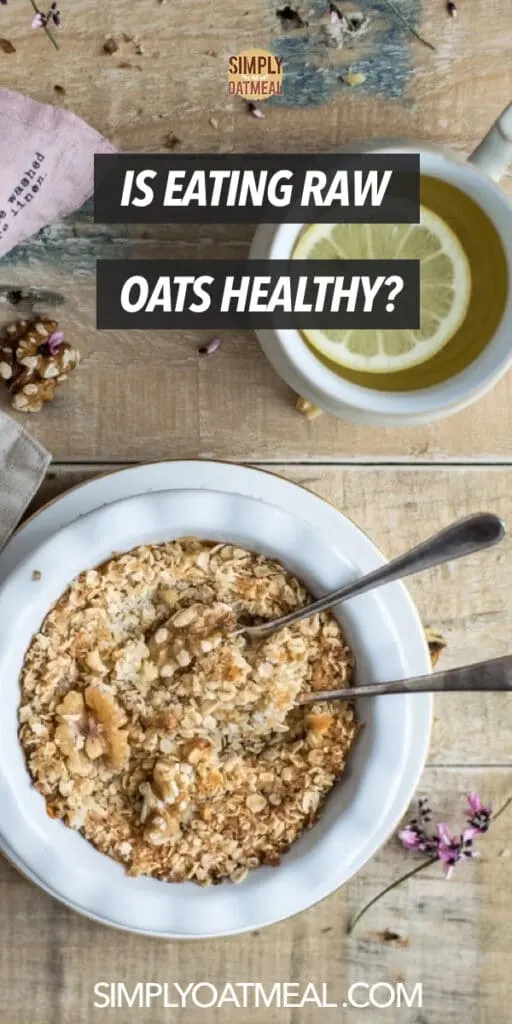 What are raw oats?
Oats are a whole grain food that are enjoyed worldwide. They are easy to prepare, offer a well balanced nutritional value and most noteworthy, they are cheap and easily accessible.
The human body is unable to digest whole oat kernels. Before consumption, the seed must be processed to remove the inedible outer shell to expose the edible grain [1].
The processing of raw oat grains starts with separating the hull or husk from the oat groats.
The outer shell is termed oat fiber, which is a keto-friendly food used in smoothies, baked goods and as a binder for ground meat.
Oat groats and steel cut oats are extremely dense and not edible while raw, so they require further processing to make rolled oats:
Remove the out hull or husk
Steam the oat groat
Rolling, flaking or milling
Dehydrating and drying
Categorize based on product type
The final products are rolled oats, quick oats and instant oats, which all undergo the same steaming, rolling and drying process. The major difference is the sizing of the final result.
A popular breakfast item, oat flakes can be enjoyed both cooked or raw.
Flaked oats can be prepared in baked goods, boiled to make oatmeal porridge, or served raw in overnight oats and oatmeal smoothies.
As a matter of fact, due to the steaming process it is fair to say that rolled oats are actually not completely raw. Heating does make the oats more digestible, so technically they are not really raw.
Though they have not been boiled, old fashioned oats have been heated during rolling processing. As a result, they have undergone improved digestion and are not completely raw.
Raw Oats Nutritional Value
Oats are commended for their high fiber content, but they are also a source for healthy fats, plant based protein and essential nutrients [2].

½-cup (50-gram) serving of raw rolled oats contains [3]:
Calories: 190
Carbs: 33 grams
Fiber: 3 grams
Protein: 7 grams
Fat: 3.5 grams
Magnesium: 17% of the Recommended Daily Intake (RDI)
Selenium: 27% of the RDI
Phosphorus: 17% of the RDI
Potassium: 4% of the RDI
Zinc: 17% of the RDI
Aside from including essential nutrients like calcium, iron, and manganese, oats are packed with both soluble and insoluble fiber.
Oats contain a specific type of soluble dietary fiber called beta-glucan that forms a gel-like substance inside the digestive tract [4].
Beta glucan is main source of soluble fiber is oats, which is strongly linked to reduced cholesterol levels and increased heart health [5].
Additionally, oats are a source for highly absorbable plant protein that provides a higher value than many other whole grains.
In fact, the protein structure in oats is considered to be highly nutritious [6].
Oats contain more fiber and high-quality protein than other grains, as well as offering an assortment of essential vitamins and minerals.
Health Benefits of Oats
Oats are packed with many beneficial plant based compounds that are responsible for providing numerous health benefits [7, 8, 9]:
May help lower cholesterol levels
May promote blood sugar control
May benefit heart health
Healthy for your gut
May promote weight loss
Raw oats are contain a large amount of the soluble fiber beta-glucan, which may lower blood pressure, cholesterol and insulin levels. Eating raw oats may also alleviate constipation and promote a feeling of fullness that can encourage weight loss.
Raw oats are nutritious and safe to eat.
They're high in the soluble fiber beta-glucan, they make you feel full for longer amounts of time which can discourage unnecessary eating that may aid weight loss, and they improve blood sugar levels, cholesterol, digestion and heart heath.
They're also affordable and easy to add to your diet. Just remember to soak them before eating to enhance digestibility, palatability and nutrient absorption.
Possible downsides of eating raw oats
Even though it is considered safe to eat raw oats, avoid undesirable side effects by soaking them in water, juice, milk, or dairy free milk alternative.
Oats have a high fiber content, which naturally absorbs moisture from its surroundings. When raw oats are consumed while dry, they will soak up liquids from your digestive tract.
Eating dry raw oats could lead to blockage due to a build up in your stomach or intestines, ultimately causing constipation or indigestion.
Moreover, raw oats contains phytic acid which is an antinutrient that promotes nutrient deficiencies as it binds to minerals like calcium, zinc and iron, making it difficult for your body to absorb them.
Over time, this can cause significant shortcomings, which generally aren't a problem if you consume a well-balanced diet.
Soaking raw oats in water is proven to reduce phytic acid and the effects on mineral absorption. For the best nutritional results, soak the oats for at least 12 hours (10, 11, 12).
The phytic acid in raw oats interferes with mineral absorption. Soaking raw oats reduce the amount of phytic acid present in the oats, thereby minimizing the impact. Additionally, soaking activates fermentations which makes digestion easier and softens the oats to help prevent constipation.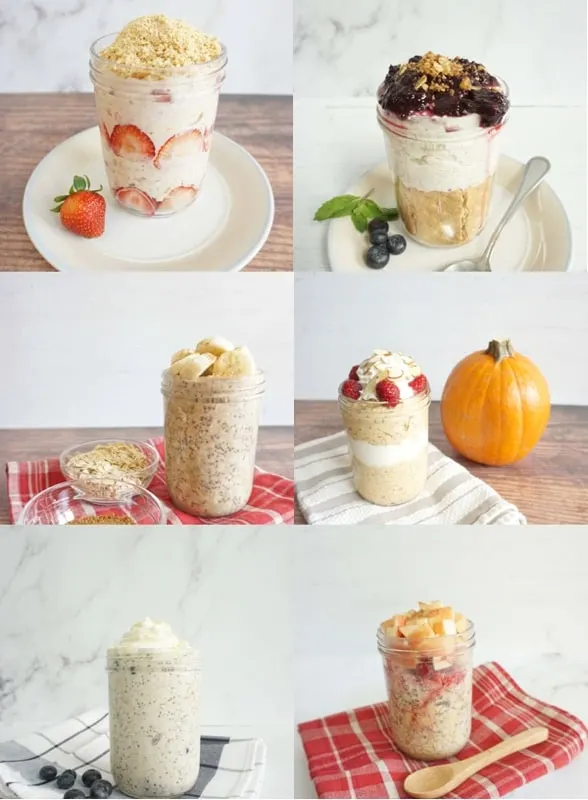 Yield:

1 serving
Best way to eat raw oats
Raw oats are an incredibly versatile and can be eaten in a variety of ways. Mix them with yogurt or blend into a smoothie.
One of the easiest and most nutritious ways to enjoy raw oats is to make overnight oats. Mix well the oats with water or milk and soak in the refrigerator a minimum of 12 hours.
The oats will absorb the liquid, making them softer, palatable and more digestible. Here is a basic overnight oats recipe for you to follow.
Ingredients
Overnight Oats Base Recipe
½ cup rolled oats
¾ cup liquid
¼ cup Greek yogurt
1 tablespoon sweetener
¼ teaspoon vanilla extract
Apple Chia
½ cup grated apple (1 small apple)
1 tablespoon chia seeds
Blueberry Lemon
1 tablespoon chia seeds
1 tablespoon lemon juice
1 tablespoon lemon zest
½ cup fresh or frozen blueberries
Chocolate Peanut Butter Banana
½ banana, mashed
1 tablespoon cocoa powder
Caffe Latte
¾ cup brewed coffee
2 tablespoons half and half
¼ teaspoon cinnamon
Instructions
Place all of the ingredients into a meal prep container or mason jar and mix well to fully combine the ingredients.
Seal the container with an airtight lid.
Place in the refrigerator for at least 12 hours to soak overnight.
To serve, give the mixture a quick stir to combine the crunchy top with the soft layer on the bottom of the soaked oats.
Serve cold, or warm in the microwave for a minute or on the stovetop for 3 minutes.
Add a splash of liquid to thin the mixture if necessary, and then garnish with oatmeal toppings that you love.
Notes
To make it vegan, use dairy-free milk alternative, plant-based yogurt and avoid using honey.
To make it gluten-free, use gluten-free certified oats.
To make it sugar-free, avoid using ay sweeteners. Consider mashing or pureeing fruit into the base mixture.
To maintain freshness, store the overnight oats in the fridge for up to 5 days in an airtight container.
Recommended Products
As an Amazon Associate and member of other affiliate programs, I earn from qualifying purchases.
Nutrition Information:
Yield:
1
Serving Size:
1
Amount Per Serving:
Calories:

196
Total Fat:

3g
Saturated Fat:

1g
Trans Fat:

0g
Unsaturated Fat:

2g
Cholesterol:

3mg
Sodium:

23mg
Carbohydrates:

31g
Fiber:

4g
Sugar:

4g
Protein:

11g
Please note that the nutrition label provided is a rough estimate based on the basic overnight oats recipe. Overall nutrition will vary based on the specific ingredients and amounts you use. This information should not be considered a valid substitute for any professional nutritionist's advice. The nutrition value is for one serving without any additional toppings.