*This post may contain affiliate links. Please see my
disclosure
to learn more.
Feeling lazy and need a few extra minutes of sleep in your morning routine? Take your breakfast game to the next level with an oatmeal smoothie that combines raisins, cinnamon and coconut. Tastes just like oatmeal raisin cookie in liquid form!
Each oatmeal smoothie is made with vegan and gluten free ingredients that also leave wiggle room for you to make adjustments to fit your favorite tastes. Alter the components and adjust with your favorite sweetener alternatives.

From apple pie oatmeal smoothie to blueberry lemon oatmeal smoothie, we want to help satisfy your sweet tooth cravings! So, whether you have fresh or frozen fruit we have quick and easy meal prep ideas to suit your needs.
This oatmeal raisin cookie smoothie recipe is fantastic because…
Only need 5 minutes to put together.
Packed with nutritional ingredients for an around healthy breakfast idea that includes plant based protein, dietary fiber and healthy fats. Feel full all morning until your next meal!
Perfect amount of subtle sweetness, cream oats and aromatic spice.
Tastes just like you put a oatmeal raisin cookie into the blender!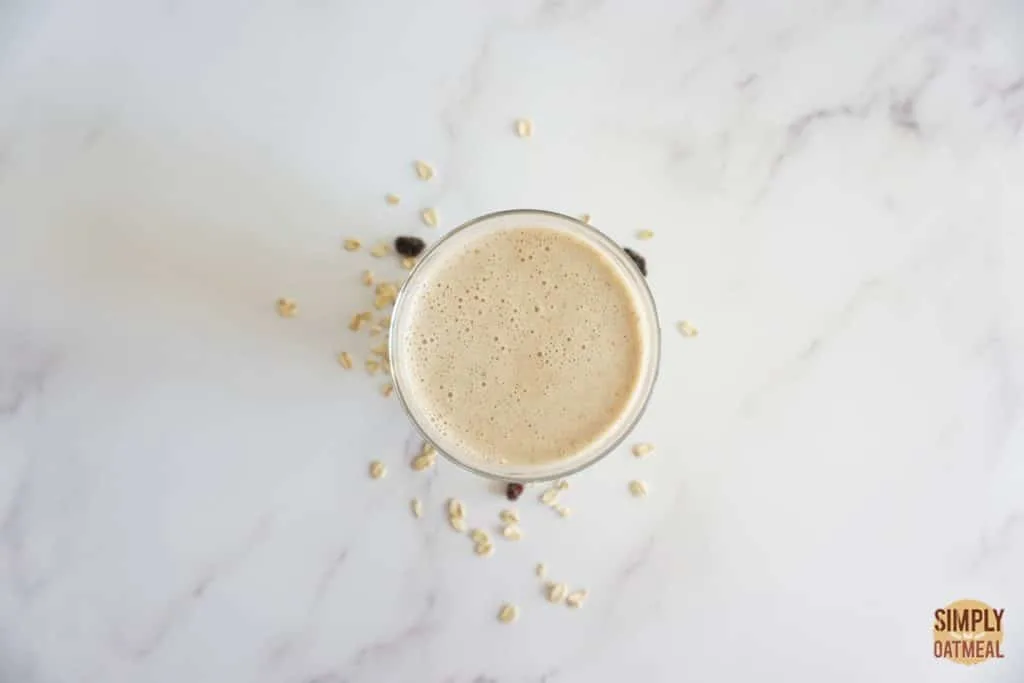 Oatmeal raisin cookie smoothie is the perfect solution for your busy schedule! Meal prep in a mason jar so that you easily survive the workweek without skipping breakfast!

Create a magical treat that contains the wholesome benefits of oats. Play around with different combinations to find the perfect flavor for your morning meal.

Whether you are short on time and need a few extra minutes in the morning or you're looking to jazz up your health snack to reenergize in the afternoon, grab your blender whip up this tasty oatmeal raisin cookie smoothie.
How to make oatmeal raisin cookie smoothie?
This 6 ingredient smoothie recipe will take your no cook meals to the next level. Blend up an oatmeal raisin cookie smoothie for your next meal prep idea and up your food game to the next level.

Coconut flour is a coming gluten free baking ingredient. If you don't have any in your pantry, then make your own coconut flour by grinding coconut flakes in a food processor, spice grinder or a high speed blender.

Take a few minutes to prepare the ingredients below to start making this mouthwatering oatmeal beverage.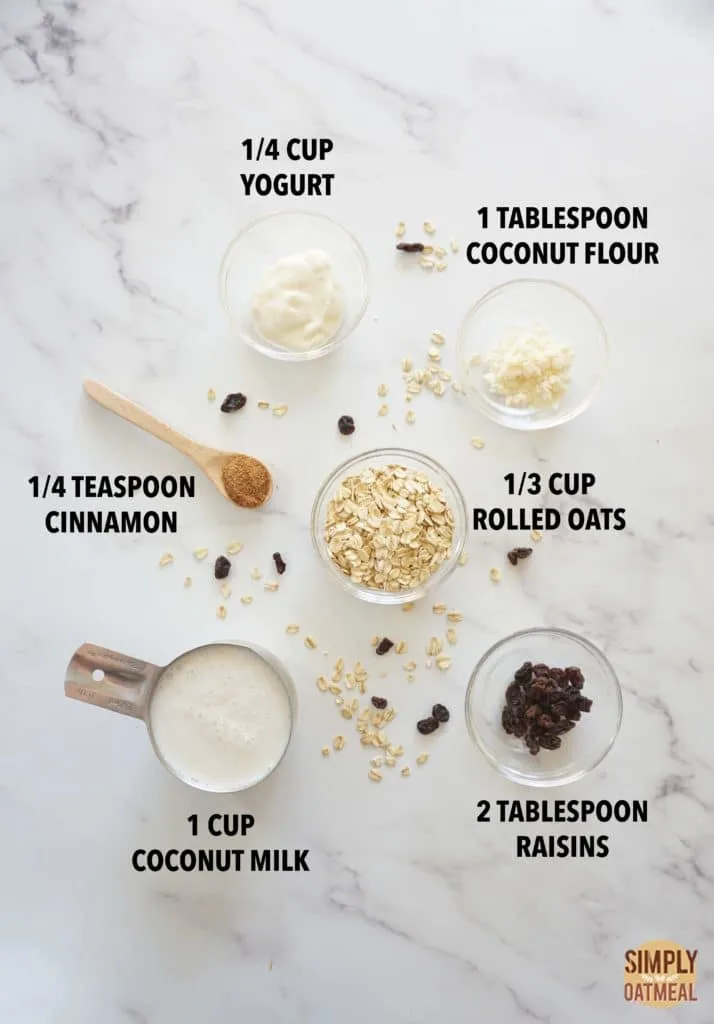 Oatmeal Raisin Cookie Smoothie Ingredients:
Coconut milk
Yogurt
Raisins
Coconut flour
Cinnamon
Grind up the coconut flakes to make the coconut flour. It was pretty easy and the powder blend into the smoothie to give it a very smooth mouthfeel with an explosion of flavor.

Blend the ingredients until they are fully pureed without any chunks remaining from the raisins, it may take up to 60 seconds. Adjust the sweetness with your favorite sweetener if the raisons didn't provide enough, and add a splash of milk if the oatmeal base is too thick.
Oatmeal Raisin Cookie Smoothie Tips:
Oatmeal with a hint of raisin and touch of coconut is an irresistible flavor combination. These tricks and tips will keep your oatmeal smoothie fresh and yummy so that you enjoy every last drop.
Raisins: The smoothie is sweetened with raisins, so this is a primary ingredient. Using more or less raisins will impact the end result, especially in regards to sweetness.
Yogurt: Add a rich creaminess to the blended beverage. Wether you choose a vegan alternative or cow milk based, select you favorite yogurt. A plain or vanilla Greek style would work best. Creamy = delicious!
Oats: Rolled oats or quick oats are the preferred type of oats for blending a smoothie. Raw steel-cut oats aren't recommended because they have not been milled into a more digestible form.
Vegan: Select a dairy free milk and yogurt to keep the recipe free of animal byproducts.
Gluten free: Although oats are gluten free, certified wheat free oats are recommended to avoid cross contamination if you are on a strict diet.
Protein powder: Enhance the nutritional value by adding a scoop of protein powder to the smoothie blend. Use your favorite brand of unflavored or vanilla protein powder.
Sweetness: Raisins are the primary source of sweetness in this recipe. There is a subtle balance of sweet taste in the oatmeal base, but you can add a tablespoon of brown sugar if you are looking for more sweetness.
Consistency: Add a few ice cubes or a splash of liquid to loosen up the thickness.
Make ahead: Meal prep ahead of time for a quick meal on the run for the next day. If the smoothie thickens too much in the fridge, loosen it up with a quick stir and a splash of milk.
Storage: The oatmeal smoothie will stay fresh for about 3 days when stored in the fridge or 1 month if kept in the freezer.
TRY THESE OATMEAL SMOOTHIE RECIPES: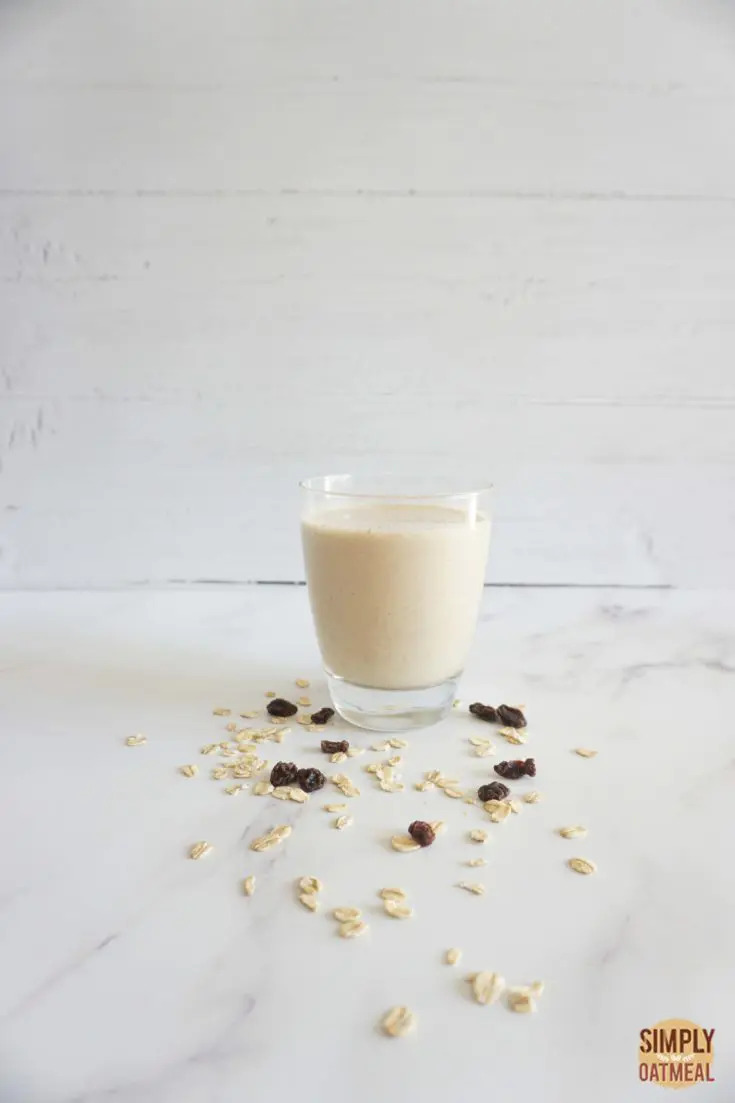 Yield:

10 fl oz
Oatmeal Raisin Cookie Smoothie Recipe
Oatmeal raisin cookie smoothie is a heathy 6 ingredient recipe that tastes yummy. Not only is it easy to make, but the benefits of oats provide balanced nutrition and also helps you to feel full.
This wholesome and nutritious no cook oatmeal recipe only takes a few minutes to prepare with zero cooking required. Meal prep ahead of time for a tasty and nutritious grab and go that tastes delicious any time of day!
Ingredients
⅓ cup rolled oats
1 cup coconut milk
¼ cup vanilla Greek yogurt
2 tablespoon raisins
1 tablespoon coconut flour
¼ teaspoon cinnamon
Instructions
Add all ingredients to the blender with raisins and oats first to ensure they fully grind up.
Blend for 30-60 seconds until smooth and velvety.
Adjust the sweetness and consistency as needed.
Blend in some ice to make the drink cold if you want to drink right away. Otherwise store in the fridge or freezer for a grab and go meal on the run.

Notes
Make it vegan and gluten free!
Recommended Products
As an Amazon Associate and member of other affiliate programs, I earn from qualifying purchases.
Nutrition Information:
Yield:
1
Serving Size:
1
Amount Per Serving:
Calories:

689
Total Fat:

52g
Saturated Fat:

44g
Trans Fat:

0g
Unsaturated Fat:

4g
Cholesterol:

2mg
Sodium:

57mg
Carbohydrates:

51g
Fiber:

5g
Sugar:

18g
Protein:

15g
Nutrition information isn't always accurate.