*This post may contain affiliate links. Please see my
disclosure
to learn more.
Blend up your oatmeal with an avocado in this healthy milkshake copycat. The bright tasting orange flavor profile pairs magically with the fatty avocado! Not only is this avocado dreamsicle super delicious, but it gives you a healthy fat boost that'll jump start your energy level, it tastes just like you shoved an extra helping of creamy fat into an orange creamsicle!
When you need a boost, kickstart your body with a healthy serving of wholesome nutrition. Here are oatmeal smoothies copycats of your favorite blended drinks.

From caramel apple oatmeal smoothie to peach cobbler oatmeal smoothie, we've assembled the best tasting meal prep ideas for you to thrive on. Save money and sip on healthy smoothies while maintaining a temptation-free attitude towards lavish sugar filled desires.
You will love this avocado dreamsicle oatmeal smoothie because…
Takes just 5 minutes to prepare.
Packed with essential vitamins and minerals along with tons nutritional value in the form of plant based protein, dietary fiber and healthy fats. All around healthy meal prep idea that'll keep you feeling full all day long!
Perfect combination of decadent creaminess and natural sweetness.
Tastes just like a healthier version of an organ creamsicle, made without any added sugar. The orange and avocado are delicious when blended with the hearty oatmeal base!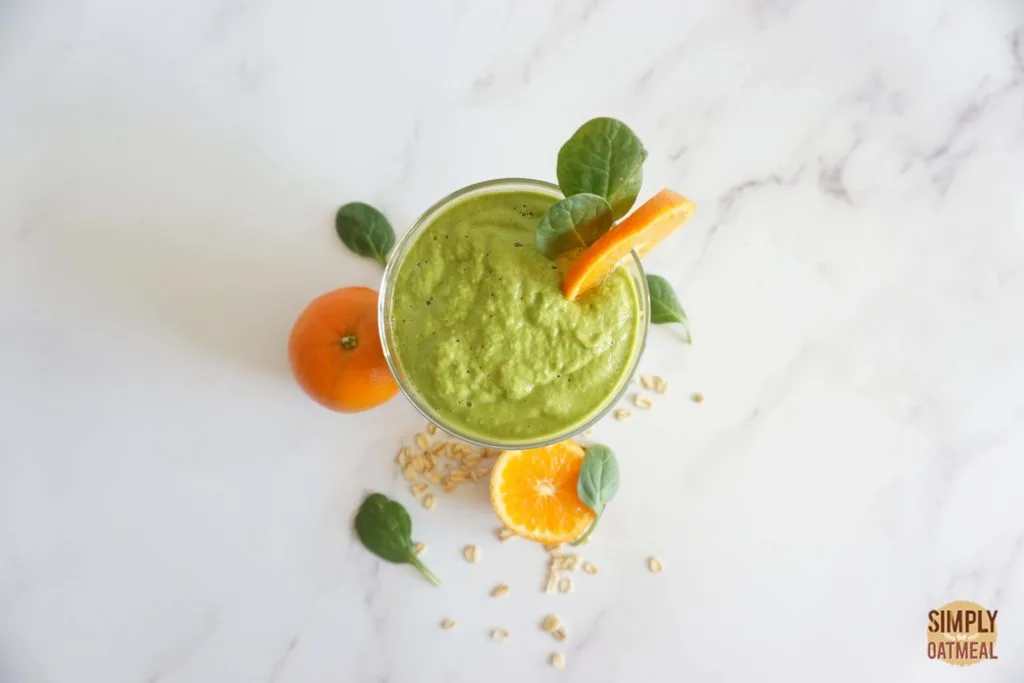 Almond milk and orange juice are a perfect combination for blending together with oats. Enjoy the complete benefits of oats by incorporating them into your diet routine.

Need a new go-to breakfast idea or teaching for an interesting snack that'll fill you up in the afternoon? We got the solution for you, look no further than this avocado dreamsicle oatmeal smoothie.
How to make avocado dreamsicle oatmeal smoothie?
Combine your orange creamsicle with the healthy fat of an avocado in this tasty blender bender beverage. Grab a short list of ingredients to make this homemade avocado dreamsicle oatmeal smoothie.

You may enjoy this 5-minute almond milk recipe for a quick method. Not only do you get to make a variety of fun flavored dairy free milks, but you can also go from making the almond milk to blending up an oatmeal smoothie without having to clean the blender in between tasks.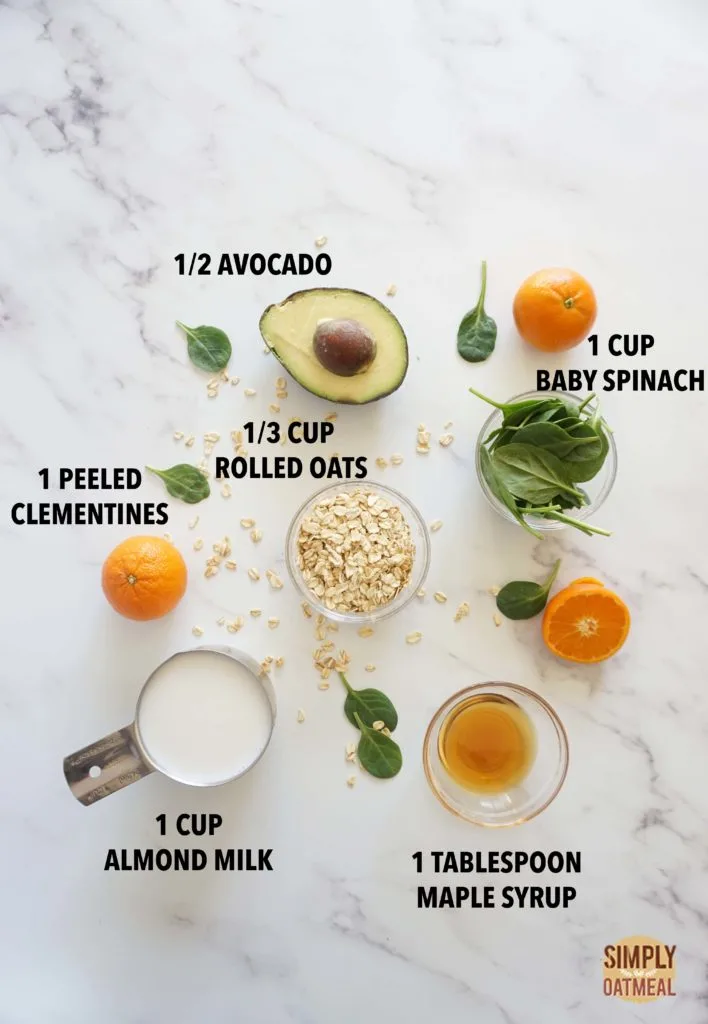 Avocado Dreamsicle Oatmeal Smoothie Ingredients:
Almond milk
Avocado
Orange
Spinach
Maple syrup
Combine the ingredients in a blender and pulse for 30-60 seconds until everything is completely smoothie. Enjoy immediately or store in the fridge for a healthy grab and go meal on the run.

Blend in a handful of ice cube if you are looking to drink a cold beverage right away. Otherwise, for meal prep you can just store in the fridge and it'll be cold when you're ready to drink.
Avocado Dreamsicle Oatmeal Smoothie Tips
There are a few additional tips and tricks to making this the best caramel macchiato overnight oats ever. The following suggestions provide simple adjustments that guarantee you enjoy every sip.
Avocado: Adds rich creaminess and heathy fats. Avocados don't really have a strong taste, and furthermore the smoothie masks much of the avocado flavor. The avocado imparts a delicious fattiness that compliments the dreaminess of the smoothie without having to use heavy cream. Creamy = delicious!
Orange: This smoothie embodies the classic taste of an orange creamsicle, but without the heaviness of using real cream. Blend in a peeled orange or use fresh orange juice. Using juice will make a thinner smoothie, but is defiantly a viable option if you choose not to blend up an orange into the smoothie.
Spinach: Spinach offers an assortment of nutritional vitamins and minerals that compliant the blended beverage. In addition, blending spinach into the drink makes a green smoothie that looks incredibly magical.
Oats: Select rolled oats or quick oats for blending a smoothie. Raw steel-cut oats aren't recommended for this preparation because they have not been milled and are extremely tough to grind in a blender.
Vegan: Dairy free milk allows this to be a dreamsicle as opposed to a creamsicle.
Gluten free: Although oats are gluten free, wheat free certified oats are recommended if you are on a strict diet.
Protein powder: A scoop of protein powder will also increase the nutrition available in this blended beverage. Use your favorite brand of unflavored, vanilla or even chocolate protein powder.
Sweetness: The orange is the primary source of sweetness within the main ingredients. If the orange is not super sweet, then you may want to use the maple syrup or your favorite sweetener to adjust the sweetness to accommodate your taste.
Consistency: A splash of almond milk, orange juice or a few ice cubes will loosen up the mixture if the viscosity is too thick. Ice is great for a serving a cold beverage right away, however it is unnecessary and will dilute the flavor if you are meal prepping for the next day.
Make ahead: Meal prep ahead of time for a quick grab and go. The smoothie will thicken when stored in the fridge, loosen up the consistency with a splash of liquid and follow up with a quick stir.
Storage: To ensure freshness, store the no cook oatmeal smoothie in the fridge for about 3 days or in the freezer for up to 1 month.
More oatmeal smoothies for your next meal prep: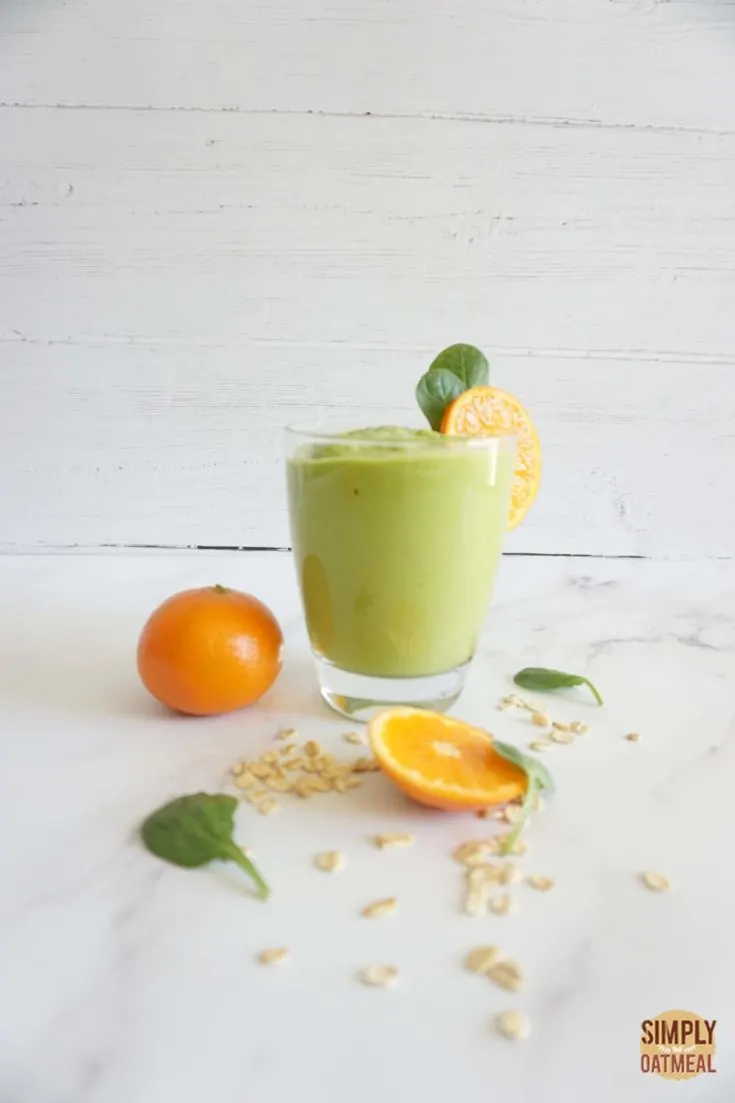 Yield:

10 fl oz
Avocado Dreamsicle Oatmeal Smoothie Recipe
Avocado dreamsicle oatmeal smoothie is a sweet tasting copycat of the milkshake and popsicle classic. Give your body an energy boost from the nutritious oats, fresh orange and creamy avocado.
There is a perfect balance between the creaminess from the almond milk and avocado that pairs well with the aromatic citrusy orange taste. Assemble this make ahead meal prep so that you never have to leave the house hungry.
Ingredients
⅓ cup rolled oats
½ avocado, 3-4 oz.
1 orange (or two clementines), peeled
1 cup baby spinach leaves
1 tablespoon maple syrup
Instructions
Place all of the ingredients in a blender and blend for 30-60 seconds until smooth.
Serve immediately, or store in an airtight jar inside the fridge for an easy meal on the run.

Notes
Make it vegan and gluten free!
Recommended Products
As an Amazon Associate and member of other affiliate programs, I earn from qualifying purchases.
Nutrition Information:
Yield:
1
Serving Size:
1
Amount Per Serving:
Calories:

385
Total Fat:

20g
Saturated Fat:

3g
Trans Fat:

0g
Unsaturated Fat:

15g
Cholesterol:

0mg
Sodium:

139mg
Carbohydrates:

48g
Fiber:

14g
Sugar:

14g
Protein:

12g
Nutrition information isn't always accurate.