*This post may contain affiliate links. Please see my
disclosure
to learn more.
Looking for a no cook breakfast recipe or delicious snack idea to eat on a busy day? Pineapple, coconut and banana are a fulfilling meal when combined with hearty oatmeal. Can be eaten at any time of day and tastes just like a healthy alcohol free piña colada!
It isn't always easy to prepare a breakfast item or afternoon snacks that you can take along with you. Here at Simply Oatmeal, we've put together the best oatmeal smoothies to inspire you with healthy recipes that'll keep you going all week long.

Not only are oats packed with antioxidants and essential vitamins and minerals, but this superfood rich meal is totally delicious. From apple pie oatmeal smoothie to blueberry lemon oatmeal smoothie, each recipe is guaranteed to satisfy your cravings.
You will enjoy this tropical piña colada oatmeal smoothie because…
Takes just 5 minutes to prepare.
Packed with plant based protein, high fiber and healthy fats that'll keep you feeling full all morning!
Just the right amount of sweetness, creaminess and coconut to balance out the taste.
Tastes just like healthy piña colada without added sugars. The pineapple, coconut and banana blend well with the whole grain oatmeal base, this smoothie is delicious!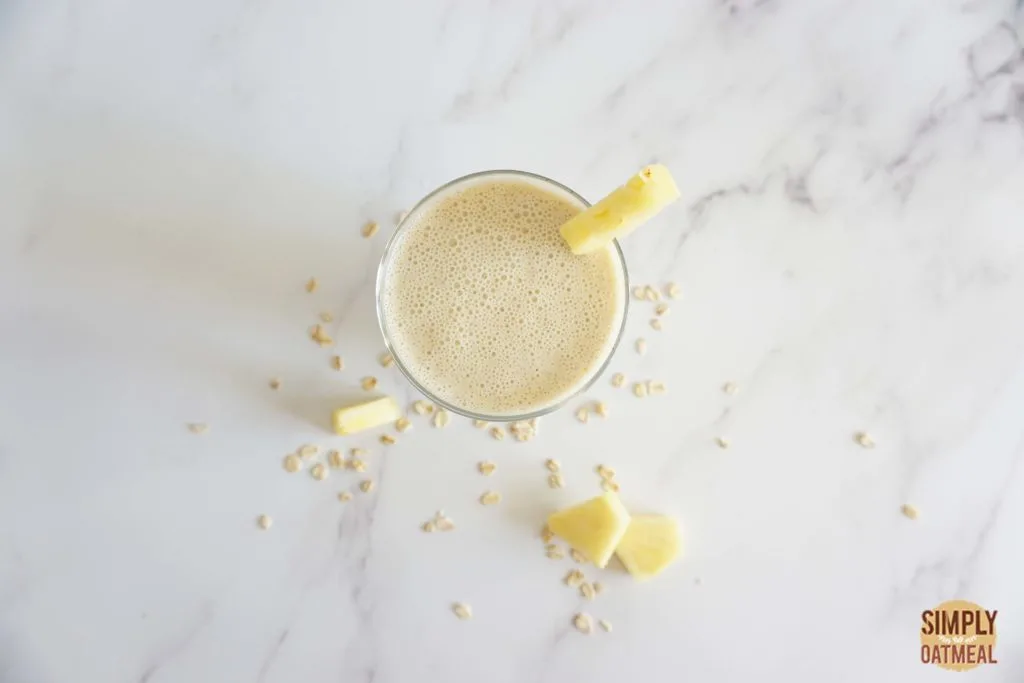 Whether you are looking for a new breakfast idea, want to jazz up you snack routine or need a quick fix to tide you over until your next meal, this piña colada oatmeal smoothie is the perfect solution.
How to make piña colada oatmeal smoothie?
Making this blended drink is really easy and the taste is on point. Creamy coconut milk, sweet pineapple and nutrient rich banana combine to make this wholesome piña colada oatmeal smoothie.

If your looking for a boba-like mouthfeel, then stir in the chia seeds after blending the other ingredients. The chia seeds will plump up and resemble tiny jelly balls that will pop when you chew on them.
Piña Colada Oatmeal Smoothie Ingredients: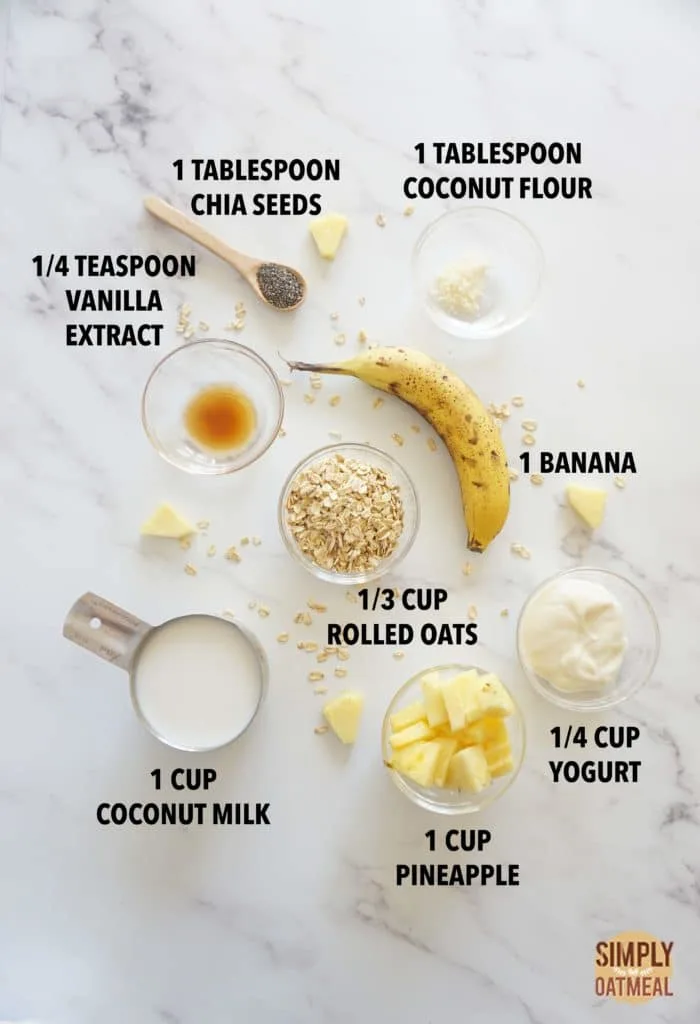 Coconut milk
Pineapple
Banana
Yogurt
Coconut flour
Chia seeds
Vanilla extract
Put all the ingredients in a blender and blend on high speed for 30-60 seconds. Use frozen pineapple and banana for a cool beverage to drink immediately, as a result you won't need to add ice cubes that will water down the flavor.

If you want to keep the chia seeds whole, then blend everything excepts the chia seeds. With the mixture is smooth, then stir in the chia seeds at the last minute.
Piña Colada Oatmeal Smoothie Tips:
Pineapple, coconut and banana are a classic flavor combination that blends well with oatmeal. Enjoy mouthwatering piña colada oatmeal smoothie with help from these tips to make the meal prep even more tasty and delicious.
Frozen fruit: The banana and pineapple can be either fresh or frozen. Using frozen fruits will remove the need to add ice if you are looking for a cold blended beverage to be served right away.
Coconut: Coconut is added in with coconut milk, coconut flour and coconut yogurt. Not only are they dairy free milk and yogurt alternatives, but the coconut flour is also gluten free.
Oats: Rolled oats or quick oats are the best type of oats to use when preparing smoothies. Raw steel-cut oats aren't recommended because they are too tough blend because they have not been milled commercially.
Vegan: Substitute dairy free milk and yogurt to keep this recipe as vegan.
Gluten free: Although oats are gluten free, but using wheat free certified oats reduces the risk of cross contamination.
Protein powder: Give yourself a nutritional boost by adding a scoop of protein powder to the blended drink. Use your favorite brand of unflavored or vanilla protein powder, although chocolate may be an interesting twist as well.
Sweetness: The pineapple and banana impart a subtle sweet taste to the oatmeal base. If you're looking for more sweetness, you can add a tablespoon of coconut sugar, agave or stevia.
Consistency: A few ice cubes or a splash of coconut milk will thin out the mixture if the thickness is not to your liking.
Make ahead: Meal prep ahead of time for a tasty treat to drink any time of day. The smoothie will thicken when stored in the fridge, adjust the consistency by giving it a quick stir and adding a splash of coconut milk.
Storage: To maintain freshness, store the oatmeal smoothie in the fridge for about 3 days or in the freezer for 1 month.
NEED MORE OATMEAL SMOOTHIE RECIPE IDEAS? TRY THESE: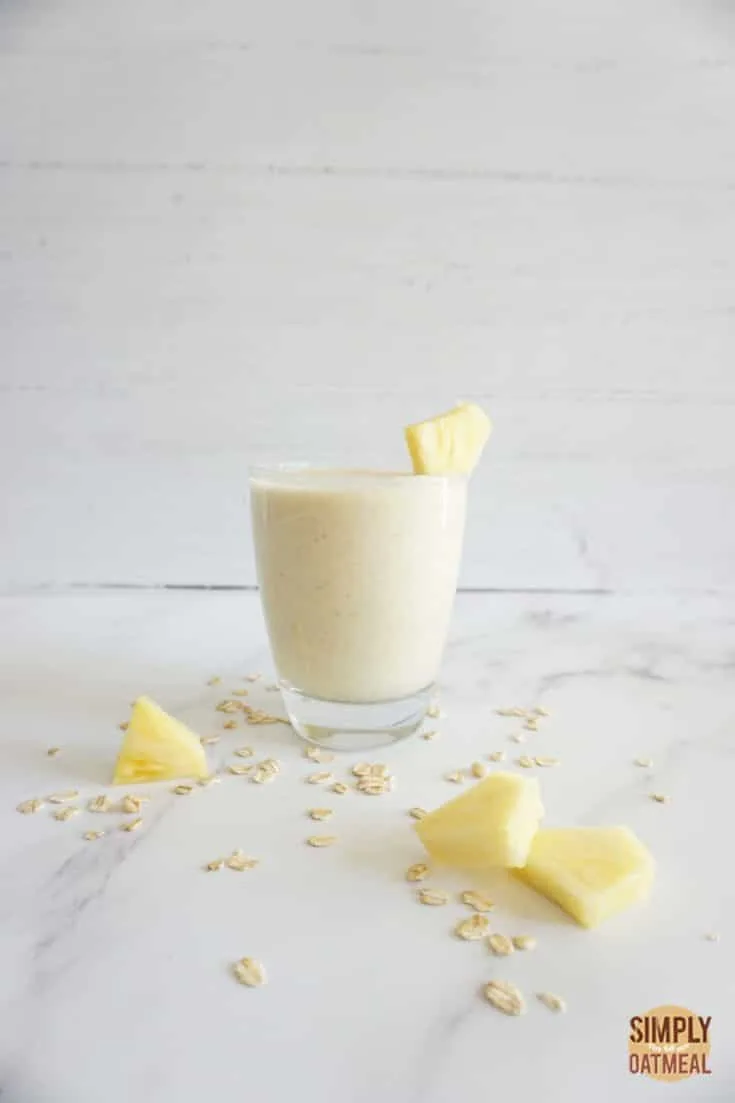 Yield:

10 fl oz
Piña Colada Oatmeal Smoothie Recipe
Piña colada oatmeal smoothie offers a good balance of hearty oats, sweet pineapple, rich banana and tropical coconut. The flavors blend well together and mimic the classic specialty cocktail.
Enjoy the health benefits of oats while activating your body with a boost of tropical goodness. Avoid consuming empty calories when you opt for a serving of delicious and wholesome oatmeal.
Ingredients
⅓ cup rolled oats
1 cup unsweetened coconut milk
1 cup pineapple (fresh or frozen)
1 banana (fresh or frozen)
¼ cup vanilla yogurt
1 tablespoon coconut flour
1 tablespoon chia seeds
¼ teaspoon vanilla extract
Instructions
Add the oats and chia seeds to the blender and pulse a few times until they form a flour like consistency. (Stir in the chia seeds at the very end if you want a boba-like seeds to chew on in your blended beverage.)
Add the remaining ingredients and blend 30-60 seconds until velvety smooth.
Adjust the sweetness and consistency as necessary.
Stir in the chia seeds now for added texture.

Notes
Make it vegan and gluten free!
Recommended Products
As an Amazon Associate and member of other affiliate programs, I earn from qualifying purchases.
Nutrition Information:
Yield:
1
Serving Size:
1
Amount Per Serving:
Calories:

481
Total Fat:

13g
Saturated Fat:

6g
Trans Fat:

0g
Unsaturated Fat:

5g
Cholesterol:

3mg
Sodium:

60mg
Carbohydrates:

85g
Fiber:

13g
Sugar:

40g
Protein:

13g
Nutrition information isn't always accurate.