*This post may contain affiliate links. Please see my
disclosure
to learn more.
Oatmeal doesn't always have to be a steaming hot bowl of mush. Increase your fiber intake with this gluten free and dairy free smoothie that combines the richness of chocolate with the creaminess of a velvety delicious mousse.
Attention all smoothie lovers! Try the best oatmeal smoothie recipes that require zero cooking and take less than 5 minutes to put together.

From apple pie oatmeal smoothie to almond joy oatmeal smoothie, we have you covered. Here at Simply Oatmeal, we've tested fun ways to incorporate oatmeal into your weekly routine; there are so many recipes that we guarantee you won't get tired of eating the same boring blend every single day.
You will love this vegan chocolate mousse oatmeal smoothie because…
Requires just 5 minutes to gather and blend.
Packed with plant based protein, dietary fiber and healthy fats. All around healthy breakfast recipe that'll keep you feeling full until the next meal!
Just the right balance of sweetness, creaminess and rich chocolaty goodness.
Tastes just like chocolate mousse with a hearty oatmeal base, its full-flavored and delicious!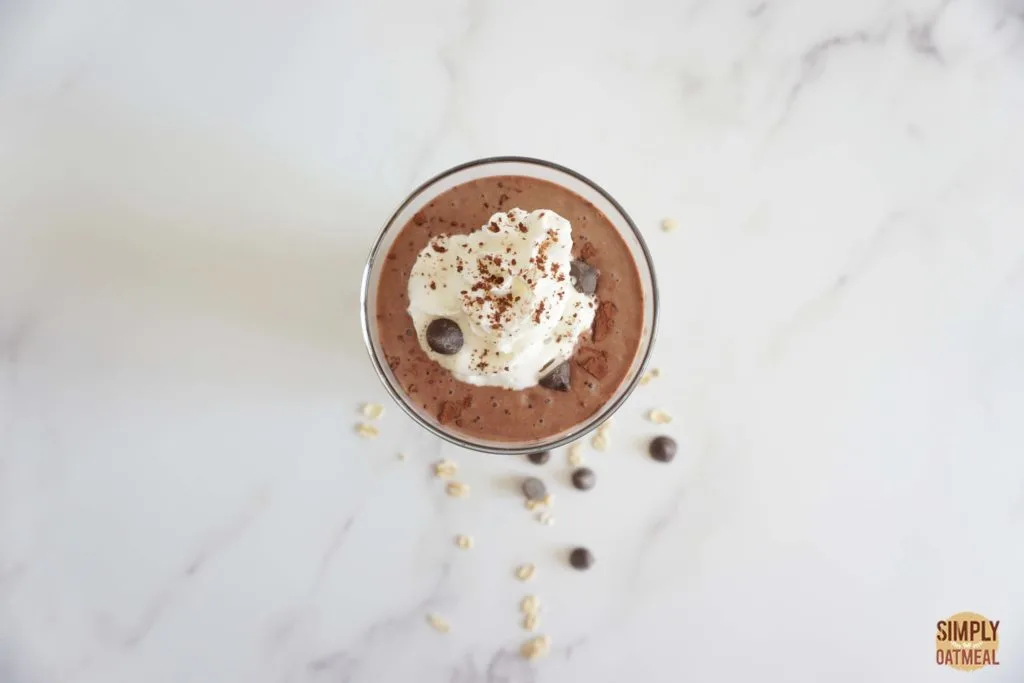 Vegan chocolate mousse oatmeal smoothie is a great way to combine chocolate and whole grain oats into your no cook meal prep! Take the bland and boring taste of oatmeal to the next level with the taste of a dairy free mousse.

If you're looking to change up your morning routine, need a quick afternoon snack or simply looking for ways to add healthy grab and go meals into your routine, then this vegan chocolate mousse oatmeal smoothie is perfect for you.
How to make vegan chocolate mousse oatmeal smoothie?
Vegan chocolate mousse oatmeal smoothie is a great way to satisfy your sweet tooth with a dairy free creamy puree. The no cook oats seriously tastes just like full flavored chocolate mousse, but there is no dairy, cream, eggs or artificial flavors added.

Treat yourself to a delicious superfood packed meal prep that is perfect for any time of day!
Vegan Chocolate Mousse Oatmeal Smoothie Ingredients: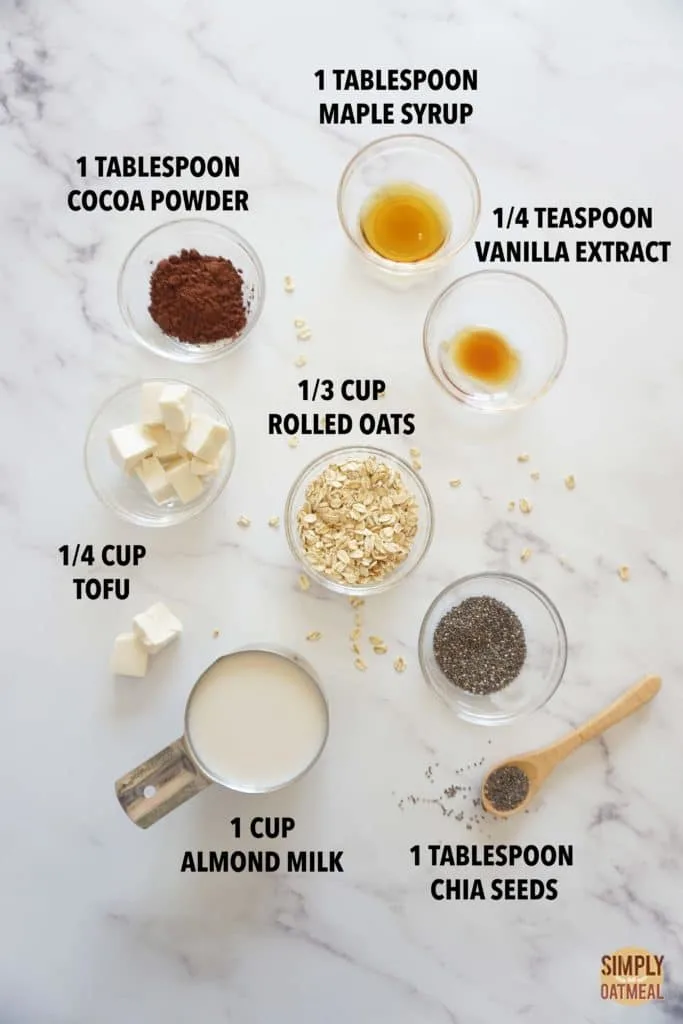 Vanilla almond milk
Tofu
Chia seeds
Cocoa powder
Maple syrup
Vanilla extract
Blend everything together in this quick recipe. Drink immediately or Cover and store in the fridge for an easy grab and go the next day.
Vegan Chocolate Mousse Oatmeal Smoothie Tips:
The caffè mocha overnight oats tips are handy to keep your oatmeal fresh and enjoyable every time. Incorporate the helpful hints to take your no cook oatmeal to the next level.
No tofu, no problem: Tofu is a great way to increase the protein content along with adding creamy goodness. Tofu could also be substituted for ½ an avocado, a scoop of protein powder, yogurt or a banana would also work well fr this recipe.
Oats: For a smooth and silky texture, rolled oats or quick oats are the preferred type of oats for this preparation. Raw steel-cut oats aren't recommended for blending.
Vegan: Use your favorite dairy free milk; unflavored, vanilla and chocolate flavors will taste great..
Gluten free: If you are on a strict wheat free diet it's recommended to use certified oats even though oats are gluten free.
Yogurt: For an extra creamy taste and an addition boost of nutrition, add ¼ cup of yogurt.
Chocolate: Use an unsweetened cocoa powder for better control over the sweetness. If you use cocoa nibs or chocolate chips, then you may have to make adjustments to the sweet taste to fit your preference.
Chia seeds: If you add the chia seeds after blending, they will plump up into tiny jelly-like balls that pop in your mouth like boba. Blend all the ingredients except the chia seeds, and then stir them in at the last minute for a unique mouthfeel experience.
Sweetness: Adjust the sweetness to accommodate your personal craving. There is a subtle balance of rich chocolaty taste in the oatmeal base without the high sugar content of a candy bar.
Consistency: A few ice cubes or a splash of liquid will loosen up the mixture if the viscosity is too thick for your liking.
Make ahead: Meal prep ahead of time for a tasty grab and go that you can take with you the next day. If the smoothie thicken too much while sitting overnight, just stir in a splash of liquid just before serving.
Storage: To ensure freshness, the smoothie is good for about 3 days when stored in the fridge or 1 month if placed in the freezer.
GRAB THESE TASTY OATMEAL SMOOTHIE RECIPES: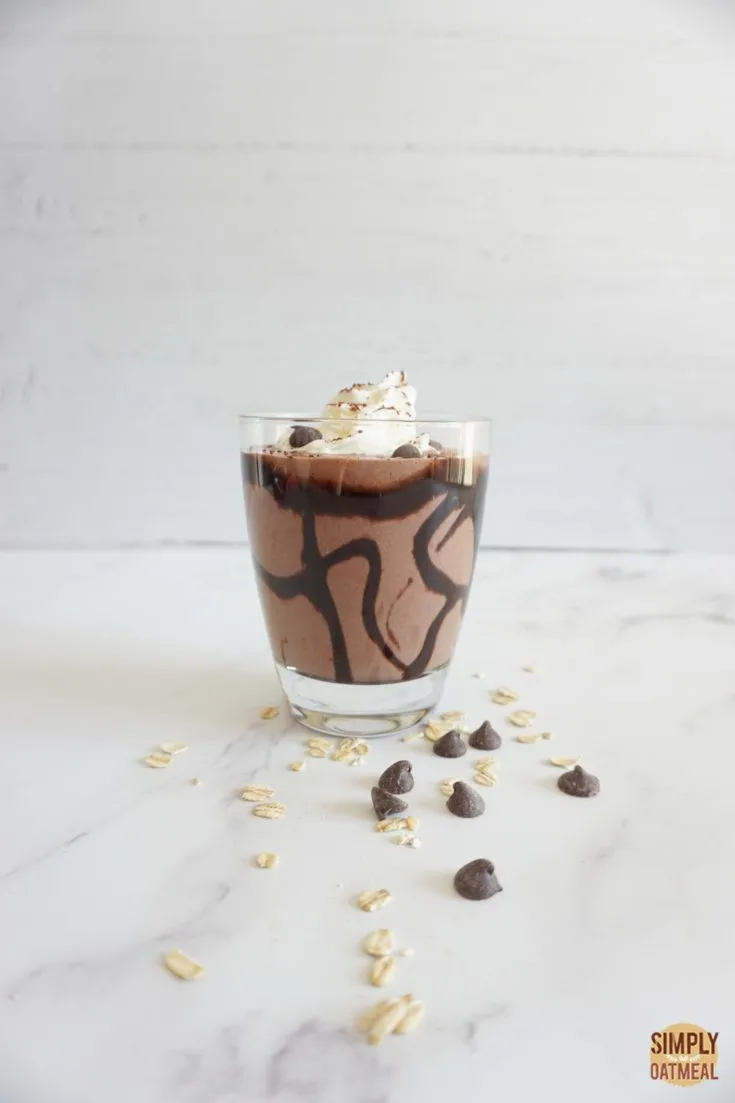 Yield:

10 fl oz
Vegan Chocolate Mousse Oatmeal Smoothie Recipe
Chocolate mousse oatmeal smoothie is delicious, nutritious and wholesome. In addition to the health benefits of oats, the vegan recipe also includes plant-based protein, dietary fiber and essential vitamins and minerals.
The no cook oatmeal takes just a few minutes to prepare. Make it vegan and gluten free to fit your personal diet preferences.
Ingredients
⅓ cup rolled oats
¼ cup tofu
1 tablespoon chia seeds
1 tablespoon unsweetened cocoa powder
1 tablespoon maple syrup
¼ teaspoon vanilla extract
Instructions
Blend all the ingredients (except the chia seeds if you want to plump them up) until a smooth and creamy consistency is reached.
Stir in the chia seeds for a boba like mouthfeel.
Add more milk if the smoothie is too thick and adjust the sweetness if necessary.
Pour into a glass and enjoy!

Notes
Make it vegan and gluten free!
Recommended Products
As an Amazon Associate and member of other affiliate programs, I earn from qualifying purchases.
Nutrition Information:
Yield:
1
Serving Size:
1
Amount Per Serving:
Calories:

407
Total Fat:

12g
Saturated Fat:

1g
Trans Fat:

0g
Unsaturated Fat:

9g
Cholesterol:

0mg
Sodium:

179mg
Carbohydrates:

63g
Fiber:

9g
Sugar:

34g
Protein:

14g
Nutrition information isn't always accurate.