*This post may contain affiliate links. Please see my
disclosure
to learn more.
This cinnamon banana overnight oatmeal recipe literally requires no cook or fancy kitchen appliances. Even if you think that you don't have time to prepare breakfast, we've got you covered!
No cook oatmeal is easy to make and takes less than 5 minutes to assemble. The best part of all, every banana overnight oats is flexible to customize flavor with base liquids and a variety of exciting toppings.

From banana honey overnight oats to brown sugar banana overnight oats, there are so many ways to enjoy oatmeal every single day. There is no need to get tired of eating the same boring meal anymore.
Rise and shine with a batch of delicious and nutritious cinnamon banana overnight oats. Hints of aromatic spice and natural sweetness are great ways to start your day!

Pick your favorite flavored liquid and yogurt to create a flavorful oat base to start with. End with personalized oatmeal toppings just like you add on top of your favorite ice cream sundae!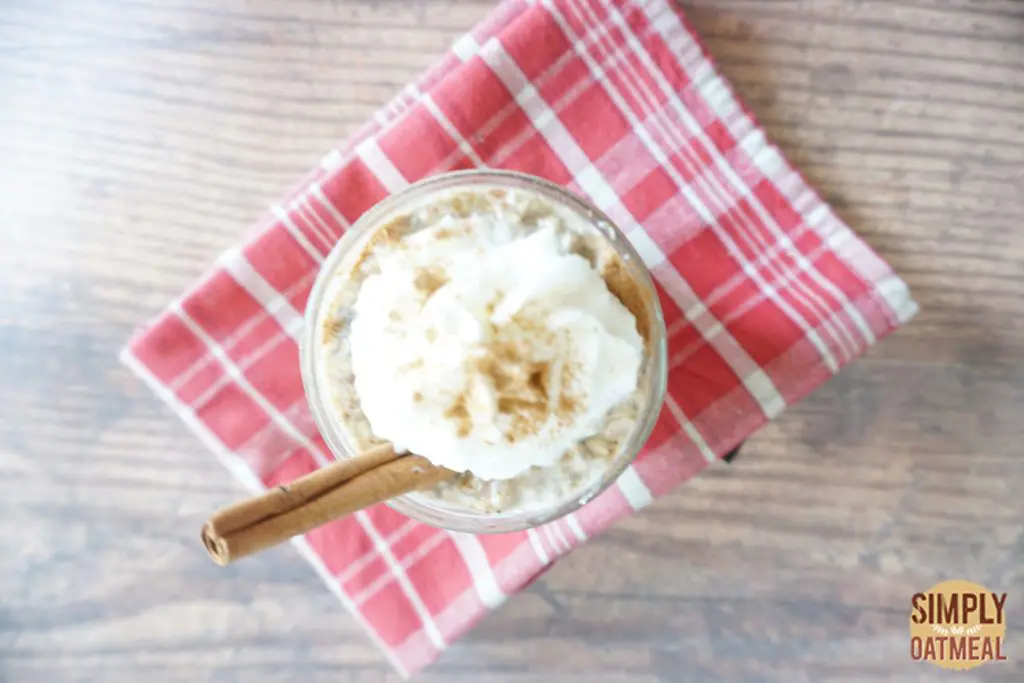 How to make cinnamon banana overnight oats?
Learn how to make cinnamon banana overnight oats to help you get up on the right side of the bed in the morning! The explosion of flavor contains everything from sweet to savory and creamy, everything you ask for!

You may also enjoy making homemade almond milk! The 5-minute almond milk recipe is simple, easy to follow and the almond milk flavors you can put together are endless! I have been making almond milk from scratch ever since I learned how easy it is to whip up!

So, what are you waiting for? Gather together the essential ingredients below. Double up on the banana and your favorite toppings and your satiated tummy will thank you!
Cinnamon Banana Overnight Oats Ingredients:
Almond milk
Banana
Chia seed
Cinnamon
Maple syrup
Vanilla
Mash ½ of the banana at the bottom of a meal prep container. Mix with the rolled oats, almond milk, chia seeds, cinnamon and vanilla extract. Cover the container and refrigerate for 12 hours.

The next morning, stir the no cook oatmeal and then add the oatmeal toppings you prefer. A few ideas for you to try are chopped nuts, nut butter, dried fruit, candied ginger or even shredded coconut. Enjoy!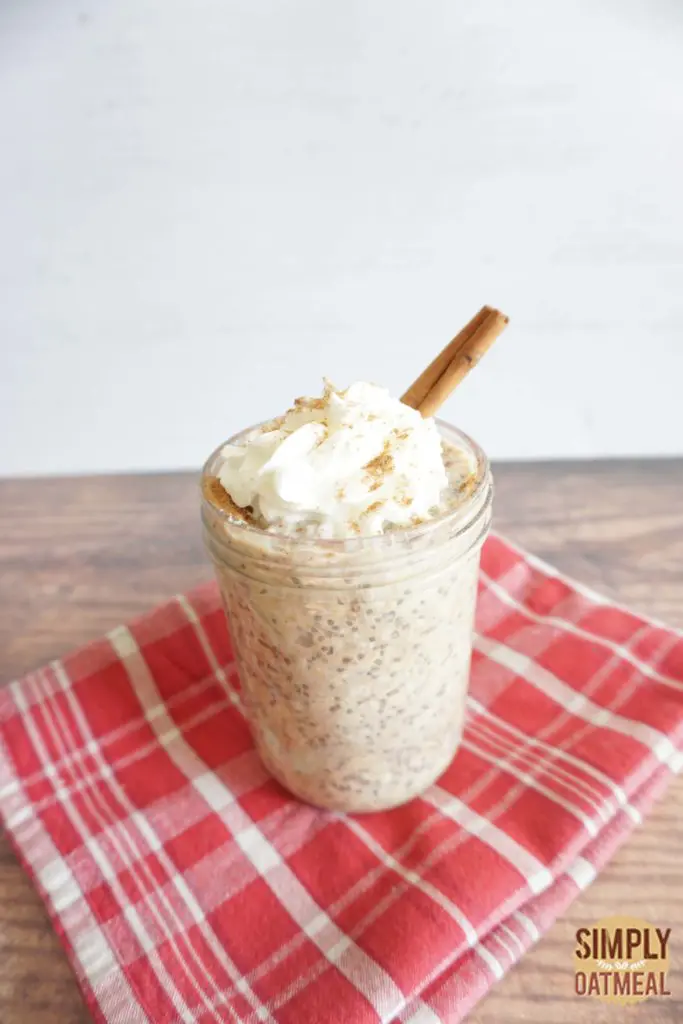 Cinnamon Banana Overnight Oats Tips
Make ahead cinnamon banana overnight oats for breakfast this week. Assemble the staple ingredients with the help of these tips and tricks to keep your oatmeal enjoyable for each and every bite.
Store in overnight oats jars in the refrigerator for up to 5 days. The meal prep is then a ready-to-go breakfast or mid-afternoon snack for the day.
Instead of quick oats, go with rolled oats for this recipe. The quick oats are thinner and have less texture than rolled oats, which results in a mushy consistency.
If the mixture seems too thick when serving, add more yogurt or liquid to make it porridge-like. A 2:1 ratio liquid to overnight oats is a general guideline.
Add a scoop of Greek yogurt to make a creamy taste.
On a workout day, add a scoop of protein powder instead of the chia seeds for more nutritional boost.
Eat within 5 days of preparing so that the individual ingredients don't spoil.
MORE BANANA OVERNIGHT OATS TO TRY NEXT: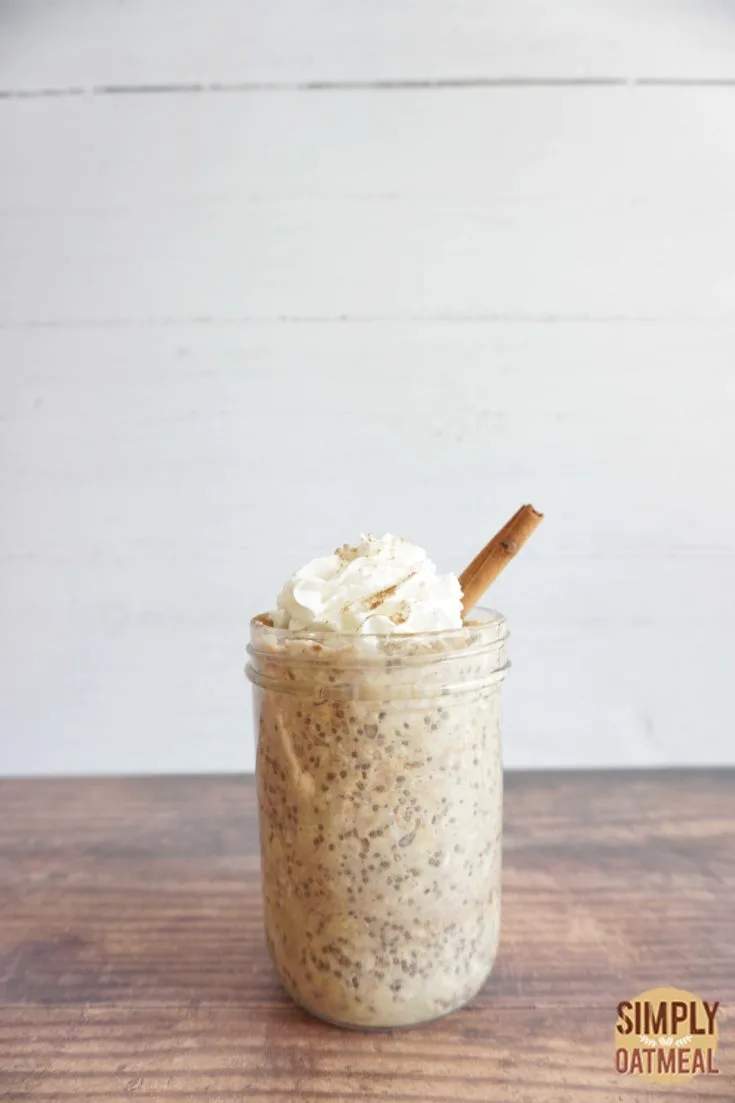 Yield:

1 serving
Cinnamon Banana Overnight Oats Recipe
Cinnamon banana overnight oats balances aromatic spice, natural sweetness and creamy texture in a flavorful combination worth trying. Furthermore, the no cook oatmeal is hearty, wholesome and fulfilling.
Not only packed with the benefits of oats, but banana and cinnamon offer a variety of nutritious gains. From antioxidants to essential vitamins and miners, this plant based meal contains substantial protein and fiber to get your day started on the right foot.
Soaked oats is the perfect meal on the run for anybody living with a busy schedule. It only takes a few minutes to assemble, and then your grab and go breakfast will be ready to eat the very next day. So gather your meal prep containers and lets get started assembling this easy recipe
Ingredients
½ cup rolled oats
1 banana
1 tablespoon chia seeds
1 tablespoon maple syrup
½ teaspoon cinnamon
1/4 teaspoon vanilla
Instructions
Mash ½ a banana at the bottom of an overnight oats container or medium sized bowl.
Then, add the rolled oats, almond milk, chia seeds, maple syrup, cinnamon and vanilla extract. Stir to combine the mixture really well.
Slice the remaining ½ a banana and place it on top of the oat mixture.
Cover the container and place it in the fridge overnight for 12 hours.
The next day, give the soaked oats a quick stir to combine soft oats at the bottom and the chewier oats on top. Afterwards, add chopped walnuts, toasted coconut, banana chips or any oatmeal toppings you like most.
Notes
This no cook oatmeal recipe is vegan, gluten free and non-dairy!
For a porridge style consistency, adjust the overnight oats water ratio for a 2:1 liquid to oats. You can always add a splash of liquid just before serving to loosen up the mixture.
Eat within 5 days of preparation to maintain freshness.
Recommended Products
As an Amazon Associate and member of other affiliate programs, I earn from qualifying purchases.
Nutrition Information:
Yield:
1
Serving Size:
1
Amount Per Serving:
Calories:

398
Total Fat:

9g
Saturated Fat:

1g
Trans Fat:

0g
Unsaturated Fat:

7g
Cholesterol:

0mg
Sodium:

10mg
Carbohydrates:

75g
Fiber:

12g
Sugar:

27g
Protein:

9g