*This post may contain affiliate links. Please see my
disclosure
to learn more.
Ditch the maple syrup and instead go with honey and banana overnight oats for the week! A spoonful of honey actually tastes good in oatmeal and is such a great way to satisfy your sugar cravings with a natural sweetener.
The key to making banana overnight oats taste delicious and unique is by customizing the liquid of your choice and topping you add when serving. Instead of throwing the over-ripened banana away, use it in each no cook oatmeal recipe to have a sweeter flavor that is full of nutrients.

At Simply Oatmeal, we have perfected the art of overnight oats. From chocolate chip banana overnight oats to mango banana overnight oats, each banana oatmeal won't make you tired of eating them!
The more you try overnight oats, the more you will agree that it is the best 5 minutes prep meal idea. It literally requires no cooking skills, no wonder from kids to adult everyone loves banana and honey overnight oats.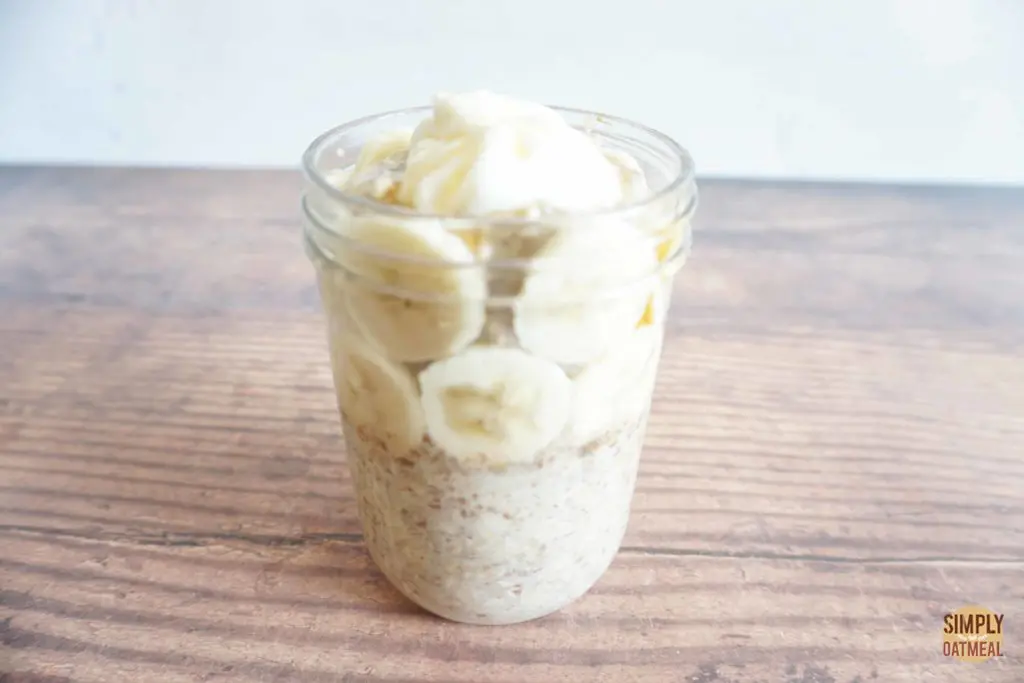 How to make banana honey overnight oats?
If you aren't sure about soaking oats for breakfast and never taste it before, you are going to love this delicious recipe. It combines the pantry staples banana and honey into a convenient and finger-licking breakfast meal that everyone is sure to enjoy!
Banana Honey Overnight Oats Ingredients:
Almond milk
Banana
Almond butter
Ground flax
Honey
Peel and mash ½ the banana into the bottom of a mason jar with a fork. Then, add the ground flax, rolled oats, almond milk, and scoop of almond butter.

Combine ingredients with a spoon and adjust the consistency with an additional splash of milk if you desire a porridge like consistency. Cover and refrigerate for 12 hours or overnight.

When ready to eat, serve cold or warm up on the stovetop for a minute, or for 30 seconds in the microwave. Slice remaining the remaining ½ banana to top no cook oatmeal. Next, drizzle another teaspoon of honey over the top and add some sliced almonds of crunchy. Enjoy!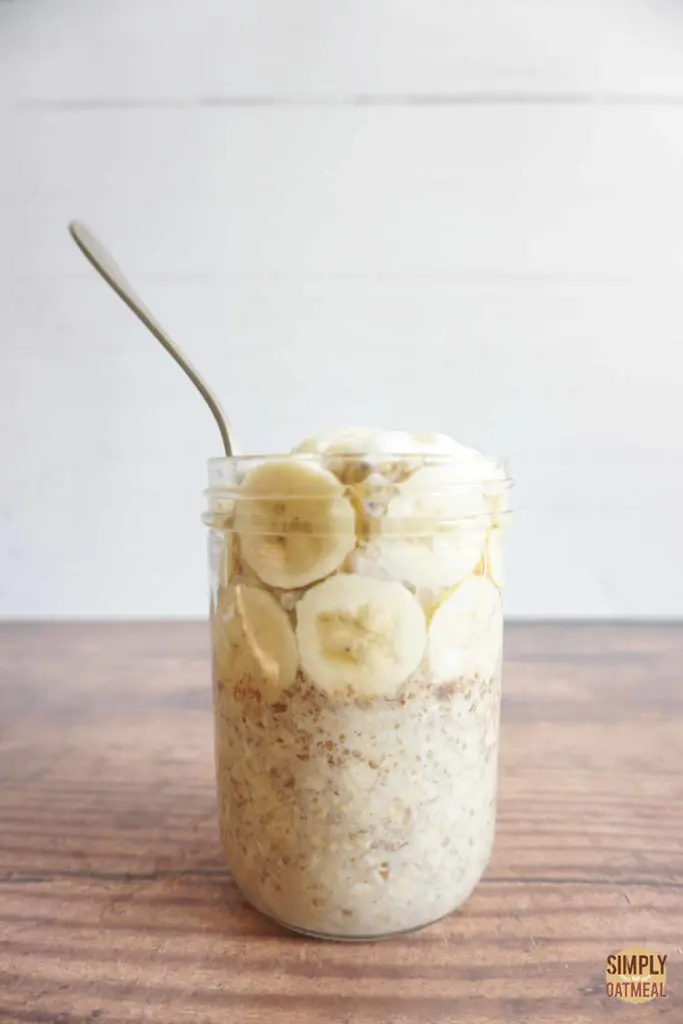 Banana Honey Overnight Oats Tips
Honey and banana overnight oats has a delicious touch of sweetness to every bite. Use these helpful tips to keep your soaked oats nutritious and fresh for the start of each day.
Rolled oats are preferred over quick oats for this no cook recipe. Quick oats tend to become extremely mushy and steel cut oats are too chewy when soaked overnight.
Add chia seeds or a scoop of protein powder for post-workout or midday snack that will fill your empty belly with protein rich nutrition.
If the mixture looks too thick and pasty like, splash more almond milk or add yogurt when serving.
Feel free to use plain or store-bought banana flavored milk to soak the oats and enhance the flavor.
Eat cold, or simply heat up on the stovetop or in the microwave to serve warm. The best part of overnight oats is that the temperature won't change the texture or taste after heating up.
Store in an airtight mason jar in the refrigerator for up to 5 days. Make the perfect meal prep idea for all week long!
ADDITIONAL BANANA OATMEAL RECIPES: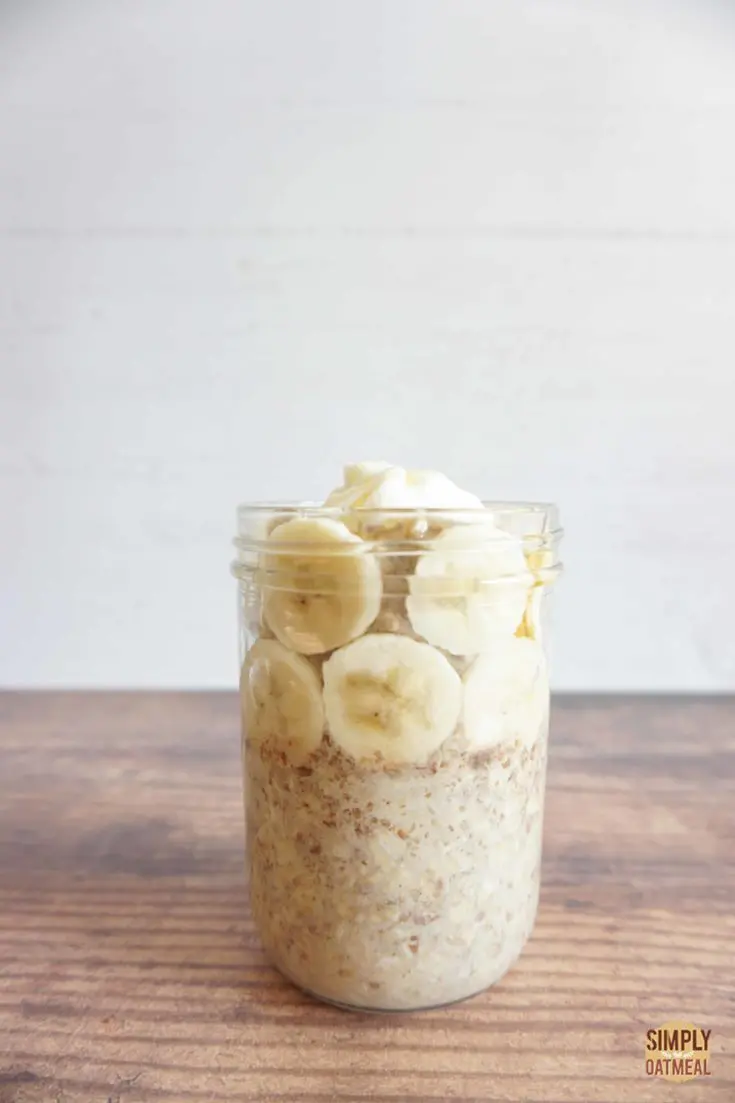 Yield:

1 serving
Banana Honey Overnight Oats Recipe
Banana and honey overnight oats is a classic flavor pairing that is under appreciated. The natural sweetness from the honey combines with the banana and soaked oats in a delightful way.
Not only do oats offer and number of health benefits, but you can say the same about honey and bananas. Together the trio is packed with plant-based protein, insoluble and soluble fiber and also an array of powerful antioxidants.
Grab your favorite meal prep container, and fill it up with a hearty serving of no cook banana honey oatmeal. The grab and go healthy meal will be ready to eat the very next day.
Ingredients
½ cup old-fashioned rolled oats
1 tablespoon honey
1 tablespoon ground flaxseed
1 banana, divided
Instructions
Mash ½ the banana with a fork at the bottom of an overnight oats jar or medium sized bowl.
Mix in the almond milk, almond butter, flaxseed and honey. Stir well so that the almond butter is combined with the liquid.
Afterwards, add the rolled oats and stir again to coat the oats with the liquid.
Cover and place in the refrigerator overnight for a minimum of 12 hours before eating.
The next day, remove the oats and give the mixture a quick stir to combine the layers. The no cook oatmeal can be eaten cold, or warm in the microwave or on the stovetop for a few minutes.
Add you favorite oatmeal toppings like fresh banana, sliced almonds, yogurt, a dash of cinnamon or a drizzle of honey.
Notes
This recipe is gluten free and non-dairy.
If the recipe is oatmeal is too thick for you, adjust the overnight oats water ratio to 2:1 liquid to oats. Add a splash more liquid just before serving and give it a good stir to loosen up the consistency.
Eat within 5 days of preparation to ensure freshness.
Recommended Products
As an Amazon Associate and member of other affiliate programs, I earn from qualifying purchases.
Nutrition Information:
Yield:
1
Serving Size:
1
Amount Per Serving:
Calories:

491
Total Fat:

18g
Saturated Fat:

2g
Trans Fat:

0g
Unsaturated Fat:

14g
Cholesterol:

0mg
Sodium:

10mg
Carbohydrates:

78g
Fiber:

12g
Sugar:

33g
Protein:

12g