*This post may contain affiliate links. Please see my
disclosure
to learn more.
Discover how to make mashed banana overnight oats as part of your meal prep for the week and you won't be skipping breakfast on a busy day anymore! If you are in need of a change of pace, then this is the perfect recipe for you to try next.
Knowing your favorite oats base and toppings makes it easy to smoothly start building a meal prep idea. Great news is that at Simply Oatmeal has many banana overnight oatmeal recipes for you to explore.

As a soaked oatmeal newbie, start with peanut butter banana overnight oats or the finger-licking delicious banana bread overnight oats. If you know what base and topping you like, then it's easy to personalize the oatmeal on your own terms.
Tired of eating a plain banana for breakfast? This oatmeal is so creamy and flavorful that it works perfectly for anyone tired of only eating a banana or don't know what to do with over ripened banana.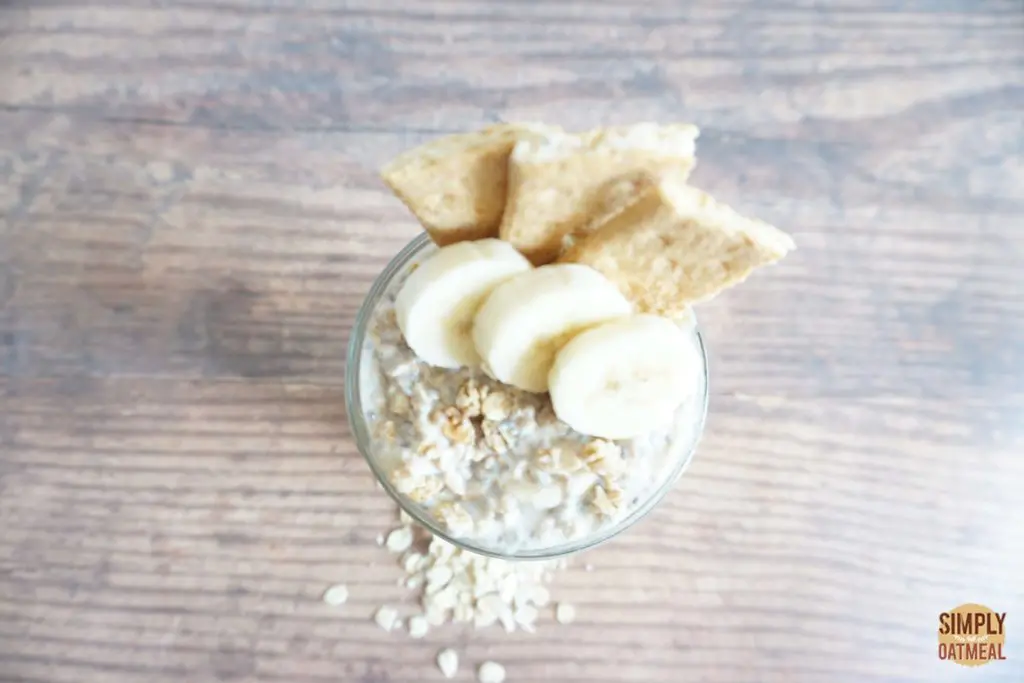 How to make mashed banana overnight oats?
Mashed banana overnight oats are a healthy yet filling make-ahead breakfast or midday snack idea that is easily customizable to suit your lifestyle. Grab the handful of ingredients listed below and let's get started!

You may also like to try making homemade almond milk! This 5-minute almond milk recipe is easy to make and comes with a variety of almond milk flavors to try! Give it a whirl and let us know what you think!
Mashed Banana Overnight Oats Ingredients:
Almond milk
Chia seed
Banana
Maple syrup
Cinnamon
Nutmeg
Chopped walnuts
Mash the banana at the bottom of a container, and then combine the remaining ingredients. Mix well so that the oats are combined with the liquid, mashed banana and almond yogurt to become fully coated.

Seal the container and chill overnight in the fridge for at least 12 hours.

When serving, add a splash of almond milk if desired and top with fresh banana slices, banana chips, chopped nuts or any arrangement from this extensive oatmeal toppings list.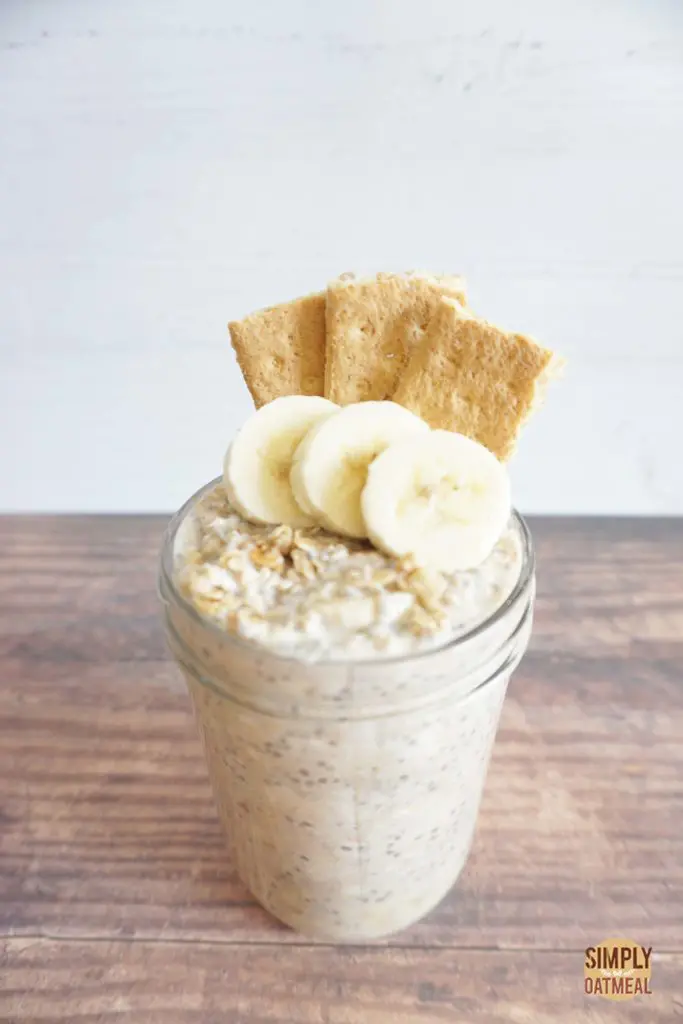 Mashed Banana Overnight Oats Tips
Thinking about a spoonful of creamy mashed banana oatmeal makes my mouth water. There are a few ways to improve your overnight oats experience, so read through these tips to save you time and make sure your oats stay fresh all week.
If you like your oatmeal creamier, then add more milk or an extra scoop of yogurt.
To thicken the oatmeal, consider adding an extra spoonful of chia seeds or even protein powder for additional nutrition.
Rolled oats are better than steel cut oats for this recipe. Steel cut oats tend to be extremely chewy when only soaked for one night. Rolled oats have the perfect balance of softness and chewiness.
Give your oatmeal a good stir to ensure everything is well combined after taking it out of the fridge.
Make a batch of mashed banana puree to use as a topping for additional sweetness.
Sweeten the oats to your preference with maple syrup, honey, coconut sugar or any other natural sweetener.
For crunchy texture, toss homemade granola, shredded coconut or toasted nuts for additional flavor.
Store in an overnight oats container for an easy grab and go meal on the run!
Maintain freshness by consuming within 5 days of preparing.
MORE FINGER-LICKING BANANA OVERNIGHT OATMEAL FOR YOU: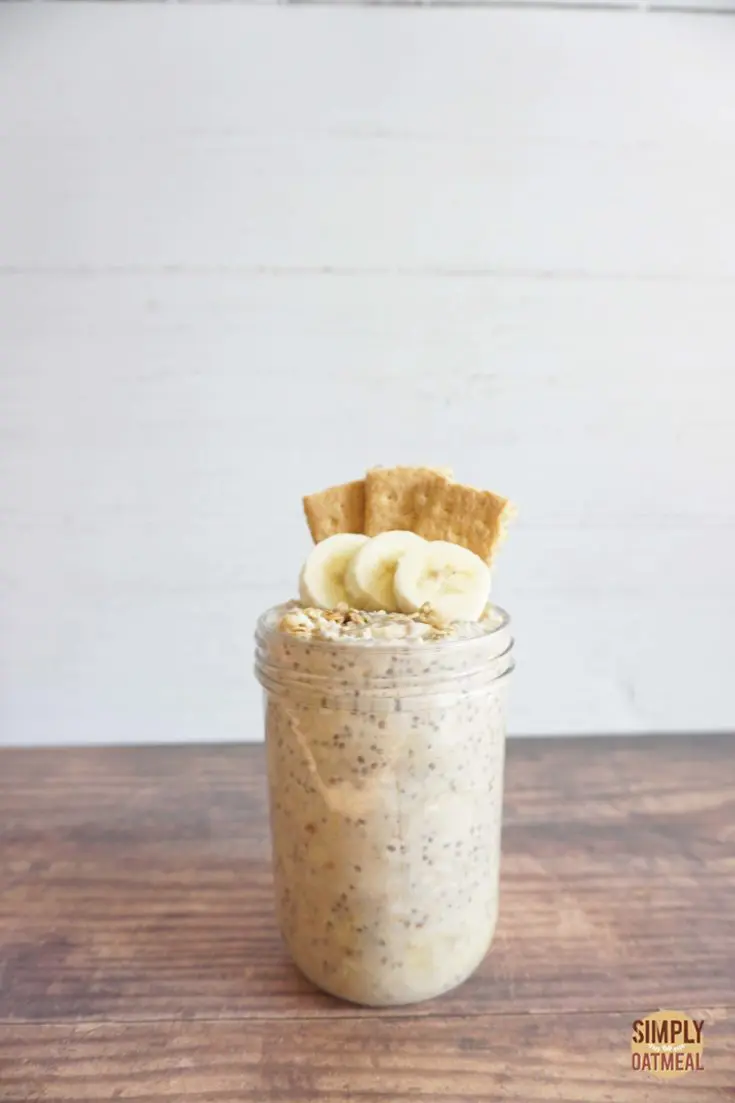 Yield:

1 serving
Mashed Banana Overnight Oats Recipe
Mashed banana overnight oats is an easy to make recipe that has tremendous options for toppings variations. The base is fairly neutral, which allows for a variety of flavor combinations to be added on.
Grab you meal prep container because this no cook oatmeal works well for breakfast or a midday nosh. Not only do oats provide health benefits, but they are filled with plant-based protein and fiber that keeps you feeling full.
Get in the routine of assembling soaked oats the night before. You can even prepare enough for a few days because the soaked oatmeal lasts up to 5 days when stored in the fridge.
Set aside a few toppings to add to the oatmeal last minute and you're all set to go. Overnight oats are healthy and fulfilling, what else can you ask for to start the day in the right direction?
Ingredients
½ cup rolled oats
¼ cup almond yogurt
1 tablespoon chia seeds
½ banana mashed
1 tablespoon maple syrup
½ teaspoon cinnamon
¼ teaspoon nutmeg
2 tablespoons walnuts
Instructions
Mash the banana at the bottom of an overnight oats container or medium sized bowl by using a fork.
Then add the rolled oats, almond milk, almond yogurt, chia seeds, maple syrup, cinnamon, and nutmeg. Give the mixture a stir to fully combine the ingredients. Afterwards, fold in the walnuts.
Cover the container and place in the fridge to soak for at least 12 hours.
When time to serve, give the no cook oatmeal a quick stir. Serve cold or gently warm in the microwave or on the stovetop. Then, add oatmeal toppings like sliced banana, granola, banana chips,, nut butter or your favorite fixings.
Notes
This no cook oatmeal recipe is vegan, gluten free and non-dairy!
If the oats are too thick for your liking, then adjust the 2:1 liquid to oats ratio by adding a splash of almond milk when serving. Give it a quick stir and the consistency will be a porridge-style oatmeal.
Eat within 5 days of preparation to maintain freshness.
Recommended Products
As an Amazon Associate and member of other affiliate programs, I earn from qualifying purchases.
Nutrition Information:
Yield:
1
Serving Size:
1
Amount Per Serving:
Calories:

481
Total Fat:

18g
Saturated Fat:

2g
Trans Fat:

0g
Unsaturated Fat:

15g
Cholesterol:

0mg
Sodium:

21mg
Carbohydrates:

74g
Fiber:

12g
Sugar:

25g
Protein:

11g
Nutrition information isn't always accurate.