*This post may contain affiliate links. Please see my
disclosure
to learn more.
Start your day with bright and refreshing serving of pink lemonade mixed with overnight oats. The no cook recipe is easy to make, flavorful and also contains hearty ingredients.
Start with lemon juice next time you're making overnight oats, it's actually great to combine with yogurt or milk to make a creamy mixture. Save these lemonade overnight oats recipes so that you don't have to skip breakfast even when you're in a rush!

Although lemonade is a year round beverage, lemon juice also works perfectly for recipes like gingerade lemonade overnight oats or blueberry lemonade overnight oats. Lemon juice has a subtle sweetness and complex tartness that actually pairs well with many seasonal fruits and assorted toppings.
You will love this pink lemonade overnight oats because…
Take only 5 minutes to prepare this vegan and gluten-free recipe.
Healthy recipe containing nutritious ingredients.
Balance of plant based protein, dietary fiber and healthy fats.
Perfect amount of sweetness, tartness and creamy flavors.
Pink lemonade blends with hearty oatmeal to make a zesty flavor that is simply delicious!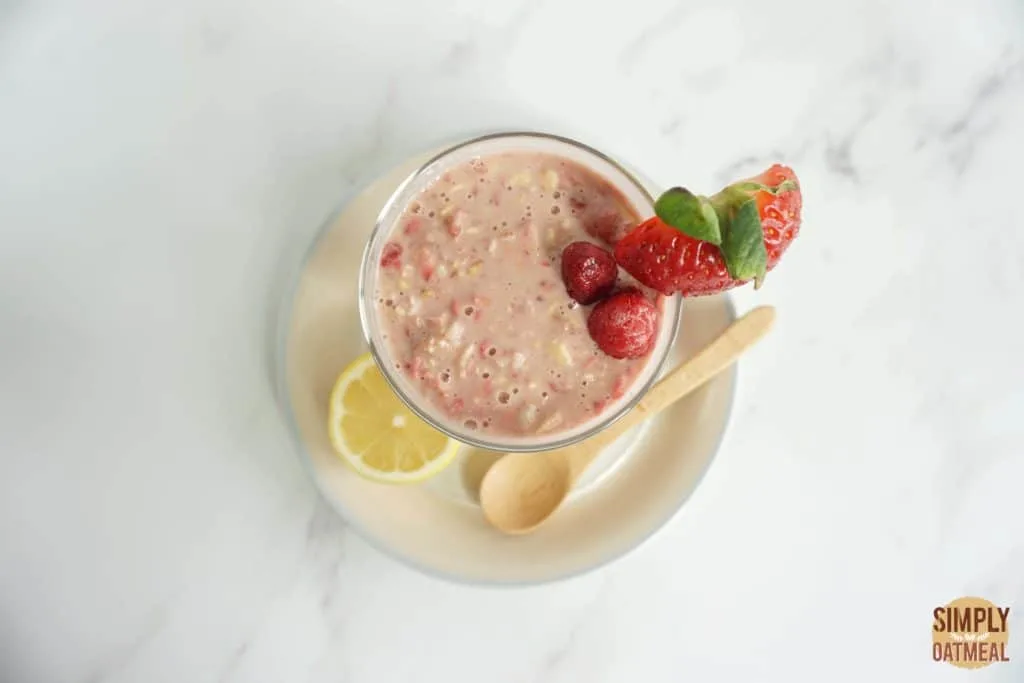 Don't leave home with an empty stomach on a busy morning.

Whether you're looking for the perfect breakfast to make in a hurry, or need a new no cook meal to change up your midday snack routine, then this pink lemonade overnight oats will be perfect for you!
How to make pink lemonade overnight oats?
Creamy oatmeal and sweet pink lemonade make the most amazing no cook breakfast recipe. If you're looking for a nutritious, delicious and a fulfilling way to start the day, gather the staple ingredients to make this pink lemonade overnight oats.
Pink Lemonade Overnight Oats Ingredients:
Coconut milk
Yogurt
Strawberries
Raspberries
Lemon
Coconut sugar
Mash the strawberries and raspberries at the bottom of a mason jar with a fork. Zest the lemon, and then add the juice. Afterwards, stir in the oats, coconut milk, yogurt and coconut sugar.

Mix well, cover with a lid and store in the fridge for a minimum of 12 hours. The next day, the oats can be served either cold oar slightly warmed up. Give the soaked oatmeal a quick stir before adding your favorite oatmeal toppings like sliced almonds, creamy nut butter or fresh berries. Enjoy!
Pink Lemonade Overnight Oats Tips:
Pink lemonade overnight oats is loaded hearty nutrition and supported by a rich, creamy, tangy taste in every bite. Not only is this a ready made heathy breakfast, but it also taste delicious. These tips will guarantee your no cook oats taste great for every bite.
Lemon: Fresh lemon juice adds a zesty tang to your no cook oatmeal. Lemon juice is also available in the juice aisle at the market, but a whole lemon gives the best results because it is noticeably fresher and can also be zested before juicing.
Strawberry: Strawberries give the sweetness to the pink lemonade taste in addition to providing a noteworthy antioxidant benefit.
Raspberry: Raspberries provide a sweet and tart combination of flavor that enhances the pink lemonade taste. Furthermore, they add significant antioxidants and core vitamins.
Oats: Use rolled oats instead of quick oats when assembling this no cook recipe. Quick oats get mushy when soaked overnight while rolled oats maintain a slight chewiness to the texture.
Liquid ratio: Add a splash of liquid if the oatmeal seems too thick when you go to serve it. The 2:1 liquid to oats water ratio is a good rule of thumb to follow for this recipe. Allow enough time to fully soak the oats.
Yogurt: Impart a creamy taste and also add extra protein. Use a dairy free yogurt if you want to stick with this vegan recipe.
Seeds: Additional superfood nutrition can be added in the form of hemp seeds, chia seeds or flaxseeds.
Vegan: Use any dairy free milk and yogurt alternative to keep the vegan recipe.
Gluten free: Oats do not contain gluten, however gluten free oats are recommended if you are on a strict wheat free diet.
Protein powder: Add a scoop of protein powder if you are looking for increased nutrition.
Sweetener: Sweeten the oats to meet your personal taste. Use maple syrup, honey, coconut sugar or any sweetener you prefer.
Give it a stir: Give the oats a good stir. to combine the soft bottom with the chewy top layer.
Add-ins: Mix in fresh fruit, dried fruits, chopped nuts, or check out this list of 75+ oatmeal toppings for a variety of tasty inspirations. Ingredients are used to complement the creamy texture of the overnight oats.
Storage: Use one of the best overnight oats jars to store the easy grab and go meal prep. Eat within 5 days to ensure quality and freshness.
LOOKING FOR MORE LEMONADE OVERNIGHT OATS FOR NEXT WEEK?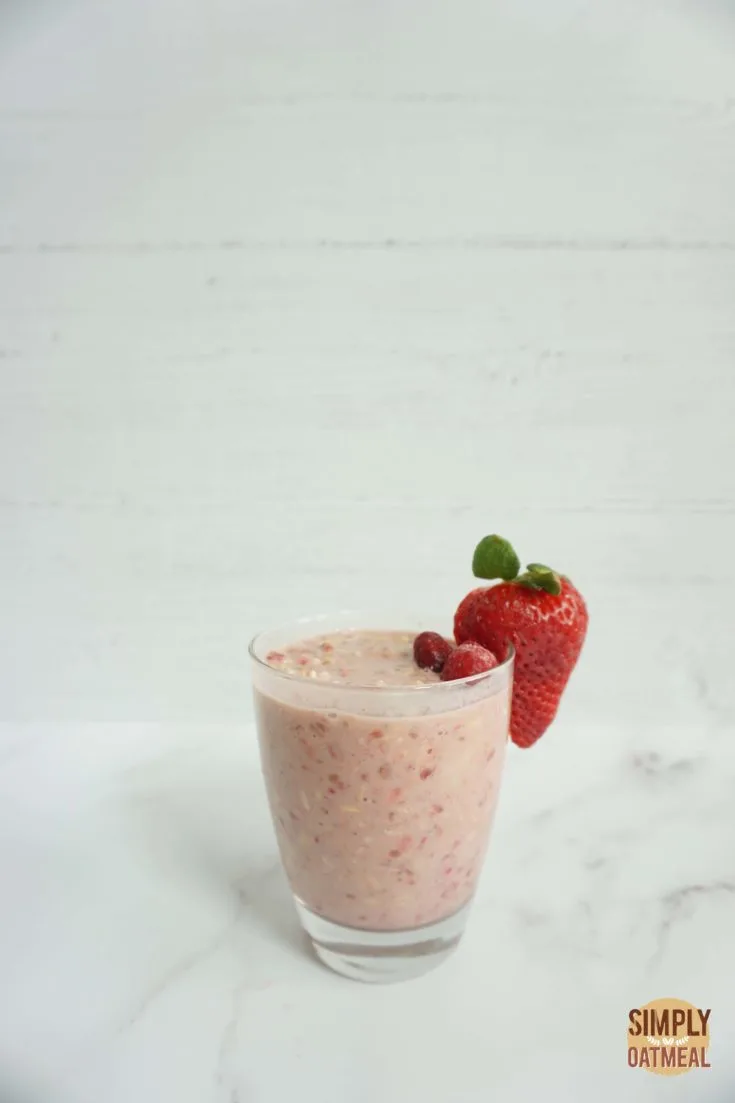 Yield:

1 Serving
Pink Lemonade Overnight Oats Recipe
Pink lemonade overnight oatmeal is a healthy recipe that is super easy to make and also tastes delicious. The wholesome combination of ingredients features a magically pink color that will keep you feeling full all day.
This no cook oatmeal recipe only takes a few minutes to prepare and is packed with a power plant of nutritional ingredients. Grab a meal prep container and toss the components inside for a fulfilling grab and go meal that can be eaten at any time of day.
Ingredients
½ cup rolled oats
½ unsweetened coconut milk
¼ cup coconut yogurt
1/4 cup strawberry mashed
1/4 cup raspberry mashed
2 tablespoon lemon juice
1 teaspoon lemon zest
1 tablespoon brown coconut sugar
Instructions
Inside a medium sized bowl or overnight oats jar, mash the strawberries and raspberries with a fork. Zest the lemon, and then add the lemon juice.
Next, add the oats, coconut milk, yogurt and coconut sugar.
Mix well, cover with a lid and store in the fridge for a minimum of 12 hours.
The next day, serve the oats either hot or cold. Give the overnight oatmeal a good stir before adding sliced almonds, creamy nut butter, fresh berries or your favorite oatmeal toppings. Enjoy!

Notes
Make it vegan and gluten free!
Adjust the consistency and sweetness if necessary.
Store in the refrigerator for up to 5 days.
Recommended Products
As an Amazon Associate and member of other affiliate programs, I earn from qualifying purchases.
Nutrition Information:
Yield:
1
Serving Size:
1
Amount Per Serving:
Calories:

313
Total Fat:

6g
Saturated Fat:

3g
Trans Fat:

0g
Unsaturated Fat:

2g
Cholesterol:

1mg
Sodium:

49mg
Carbohydrates:

60g
Fiber:

7g
Sugar:

27g
Protein:

9g
Nutrition information isn't always accurate.