*This post may contain affiliate links. Please see my
disclosure
to learn more.
Have you tried lavender mixed with lemonade and blended with overnight oats? If you haven't yet tried making this specialty beverage copycat, then here is an easy meal prep idea for you to add to your healthy eating routine!
Whether you enjoy lemons or lemonade, try these lemon overnight oats recipes. Quickly find a variety of copycat recipes that are healthy enough to repeat over and over again.

From pink lemonade overnight oats to green tea lemonade overnight oats, there are so many inspirations for you to explore. Select your favorite liquid and the oatmeal toppings you enjoy most, that's all it takes to personalize the best no cook oatmeal recipes.
You will love this lavender lemonade overnight oats because…
Only need 5 minutes to prepare the no cook recipe.
Healthy meal prep that is full of wholesome nutrition.
Contains a healthy balance of plant based protein, dietary fiber and healthy fats.
Blends the aroma of lavender with sweetness, tartness and creamy goodness.
Resembles the taste of a tangy lavender cake with a hearty oatmeal base and significantly less added sugars. The zesty aromatic flavor is magically delicious!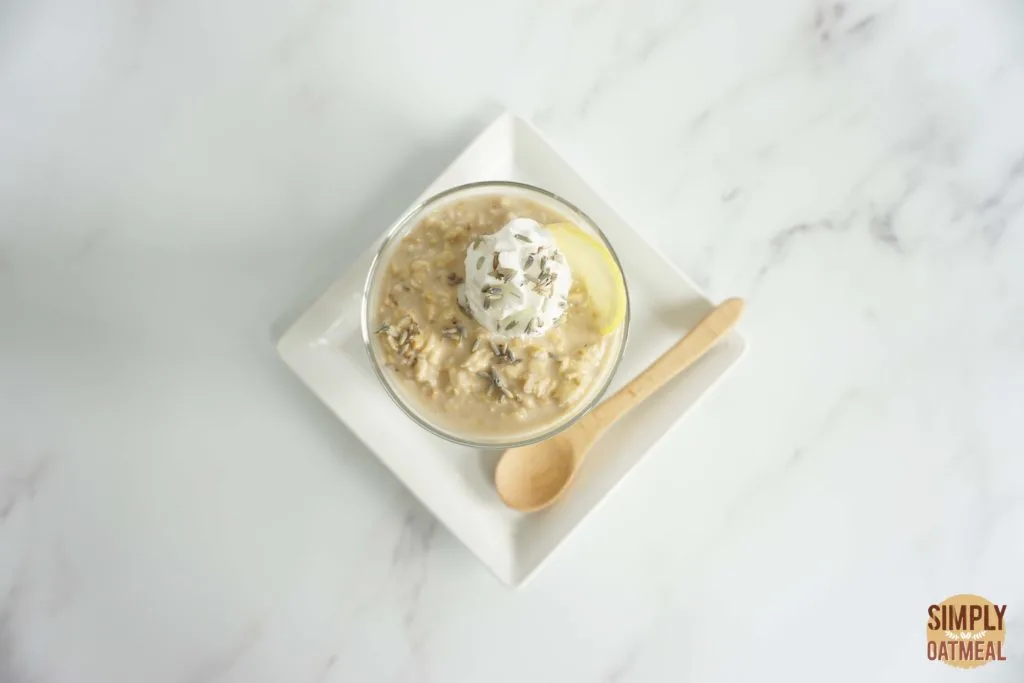 This vegan recipe is so simple to make head of time, it stays fresh in the fridge for up to 5 days. Every jar is high in protein, packed with dietary fiber, and loaded with antioxidants. which makes it a great way to jumpstart your mind and body on any day of the week.

Take this easy grab and go meal along with you when you are on the run during a busy morning. Lavender lemonade combines with the benefits of oats to make a meal full of whole grain nutrition.

If you don't have fresh lavender, don't worry! I highly recommend using dried lavender flowers.
How to make lavender lemonade overnight oats?
Lavender lemonade overnight oats is a delicious and healthy make ahead meal prep. Gather a few key ingredients to quickly assemble this lemonade based oatmeal recipe.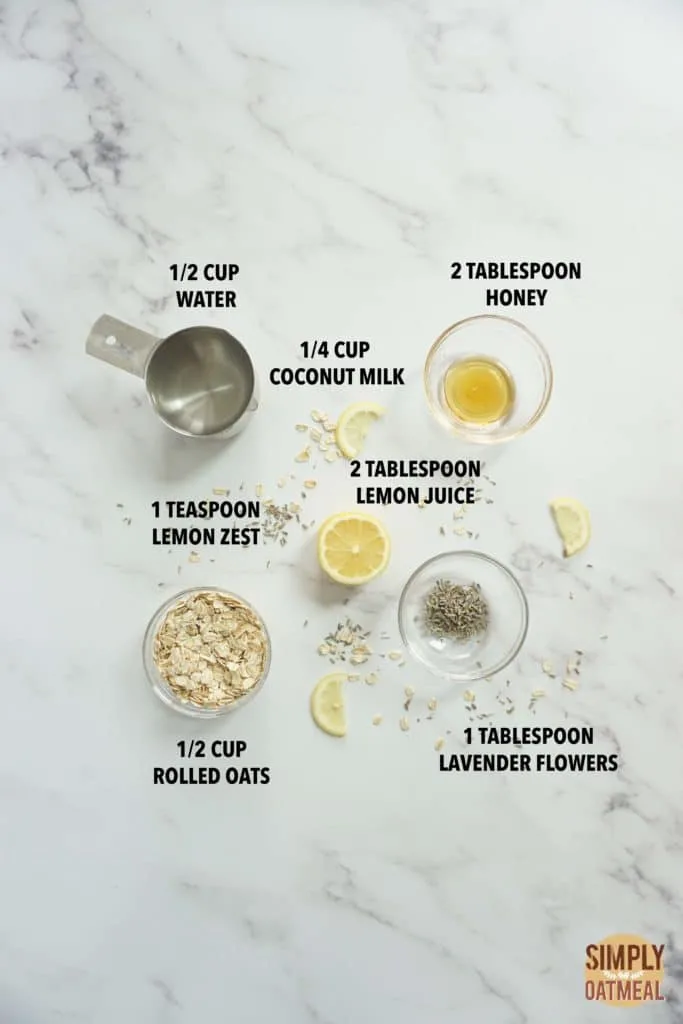 Lavender Lemonade Overnight Oats Ingredients:
Coconut milk
Water
Lavender flowers
Lemon
Honey
Boil the water in a pot on the stovetop or in a mug in the microwave. Steep the lavender flowers the water for 10 minutes. Drain the brew and squeeze out all of the flavorful liquid from the flowers. Allow the infused liquid to cool to room temperature before mixing it with the oats.

In a mason jar, stir together the rolled oats, coconut milk, lemon juice, lemon zest, honey and room temperature lavender tea. Mix well, cover and place the oatmeal in the fridge overnight.

To serve, give the soaked oatmeal a good stir and top with shredded coconut, berries, sliced almonds or your preferred toppings.
Lavender Lemonade Overnight Oats Tips:
Sweet lemonade, coconut milk, and a delicately infused lavender tea combines beautifully with the creaminess of overnight oats. The delicious treat has a perfect balance of flavors.
Lavender: Use fresh or dried lavender flowers. If using fresh, you will need a bit more than the recipe calls for because dried is much more concentrated in weight and flavor. In general, the ratio is 1 part fresh equals ⅓ parts dried herbs.
Lemon: Fresh lemon juice adds a zesty tang that is irresistible when combined with overnight oats. Although lemon juice is available at the market, it's still recommended to use a whole lemon because the juice is noticeably fresher, and you can also zest the lemon.
Oats: Rolled oats produce the best results in this recipe. Quick oats and steel cut oats are not recommended for soaking. Quick oats become very mushy when soaked, while steel cut oats remain too chewy when not fully cooked.
Liquid ratio: 2:1 liquid to oats water ratio is a general guideline used for preparing a creamy overnight oats. Let the oats soak for a minimum of 12 hours for best results!
Yogurt: Adding a spoonful of yogurt will make the oats extra creamy. Use a dairy free alternative if you prefer to make this recipe vegan.
Seeds: Hemp seed, chia seed or flaxseed are sources of superfood nutrition that can easily be added to the soaked oats.
Vegan: Substitute the honey for your favorite sweetener if you're looking to make this into a vegan recipe. In addition, continue using any dairy free milk alternative you prefer.
Gluten free: Certified gluten free oats are recommended even though oats are naturally gluten free, especially if you are on a strict wheat free diet.
Protein powder: Make the lavender lemonade oatmeal extra workout-friendly by adding a scoop of protein powder.
Sweetener: Sweeten the no cook oats by adjusting the honey as needed. Substitute for brown sugar, coconut sugar, agave or stevia if you are looking for a vegan substitute.
Give it a stir: Stir well before adding any topping. The bottom layers are softer than the chewy parts on top, so combine the layers for an even mouthfeel and consistency throughout the oats.
Add-ins: Garnish with fresh fruit, dried fruit and chopped nuts, or check out this long list of 75+ oatmeal toppings for more inspiration. Crunchy ingredients really complement the creamy texture of the soaked oatmeal.
Storage: The best overnight oats jars are recommended to store make ahead meals for an easy grab and go during the busy workweek. Enjoy within 5 days to maintain quality and freshness.
ADDITIONAL LEMONADE OVERNIGHT OATMEAL RECIPES: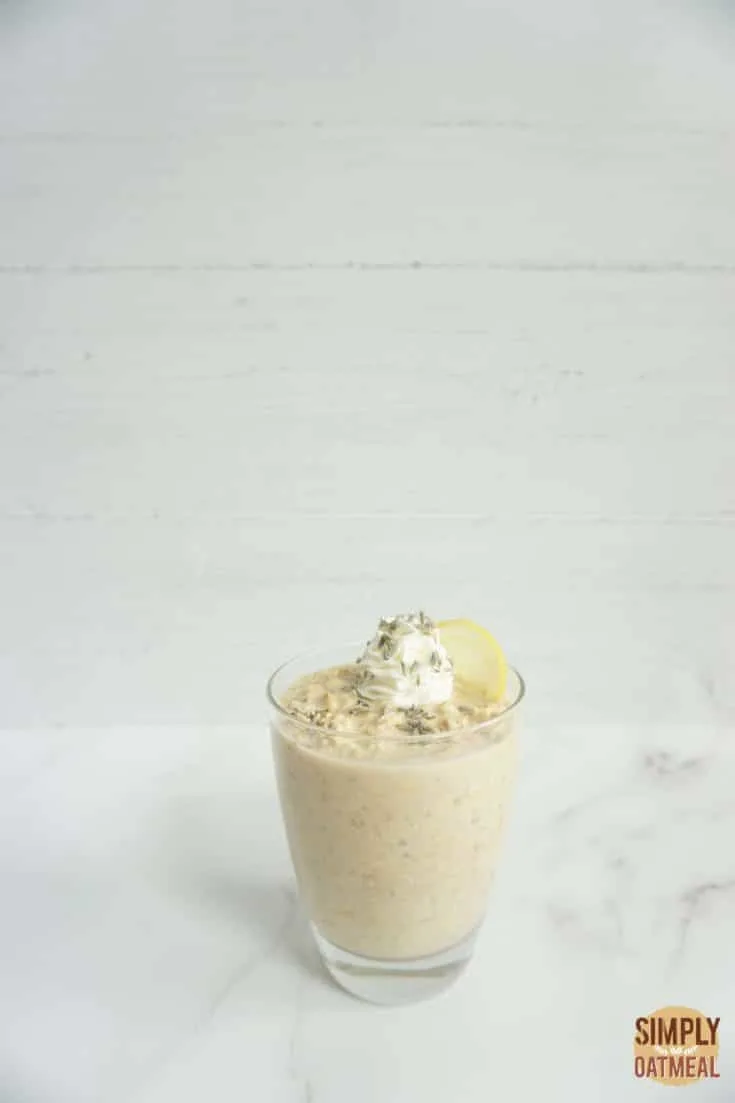 Yield:

1 Serving
Lavender Lemonade Overnight Oats Recipe
Lavender lemonade overnight oats is the perfect balance of sweet, sour and delicious creamy goodness. You'll find yourself repeatedly digging your spoon in for another bite of this magical concoction of flavor. Good til the last drop!
The healthy recipe is easy to make and only takes a few minutes to put together. Brew the tea, cool the tea to room temperature, and then combine all the ingredients in a meal prep container.
Only need to substitute the honey for your favorite sweetener if you want this to be a vegan recipe.
Ingredients
½ cup rolled oats
¼ unsweetened coconut milk
½ water
1 tablespoon lavender flowers
2 tablespoon lemon juice
1 teaspoon lemon zest
2 tablespoon honey
Instructions
Boil the water in a mug in the microwave or in a pot on the stovetop. Steep the lavender flowers the hot water for 7-10 minutes to fully infuse the flavor.
Drain the tea and squeeze all of the flavorful liquid from the flowers. Allow the infused liquid to cool to room temperature before combining with the rolled oats.
In a medium sized bowl or overnight oats container, mix the rolled oats, coconut milk, lemon juice, lemon zest, honey and room temperature lavender tea. Stir well so that the oats blend into the flavorful liquid.
Cover and store the overnight oatmeal in the refrigerator for at least 12 hours before consuming.
To serve, give the soaked oatmeal a good stir to combine the soft bottom with the chewy top layer. Garnish with fresh berries, toasted coconut, crushed nuts or your favorite oatmeal toppings.

Notes
Make it vegan and gluten free!
Adjust the consistency and sweetness if necessary.
Store in the refrigerator for up to 5 days.
Recommended Products
As an Amazon Associate and member of other affiliate programs, I earn from qualifying purchases.
Nutrition Information:
Yield:
1
Serving Size:
1
Amount Per Serving:
Calories:

299
Total Fat:

4g
Saturated Fat:

2g
Trans Fat:

0g
Unsaturated Fat:

2g
Cholesterol:

0mg
Sodium:

19mg
Carbohydrates:

64g
Fiber:

5g
Sugar:

36g
Protein:

6g
Nutrition information isn't always accurate.