*This post may contain affiliate links. Please see my
disclosure
to learn more.
Are you looking for a breakfast idea that requires zero cooking and is also healthy? Ginger, lemon and overnight oatmeal is an easy recipe that you can make ahead of time without any fancy cooking skills involved. Not only is it irresistibly delicious, but each of the ingredients pack a potent immunity boost filled with natural antioxidants.
Hot breakfast doesn't always sound good in the morning, especially when the temperature starts climbing. It's true that lemon overnight oats are a staple that can be enjoyed all year round because it is a refreshing and fulfilling take on the specialty beverage!

From blueberry lemonade overnight oats to green tea lemonade overnight oats, we've got so many ways for you to explore oatmeal preparations. Pick the type of milk or yogurt you enjoy, and personalize the no oatmeal with toppings that you love the most.
You will love this gingerade lemonade overnight oats because…
5 minutes is all you need to prepare this vegan and gluten-free recipe.
Healthy recipe consisting of nutrient packed ingredients.
Contains plant based protein, healthy fats, and both soluble and insoluble fiber.
Perfect balance of sweet, tart and creamy flavors.
Gingerade lemonade blends lemon and ginger with hearty oatmeal to make a zesty flavor that is magically delicious!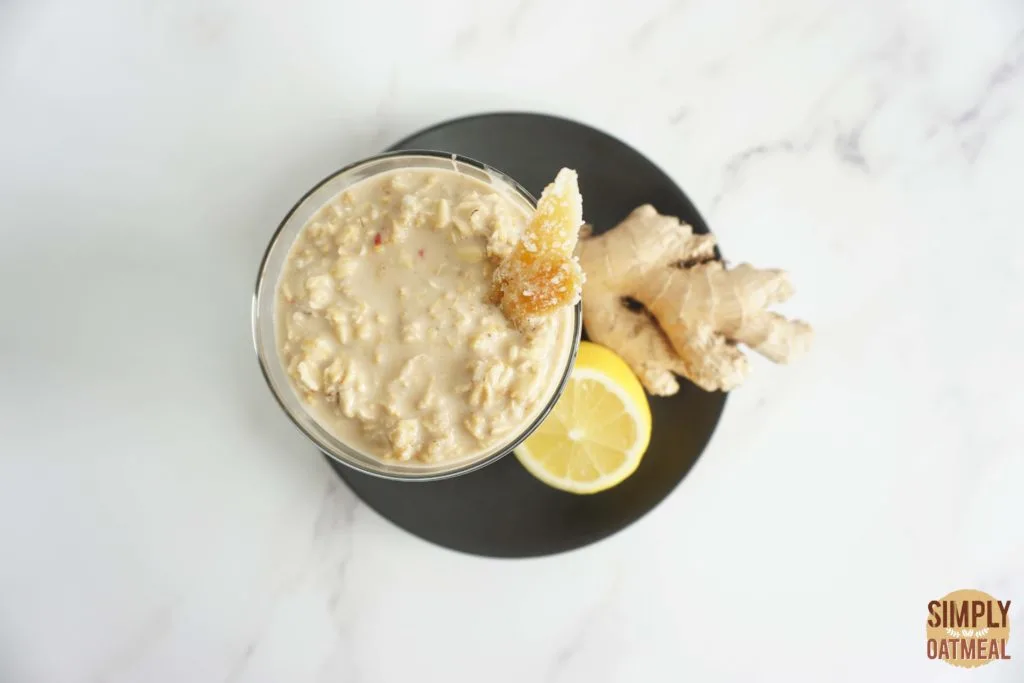 If your hunger turns to anger, then eat this gingerade lemonade overnight oatmeal for breakfast, lunch or midday snack to tide you over, don't allow yourself to experience an empty stomach. Soak up all of the health benefits of oatmeal combined with antioxidant rich super foods like grated ginger and fresh squeezed lemon!
How to make gingerade lemonade overnight oats?
Gingerade lemonade overnight oats is easy to make. You only need 5 ingredients to start and just 5 minutes of time to prepare this healthy recipe.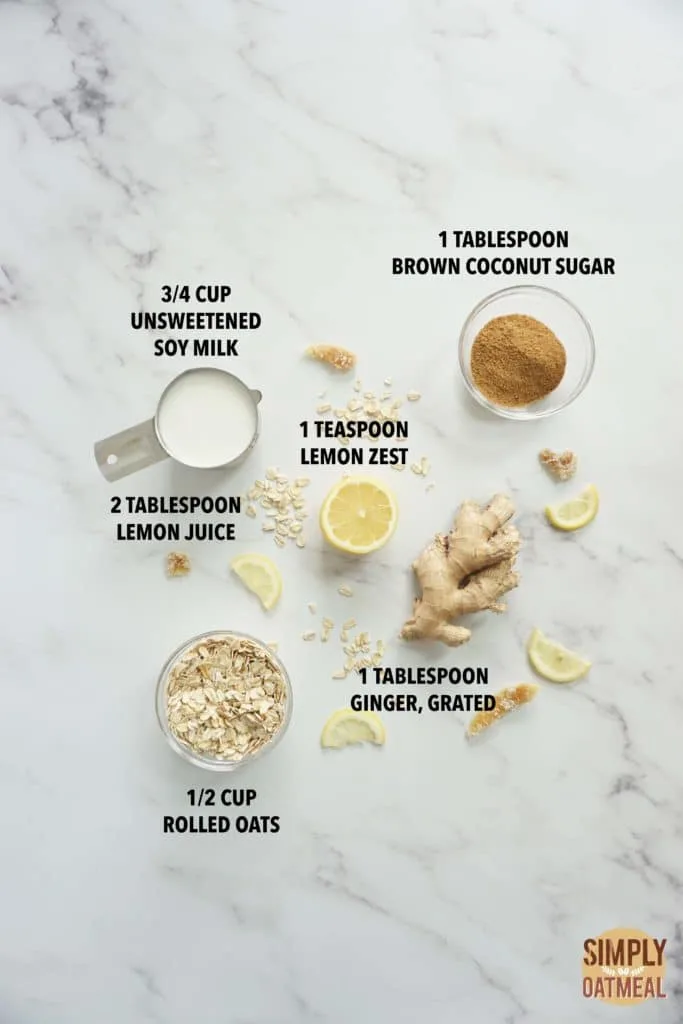 Gingerade Lemonade Overnight Oats Ingredients:
Soy milk
Ginger
Lemon
Coconut sugar
Grate the ginger into a mason jar, then add the lemon zest and lemon juice. Next, add the oats, soy milk and coconut sugar. Mix well and cover with a lid. Place the container in the fridge so the oats can soak for about 12 hours.

In the morning, give the no cook oatmeal a quick stir and serve cold, or briefly heat up. Garnish with whipped cream, fresh berries, sliced almonds, crunchy granola, shaved coconut or your favorite oatmeal toppings.
Gingerade Lemonade Overnight Oats Tips:
Gingerade lemonade overnight oats is a healthy breakfast idea that you can easily make ahead of time. This recipe is a vegan and gluten free treat. Here are handy tips to keep your oatmeal fresh and delicious tasting every time.
Ginger: Ginger adds subtle flavor that is enjoyable, in addition to being a potent immunity booster that imparts beneficial antioxidants, vitamins and minerals.
Lemon: Fresh lemon juice adds a tangy zing to the no cook oatmeal preparation. Lemon juice is available in the juice aisle at the local market, but a whole lemon still gives the best results. Not only is juicing a whole lemon noticeably fresher, but it can also be zested for enhanced flavor.
Oats: Rolled oats are the preferred type of oats for preparing this recipe. Quick oats get mushy when soaked overnight and steel cut oat remain too chewy when not fully cooked.
Liquid ratio: It is important to add enough liquid, 2:1 ratio of liquid to overnight oats is a general guideline to follow to prevent a thick and pasty result. Allow enough time to fully soak the oats and add a splash of liquid if the oatmeal seems too thick when serving.
Yogurt: A scoop of yogurt will give the oatmeal a creamy taste along with increasing the fat and protein content. Use a diary-free yogurt if your sticking to a vegan diet.
Seeds: Superfood nutrition can be added in the form of hemp seeds, chia seeds or flaxseeds.
Vegan: Make it vegan by sticking with the dairy free milk and sweetener options provided in the recipe.
Gluten free: Gluten free oats are recommended if you follow a strict wheat free diet.
Protein powder: Add a scoop of protein powder will increase the amount of available nutrition.
Sweetener: Use your favorite sweetener to meet your personal taste. Maple syrup, honey, coconut sugar or agave are excellent options.
Give it a stir: If mixture seems too thick when serving, Give the oats a good stir and add a splash of milk to make a porridge-style consistency.
Add-ins: Fresh fruit, dried fruits and chopped nuts are great ingredients to mix into overnight oats and complement the creamy texture. Check out this list of 75+ oatmeal toppings for more tasty inspirations.
Storage: Use one of the best overnight oats jars to store the meal prep for easy grab and go accessibility. Eat within 5 days to ensure quality and freshness.
PLAN THESE ADDITIONAL DELICIOUS LEMONADE OVERNIGHT OATS THIS WEEKEND: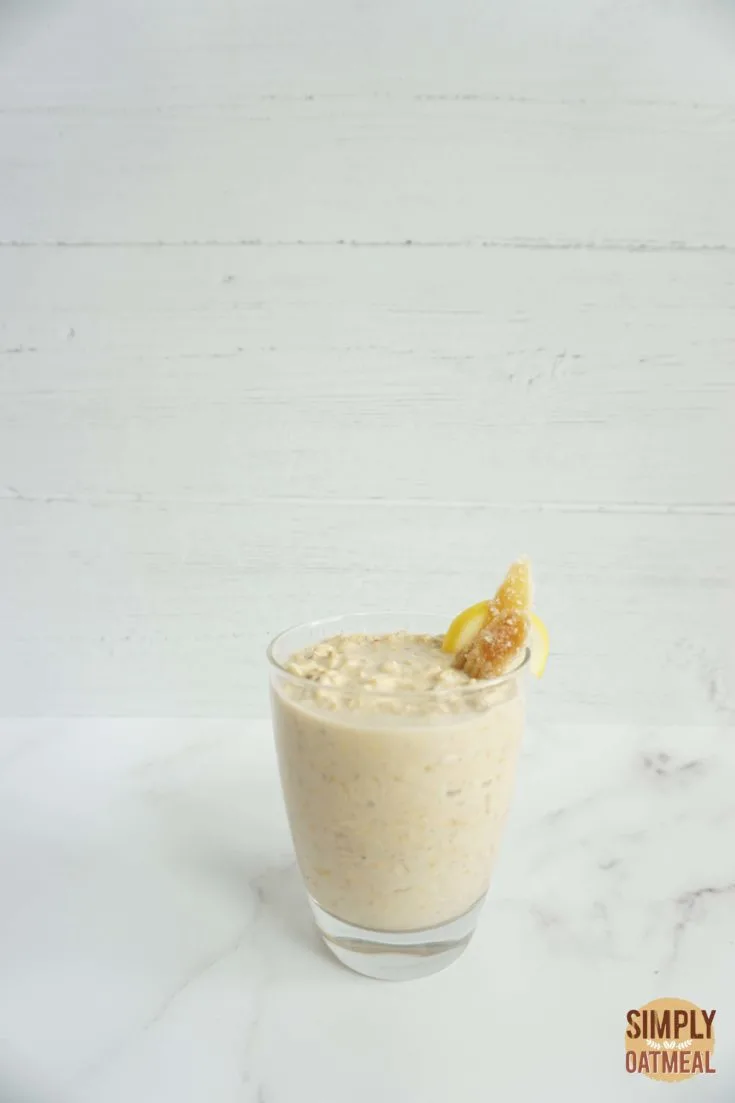 Yield:

1 Serving
Gingerade Lemonade Overnight Oats Recipe
Gingerade lemonade overnight oats are a healthy recipe idea to add to your balanced diet. The no cook recipe only uses 5 whole ingredients and takes just a few minutes to put together.
Make ahead in a mason jar for a simple grab and go meal that will keep you feeling full all day long. Don't leave home with an empty stomach, reach into the fridge for this healthy meal on the run.
Ingredients
½ cup rolled oats
1 tablespoon ginger, grated
2 tablespoon lemon juice
1 teaspoon lemon zest
1 tablespoon brown coconut sugar
Instructions
Grate the ginger and zest the lemon into a medium sized bowl or overnight oats jar. Next, add the oats, soy milk, lemon juice and coconut sugar.
Mix well, cover with a lid and store in the refrigerator to allow the oats to soak for about 12 hours.
To serve, give the no cook oatmeal a good stir and garnish with your favorite oatmeal toppings like fresh berries, sliced almonds, crunchy granola or shaved coconut.

Notes
Make it vegan and gluten free!
Adjust the consistency and sweetness if necessary.
Store in the refrigerator for up to 5 days.
Recommended Products
As an Amazon Associate and member of other affiliate programs, I earn from qualifying purchases.
Nutrition Information:
Yield:
1
Serving Size:
1
Amount Per Serving:
Calories:

237
Total Fat:

4g
Saturated Fat:

1g
Trans Fat:

0g
Unsaturated Fat:

3g
Cholesterol:

0mg
Sodium:

18mg
Carbohydrates:

44g
Fiber:

6g
Sugar:

13g
Protein:

8g
Nutrition information isn't always accurate.