*This post may contain affiliate links. Please see my
disclosure
to learn more.
Feeling lazy and need a few extra minutes of sleep in the morning time? Raspberry white chocolate overnight oats is the perfect solution for your busy schedule! Meal prep a batch of soaked oats so that you easily survive the week without rushing out the door and skipping breakfast!
Each of the raspberry overnight oats recipes are made with vegan and gluten free ingredients that also feature natural sweeteners. Change up the combinations and use honey or your favorite alternative sweetener.

From raspberry mocha overnight oats to raspberry coconut overnight oats, we want to help satisfy every one of your taste buds! So, don't forget to grab a box of blueberries or frozen berries when you are at the market and let's assemble this quick and easy meal.
Combine overnight soaked oatmeal with raspberry and white chocolate to experience a magical treat that contains the wholesome benefits of oats. Play around with different oatmeal toppings to find the perfect combination for your morning meal.

For this recipe, we recommend adding some yogurt to the oats mixture for extra creaminess. Yogurt is a great source of healthy fat and protein that provides your body with a sustainable energy boost.
How to make raspberry white chocolate overnight oats?
This 6 ingredient recipe will take your no cook meals to the next level. Assemble raspberry and white chocolate overnight oatmeal for your next meal prep idea so that up your food game in a serious way.

Take a few minutes to prepare the ingredients below to start making this mouthwatering oatmeal recipe.
You may also enjoy making almond milk from scratch. Homemade almond milk only take a 5-minutes to blend, and it's really fun because you get to mix in various flavors such as cinnamon, matcha, caramel, coffee, vanilla and cocoa powder. What are you waiting for, give air a try and make your very own flavored dairy-free milk alternatives.
Raspberry White Chocolate Overnight Oats Ingredients:
Almond Milk
Almond Yogurt
Raspberries
White chocolate chips
White chocolate powder
I ground up a few white chocolate chips in a spice grinder to make the white chocolate powder. It was pretty easy and the powder combines into the oatmeal to give it a very subtle flavor with the white chocolate chips providing an explosion of flavor.

In a bowl or mason jar, add regular rolled oats, almond milk, almond yogurt, white chocolate chips and white chocolate powder. Stir everything together really well, and then fold in the raspberries.
Sweeten the top a few extra raspberries and white chocolate chips before covering and refrigerating. Let steep for at least 12 hours before serving.

The oat mixture base is fairly classic. Be creative and personalize your oatmeal with fun toppings like sliced almonds, lemon zest, nut butter or a homemade granola.
Raspberry White Chocolate Overnight Oats Tips:
Raspberry overnight oatmeal with a touch of white chocolate is an irresistible flavor combination. These tricks and tips will keep your overnight oats fresh and yummy all week long so that you enjoy each and every bite.
Rolled oats are better than quick oats for this recipe. Quick oats get very mushy and rolled retain a slight texture when soaked overnight.
Add a splash or liquid if your overnight oats are too thick when it comes time to serve.
Substitute your favorite milk or dairy-free alternatives. Stick to the 2:1 liquid to overnight oats ratio for the best results.
Top with granola, toasted nuts, hemp seeds, or even a few extra raspberries to intensify the flavor with tasty oatmeal toppings.
Give your oatmeal a good stir to combine the soft bottom and crunchy top layers after taking it out of the fridge.
Fresh and frozen raspberries work well in this recipe. Frozen raspberries will defrost when soaked overnight and leaves a luxurious pink color that bleeds throughout the oatmeal.
Meal prep ahead of time and store the remaining batch of oats in mason jars. The oatmeal lasts for up to 5 days when stored in the fridge.
TRY THESE RASPBERRY OVERNIGHT OATMEAL RECIPES: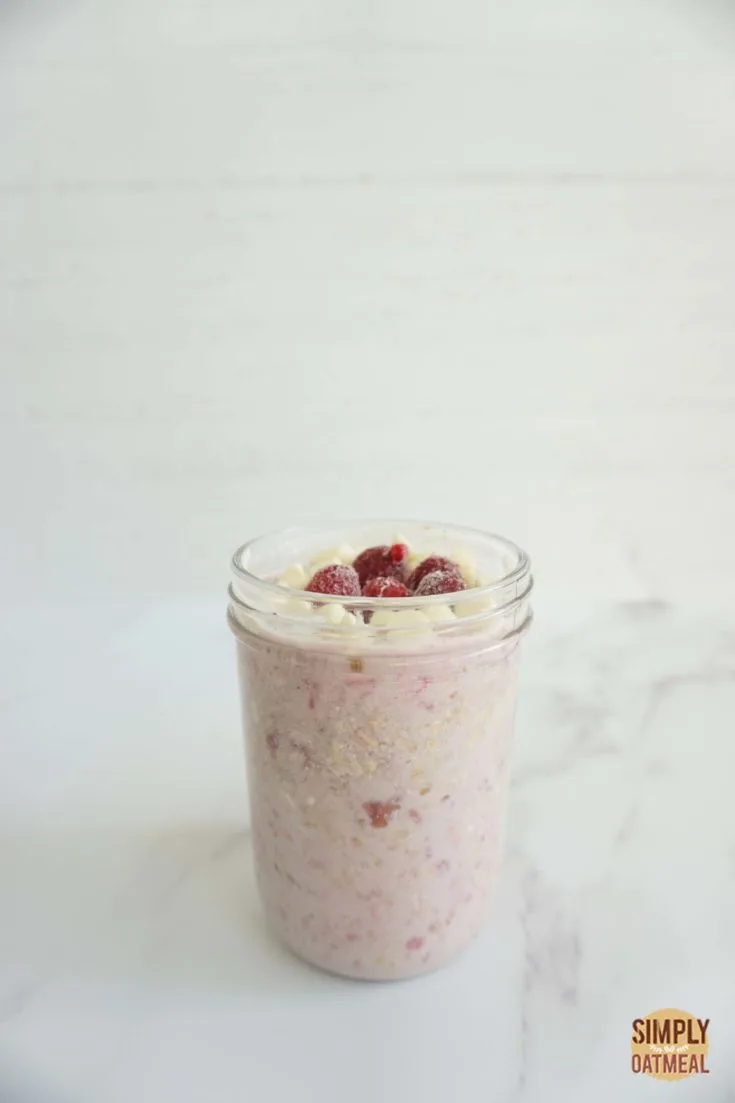 Yield:

1 Serving
Raspberry White Chocolate Overnight Oats Recipe
Raspberry white chocolate overnight oatmeal is a hearty 6 ingredient recipe that tastes yummy. Not only is it easy to make, but the benefits of oats provide balance nutrition and also help you feel full all day long.
This no cook oatmeal recipe only takes a few minutes to put together. Zero cooking is required for this wholesome and nutritious meal.
Grab a meal prep container and toss the ingredients inside. Mash the raspberries with a fork or simply give them a quick stir and place the sealed jar in the fridge overnight. In the morning you will be left with a tasty and nutritious grab and go meal that tastes delicious any time of day!
Ingredients
½ cup rolled oats
½ cup almond yogurt
2 tablespoon mini white chocolate chips
1 tablespoon white chocolate powder
½ cup raspberries
Instructions
Add rolled oats to a medium sized bowl or overnight oats container. Pour in the almond milk, almond yogurt, white chocolate chips and white chocolate powder. Stir everything well, and then fold in the raspberries.
Seal the container and store in the fridge for 12 hours to allow the oats time to fully soak up the liquid.
In the morning, give the oatmeal a quick stir to combine the the crunchy top with the soft bottom layer. Top the soaked oatmeal with more fresh raspberries, sliced almonds, toasted coconut, lemon zest or your preferred oatmeal toppings. Enjoy!

Notes
This recipe dairy free, vegan and gluten free!
Use non-dairy milk alternatives and yogurt substitutes like almond or coconut based products.
Select allergy free white chocolate chips if you adhere to a strict vegan diet.
Thicken the oatmeal mixture by adding a spoonful of chia seeds. The oatmeal will become a more spoonable consistency.
Best eaten within 5 days of preparation to ensure freshness of all the ingredients in the no cook oatmeal.
Recommended Products
As an Amazon Associate and member of other affiliate programs, I earn from qualifying purchases.
Nutrition Information:
Yield:
1
Serving Size:
1
Amount Per Serving:
Calories:

495
Total Fat:

17g
Saturated Fat:

7g
Trans Fat:

0g
Unsaturated Fat:

8g
Cholesterol:

7mg
Sodium:

61mg
Carbohydrates:

79g
Fiber:

9g
Sugar:

36g
Protein:

9g
Nutrition information isn't always accurate.