*This post may contain affiliate links. Please see my
disclosure
to learn more.
Breakfast is a challenging meal to prepare every weekday morning, especially with our hectic routines. Raspberry mocha overnight oats to the rescue because no one really wants to get up early to work in the kitchen.
Don't skip breakfast anymore! There are countless raspberry overnight oats for you to explore. Try the different variations and explore unique taste by blending unique oatmeal toppings that you enjoy.

Check out the classic flavor combinations that are enjoy in these no cook recipes. Raspberry coconut overnight oats and raspberry almond overnight oats are flavors that blend very well together with the base flavor.
Enjoy the satisfaction with a rich coffee buzz from your no cook oatmeal. Soaking the oats in coffee is surprisingly delicious, no I know what all those fancy coffee shop drinks are all about.
This vegan recipe is hearty, wholesome and gluten-free. The strong foundation of substance is supported by the benefits of whole grain oats and antioxidant rich super foods like raspberry and cocoa.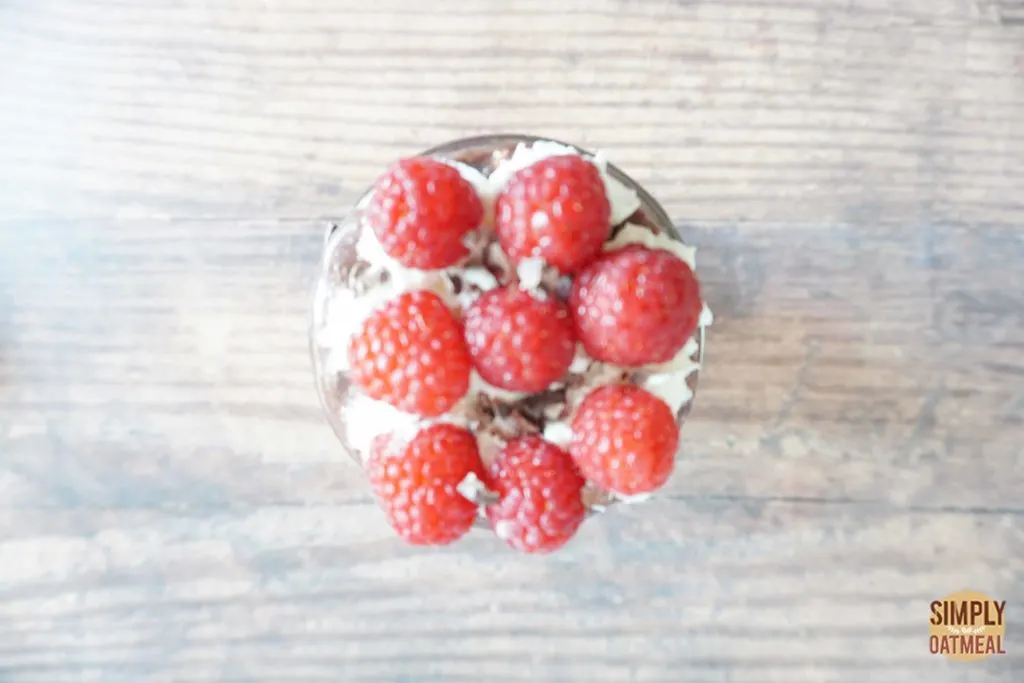 How to make raspberry mocha overnight oats?
I've found that having breakfast prepared ahead of time in the fridge is a huge time saver. The best part of this recipe is that your daily dose of coffee is already waiting for you in the soaked oatmeal. Grab a few fixings and lets assemble a batch of raspberry mocha overnight oats.

You may also enjoy learning how to make soy milk from scratch. This easy soy milk recipe makes a fresh tasting dairy-free alternative, and there are also so many fun soy milk flavor combinations that you can try!
Raspberry Mocha Overnight Oats Ingredients:
Cold brew coffee
Soy milk
Maple syrup
Cocoa powder
Cinnamon
Vanilla extract
Raspberries
Salt
Use a fork to mash half of the raspberries at the bottom of a mason jar. This creates a foundation of flavor that adds a hint of raspberry to the mixture.

Mix in the oats, cold brew coffee, soy milk, maple syrup, cocoa powder, cinnamon, vanilla extract and a pinch of salt to enhance the flavor. Combine the oats so that they are fully coated with the delicious liquid base.
Cover the container and refrigerate for a minimum of 12 hours. When its ready to eat, give the oats a quick stir and top with the remaining raspberries.

Serve cold, or briefly warm in the microwave or on the stovetop for a minute. Feel free to add extra oatmeal toppings like a spoonful of yogurt, crushed hazelnuts and a dash of cinnamon if you fancy.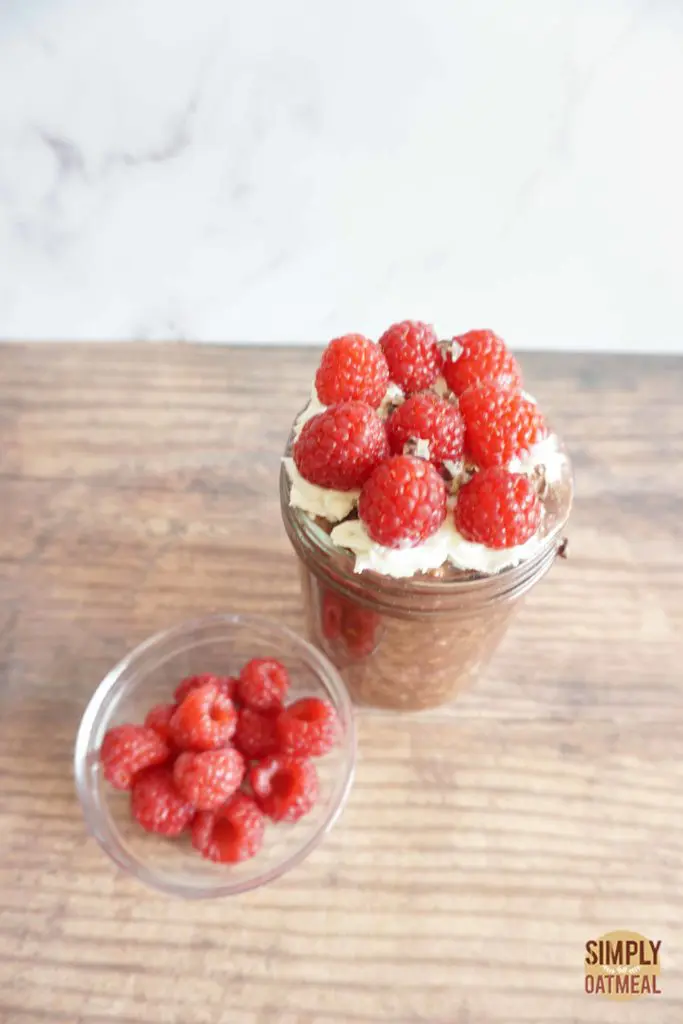 Raspberry Mocha Overnight Oats Tips
Raspberry mocha is the overnight oats combination you have been waiting for! Here are a few tips to guarantee that every bit of oatmeal is to the last drop.
Use rolled oats when making this overnight oats because it makes the desired texture and end result. Quick oats will not behave in the same way when soaked overnight.
Increase the protein by adding chia seeds, hemp seeds, flax seeds or a scoop of protein powder.
Fresh or frozen raspberries both work well in this recipe. No need to defrost the frozen raspberries because they will naturally thaw into the soaked oats.
Stir well before serving. This will meld the flavors and combine the soft oats at the bottom with the crunchy oats on top.
The 2:1 ratio of liquid to overnight oats is a good starting point when preparing. Add a splash of soy milk if the oatmeal is too thick when serving.
A spoonful of yogurt will add creaminess to the oatmeal, along with an additional boost of protein.
The recipe is good for up to 5 days after preparation.
MORE TASTY RASPBERRY OATMEAL RECIPES: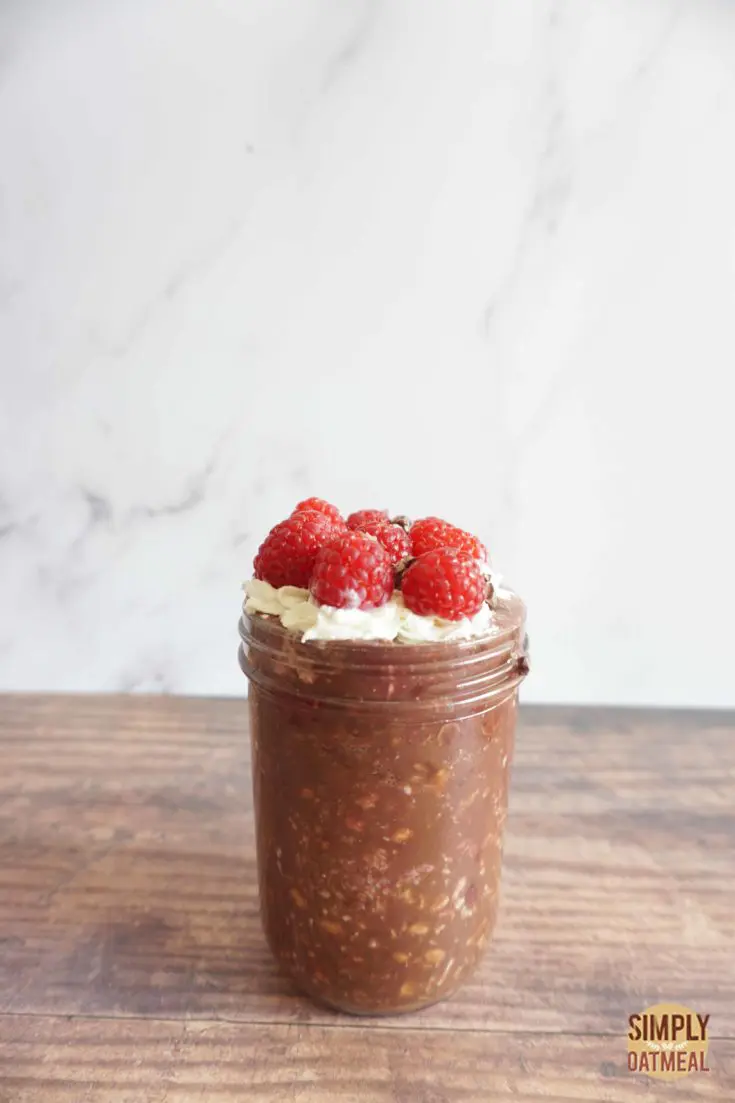 Yield:

1 serving
Raspberry Mocha Overnight Oats Recipe
Enjoy the hearty combination of coffee, cocoa and raspberries in this tasty raspberry mocha overnight oats recipe. Not only is it satisfying, but the no cook oatmeal is also packed with nutritional value.
The vegan recipe is packed with super foods like coffee, cocoa and raspberries, not to mention the benefits of oats. Feel full with a balanced meal that includes plant-based protein, dietary fiber and healthy fats.
The dish is hearty, wholesome and fulfilling, you will absolutely fall in love with the flavors in this coffee shop copycat.
Ingredients
½ cup rolled oats
¾ cup cold brew coffee
1 tablespoon maple syrup
1 tablespoon cocoa powder
1 teaspoon cinnamon
¼ teaspoon vanilla extract
½ cup raspberries, divided
pinch of salt
Instructions
Add ¼ cup of raspberries to an overnight oats jar or medium sized bowl and mash with a fork.
Then add the rolled oats, cold brew coffee, soy milk, maple syrup, cocoa powder, cinnamon, vanilla extract and a pinch of salt. Stir so that the mixture is combined very well.
Cover with a lid and refrigerate overnight for at least 12 hours.
To serve, stir the no cook oats and then top with the remaining raspberries. Add any oatmeal toppings that sound good to you like sliced almonds, a sprinkle of cinnamon or a dash of cocoa powder.
Notes
This recipe is vegan, gluten free and dairy free!
For a porridge style oatmeal, thin the mixture with a splash of soy milk when serving.
The prepared oatmeal is good for up to 5 days.
Recommended Products
As an Amazon Associate and member of other affiliate programs, I earn from qualifying purchases.
Nutrition Information:
Yield:
1
Serving Size:
1
Amount Per Serving:
Calories:

294
Total Fat:

5g
Saturated Fat:

1g
Trans Fat:

0g
Unsaturated Fat:

2g
Cholesterol:

0mg
Sodium:

171mg
Carbohydrates:

55g
Fiber:

11g
Sugar:

17g
Protein:

9g
Nutrition information isn't always accurate.