*This post may contain affiliate links. Please see my
disclosure
to learn more.
Apple and raspberry overnight oats are here to change up your fresh fruit routine. Are you tired of having the same oatmeal flavor combinations everyday? This tasty recipe fixes that problem for you!
There are millions of different overnight oats combinations. Here at Simply Oatmeal, we've rounded up the best raspberry overnight oats recipes for you to discover your perfect flavor. Be creative with your favorite toppings, milk substitutes and yogurt alternatives so that you make the best tasting overnight oats.

If you like the apple and raspberry combination, then you will also like raspberry chia overnight oats and raspberry vanilla overnight oats. They are both our favorites and can be made with fresh or frozen raspberry that you have around the house.
This healthy overnight oats recipe tastes heavenly because it perfectly balances both sweet and tart flavors. Busy mornings make it tough to get everything accomplished, so here's a quick and simple breakfast idea that will keep you feeling full all day long.

No cook apple and raspberry oatmeal is a nutritious way to start morning with adding too much sugar into your diet. The healthy meal is fiber rich with both soluble and insoluble fiber, and also includes plant based protein along with an array of essential vitamins and minerals.
How to make apple and raspberry overnight oats?
Apple raspberry overnight oats have a subtle sweetness with the apples and tarty flavor from the punchy raspberries. This recipe is really easy to assemble in a meal prep container, and tastes absolutely delicious the very next day.

You may also enjoy making almond milk from scratch. Homemade almond milk is easy to make and really fun to blend different flavor add-ins like vanilla extract, cocoa powder or cinnamon. You are able to make endless flavor combinations that are both healthy and delicious.
Gather a few staple ingredients and let's get started with this no cook oatmeal recipe!
Apple and Raspberry Overnight Oats Ingredients:
Almond milk
Apple
Raspberries
Chia seeds
Coconut nectar
Cinnamon
Vanilla extract
In a mason jar, combine the almond milk, oats, diced apples, chia seeds, coconut nectar, cinnamon and vanilla extract.

Stir everything really well to coats the oats with the liquidated make sure that the chia seeds don't clump up together. Top the oats with the raspberries and cover with a lid. Refrigerate overnight for at least 12 hours.
Right before serving, give a quick stir to blend the layers of flavor. Top with a few fresh raspberries, scoop of almond butter, sliced almonds, a sprinkle of brown sugar, a dash cinnamon or add any of your favorite oatmeal toppings.
Apple and Raspberry Overnight Oats Tips:
Upgrade your breakfast routine by adding this apple and raspberry overnight oats into the mix. Simply dust the top layer with a sprinkle of brown sugar and cinnamon to make this grab and go meal prep extra tasty. Utilize these basic tips so that you are guaranteed to enjoy every bite you take.
Fresh and frozen raspberries work well in this recipe. Frozen raspberries will defrost in the oats overnight leaving a magical pink color throughout the mixture.
Instead of using quick oats, select rolled oats for this recipe. Quick oats are much thinner and have less texture than rolled oats do, this results in a mushy mouth feel when soaked.
Use gluten free oats if you are on a strict wheat free diet.
A scoop of Greek yogurt will make this recipe extra creamy. If you are looking to lighten up your dairy intake, select a dairy-free yogurt alternative.
Maintain a 2:1 ratio of liquid to oats for smoother consistency. An extra spoonful of chia seeds will make the oatmeal a bit thicker. Thin with a splash of liquid just before serving.
Top the soaked oats with roasted nuts or dried apple chips for a crunchy texture.
Make it the night before so the no cook oatmeal has enough time to soak and develop complex delicious flavors.
PLAN THESE DELICIOUS RASPBERRY OVERNIGHT OATS THIS WEEK: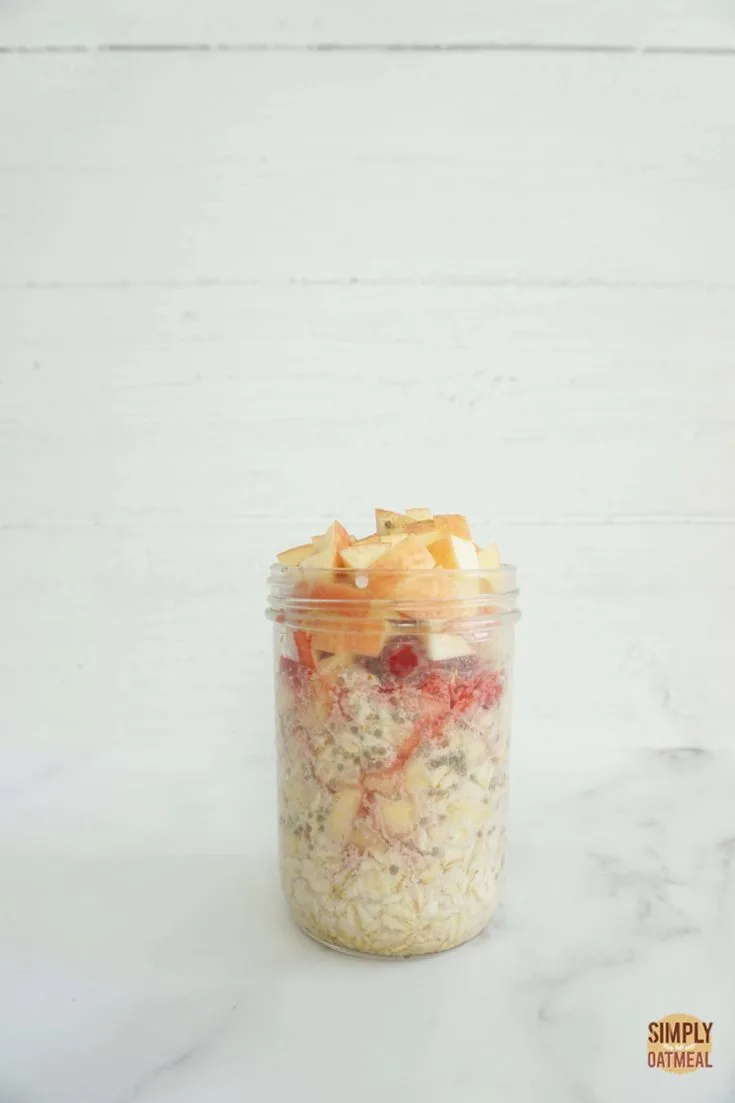 Yield:

1 Serving
Apple and Raspberry Overnight Oats Recipe
Apple raspberry overnight oats are a perfect balance of flavor combined with the health benefits of whole grain oats. It's packed with plant-based protein and is also fiber rich to keep you satiated until the next mealtime.
This recipe is easy to make and only requires a handful of staple ingredients. Allow yourself a few minutes to assemble this meal prep idea that is perfect for those busy days during the week.
No cook apple and raspberry oatmeal is a healthy breakfast or midday snack that works perfectly as a to grab and go meal. Energize your body and mind with a fulfilling serving of oats that'll keep you going at full speed.
Ingredients
½ cup rolled oats
½ cup apple diced
½ cup raspberries
1 tablespoon chia seeds
1 tablespoon coconut nectar
¼ teaspoon cinnamon
¼ teaspoon vanilla extract
Instructions
In an overnight oats jar or medium sized bowl, mix together all of the ingredients. Give a good stir so that the oats are fully saturated with the flavorful liquid and that the chia seeds don't clump together.
To serve, give the oats a quick stir to combine the layers of flavor. Garnish with a bit more diced apple, fresh raspberries, slice almonds or your favorite oatmeal toppings and enjoy.

Notes
This recipe is vegan, gluten free, and non-dairy.
For a porridge-style oatmeal, increase the liquid to a 2:1 overnight oats water ratio. Liquid can also be added when serving to make a thinner consistency.
For best results, eat within 5 days of preparing to ensure freshness.
Recommended Products
As an Amazon Associate and member of other affiliate programs, I earn from qualifying purchases.
Nutrition Information:
Yield:
1
Serving Size:
1
Amount Per Serving:
Calories:

372
Total Fat:

9g
Saturated Fat:

1g
Trans Fat:

0g
Unsaturated Fat:

7g
Cholesterol:

0mg
Sodium:

13mg
Carbohydrates:

68g
Fiber:

14g
Sugar:

28g
Protein:

9g
Nutrition information isn't always accurate.