*This post may contain affiliate links. Please see my
disclosure
to learn more.
Are you looking for a no fuss breakfast idea that require zero cooking and leave no mess behind? Maple raspberry overnight oatmeal is a quick and easy recipe that you are guaranteed to love. Not only is it irresistibly delicious, but the soaked oats also turn an alluring pink color that is totally magical.
When the temperature starts rising in the morning, hot breakfast doesn't always sound like the best option. Enter in raspberry overnight oats, a summertime staple that is both quick to prepare and a refreshing meal that works at all times of day!

From raspberry almond overnight oats to raspberry mocha overnight oats, we've put together so many ways for you to enjoy oatmeal with seasonal fruits. Pick you favorite type of milk and yogurt, and personalize the flavors by choosing the toppings that you love most.
If your hunger quickly turns to anger, eat this hearty no cook oatmeal for breakfast, it will make you feel fuller for longer periods of time. Soak up all of the health benefits of oatmeal and let overnight oats will you with antioxidant rich super foods!
How to make maple raspberry overnight oats?
Making maple raspberry overnight oats is not very hard. You only need raspberries, 4 staple ingredients and less than 5 minutes to meal prep this delicious no cook recipe.
Try making your own homemade raspberry-chia jam from scratch. The recipe only takes 5 minutes to cook. Use frozen raspberries and a handful of spices to make a delicious spread that has a variety of uses.
Maple Raspberry Overnight Oats Ingredients:
Almond milk
Maple syrup
Raspberry-chia jam
Vanilla extract
Stir together the almond milk, maple syrup, raspberry-chia jam and vanilla extract in a mason jar. Next, add the rolled oats and stir to fully coat the oats with the liquid.

Cover and refrigerate overnight for 12 hours to allow the oats time to soak up the liquid.

In the morning, give a quick stir and serve cold. Garnish with raspberries, chocolate chips, sliced almonds, shaved coconut or your favorite oatmeal toppings.
Maple Raspberry Overnight Oats Tips:
Maple raspberry overnight oats are an easy, healthy and delicious meal prep idea that is perfect for all times of day. Try this gluten-free and vegan recipe as a morning meal or afternoon treat. Here are useful tips to keep your no cook oatmeal fresh and enjoyable for each spoonful.
Rolled oats are the type of oats to select for this recipe
If mixture seems too thick, add an extra splash of almond milk when serving to make a porridge-style consistency.
If you want a creamy texture, add a scoop of Greek yogurt yogurt. Use a diary-free alternative for a vegan diet.
On a workout day, add a scoop of protein powder or spoonful of chia seed for a muscle building protein boost.
Whether you use almond milk or another liquid of your choice, stick with a 2:1 ratio of liquid to overnight oats. Add enough liquid to avoid a thick and pasty consistency.
Substitute the maple syrup for honey, agave, coconut sugar or any other sweetener you prefer in its place.
PLAN THESE ADDITIONAL DELICIOUS RASPBERRY OVERNIGHT OATS THIS WEEKEND: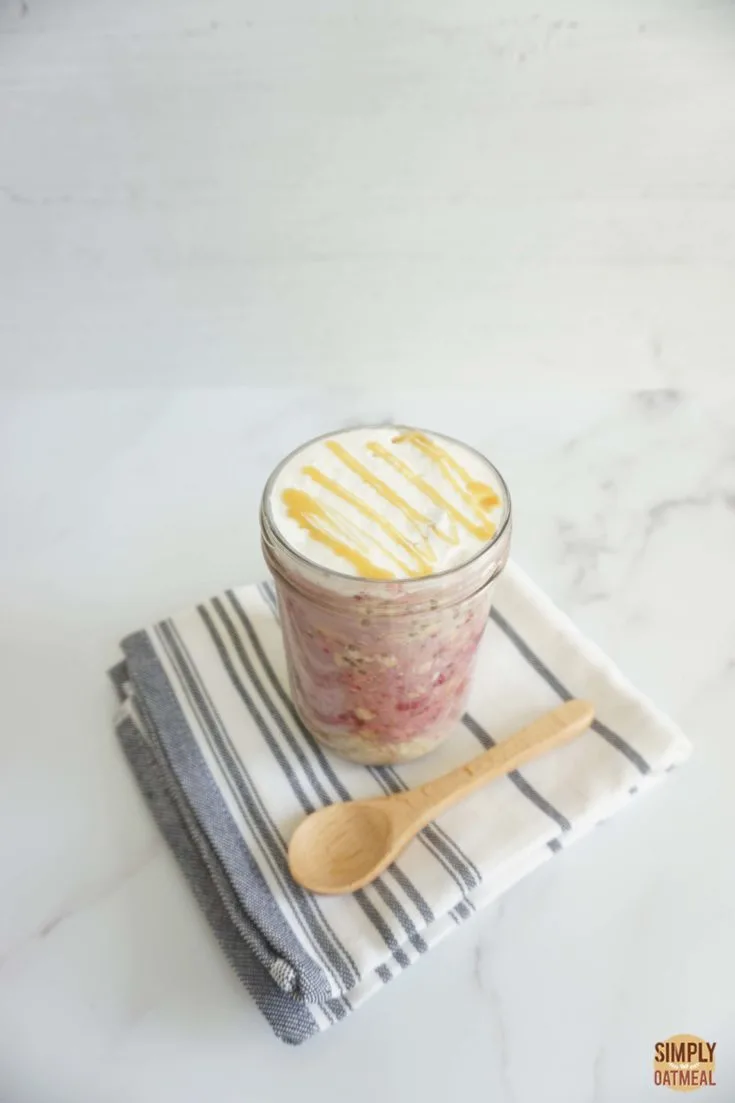 Yield:

1 Serving
Maple Raspberry Overnight Oats Recipe
Maple Raspberry overnight oats is a healthy and delicious meal prep idea. The no cook recipe takes just 5 minutes to assemble and uses only 5 staple ingredients.
Make ahead in a meal prep container for a simple grab and go bite to eat during your busy workweek. No longer leave home hungry in the morning, take your healthy meal on the run.
Raspberries and maple are a perfect combination of rich syrup and tart raspberries. The flavors blend in a magical way with the creaminess of soaked oats.
Ingredients
½ cup rolled oats
2 tablespoons maple syrup
½ cup raspberry chia jam
¼ teaspoon vanilla extract
Instructions
In a medium sized bowl or overnight oats jar, combine the almond milk, maple syrup, raspberry-chia jam and vanilla extract; stir well. Add the oats and continue mixing until the oats are fully coated with the flavorful liquid.
Cover and refrigerate overnight for a minimum of 12 hours.
The next morning, give a quick stir and serve cold. Top the no cook oats with raspberries, chocolate chips, shaved coconut or crushed peanuts along with any oatmeal toppings you desire.

Notes
This recipe is vegan, gluten-free and non-dairy!
This recipe uses homemade raspberry-chia jam that was unsweetened. The maple syrup blends very well together with the tart jam, but be carful if using store bought jam because it may be much sweeter than the recipe described here.
Adjust the 2:1 liquid to overnight oats ratio to suit your personal preference. Add a splash of liquid when serving if the oats are too thick for your liking.
To maintain quality and freshness, eat within 5 days of preparation.
Recommended Products
As an Amazon Associate and member of other affiliate programs, I earn from qualifying purchases.
Nutrition Information:
Yield:
1
Serving Size:
1
Amount Per Serving:
Calories:

448
Total Fat:

9g
Saturated Fat:

1g
Trans Fat:

0g
Unsaturated Fat:

7g
Cholesterol:

0mg
Sodium:

23mg
Carbohydrates:

86g
Fiber:

13g
Sugar:

42g
Protein:

9g
Nutrition information isn't always accurate.