*This post may contain affiliate links. Please see my
disclosure
to learn more.
Try the world-class raspberry chia overnight oats this week if you're looking for the best post-workout breakfast idea. Loaded up with tons of antioxidants and fiber to keep you extra full, the high protein content also makes it the perfect meal to restore energy after the gym.
If you are new to Simply Oatmeal, the raspberry overnight oats recipes are healthy and can be made in advance. Use pantry staples that are always on hand, to whip up a batch in just a few minutes of time.

From raspberry almond overnight oats to raspberry jam overnight oats, the oats are full of plant based protein, fiber, and healthy omega-3s. Make the perfect grab-n-go breakfast for your busy mornings. In fact, they are served inside a mason jar, which makes everyone's morning just a little bit brighter and more colorful.
This is such a delicious and versatile breakfast meal. Mix in all sorts of berries such as blueberries, strawberries or blackberries to add variety. Instead of honey, you can replace with stevia, agave nectar, or maple syrup, especially if you're looking for a vegan alternative.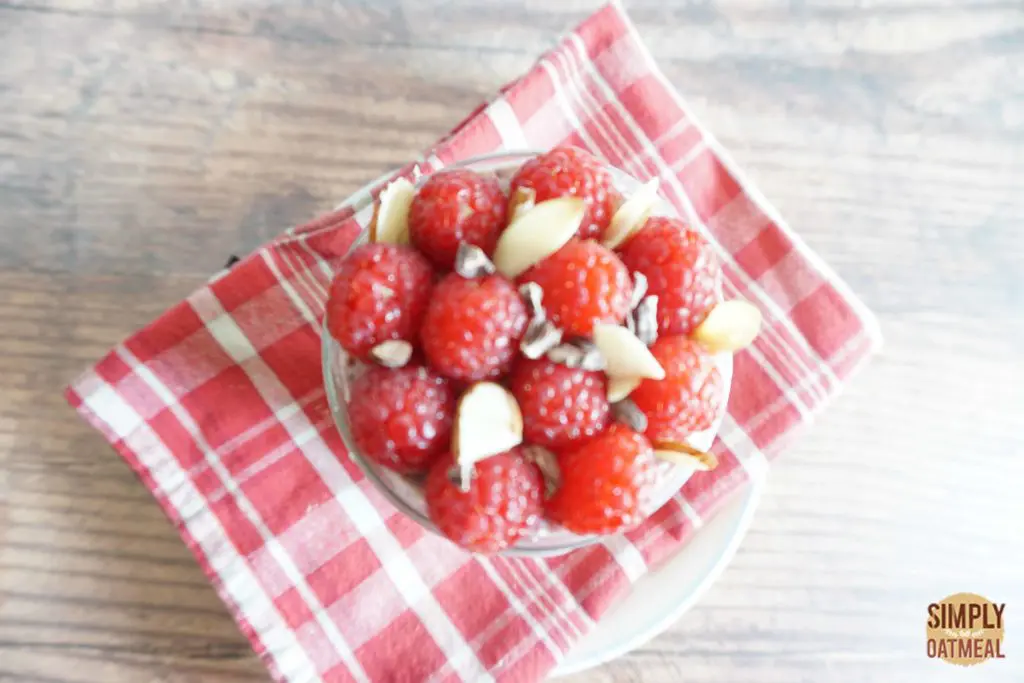 How to make raspberry chia overnight oats?
On a busy workday morning, prep this raspberry chia overnight oats the night before. Add extra chia seeds and raspberries to your oats and build layers of nutritious oatmeal toppings to enhance the flavor and boost your nutritional intake.

You may also like the 5 minutes raspberry-chia jam recipe. We used the quick jam in the preparations for this no cook oatmeal. Feel free to substitute additional raspberries and a tablespoon of chia seeds instead of adding the jam.
Raspberry Chia Overnight Oats Ingredients:
Milk
Greek yogurt
Raspberries
Chia seeds
Vanilla extract
Honey
Mix all the ingredients in a mason jar. Make sure the honey and chia seeds get fully dispersed and don't stick together in a clump inside the mixture.

If using frozen raspberries, then add them to the no cook oats mixture so they naturally thaw overnight.

Seal the lid and place in the refrigerator overnight or for at least 12 hours to allow the oats sufficient time to soak.

The next day, serve the oatmeal cold or quickly heat in the microwave or on the stovetop for a minute. Add your favorite oatmeal toppings and enjoy!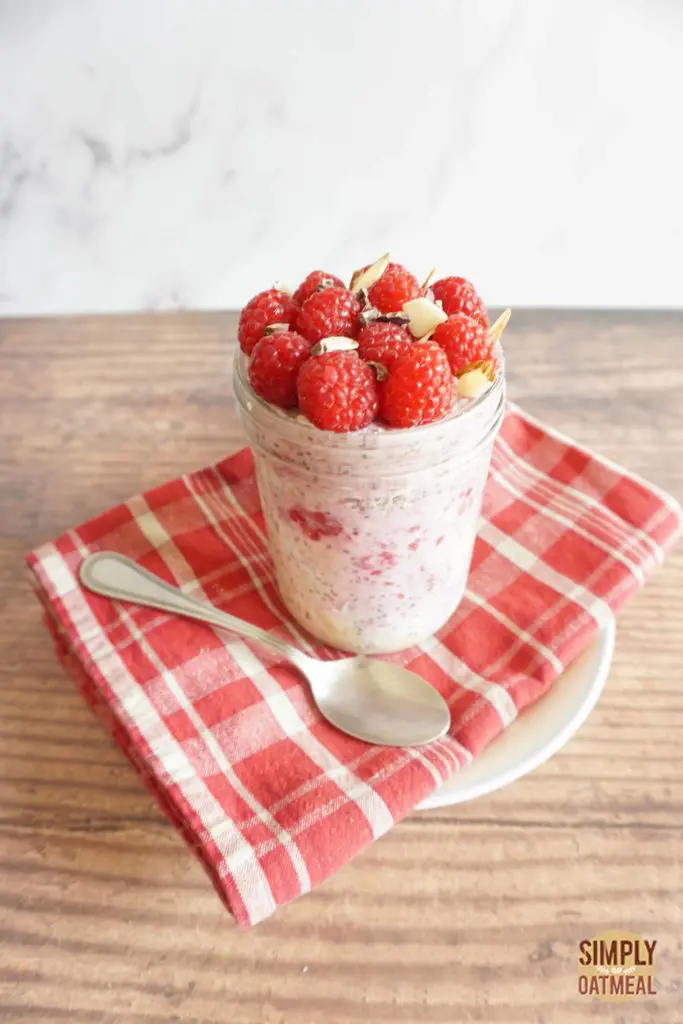 Raspberry Chia Overnight Oats Tips
This raspberry chia overnight oats is made with chia seeds, rolled oats, raspberries, milk and creamy yogurt. The recipe is so easy to make and is perfect for a quick healthy breakfast on the go. Utilize these tips to ensure that every bite is as enjoyable as the last.
Stick with rolled oats instead of steel cut oats or quick oats for this recipe. Quick oats become very soggy when soaked overnight, and steel cut oats are still chewy when soaked.
Make a batch of mashed raspberry sauce or homemade raspberry chia jam to use inside the oats or as topping for natural sweetness.
When serving, stir to mix the top and bottom for overall consistency before adding topping to the oatmeal.
Stir in almond butter or sunflower seed butter to add creaminess and additional fats and protein.
If you don't have fresh raspberries, replace with frozen ones.
Feel free to use plain or raspberry flavored yogurt for more flavor. If you choose unsweetened yogurt, add a drizzle of maple syrup into the oats mixture.
If the oatmeal is too thick, add a splash more liquid when serving to thin the consistency to a porridge-style oatmeal.
The no cook oatmeal is good for up to 5 days.
MORE DELICIOUS RASPBERRY OVERNIGHT OATS RECIPES YOU MIGHT LIKE: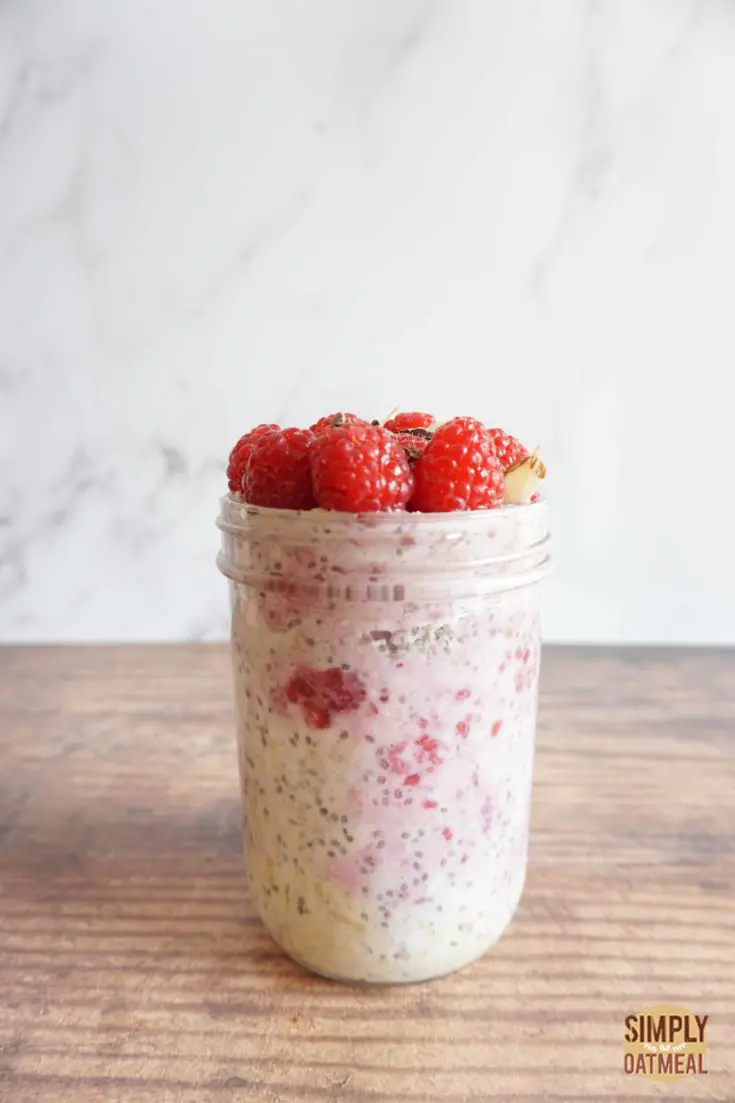 Yield:

1 serving
Raspberry Chia Overnight Oats Recipe
Raspberry chia overnight oats is a fulfilling meal that is packed with balanced nutrition. Combine the health benefits of oats with the antioxidants of raspberries and the wholesome super food chia seeds.
The no cook oatmeal is packed with protein, fiber and core vitamins that promote a healthy balance. Include this recipe in you weekly meal prep plan so that you have easy grab and go meals prepared ahead of time.
Healthy to go meals are extremely helpful during the busy workweek when we often forget to take good care of ourselves. Incorporate this easy recipe into your weekly routine.
Ingredients
½ cup regular rolled oats
¾ cup milk
¼ cup plain Greek yogurt
2 tablespoons raspberry chia jam
1 tablespoon honey
1 teaspoon vanilla extract
¼ cup raspberries
Instructions
In an overnight oats jar or medium sized bowl, mix the rolled oats, milk, yogurt, raspberry chia jam, honey and vanilla extract. Stir well so that the oats are entirely covered with the mixture
Cover and place in the fridge overnight for 12 hours minimum.
In the morning, remove the no cook oatmeal and serve cold or briefly heat on the stovetop or in the microwave for a minute. Garnish with fresh raspberries, sliced almonds, unsweetened coconut flakes or the oatmeal toppings you desire most.
Notes
Use gluten free oats to guarantee the oatmeal is wheat-free.
To make this vegan, substitute the milk, yogurt and honey for dairy-free alternatives.
Adjust the 2:1 ratio of liquid to overnight oats to meet your desired consistency. Thin the oatmeal with a splash of milk when its time to serve if you feel the mixture is too thick.
Enjoy the no cook oatmeal within 5 days of preparation to maintain freshness.
Recommended Products
As an Amazon Associate and member of other affiliate programs, I earn from qualifying purchases.
Nutrition Information:
Yield:
1
Serving Size:
1
Amount Per Serving:
Calories:

497
Total Fat:

10g
Saturated Fat:

3g
Trans Fat:

0g
Unsaturated Fat:

6g
Cholesterol:

18mg
Sodium:

128mg
Carbohydrates:

81g
Fiber:

12g
Sugar:

32g
Protein:

20g
Nutrition information isn't always accurate.