*This post may contain affiliate links. Please see my
disclosure
to learn more.
If you have a sweet tooth craving for something with a creamy and satisfying flavor, try this caramel apple overnight oats. Enjoy this desert like breakfast that will make you smile, I swear it's pretty addicting!

Skip that caramel frappuccino you're going to have tomorrow and let's save a few bucks. Instead, meal prep this overnight oats beforehand and then its ready to go!

Caramel apple overnight oats are a great snack to get over the afternoon munching or late night snack instead of chips or ice cream. Maybe you should prep a few extra batches so that it's ready at all times of the day!
A plain apple everyday has the potential of getting a little boring, especially when served with bland oatmeal. Even though oatmeal and apples are extremely nutritious, we're here to add some fun flavors to those healthy foods.

We have served up a variety of tastes this fall with 14 apple overnight oats. The goal is to help you add your apple a day with healthy and pleasant flavors.

From peanut butter apple overnight oats to apple crumble overnight oats, satisfy your sweet-tooth cravings with these healthy recipes. Even the oat-haters will be begging you for a bite every morning.
How to make caramel apple overnight oats?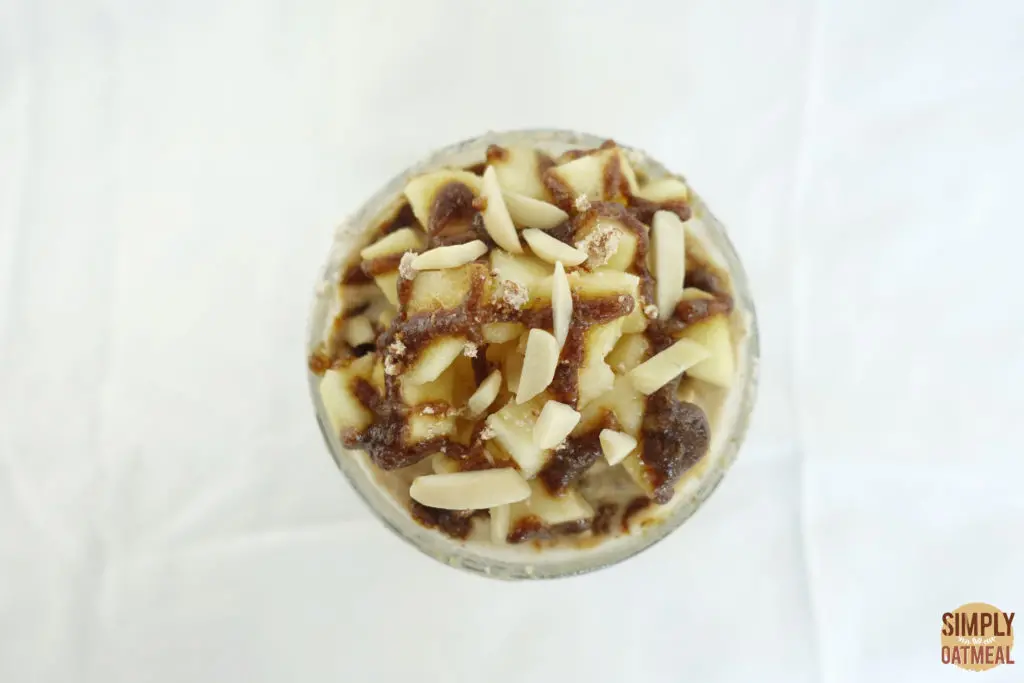 It's always great idea to make a batch of homemade caramel sauce instead of using the store-bought version. You'll be able to avoid any unwanted preservatives and artificial flavors.

Is caramel and apples healthy? Apples are a nutritious source of many vitamins and minerals. However, drizzling caramel sauce over the top of apple overnight oats does add several grams of sugar as well as quite a few extra calories.

So if you are worried about a diet, then substitute the caramel sauce for a spoonful of maple syrup. It'll give a dark, rich and sticky combination that works well with this recipe.

Pull out these additional fixings from the kitchen cupboard to create this finger-licking soaked oats:
Caramel apple overnight oatmeal ingredients:
Any liquid of your choice
Chia seeds
Diced apple
Caramel sauce
Combine all the ingredients in a mason jar or plastic to-go container. Put on the lid and give it a good shake to mix everything together. Lastly, store the oats overnight in the refrigerator and they will be ready for you in the morning.

When it comes to decorating your caramel apple overnight oats, core and chop an apple into small cubes. Always keep the skin for extra fiber and nutrients!

Top the oatmeal with apple cubes and also drizzle a tablespoon of caramel sauce over the apples. Finish with a sprinkle of sea salt to enhance the salty and sweet flavor profile.
Caramel Apple Overnight Oats Tips: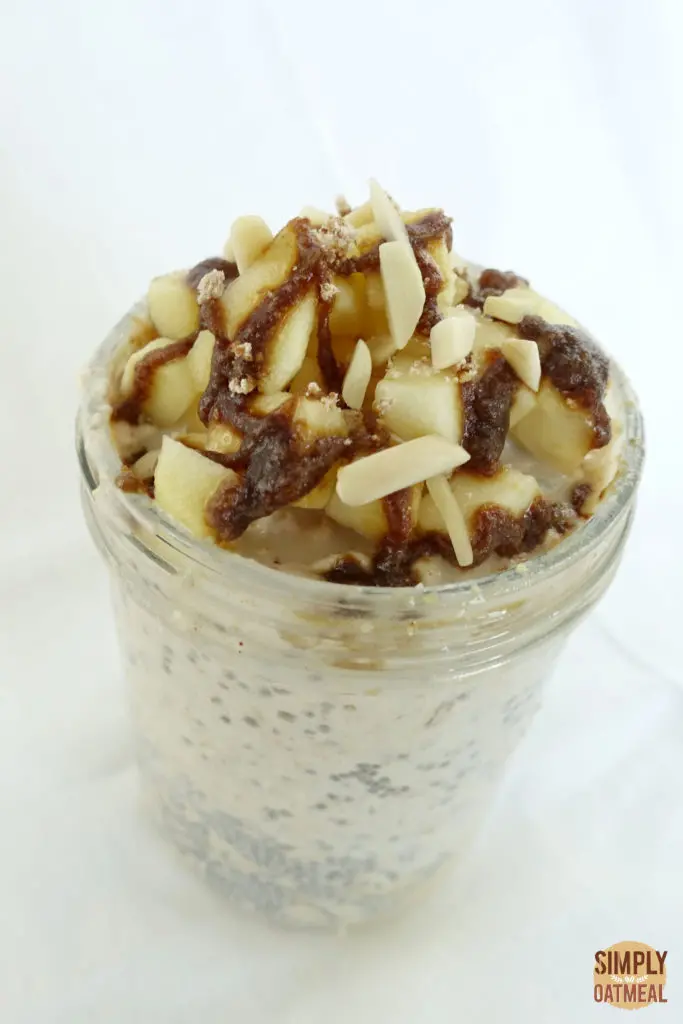 Feeling guilty eating dessert-like breakfast? Don't worry at all!

Again, if you want less sweetness in your meal prep, simply replace the caramel sauce topping with a tablespoon of maple syrup. As a result, the syrup won't overpower the taste and you'll have a balanced flavor from first to last bite.

Here are the best tips to help you keep that diet on track while eating caramel apple overnight oats morning after morning:
Skip the maple syrup and go all in with the caramel sauce as the oats topping.
If the mixture seems too thick, add more sugar-free liquid or plain yogurt when serving. Always use a maximum of 2:1 ratio of liquid to oats.
Serve cold or warm in the microwave to quickly heat up the oats and change up the taste.
Add ¼ teaspoon of salt to enhance oats with a salty and sweet caramel flavor. Don't skip this step!
Give your overnight oats a good stir after taking them out of the fright. This will ensure everything is well combined.
Need more apple oatmeal recipe ideas? Try these next time!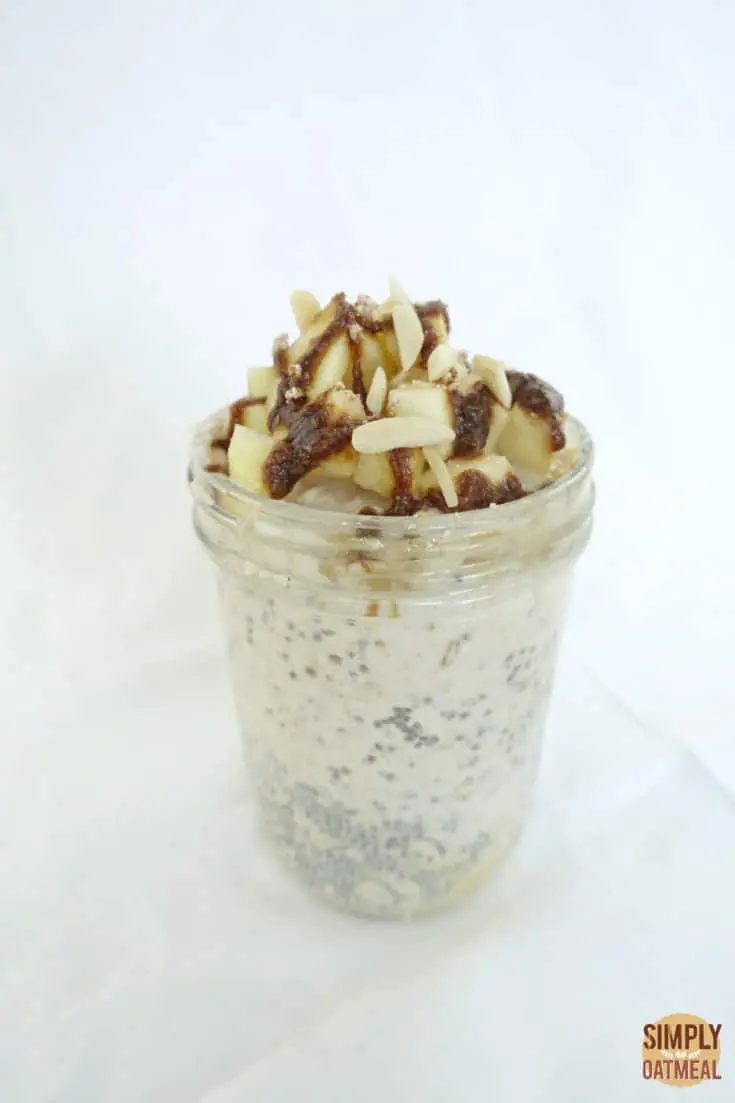 Yield:

1 serving
Caramel Apple Overnight Oats Recipe
Additional Time:
5 minutes
Isn't everyone a sucker for apples dipped decadent caramel sauce. Well then this caramel apple overnight oats recipe is just for you.
Relish in the rich flavor or caramel coupled with the heartiness of oats. Add your favorite crunchy toppings and sprinkle a pinch of sea salt on top to expose the salty sweet combination.
This grab and go meal prep definitely resembles a dessert. However, its a wholesome serving of oats and apple so its got something healthy going on!
Ingredients
½ cup rolled oats
1 tablespoon chia seeds
1 cup diced apples
pinch of salt
Instructions
In a medium-sized bowl or overnight oats container, combine the oats, chai seeds and almond milk. Mix the ingredients really well to make sure the chia seeds don't clump together.
Cover and store overnight in the refrigerator for 12 to 24 hours.
To serve, divide the diced apple into 4 equal portions. In a separate bowl or jar, layer 1 portion of apples, 1 tablespoon of caramel and ⅓ of the overnight oatmeal. Repeat the layers twice more.
Finish the caramel apple overnight oatmeal with a layer or diced
apples, caramel drizzle and a sprinkle of sea salt. Furthermore, add chopped nuts, nut butter or your favorite oatmeal toppings to finish this magically delicious meal prep.
Notes
The diced apples add a nice texture to this recipe. However, the overnight oatmeal ratio does make a thick oatmeal. Add more liquid when serving to thin out the mixture and make a creamy porridge-like oatmeal.
For freshness and to ensure ingredients don't spoil, this overnight oats recipe should be consumed within 4-5 days of preparation. Enjoy!
Recommended Products
As an Amazon Associate and member of other affiliate programs, I earn from qualifying purchases.
Nutrition Information:
Yield:
1
Serving Size:
1
Amount Per Serving:
Calories:

519
Total Fat:

8g
Saturated Fat:

1g
Trans Fat:

0g
Unsaturated Fat:

6g
Cholesterol:

0mg
Sodium:

531mg
Carbohydrates:

107g
Fiber:

12g
Sugar:

71g
Protein:

9g
Nutrition information isn't always accurate.