*This post may contain affiliate links. Please see my
disclosure
to learn more.
Enjoy a bowl of blueberry cheesecake overnight oats for breakfast and get your day started on the right foot! Don't worry! It is a protein-packed breakfast that won't make you feel guilty about having dessert as your first meal of the day!
Blueberries are an easy fruit to pair with a variety of toppings to make your own personalized combinations. Here in Simply Oatmeal, we've round up the best blueberry overnight oats to give you something new to try every day without getting bored.

Including everything from blueberry muffin overnight oats to blueberry peanut butter overnight oats, you can make this antioxidant rich fruit so tasty and enjoyable all year long.
Fresh blueberries with semi-sweet cream cheese make this hearty oatmeal a dream come true. Excite your mind and body with this wholesome meal when you first wake up.

If you're looking for something delicious to start the day, this blueberry cheesecake overnight oats recipe will be your go-to weekly staple. Oats will replace the other carb filled dishes because this recipe is packed with protein and fiber that will keep you feel full all day long.

Overnight oats combined with cream cheese and blueberries is a great flavor profile. You will enjoy the creamy and soft oats mixed with refreshing blueberries and lemon.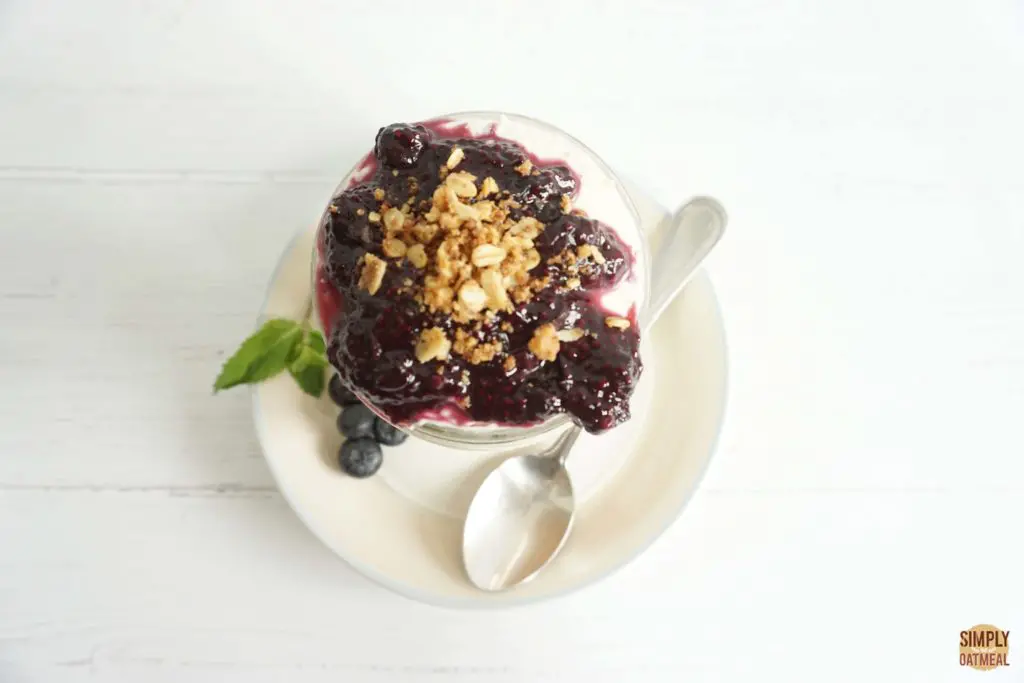 How to make blueberry cheesecake overnight oats?
Give the classic soaked oatmeal a four season friendly twist by following this blueberry cheesecake overnight oats recipe. Loaded with natural sweetness and creamy cheesecake topping, this is all you need to satisfy your sweet tooth craving.

Grab the ingredients listed below and let's make the magic happen. It really only takes a few minutes to assemble!
Blueberry Cheesecake Overnight Oats Ingredients
Liquid of your choice
Greek yogurt
Lemon juice
Lemon zest
Blueberry-chia jam
Cream cheese
Maple syrup
Vanilla extract
Fresh or frozen blueberries
First we're going to make the cream cheese topping. Mix together the cream cheese, maple syrup and vanilla extract to form a smooth no cook cheesecake. We will keep that off to the side and then use it to top the overnight oats.

In a mason jar, add the oats, yogurt, milk, lemon juice and lemon zest. Stir until totally combined.

Then, add the cheesecake topping on top of the oatmeal mixture. Finish with a spoonful of blueberry jam.

Cover and store in the refrigerator for at least 12 hours.

Serve the blueberry cheesecake overnight oats cold. You can garnish with fresh blueberries or toss on some homemade granola or graham crackers to add a crunchy texture.

Zest a bit of fresh lemon on top and you will make every bite absolutely irresistible!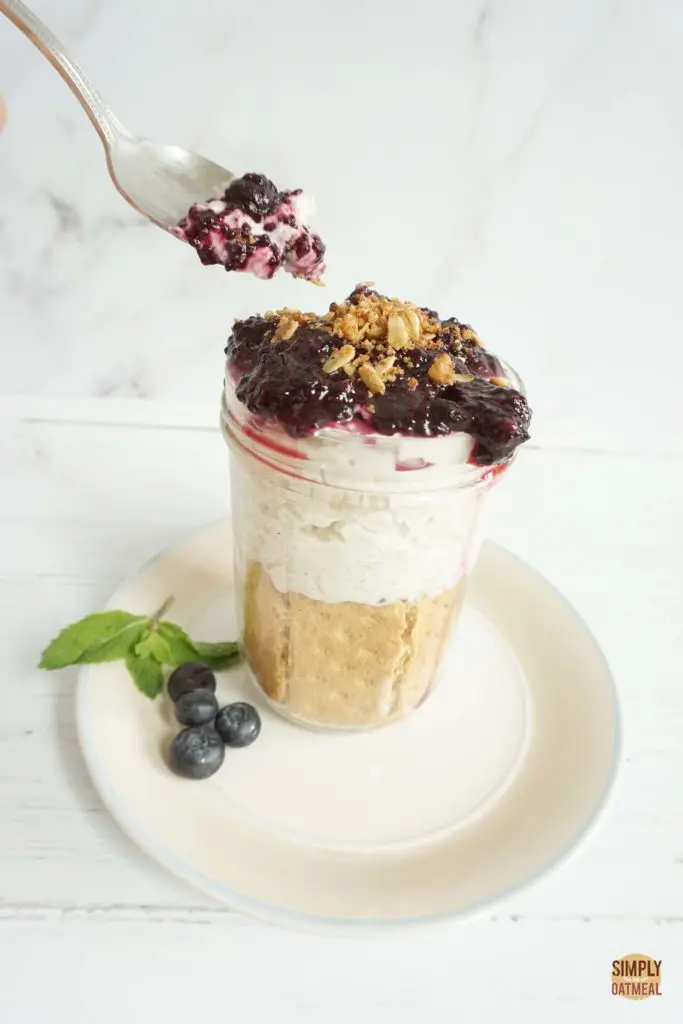 Blueberry Cheesecake Overnight Oats Tips:
This overnight blueberry cheesecake oatmeal tastes is finger licking good and tastes just like a dessert. How do you make ahead this recipe and keep it fresh every time? Here are some tips to improve your soaked oats success!
Always use rolled oats instead of quick oats for this recipe. The rolled oats have soft and smooth texture that better resembles a cheesecake. On the other hand, quick oats are much thin that becomes too mushy when soaked overnight.
To sweeten the oats, make a double batch or cheesecake topping and layer in between the oats mixture to prevent bland flavor towards the bottom of the jar.
Make sure your overnight oatmeal has 2:1 ratio of yogurt to milk for creamy taste. The liquid ratio is important for the oats to fully hydrate, but not to be soupy when it's time to eat.
Use small to midsize canning jar. We have compiled a list of the best jars for overnight oats so that you are able to meal prep and store them in the fridge for entire week. This makes it very easy to carry to work each morning.
When serving, stir once before adding toppings on the oatmeal. Mix the top and bottom for overall consistency and balanced flavors.
Eat within 5 days of preparing to make sure that the ingredients don't spoil and everything remains fresh.
MORE YUMMY BLUEBERRY OVERNIGHT OATS FOR YOU: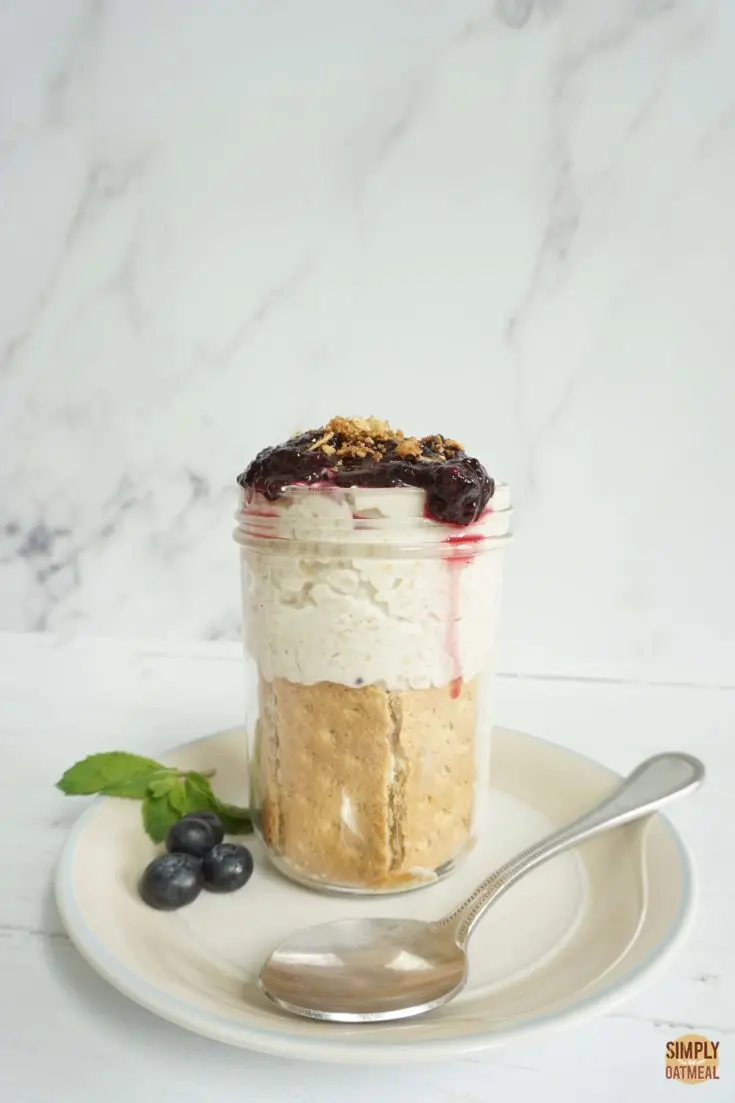 Yield:

1 serving
Blueberry Cheesecake Overnight Oats Recipe
This blueberry cheesecake overnight oats will satisfy your craving for something healthy and delicious! The creamy oats, cheesecake topping and blueberry jam is an incredible combination!
Use this recipe as a meal prep idea and all of your co-workers will be jealous! It works as a perfect grab and go breakfast idea or even as a sweet afternoon snack.
You are guaranteed to feel full and be energized throughout the day. Give this blueberry cheesecake overnight oatmeal recipe a try and you will fall in love!
Ingredients
½ cup old fashioned rolled oats
½ cup whole milk
¼ cup plain Greek yogurt
1 teaspoon lemon juice
Zest of ½ lemon
Cheesecake topping
⅛ cup cream cheese
1 tablespoon maple syrup
½ teaspoon vanilla extract
Instructions
To make the cheesecake topping
In a small bowl, mix the cream cheese with maple syrup and vanilla until smooth.
To assemble the overnight oatmeal
In a medium bowl or overnight oats jar, add the oats, yogurt, milk, lemon juice and lemon zest.
Top the soaked oatmeal mixture with the cheesecake topping. Then, then add the blueberry-chia jam.
Cover and refrigerated for at least 12 hours.
Serve cold and garnish with fresh blueberries, graham crackers, sliced almonds or any other oatmeal toppings that you have a craving for.
Notes
There are vegan alternatives that can be used to make this recipe non-dairy. Substitute the cream cheese, milk and yogurt for dairy-free replacements.
This recipe is gluten free!
The oatmeal is fairly thick, so adjust the overnight oats water ratio when its time to serve. Stir in another spoonful or yogurt, or even add some more milk to make a thinner porridge style consistency.
To ensure quality and freshness of each individual ingredient, eat the blueberry cheesecake overnight oats within 5 days of preparation.
Recommended Products
As an Amazon Associate and member of other affiliate programs, I earn from qualifying purchases.
Nutrition Information:
Yield:
1
Serving Size:
1
Amount Per Serving:
Calories:

555
Total Fat:

20g
Saturated Fat:

9g
Trans Fat:

0g
Unsaturated Fat:

9g
Cholesterol:

43mg
Sodium:

176mg
Carbohydrates:

76g
Fiber:

10g
Sugar:

34g
Protein:

19g
Nutrition information isn't always accurate.