*This post may contain affiliate links. Please see my
disclosure
to learn more.
Freshen up your morning routine by preparing blueberry pie overnight oatmeal in advance the night before. You'll wake up to a satisfying and healthy breakfast that is ready to grab and go.
Whether you're looking for a breakfast meal or afternoon snack, it works great as a meal prep idea. Try the different blueberry overnight oats recipes to make your busy workweek go by even smoother.

Including blueberry cheesecake overnight oats and blueberry muffin overnight oats, we've rounded up easy and healthy recipes to solve all your cravings! Grab a bag of frozen blueberries and assemble each of them by adding a personal touch to fulfill your belly.
Blueberries are a nutritious year-round fruit that is easy to grab fresh or frozen in the market. Paired with the benefits of oats, you get a nutritious meal that is great for any time of day.

Start your day with a filling bowl of creamy and sweet blueberry pie overnight oats. The texture is reminiscent of a smashed blueberry jam like sauce with crunchy piecrust topping.

Blueberry pie overnight oatmeal is so easy to make, and also tastes just like a slice of fresh baked pie. Once you give it a try, there will be no way you able to resist.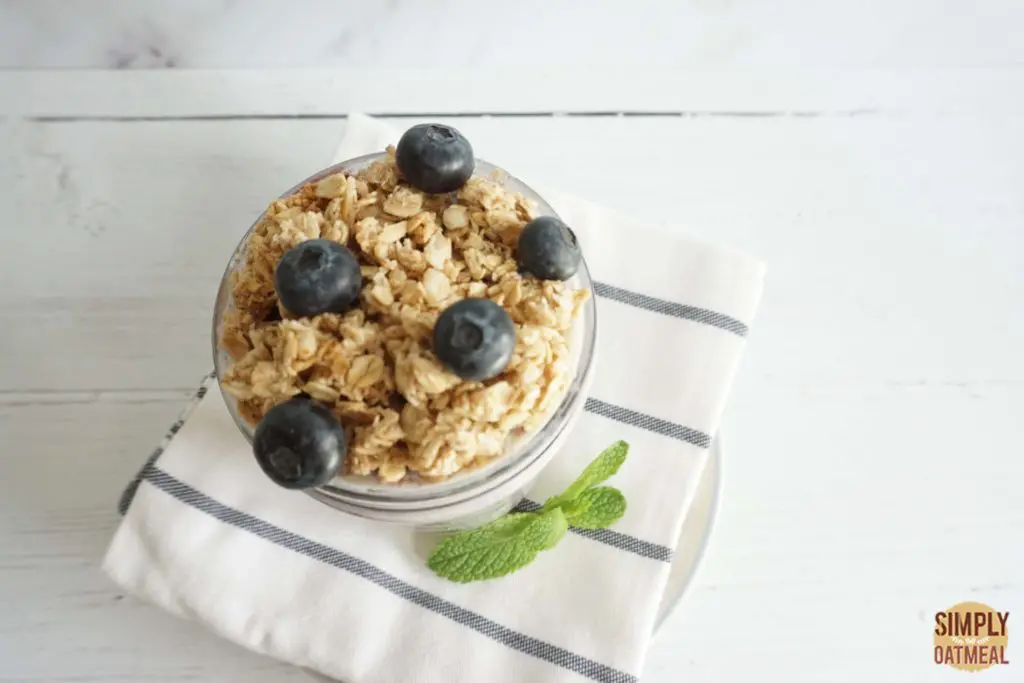 How to make blueberry pie overnight oats?
This simple and make ahead breakfast tastes just like dessert. However, this meal is packed with the plant protein, fiber, antioxidants and much more that whole grain oats have to offer!

Grab a mason jar and a few ingredients. Let's start to make blueberry pie overnight oats.
Blueberry Pie Overnight Oats Ingredients:
Rolled oats
Liquid of your choice
Coconut yogurt
Chia Seeds
Blueberries
Vanilla extract
Piecrust topping
Start by making the pie crust topping. This requires a few minutes of baking, however it's well worth the extra time.

Place all of the pie crust topping ingredients in a small bowl and rub the coconut oil into the dry ingredients. Spread the mixture onto a baking sheet and bake for about 8-10 minutes. Stir in the middle, and return to the oven. Set the piecrust topping aside to cool completely before transferring to an airtight container.
Combine the oats, chia seeds, blueberries, vanilla, almond milk, and coconut yogurt in a mason jar.

Stir so that everything is well combined and then place is the refrigerator for about 12 hours.

The next day, stir the oats one time, and then add any extra oatmeal toppings that you desire. Sprinkle the piecrust topping over the soaked just before eating so that it doesn't have time to get soggy.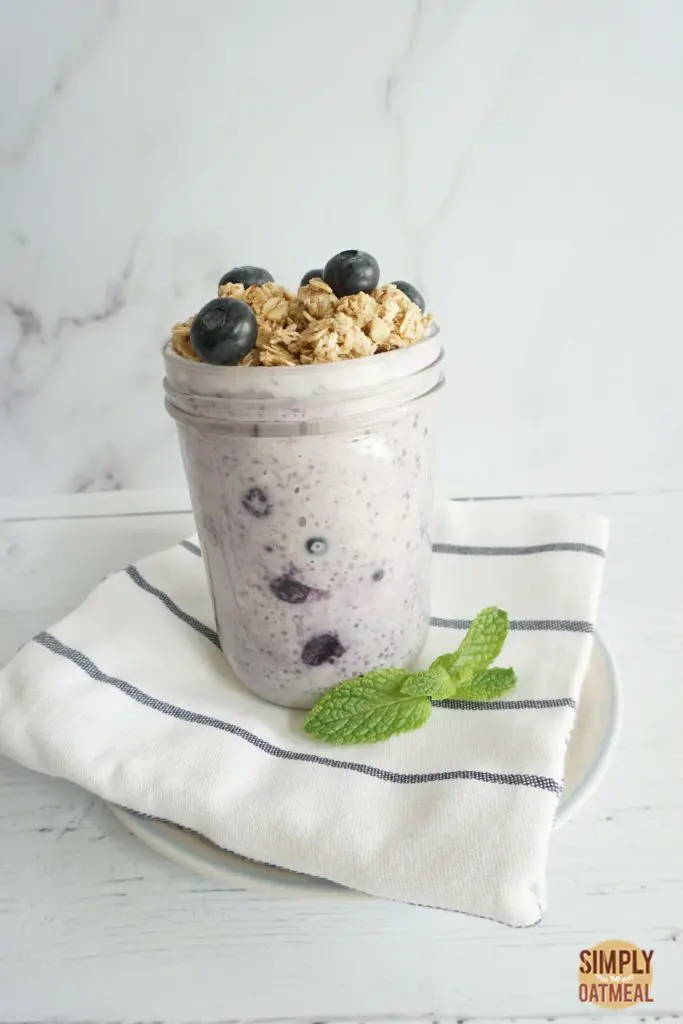 Blueberry Pie Overnight Oats Tips:
Satisfy your sweet tooth with a hearty serving of blueberry pie overnight oats in the morning. Here are the tips to make your oatmeal finger-licking delicious for each and every spoonful:
Regular rolled oats are recommended for making blueberry pie overnight oats. Steel cut oats are far too crunchy when combined with the piecrust topping. Quick oats get too soggy when soaked overnight, and therefore aren't the most enjoyable mouth feel.
Store the fresh baked piecrust and overnight oats separately to keep the topping crunchy.
For smooth and silky texture, add a scoop of vegan yogurt as a topping to the oat mixture.
Enhance flavor with a dash of cinnamon, ginger, and a scrapped vanilla bean. They are all low calorie flavors that offer great health benefits at the same time.
Add extra chia seeds for gelatin texture. Make sure to increase the liquid ratio based on how much jelly like consistency you enjoy.
Serve chilled or warm it up in the microwave for a fresh baked blueberry pie taste.
For best result, eat within 5 days of preparing. This ensures that each ingredient remains fresh.
PLAN THESE ADDITIONAL DELICIOUS BLUEBERRY OVERNIGHT OATS THIS WEEK: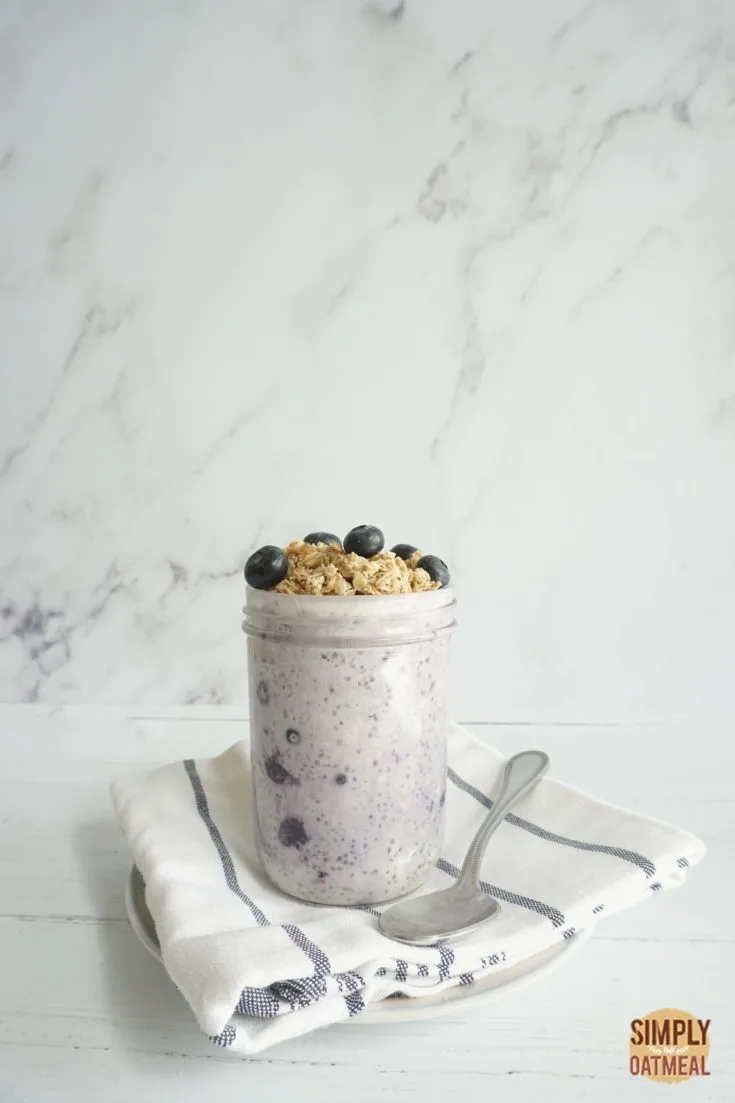 Yield:

1 serving
Blueberry Pie Overnight Oats Recipe
Breakfast is the perfect time to eat this blueberry pie overnight oats. The recipe is super tasty with just the right amount of sweetness to get the day started.
The piecrust topping is a fantastic addition to the soaked oats! It only takes requires 5 ingredients and takes just 10 minutes to prepare.
The soft and crunchy textures are the perfect combination. In addition, the piecrust tastes great with the creamy soaked oats.
Grab your meal prep containers and whip up a batch of blueberry pie overnight oats. As a result, you'll have nutritious and filling grab and go breakfasts prepared ahead of time!
Ingredients
½ cup old fashioned rolled oats
¼ cup coconut yogurt
1 tablespoon chia seeds
½ teaspoon vanilla extract
½ cup fresh or frozen blueberries
Piecrust topping
2 tablespoons old-fashioned rolled oats
1 tablespoon oat flour
1 tablespoon coconut sugar
1 tablespoon coconut oil
¼ teaspoon ground cinnamon
Instructions
To make the piecrust topping
Preheat the oven to 350°F and line a baking sheet with parchment paper.
Place all of the piecrust topping ingredients in a small bowl. Rub the coconut oil into the dry ingredients using your fingertips until everything is fully coated.
Pour the mixture onto the baking sheet and spread out evenly in one single layer.
Bake for 4 minutes, stir the mixture, and then continue to bake for another 2 minutes. For a extra crispy and toasted taste, stir again, and bake another 2 minutes.
Allow the piecrust to completely cool on the baking sheet before transferring to an airtight container.
To make blueberry pie overnight oats
In a medium sized bowl or overnight oats container, add the oats, chia seeds, blueberries, vanilla, soy milk, and coconut yogurt. Stir everything until well combined.
Cover and refrigerate for at least 12 hours.
In the morning, stir the oats and fold in any extra oatmeal toppings that you may desire.
Top the blueberry overnight oatmeal with the piecrust topping just before eating.
The oats can be served either hot or cold, and it's best to consume within 5 days of preparation.
Notes
This recipe is non-dairy, gluten free and vegan!
The liquid measurements for this recipe result in a thick and spoonable consistency. Adjust the overnight oats water ratio to by adding more soy milk or yogurt just before serving to achieve a porridge style oatmeal.
Make the piecrust topping in advance and store it in an airtight container.
To ensure the quality and that the individual ingredients don't spoil, its recommended to eat the blueberry pie overnight oats within 5 days of assembling.
Recommended Products
As an Amazon Associate and member of other affiliate programs, I earn from qualifying purchases.
Nutrition Information:
Yield:
1
Serving Size:
1
Amount Per Serving:
Calories:

562
Total Fat:

23g
Saturated Fat:

12g
Trans Fat:

0g
Unsaturated Fat:

8g
Cholesterol:

1mg
Sodium:

45mg
Carbohydrates:

78g
Fiber:

13g
Sugar:

30g
Protein:

14g
Nutrition information isn't always accurate.