*This post may contain affiliate links. Please see my
disclosure
to learn more.
Looking for an alternate way to satisfy your muffin cravings? Grab-and-go blueberry muffin overnight oats are easy and filled with nutritious ingredients that will make your day!
Attention all blueberry lovers! Try these blueberry muffin overnight oats because you are guaranteed to like them. Explore each of the best blueberry overnight oats recipes that requires no cook and only 5 minutes of your time.

Take your plain old fashion oatmeal to the next level with flavor combinations from blueberry pie overnight oats to blueberry cheesecake overnight oats. We've come up with fun and exciting breakfast recipes that will satisfy all sweet tooth cravings you're your whole family. Each and every bite will be naturally sweet and fulfilling so that you crave no more.
No cook overnight oats tastes exactly like your favorite blueberry muffins. Invest 5 minutes to assemble the oatmeal before you go to bed and wake up every morning to a delicious breakfast is ready to get served.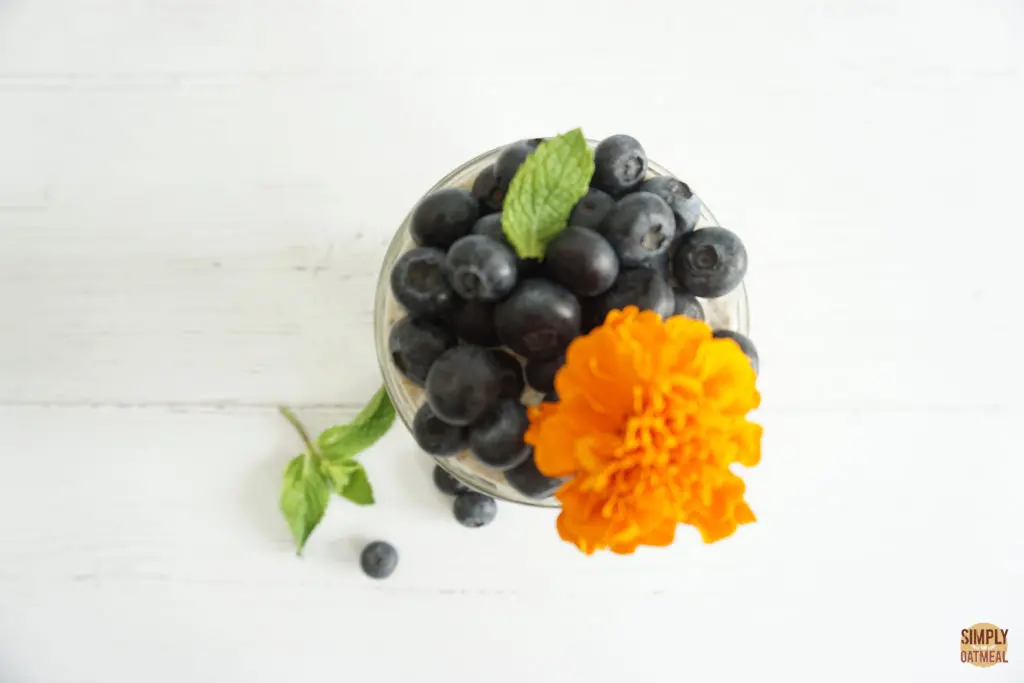 How to make blueberry muffin overnight oats?
Quickly mashing the blueberries with a fork is a short cut to avoiding the need for any extra sugar. This secret sauce makes your overnight oats even more irresistible. Sprinkle with lemon zest and a pinch of salt to really make the magic happen.

Are you ready to make this easy no cook recipe with us?
Blueberry Muffin Overnight Oats Ingredients
Blueberries
Greek yogurt
Liquid of your choice
Chia seeds
Vanilla extract
Honey
Lemon zest
Pinch of salt
To give this recipe a burst of fruitful flavor, start by mashing the blueberries in a bowl or mason jar. Add the rest of the wet ingredients and mix once.

Next, add in dry ingredients and mix until the chia seeds no longer clump up together.

Cover and store in the refrigerator for at least 12 hours. The next day, top the no cook oatmeal with granola, lemon zest, some more blueberries and any other toppings that you enjoy!!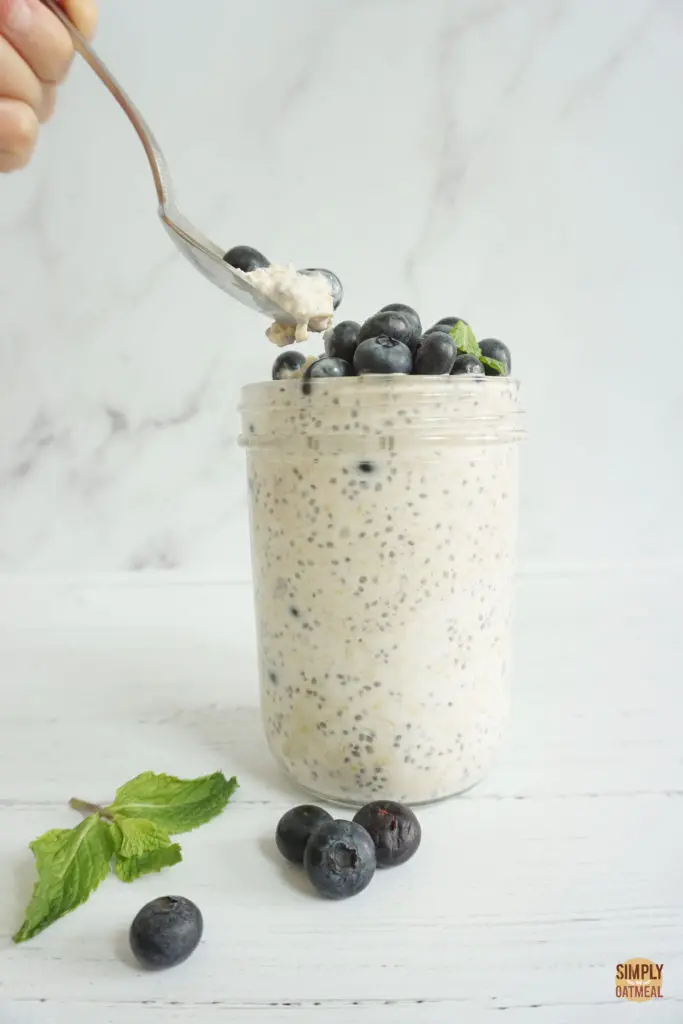 Blueberry Muffin Overnight Oats Tips:
Learn a few tips for how to make blueberry muffin overnight oats taste great every time you take a spoonful.
Substitute the liquid part based on your personal preference. From whole milk to dairy free alternatives, the beverage options are in your hands!
Adding a scoop of Greek yogurt really makes this recipe taste extra creamy. So, if you are looking to lighten up your dairy serving, you can easily exclude it from the meal prep and add a splash more liquid to maintain the 2:1 ratio of oats to fluid.
Store in refrigerator for up to 5 days and have them ready for breakfast on the run or afternoon snack for the day.
If you don't have fresh blueberry, simply use blueberry chia jam or even frozen berries work great for an additional fruity flavor.
To make this recipe even sweeter, add chopped dried blueberries or an extra drizzle of honey on top of the oatmeal.
ADDITIONAL BLUEBERRY OATMEAL RECIPES YOU NEED: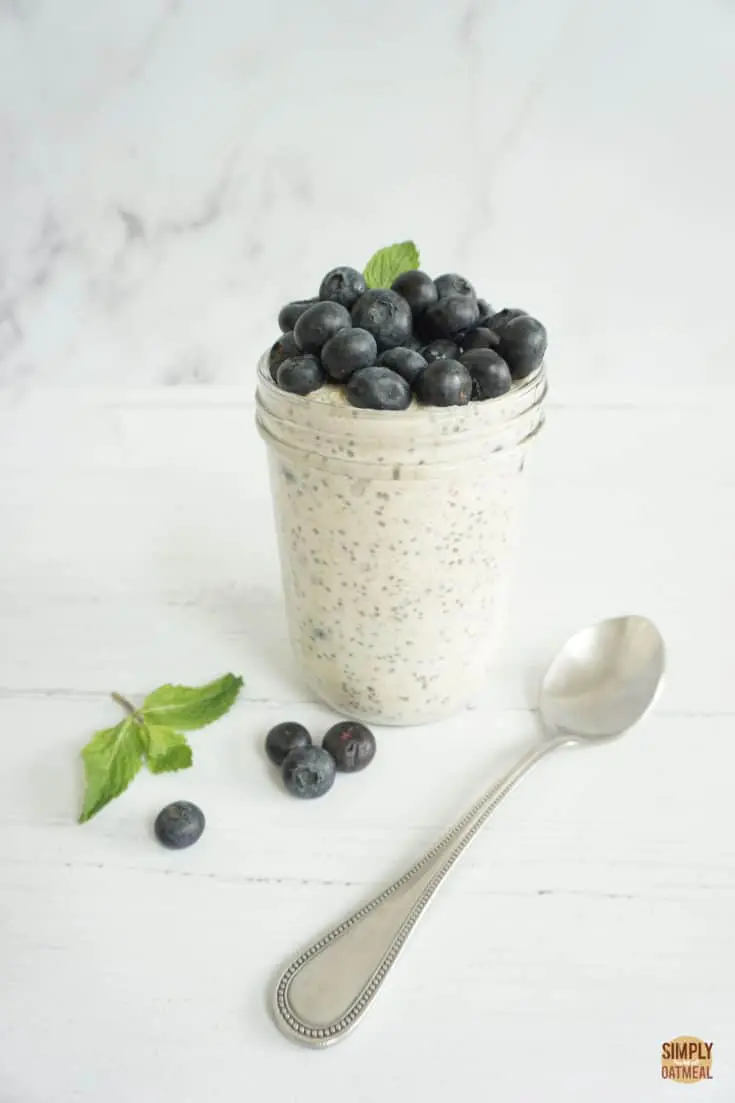 Yield:

1 serving
Blueberry Muffin Overnight Oats Recipe
Enjoy the same muffin taste without the need to bake. Blueberry muffin overnight oats is a no cook recipe that is guaranteed to make everyone around you jealous.
Whip up a batch of make ahead oats before you go to bed. In the morning time, the soaked oatmeal will be fully hydrated and ready for your favorite toppings.
Combine the benefits of oats with the tangy sweetness of blueberries. Not only will you be fully satisfied, but you will also be nourished with plentiful antioxidants and essential vitamins and minerals.
Grab your mason jar and meal prep a serving of no cook blueberry muffin oatmeal. This recipe is so good that I'm sure you'll be back again!
Ingredients
½ cup regular rolled oats
½ cup vanilla Greek yogurt
1 tablespoons chia seeds
1 teaspoon vanilla extract
1 tablespoon honey
1 teaspoon lemon zest
pinch of salt
½ cup fresh or frozen blueberries
Instructions
In a medium bowl or overnight oats container, start by mashing the blueberries at the bottom with a fork. Then, add the almond milk, yogurt, vanilla extract and honey. Give everything a stir.
Afterwards, add the rolled oats, chia seeds, lemon zest and salt. Mix again to ensure the chai seeds don't clump up together.
Cover with a lid and refrigerate for a minimum of 12 hours.
In the morning, serve cold with an extra layer of blueberries, granola, lemon zest or your ideal oatmeal toppings.
Notes
This recipe can be made vegan by switching to a non-dairy yogurt alternative and also exchanging the honey for maple syrup or stevia. The substitutions will no significantly alter the flavor profile and will give you the ability to meet your vegan guidelines.
Use coconut milk, hemp milk, oat milk or soy milk if you have a concern about nut allergy.
If the no cook oatmeal is too loose for your personal preference, then adjust the consistency of the overnight oats water ratio. Thicken up the mixture by reducing the amount of liquid or by adding an extra spoonful of chia seeds to soak up some moisture.
Eat the blueberry muffin overnight oatmeal within 5 days of preparation to preserve freshness of the ingredients.
Recommended Products
As an Amazon Associate and member of other affiliate programs, I earn from qualifying purchases.
Nutrition Information:
Yield:
1
Serving Size:
1
Amount Per Serving:
Calories:

440
Total Fat:

9g
Saturated Fat:

1g
Trans Fat:

0g
Unsaturated Fat:

7g
Cholesterol:

3mg
Sodium:

179mg
Carbohydrates:

73g
Fiber:

12g
Sugar:

36g
Protein:

18g
Nutrition information isn't always accurate.