*This post may contain affiliate links. Please see my
disclosure
to learn more.
Looking for a healthy snack or no cook breakfast idea to eat on a busy day? Blueberry almond overnight oats require less than 7 ingredients and takes less than 5 minutes to make. Its super easy to prepare and keeps you feeling full until lunchtime!
It isn't easy to find an on-the-go breakfast or afternoon snack that fills you up and tastes great. Here at Simply Oatmeal, we've put together the best blueberry overnight oats recipes that'll help you out all week long.

Not only are they packed with protein, fiber and antioxidant-rich berries, but it's totally delicious. From blueberry peanut butter overnight oats to blueberry muffin overnight oats, every single recipe will satisfy your cravings.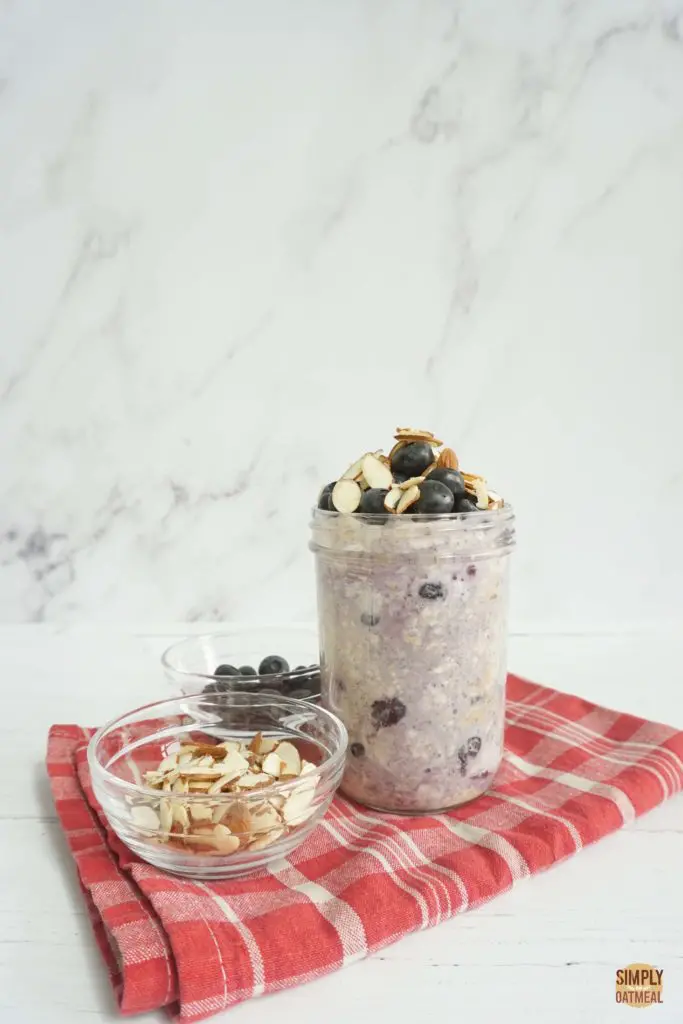 Do blueberries and almonds go together?
Blueberries have an overall complex flavor that is both tangy and sweet. Therefore, it is a perfect fruit to pair with nutty dishes. That is reason why combination of blueberries and almonds makes a great snack at anytime of day to keep you going.
Simply prepare a batch of blueberry almond overnight oats and the possibilities are endless! In addition, you can add any toppings so that you never get bored.

Play around with fresh and frozen fruits, a sprinkle of spices and toasted nuts for protein. Even consider topping with a few mini chocolate chips to make the meal taste even more delicious.
How to make blueberry almond overnight oats?
Assembling blueberry almond overnight oats is as easy as one, two, three. In just a few minutes you can have a grab and go meal prepared for the next day.

It's super convenient to be able to reach into the fridge for a healthy and nutritious meal. If you have a box of fresh or frozen blueberries ready, then grab these fixings to make the magic happen.
Blueberry Almond Overnight Oats Ingredients:
Liquid of your choice
Almond butter
Vanilla extract
Ground cinnamon
Blueberries
Almonds
In mason jar, assemble oats, almond milk, almond butter, vanilla and cinnamon. Mix everything together really well.

Next, stir in ½ cup blueberries. Top the oat mixture with the remaining blueberries and sliced almonds.

Cover the lid and refrigerate for 12 hours to soak the oats and meld the flavors.

Add a little drizzle of maple syrup for sweetness on top and enjoy the healthy and hearty meal!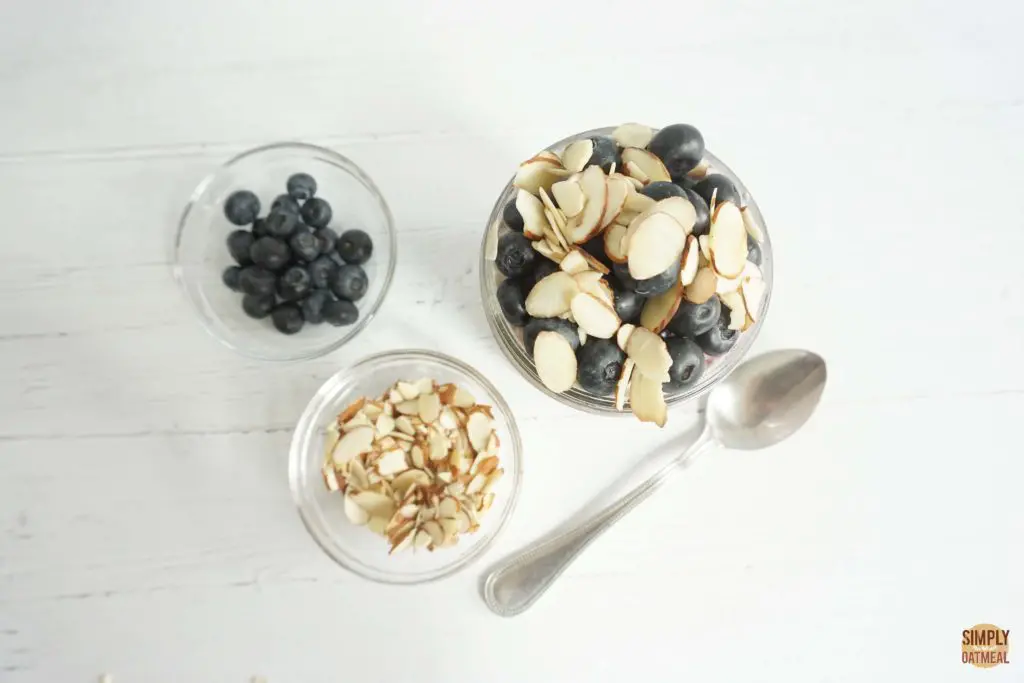 Blueberry Almond Overnight Oats Tips:
Blueberry and almonds are the perfect combination for overnight oatmeal. Enjoy your soaked oats all the time with these helpful tips to make the meal even more tasty and delicious.
Make a large batch and store it in individual mason jars in the refrigerator for up to 5 days.
Personalize your oatmeal with protein powder or chia seeds for a post workout energy boost.
Add a scoop of Greek yogurt to make it creamy texture that is packed with protein.
Sweeten the soaked oats with maple syrup, honey or any other natural sweetener that you enjoy most.
If the mixture seems too thick when serving, then add more liquid or a spoonful of yogurt to thin it out a bit. Be aware of overnight oatmeal water ratio of 2:1 liquid to oats.
Use rolled oats instead of steel cut oats when making this overnight oatmeal recipe. Rolled oat provides a nice balance of soft and crunchy texture when soaked overnight. Steel cut oats tend to be overly chewy when only soaked for one night.
NEED MORE BLUEBERRY OATMEAL RECIPE IDEAS? TRY THESE: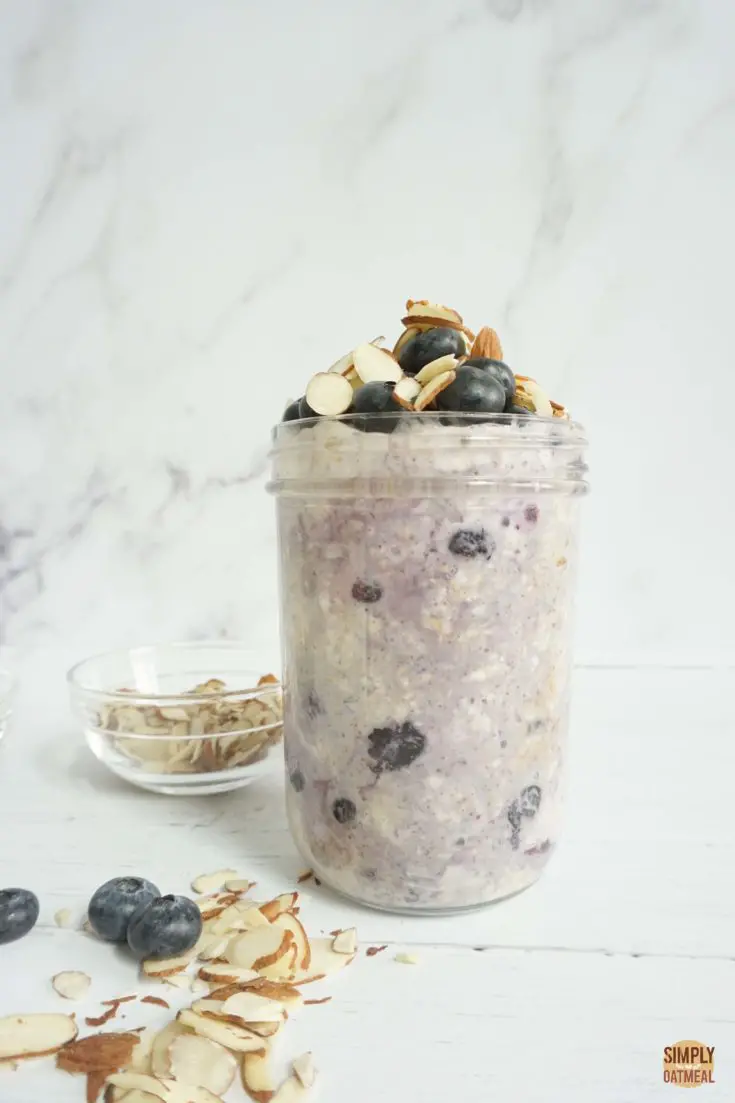 Yield:

1 serving
Blueberry Almond Overnight Oats Recipe
Blueberry almond overnight oatmeal is packed with healthy nutrition that will keep you energized all day long. Not only do almonds pair with blueberries, but they increase antioxidant levels and provide sustainable fats and muscle building protein.
This recipe is easy to follow and tastes delicious. Grab you meal prep jars because its totally worth preparing a batch for the next day.
Grab and go breakfast or afternoons snack ideas have never been so easy. This no cook meal work great to eat during any time of day, and it'll keep you feeling full all day long!
Ingredients
½ cup regular rolled oats
½ teaspoon vanilla extract
¼ teaspoon ground cinnamon
1 cup fresh or frozen blueberries
2 tablespoons sliced almonds
Instructions
In a medium sized bowl or overnight oats jar, combine the oats, almond milk, almond butter, vanilla and cinnamon.
Mix well, and then fold in ½ cup blueberries.
Cover and store in the refrigerator for at least 12 hours.
In the morning, top with the remaining ½ cup blueberries, sliced almonds and your favorite oatmeal toppings.
Notes
This recipe is vegan, gluten free and non-dairy!
The consistency of this oatmeal is thick and spoonable. Increase the overnight oats water ratio by adding more liquid to make a porridge style oatmeal that is a bit thinner. Add the liquid when its time to serve to loosen up the texture.
Add a spoonful of yogurt to make the oats creamy.
Best to eat the blueberry almond overnight oats within 5 days of preparing. This guarantees the individual ingredients remain fresh.
Recommended Products
As an Amazon Associate and member of other affiliate programs, I earn from qualifying purchases.