*This post may contain affiliate links. Please see my
disclosure
to learn more.
Cocoa banana overnight oats is a great way to use up overripe bananas! Just like cheese and wine, cocoa and banana are made for each other and blend well with overnight oatmeal.
Attention all sweet lovers! Try the best banana overnight oats that require zero cooking skills and takes less than 5 minutes to prepare.

From chocolate banana overnight oats to peanut butter banana overnight oats, we have you covered. Here at Simply Oatmeal, we've tested out so many different ways you can enjoy eating oatmeal all week long without getting tired of eating the same boring combo.
Making a cocoa milk base to soak oats is perfect ways to take the bland and boring taste of oatmeal to the next level. If you are feeling lazy, this recipe is also easily modified to use cocoa flavored milk or yogurt based on availability!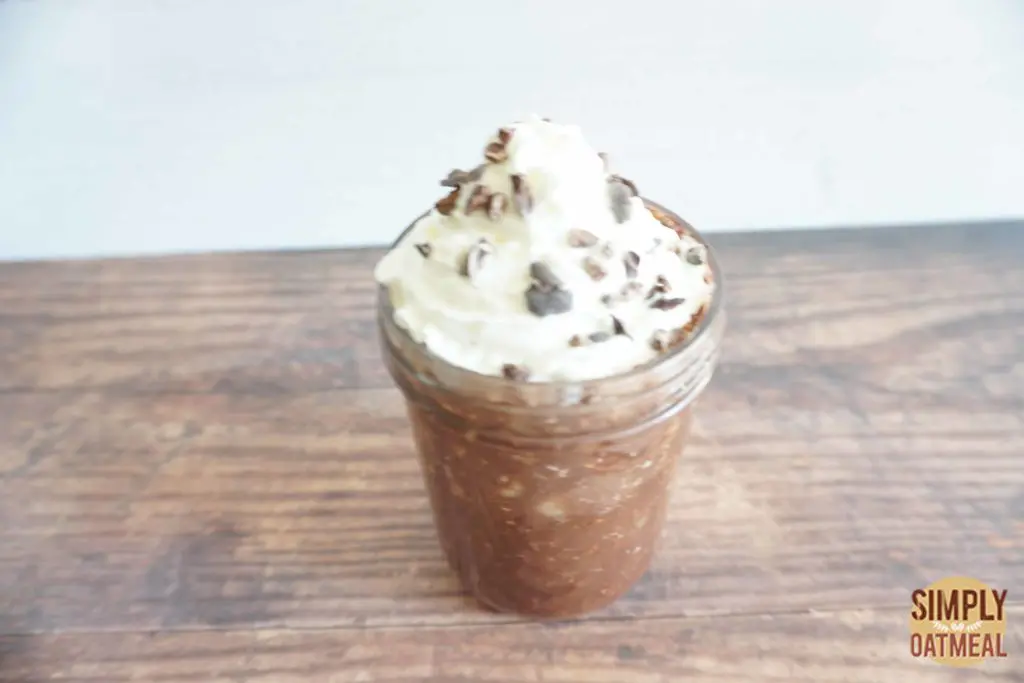 How to make cocoa banana overnight oats?
Cocoa banana overnight oatmeal is a great way to satisfy your sweet tooth. The no cook oats seriously tastes like dessert, but there is no extra sugar or sweetening added. Treat yourself to a delicious superfood packed breakfast each day of the week!
Cocoa Banana Overnight Oats Ingredients:
Liquid of your choice
Yogurt
Banana
Cocoa powder
Maple syrup
Mash the banana at the bottom of a meal prep container, and then mix together the remaining ingredients.

Cover and place in the fridge for at least 12 hours. The oats can be eaten cold or warmed in the microwave or stovetop.

Prepare diverse range of oatmeal topping such as chopped walnuts, cocoa nibs, and banana chips. Have the fixings ready when making this cocoa banana overnight oats, so you can garnish and gobble right away!
Cocoa Banana Overnight Oats Tips
Have the cocoa banana overnight oats tips on hand to keep your oatmeal fresh and enjoyable anytime of the day. A few helpful hints will take your no cook oatmeal to the next level.
Replace regular yogurt with chocolate flavored yogurt if you don't have cocoa powder. Another option is adding cocoa nibs or mini chocolate chips to the oat base for an extra crunchy texture.
Instead of quick oats, go with rolled oats for this recipe. The quick oats are thinner and have less texture than the rolled oats.
Always stir before topping your oatmeal and serving. The bottom of the oatmeal tends to be fairly mushy compared to the top layer, which is still slightly chewy.
Add more liquid or yogurt when serving if the mixture seems too thick. Adhere to the water ratio of 2:1 liquid to overnight oats.
Store in refrigerator for up to 5 days so you have meal prep ready to go for the entire workweek.
GRAB THESE BANANA OVERNIGHT OATMEAL RECIPES: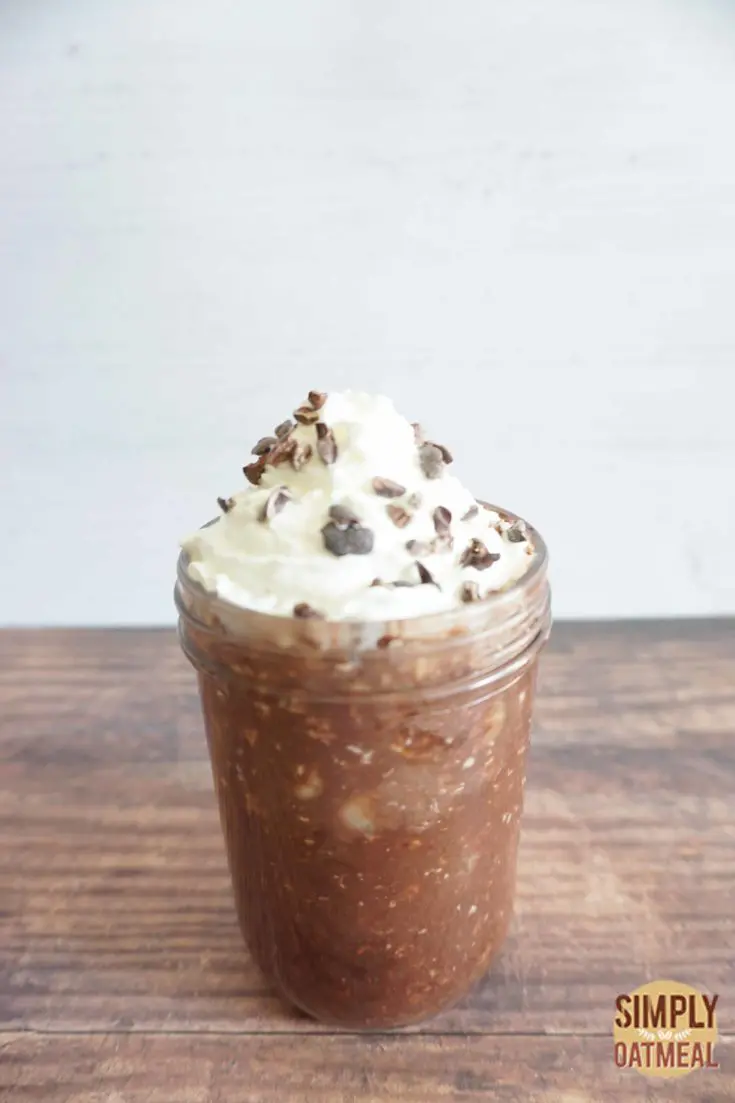 Yield:

1 serving
Cocoa Banana Overnight Oats Recipe
Cocoa banana overnight oats is delicious, nutritious and wholesome. Along with the benefits of oats, the no cook meal offers a balance of plant-based protein, fiber and essential vitamins and minerals.
With only 6 ingredients, the no cook oatmeal takes just a few minutes to assemble. Allow the oats to fully soak before eating.
The next day, give them a quick stir to combine the flavors, and then add your favorite fixings. The flavor add-ins further enhances the taste.
This vegan meal prep idea is easy to follow, and offers a variety of topping options. Give it a try and play with the different combinations available.
Ingredients
½ cup rolled oats
¼ cup coconut yogurt
1 banana
1 tablespoon cocoa powder
1 tablespoon agave nectar
Instructions
Mash the banana with a fork at the bottom of an overnight oats container or medium sized bowl.
Then, mix in the rolled oats, soy milk, coconut yogurt, cocoa
powder and agave nectar until well combined.
Cover and place in the fridge overnight for at least 12 hours before eating.
The next day, remove from the no cook oatmeal from the fridge and add any oatmeal toppings of your choice. The soaked oats can be eaten cold or heated in the microwave or on the stovetop.
Notes
The overnight oats will maintain fresh in the fridge for up to 5 days.
The recipe is vegan, gluten free and non-dairy!
The recipe is relatively thick because of the banana and cocoa powder. Adjust the 2:1 overnight oats water ratio and loosen up the consistency by adding a splash more liquid when its time to serve.
Recommended Products
As an Amazon Associate and member of other affiliate programs, I earn from qualifying purchases.
Nutrition Information:
Yield:
1
Serving Size:
1
Amount Per Serving:
Calories:

461
Total Fat:

7g
Saturated Fat:

1g
Trans Fat:

0g
Unsaturated Fat:

2g
Cholesterol:

1mg
Sodium:

127mg
Carbohydrates:

87g
Fiber:

9g
Sugar:

42g
Protein:

15g