*This post may contain affiliate links. Please see my
disclosure
to learn more.
Sweet, tart, and full of flavor, this make ahead meal prep is perfect for a balanced breakfast or even a mid afternoon snack. Taste sweetness and zesty tang in every spoonful of this strawberry lemonade overnight oats!
If lemonade and oatmeal are not part of your go-to breakfast or afternoon snack routine, then try these lemon overnight oatmeal recipes. Explore the variety of fun oatmeal combination that pair well with the beverage classic!

From raspberry lemonade overnight oats to blueberry lemonade overnight oats, each recipe is a perfect grab and go meal prep. The healthy eating solutions are satisfying and fulfill enough to incorporate into your busy workweek so that you feel full and avoid unnecessary snacking.
You will love this strawberry lemonade overnight oats because…
Prepare this tasty meal prep in just 5 minutes.
Healthy recipe packed with wholesome nutrition featuring essential vitamins, minerals and immunity boosting antioxidants.
Great source of plant based protein, healthy fats, and high in fiber.
Perfect balance of sweet, tart and creamy flavors.
Strawberry lemonade blends lemon and strawberries with hearty whole grain oatmeal. The citrusy zest is delightful when combined with the sweetness of the strawberries!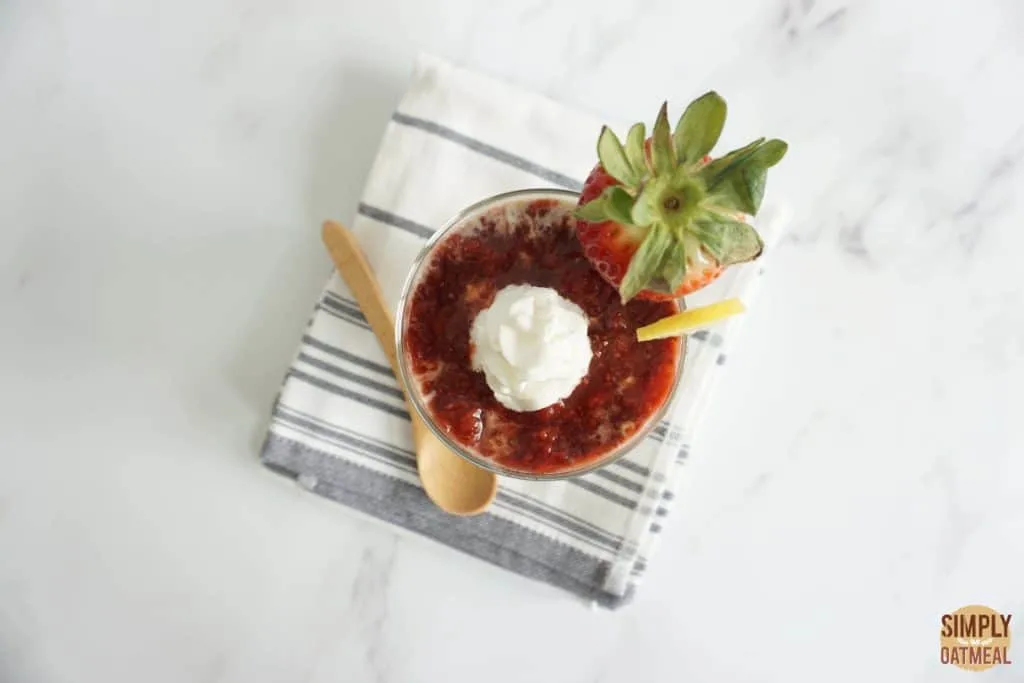 Whether you prefer whole milk or a dairy free substitute, strawberries and lemonade combine very well with an overnight oatmeal recipe. Modify the recipe to fit your personal preferences with the endless add-in options for you to choose from.
How to make strawberry lemonade overnight oats?
This strawberry lemonade overnight oatmeal will wow your senses with a balance of sweet and tartness. Gather together a few simple ingredients to quickly assemble this no cook recipe.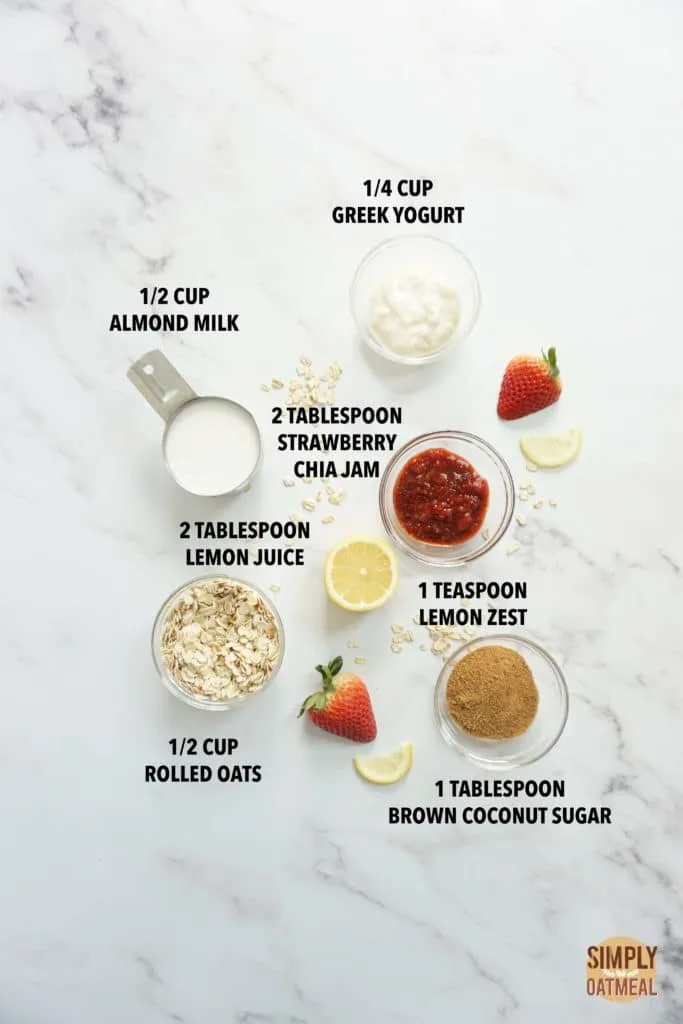 Strawberry Lemonade Overnight Oatmeal Ingredients:
Almond milk
Yogurt
Lemon
Strawberry-chia jam
Coconut sugar
You have the option to assemble in a bowl or try a mason jar for a handy meal on the run. Add all of the ingredients, and stir until the ingredients are well combined. Seal the container and place in the fridge to soak overnight.

The next day, give the oats a good stir and top with oatmeal toppings like fresh berries, extra lemon zest, shaved coconut or roasted nuts.
Strawberry Lemonade Overnight Oats Tips:
Change up your meal-on-the-go routine with a hearty serving of strawberry lemonade overnight oats. Here are tips to make your meal even more enjoyable.
Lemon: Fresh lemon juice gives the best flavor even though lemon juice is commercially available in the local market. Not only does juicing a lemon give a noticeably fresher taste, but you can zest the lemon before juicing for a refreshing citrusy taste.
Strawberry: Strawberries contains beneficial antioxidants, vitamins and minerals. They also add a sweetness that is absolutely magical when paired with fresh lemon.
Oats: Instead of quick oats or steel cut oats, stick with rolled oats when preparing this recipe. Quick oats are thin and have less texture than the rolled oats and get very mushy when soaked overnight. Steel cut oats a best served in cook preparations.
Liquid ratio: Keep the 2:1 ratio of liquid to overnight oats as a general guideline. This provides a porridge style texture that prevents the oats from becoming too thick and dry.
Yogurt: Yogurt gives the oatmeal a creamy taste. Use a diary-free yogurt for the vegan recipe.
Seeds: Hemp seeds, chia seeds and flaxseeds are some of the superfood ingredients that can be easily added to this meal prep recipe.
Vegan: The recipe is vegan if you use dairy free milk and yogurt options.
Gluten free: Although oats are naturally gluten free, certified oats are recommended to prevent cross contamination during the harvesting and milling of the whole grain.
Protein powder: A scoop of protein powder will boost the nutritional availability as a post workout snack.
Sweetener: Substitute for your favorite sweetener as needed. Maple syrup, coconut sugar, honey or agave are some of the commonly used options.
Give it a stir: Stir the soaked oatmeal before garnishing with any toppings and serving. The bottom of the oats are much softer compared to the chewy top layer. Mixing allows the soft parts to combine with the crunch for a more consistent mouth feel throughout the dish.
Add-ins: Fresh fruit, dried fruits, seeds and toasted nuts are great ingredients to add to this recipe. Here are over 75 oatmeal toppings for more tasty inspiration.
Storage: Soak the meal prep in the best overnight oats containers for at least 12 hours. Eat as a grab and go breakfast or for a mid afternoon snack. Enjoy within 5 days of preparation to ensure freshness.
LOOKING FOR MORE LEMONADE OVERNIGHT OATS FOR THIS WEEK?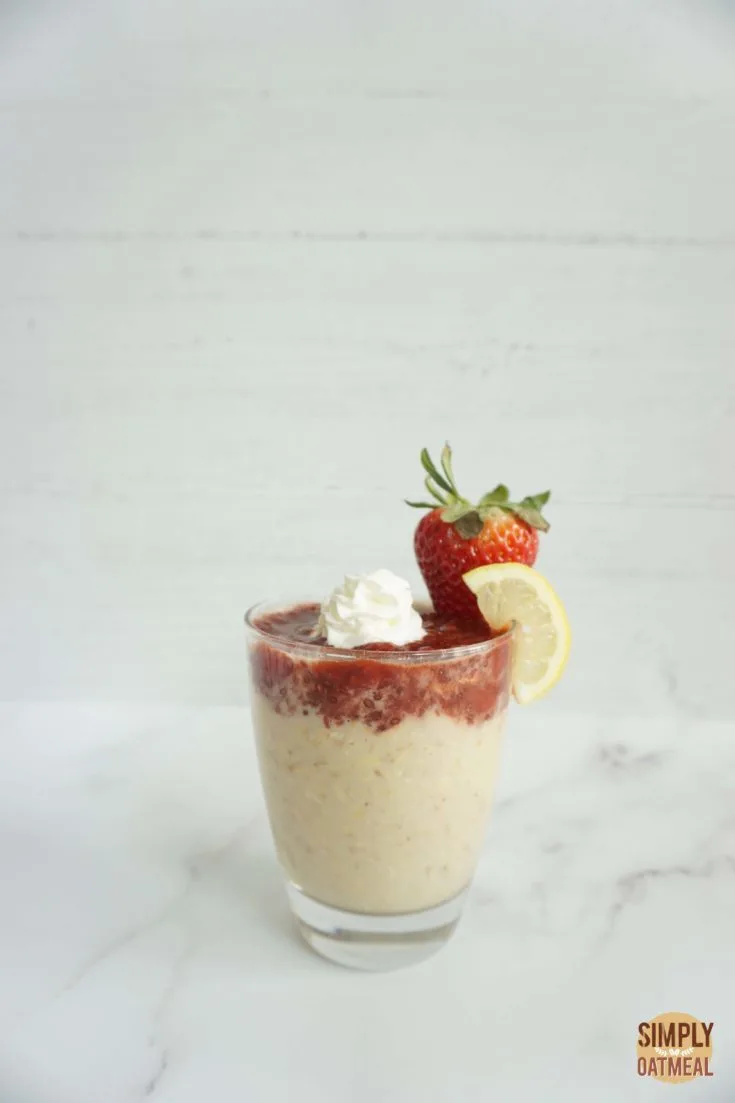 Yield:

1 Serving
Strawberry Lemonade Overnight Oats Recipe
Strawberry lemonade overnight oats is a sweet and aromatic copycat of the classic beverage. Enjoy this healthy meal prep as a grab and go morning meal or a tasty afternoon snack to tide you over until dinner.
This no cook recipe is vegan and gluten free. Enjoy the nutritious dairy free meal at anytime of day!
Ingredients
½ cup rolled oats
¼ cup Greek yogurt
2 tablespoon lemon juice
1 teaspoon lemon zest
2 tablespoon strawberry-chia jam
1 tablespoon brown coconut sugar
Instructions
In a medium sized bowl or overnight oats container, combine all of the ingredients. Mix well and seal the container. Store the no cook oatmeal in the fridge overnight and allow to soak for at least 12 hours.
To serve, give the oats a good stir to combine the soft bottom layer with the chewy top layer. Garnish with berries, additional lemon zest, roasted nuts, toasted coconut or your favorite oatmeal toppings.

Notes
Make it vegan and gluten free!
Adjust the consistency and sweetness if necessary.
Store in the refrigerator for up to 5 days
Recommended Products
As an Amazon Associate and member of other affiliate programs, I earn from qualifying purchases.
Nutrition Information:
Yield:
1
Serving Size:
1
Amount Per Serving:
Calories:

376
Total Fat:

8g
Saturated Fat:

1g
Trans Fat:

0g
Unsaturated Fat:

6g
Cholesterol:

3mg
Sodium:

40mg
Carbohydrates:

65g
Fiber:

10g
Sugar:

26g
Protein:

14g
Nutrition information isn't always accurate.