*This post may contain affiliate links. Please see my
disclosure
to learn more.
Overnight oats combined with banana and lemon are a great way to kickoff your no cook meal prep! You might be new to this combination, but lemon and banana blend extremely well with overnight oatmeal.
Attention all lemon lovers! Try the best lemon overnight oats recipes that take less than 5 minutes to prepare and also require zero cooking.

From lemon strawberry overnight oats to lemonade overnight oats, we have you covered. Here at Simply Oatmeal, we've assembled the best ways to enjoy eating oatmeal all week long without getting tired of eating the same combinations all the time.
You will love this lemon banana overnight oats because…
Requires just 5 minutes to gather and mix together.
Healthy meal prep that is packed with plant based protein, dietary fiber and healthy fats to keep you nourished all day.
Balance of sweetness, creaminess and tarty goodness.
Tastes just like a tangy banana cream pie with a hearty oatmeal base, its full of delicious flavor!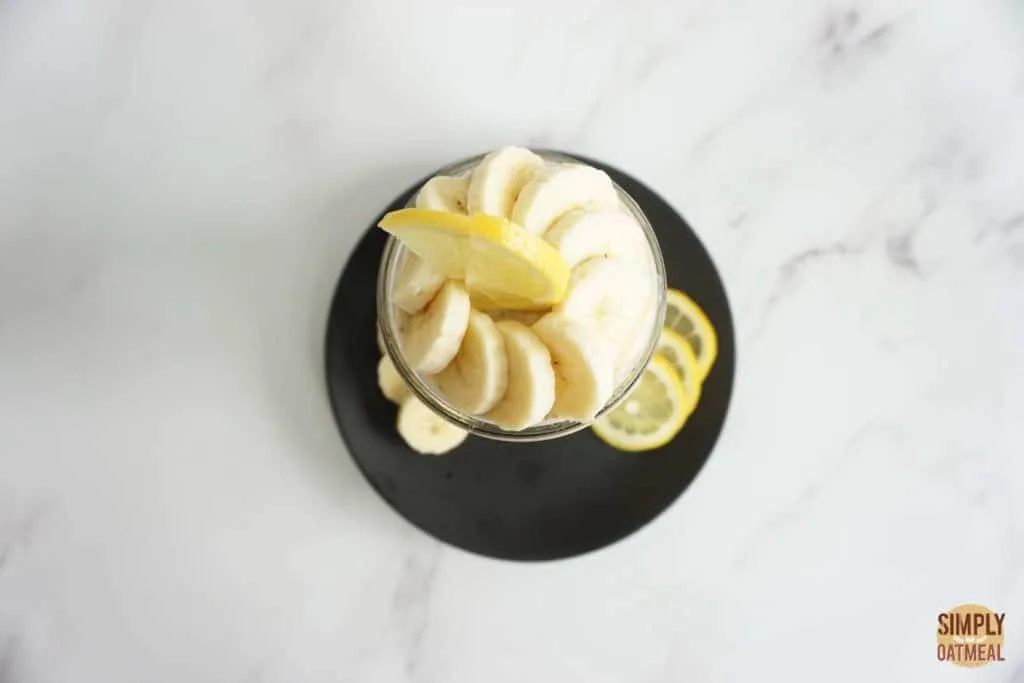 Level up the taste of your bland and boring oatmeal by making a creamy banana and lemon base to soak the oats. If your schedule is just insane, this healthy recipe introduces tons of add-ins and toppings for an easy grab and go meal that will fill you up all day long!
How to make lemon banana overnight oats?
Banana and lemon overnight oatmeal is a great way to satisfy your sweet tooth with a hearty and fulfilling meal. The no cook oats seriously tastes like a tart banana cream pie, but there is no artificial flavors or sweeteners added to this healthy meal prep.

Treat yourself to a superfood packed meal that is delicious to eat at anytime of day!
Lemon Banana Overnight Oats Ingredients:
Soy milk
Yogurt
Banana
Lemon
Chia seeds
Honey
Vanilla extract
Cinnamon
Mash the banana with a fork at the bottom of a mason jar. Stir in the soy milk, yogurt, lemon juice, lemon zest, honey, vanilla extract and cinnamon. When everything is well combined, then fold in the chia seeds and oats so that they are fully coated by the flavorful liquid. Cover and place in the fridge for at least 12 hours.

The oats can be eaten cold or warmed for 1-2 minutes in the microwave or on the stovetop. Give it a quick stir, then garnish with oatmeal topping like chopped walnuts, cocoa nibs, and banana chips. Enjoy right away!
Lemon Banana Overnight Oats Tips:
Banana and lemon overnight oats will taste much better if you follow these handy tips that are guaranteed to keep your oatmeal fresh and enjoyable every time. Incorporate each of the helpful hints so that you level up the no cook oatmeal.
Banana: Bananas are packed with wholesome nutrition and a ton of flavor. From dietary fiber to essential vitamins and minerals, bananas are a beneficial compliment to a well balanced diet.
Lemon: Lemon juice is a powerful immunity booster. While fresh lemon juice can be purchased in the juice aisle at the market, it's best to use a whole lemon because the taste is much fresher and you can also use the zest of the lemon.
Oats: Rolled oats are preferred for making this recipe extra smooth and creamy. Steel-cut oats and quick oats are not optimal for soaking. Steel-cut oats result in a chewy texture, while quick oats get too mushy when soaked overnight.
Liquid ratio: Oats soak up the liquid when combined overnight, so adding enough liquid is important. If necessary, add a splash of liquid to thin the consistency before serving. For a porridge-style oatmeal, 2:1 ratio of liquid to oats works best, but add-in ingredients largely affect this ratio.
Chia seeds: Chia seeds absorb extra liquid, therefore the oatmeal may thicken too much overnight. Simply adjust with a quick stir and add an extra splash of liquid. Chia seeds plump into tiny jelly like boba balls when they hydrate. They provide an interesting mouthfeel because each one will pop in your mouth when you chew on them. Stir the chia seeds well so that they don't clump together when preparing the no cook oatmeal.
Vegan: Replace the honey with a natural sweetener like maple syrup, coconut sugar or brown sugar. In addition, use a dairy free milk and yogurt alternative for this recipe to be vegan.
Gluten free: Even though oat are gluten free, certified whole grain oats are recommended if you follow a strict wheat free diet.
Protein powder: A scoop of protein powder will boost the available nutrition. Select your favorite brand of unflavored or vanilla for a complimentary taste.
Give it a stir: Give the no cook oats a good stir before adding any toppings and serving. Combine the soft layer at the bottom with the crunchy parts of top.
Add-ins: Add a crunchy texture to the creamy soaked oats by garnishing with fresh fruit, dried fruit and chopped nuts will. Check out this list of 75+ oatmeal toppings for so delicious inspirations.
Storage: Overnight oats will stay fresh for up to 5 days when stored in the refrigerator inside an airtight container.
GRAB THESE LEMON OVERNIGHT OATMEAL RECIPES: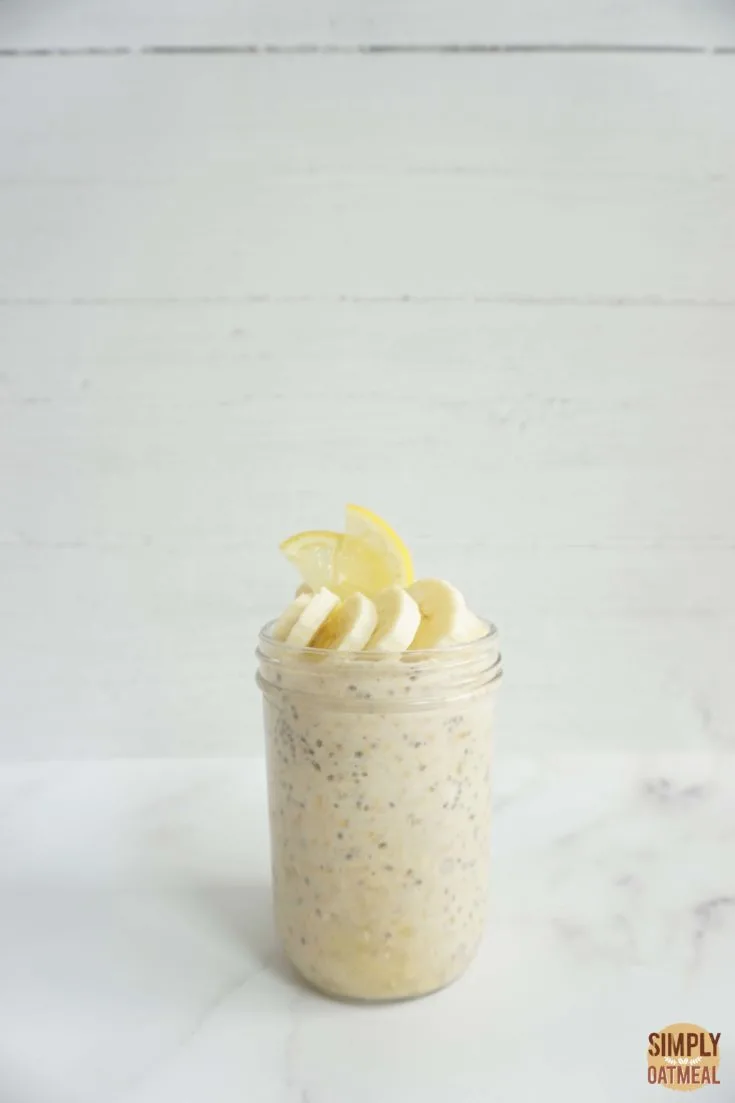 Yield:

1 Serving
Lemon Banana Overnight Oats Recipe
Banana lemon overnight oats is delicious, nutritious and wholesome recipe that will keep you feeling full. In addition to the health benefits of oats, the no cook meal prep features plant-based protein and dietary fiber along with an array of essential vitamins and minerals.
The soaked oatmeal only takes a few minutes to prepare even though it has a lengthy list of small portion ingredients. Allow the oats to fully soak before eating and explore the fun topping combinations that are available.
Ingredients
½ cup old fashioned rolled oats
¼ cup plain Greek yogurt
1 banana, mashed
1 tablespoon lemon juice
1 tablespoon lemon zest
1 tablespoon chia seeds
1 tablespoons honey
¼ teaspoon vanilla extract
Pinch of cinnamon
Instructions
In a medium sized bowl or overnight oats container, mash the banana on the bottom with a fork. Stir in the soy milk, yogurt, lemon juice, lemon zest, honey, vanilla extract and cinnamon.
Combine the wet ingredients really well, and then fold in the oats and chia seeds so that they are fully mixed together. Cover the container and store in the fridge for a minimum of 12 hours.
Serve the oats cold, or even warm in the microwave or on the stovetop for 1-2 minutes. Give it a quick stir, and garnish with oatmeal topping like sliced banana, chopped walnuts, raisins, and banana chips. Enjoy!

Notes
Make it vegan and gluten free!
Adjust the consistency and sweetness if necessary.
Store in the refrigerator for up to 5 days.
Recommended Products
As an Amazon Associate and member of other affiliate programs, I earn from qualifying purchases.
Nutrition Information:
Yield:
1
Serving Size:
1
Amount Per Serving:
Calories:

440
Total Fat:

8g
Saturated Fat:

1g
Trans Fat:

0g
Unsaturated Fat:

6g
Cholesterol:

3mg
Sodium:

35mg
Carbohydrates:

82g
Fiber:

13g
Sugar:

35g
Protein:

16g
Nutrition information isn't always accurate.