*This post may contain affiliate links. Please see my
disclosure
to learn more.
Take your oatmeal experience to the next level with a serving of raspberry chocolate overnight oats. Not only are you in for a treat, but also the no cook oatmeal is hearty, keeps you feeling full all day and satisfies the sweet tooth craving in a satisfying way.
Plain oatmeal tends to be a bit boring, so fancy up your taste buds with raspberry overnight oats. Each unique arrangement can be altered to meet your personal preferences.

Enjoy more vegan and gluten-free combinations like raspberry vanilla overnight oatmeal or raspberry almond overnight oats. Add variety by changing up the liquids, exploring fun topping options and mix in fruits spreads or nut butters for a decadent add-on.
There is definitely potential for this recipe to be extremely sweet and overly powerful. However, the combination of unsweetened cocoa powder with the oats is thoughtfully satisfying and the rich chocolate flavor sets the tone without the added sugars.
Oats contain health benefits including be a source of plant-based protein, dietary fiber and healthy fat. Considering the nutritional potential of the super foods cocoa and raspberries, this wholesome meal is packed with vitamins, minerals and antioxidants.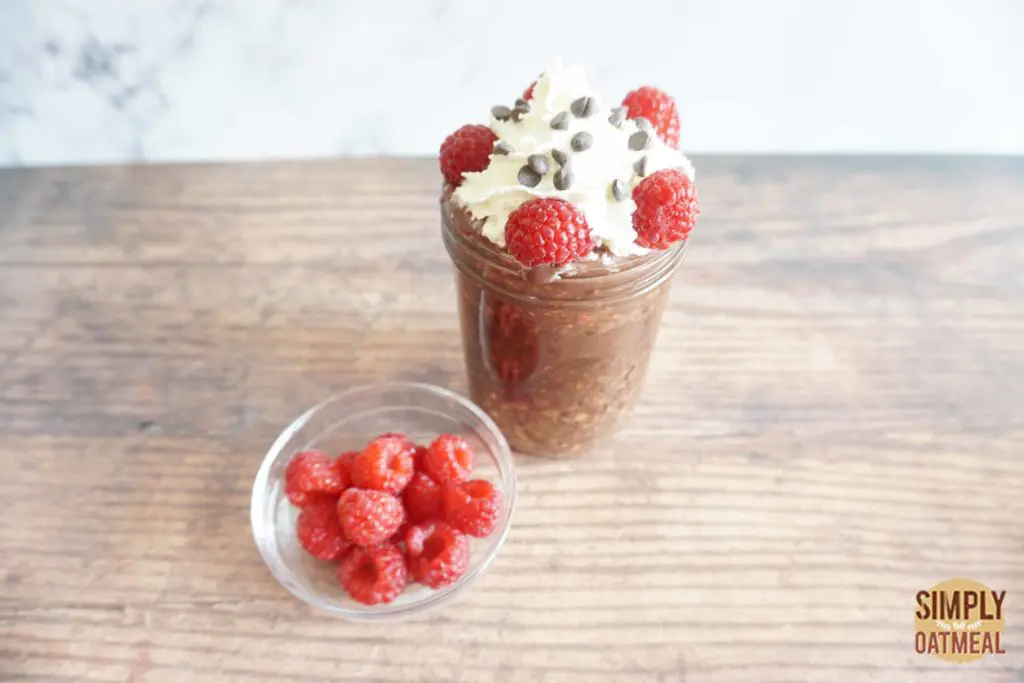 How to make raspberry chocolate overnight oats?
Not only is this recipe fulfilling, but it also covers a wide range of tastes and nutritional basics. Chia seeds are one of my favorite additions because they add a unique jelly-like texture that explodes in your mouth.

I used 100% cocoa powder to keep the added sugars to a minimum while boosting the rich palatability of dark chocolate. The no cook recipe only requires a few ingredients, so lets gather together the staples and prepare a batch of soaked oats.
Raspberry Chocolate Overnight Oats Ingredients:
Soy milk
Chia seeds
Cacao powder
Dark chocolate chips
Raspberries
In a meal prep container, mix together the rolled oat, soy milk, chia seeds, cocoa powder and dark chocolate chips. Stir well so the chia seeds don't clump up together. Cover and let the oats soak in the fridge for a minimum of 12 hours.

To serve, top the oats with the raspberries and some of your favorite oatmeal toppings like coconut flakes, nut butter, pepita seeds, a sprinkle of cocoa powder a dash of cinnamon or a few extra mini dark chocolate chips.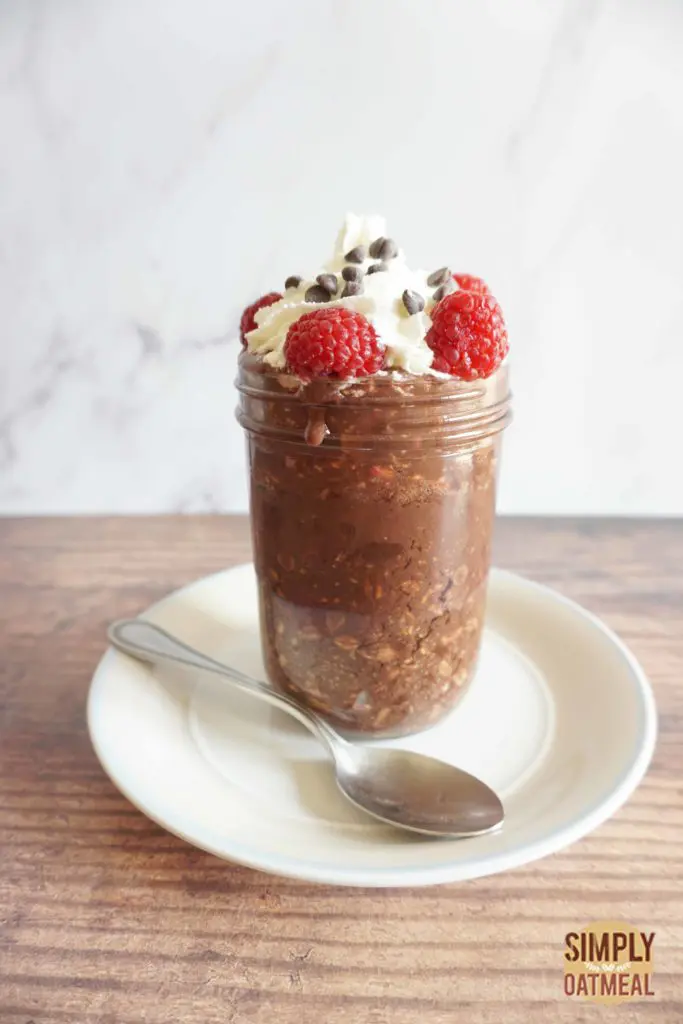 Raspberry Chocolate Overnight Oats Tips
Enjoy a healthy double dose of chocolate in this tasty raspberry chocolate overnight oatmeal. The semi-sweet mixture takes the richness of the cocoa and leaves out lots of unnecessary sugars. Here are a few tips improve your soaked oats and keep them tasting fresh every time you take a bite.
Use dark chocolate chips and unsweetened cocoa to keep the decadent taste and not be overwhelmed by sugar.
Rolled oats are the preferred type of oats for this recipe. Quick oats get very mushy and steel-cut oats are really chewy when soaked overnight.
The chia seeds and cocoa powder soak up the liquid, so make adjustments to the 2:1 ratio of liquid to overnight oats. Consider adding a splash of liquid when serving to thin out the mixture.
Explore other liquid options like chocolate milk. Dairy and non-dairy options are great alternatives for this recipe.
Add a spoonful of yogurt for a creamy and velvety mouthfeel.
Chocolate protein powder is a great addition to this meal, especially as a post-workout boost.
Lasts up to 5 days when sealed and stored in the fridge.
MORE TASTY RASPBERRY OVERNIGHT OATS RECIPES: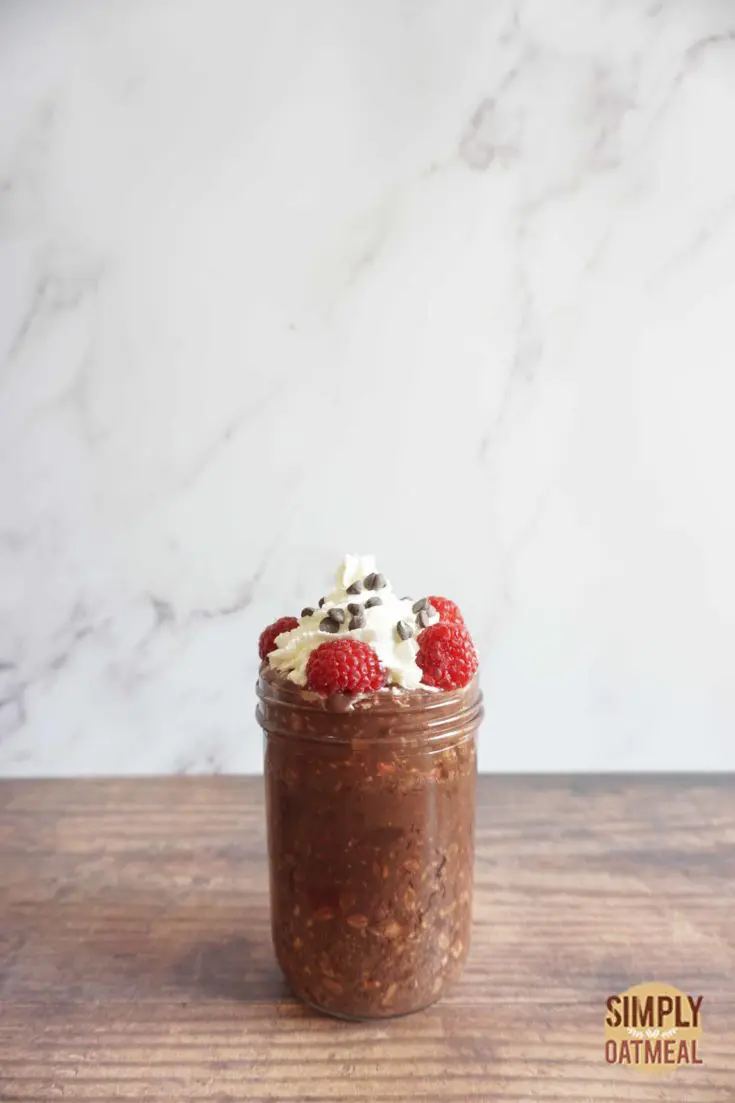 Yield:

1 serving
Raspberry Chocolate Overnight Oats Recipe
Fall in love with breakfast all over again when you dig into a serving of raspberry chocolate overnight oats. The mouth watering double chocolate is not rich or overpowering, and it aligns perfectly with the hearty oats.
There are a number of health benefits from eating oats, and cocoa also offers up a few of its own. This meal isn't like eating a candy bar because the chocolate is rich, but not sweet
Meal prep the overnight oats in a mason jar for a quick grab and go. No cook oatmeal is a great breakfast, and also works well for an afternoon snack when you're looking for a pick me up.
Ingredients
½ cup rolled oats
2 tablespoons chia seeds
2 tablespoons cacao powder
1 tablespoon mini dark chocolate chips
½ cup raspberries
Instructions
Add the rolled oats, soy milk, chia seeds, cacao powder and mini chocolate chips to a medium bowl or overnight oats container. Stir everything together so the chia seeds do not clump together.
Cover and store overnight in the fridge for 12 hours before eating.
The next day, give the oats a quick stir. Top with the fresh raspberries and sliced almonds, cocoa powder, cinnamon or whatever oatmeal toppings you enjoy most. Enjoy!
Notes
To make it vegan, use dairy-free chocolate and cocoa.
Use gluten-free certified oats to make this recipe wheat-free.
The chia seeds and cocoa powder will soak up lots of extra liquid. Make adjustments the overnight oats water ratio to suit your personal preference. A splash of liquid can also be added just before serving to thin the no cook oatmeal.
To guarantee freshness, best to eat within 5 days of preparation.
Recommended Products
As an Amazon Associate and member of other affiliate programs, I earn from qualifying purchases.
Nutrition Information:
Yield:
1
Serving Size:
1
Amount Per Serving:
Calories:

517
Total Fat:

19g
Saturated Fat:

4g
Trans Fat:

0g
Unsaturated Fat:

9g
Cholesterol:

1mg
Sodium:

128mg
Carbohydrates:

68g
Fiber:

21g
Sugar:

14g
Protein:

20g
Nutrition information isn't always accurate.