*This post may contain affiliate links. Please see my
disclosure
to learn more.
Strawberry and cream cheese combine together magically with endless possibilities of add-in combinations. Blend in different toppings so that you never eat the same exact taste.
It's not always easy to find a fulfilling breakfast on the run or hearty afternoon snack to tide you over. Here at Simply Oatmeal, we've put together the best strawberry overnight oats that will fill you up with wholesome goodness.

Not only are whole grain oats a nutritious superfood packed with plant based protein, soluble and insoluble fiber, and beneficial antioxidants, but they are totally delicious when prepared the right way. From strawberry shortcake overnight oats to strawberry yogurt overnight oats, each recipe is guaranteed to satisfy your deepest and darkest cravings.
You will love this strawberry cream cheese overnight oats because…
No cook recipe only requires 5 minutes to prepare.
Wholesome meal prep packed with balanced nutrition.
Contains protein, fiber and fats for a nutritious meal.
Perfect amount of sweet and creamy goodness.
Mirrors the taste of a strawberry cream cheese bagel with a hearty oatmeal base, the flavor is magically delicious!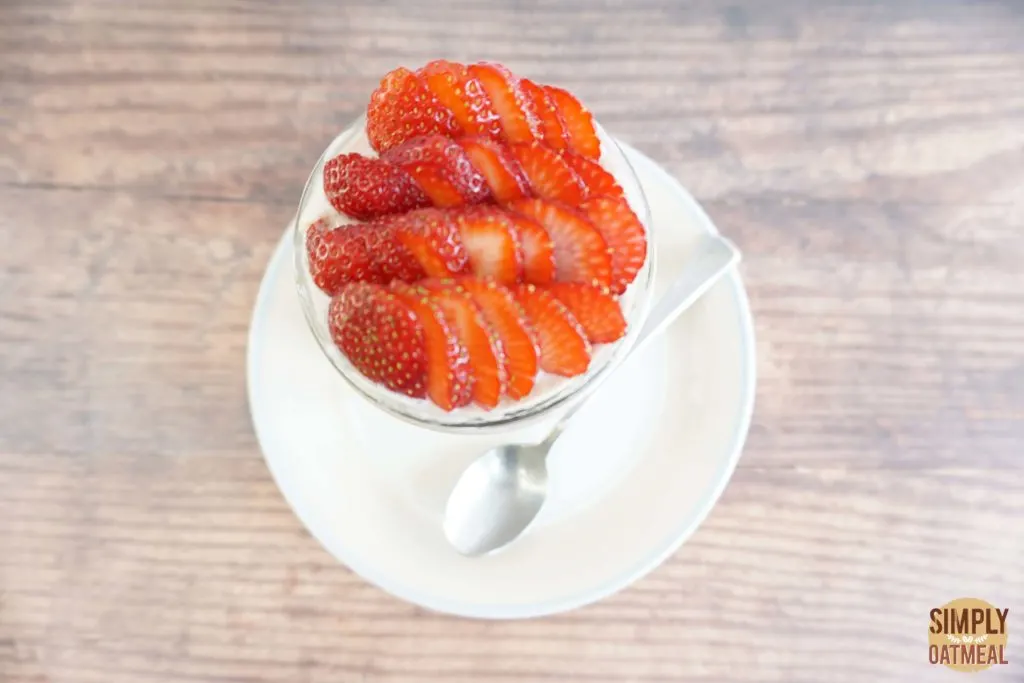 Looking for a delicious snack idea or new no cook breakfast recipe? Strawberry cream cheese overnight oats takes less than 5 minutes to prepare, and results in a fulfilling meal that can become your new toasted bagel substitute!
How to make strawberry cream cheese overnight oats?
Preparing strawberry cream cheese overnight oats is as easy as counting one, two, three. In a matter of minutes, you are able to gather the simple ingredients and assemble the quick grab and go meal prep.

Simply reach into the fridge and the hearty serving of overnight oatmeal is ready when you're hungry. If you have strawberries and cream cheese, then grab these staple fixings and let's make some magic happen.
You may also enjoy making soy milk from scratch. It is incredibly easy to do and tastes super fresh! The best part of all is that you get to add fun flavorings like orange zest, sweet potato or mint chocolate to the dairy free alternative.
Strawberry Cream Cheese Overnight Oats Ingredients:
Soy milk
Yogurt
Cream cheese
Strawberry-chia jam
Strawberries
In meal prep container with a lid, add all of the ingredients except the sliced strawberries. Mix everything really well, then fold in the delicate strawberries.

Cover with the lid and refrigerate overnight for at least 12 hours.

The next day, give it a quick stir and then serve hot or cold. Garnish the top with extra berries, toasted nuts or lemon zest. Enjoy!
Strawberry Cream Cheese Overnight Oats Tips:
Strawberry and cream cheese are the perfect combination for overnight oatmeal. Enjoy the magically delicious combination of strawberries and cream cheese with soaked oats.

This meal prep tastes just like a bagel with sweet strawberry spread. Here are some tips to make the no cook recipe even more fresh and nutritious for each bite you take.
Cream Cheese: Add that extra layer of creaminess to your soaked oats. Cream cheese makes this recipe taste just like a bagel with strawberry spread over the top. The cream cheese is mixed into the oatmeal base for a magically delicious taste.
Strawberry: Strawberries are packed with tons of flavor and wholesome nutrition like beneficial antioxidants and essential vitamins and minerals. Strawberries help to compliment a healthy routine.
Oats: Use rolled oats are the preferred type of oats for this no cook oatmeal recipe over steel cut oats or quick oats. Rolled oats balance the soft and crunchy texture, while steel cut oats are very chewy and quick oats get very mushy when soaked.
Liquid ratio: The 2:1 liquid to oats overnight oatmeal water ratio is a good rule of thumb to follow, however a few variables will affect the outcome. If the oatmeal seems too thick, a splash of liquid will thin it out when serving.
Yogurt: A scoop of yogurt gives the oats extra creamy and tangy taste. The addition also increases the protein and fat content. Use a dairy free yogurt alternative if you desire a vegan preparation.
Seeds: Chia seeds are inside the strawberry-chia jam, however you can add another spoonful of chia seeds, or combine with hemp seeds and flax seeds for a superfood boost. Chia seeds add a fun texture to soaked oats because they swell up when hydrated into tiny jelly-like boba balls that pop when you chew on them.
Vegan: Use a dairy free milk, yogurt and cream cheese when making this into a vegan recipe. It can easily be done by selecting dairy free alternatives.
Gluten free: Certified gluten free oats are recommended for a celiac diet. Oats are gluten free, but cross contamination is prevalent in the processing of whole grains.
Protein powder: Protein powder increases the available nutrition that adds a supplemental energy boost for a post workout meal. Use your favorite brand of unflavored or vanilla powder for a taste that compliments the recipe.
Sweetener: Sweeten the no cook oats to your personal preference by adding honey, brown sugar, coconut sugar or any sweetener you prefer to substitute with.
Give it a stir: To serve, always stir the soaked oats really well before adding any toppings. This will combine the soft layer at the bottom with the crunchier pieces that are left on top.
Add-ins: Garnish with dehydrated fruit, fresh fruit and crushed nuts, or check out this list of 75+ oatmeal toppings for some delicious options. Crunchy ingredients complement the soft texture of the soaked oatmeal.
Storage: Make a large batch and store individual servings in separate overnight oats jars. Overnight oats will last for up to 5 days in the refrigerator when stored in an airtight container.
NEED MORE STRAWBERRY OVERNIGHT OATMEAL RECIPE IDEAS? TRY THESE: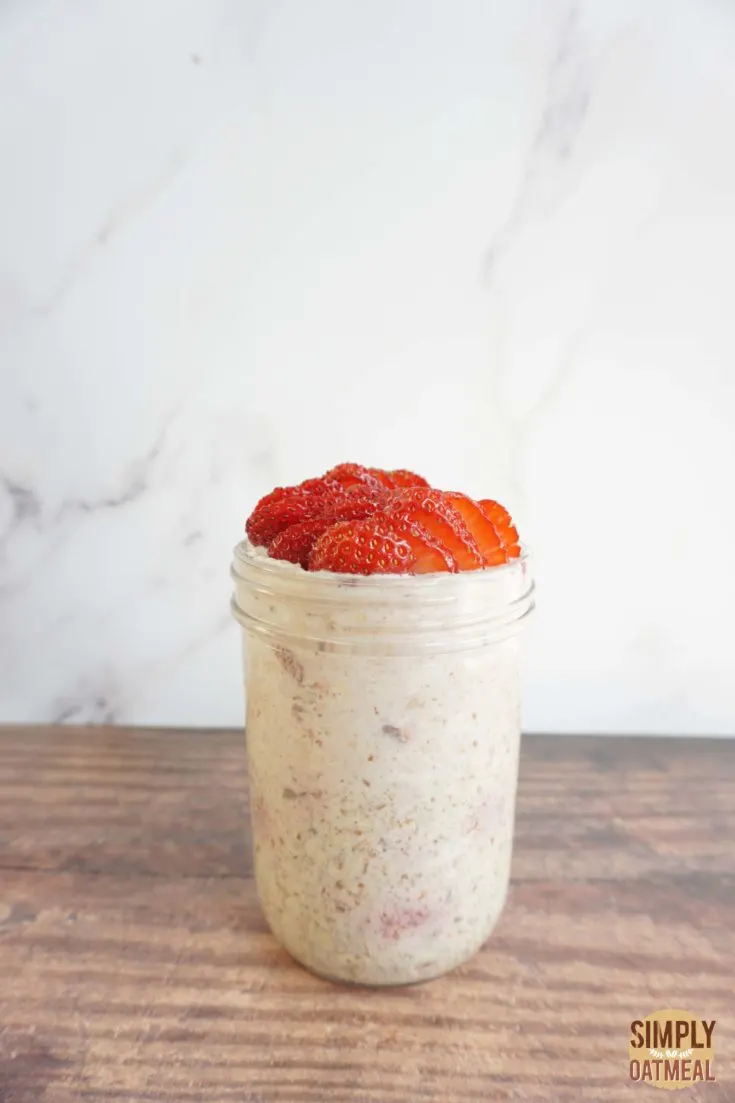 Yield:

1 Serving
Strawberry Cream Cheese Overnight Oats Recipe
Strawberry cream cheese overnight oats offers a healthy balance of hearty oats, sweet strawberries and velvety smooth cream cheese. The flavors blend well together and mimic a toasted bagel with strawberry cream cheese spread.
Enjoy the health benefits of oats while activating your body with immunity boosting energy. Avoid the empty calories of sugar filled snacks, instead opt for a delicious and nutritious serving of whole grain oats.
Ingredients
½ cup old fashioned oats
¼ cup Greek yogurt
⅛ cup cream cheese, softened
2 tablespoons strawberry-chia jam
½ cup strawberries sliced
Instructions
In a medium size bowl or overnight oats container, stir together the softened cream cheese and strawberry-chia jam until smooth.
Add in the oats, soy milk and yogurt. Stir until mixed very well.
Cover and place in the fridge to soak overnight for about 12 hours.
To serve, give the oats a stir to combine the mixture once more. Garnish with sliced strawberries, extra strawberry-chia jam, crushed nuts, mini chocolate chips or your favorite oatmeal toppings.

Notes
Make it vegan and gluten free!
Adjust the consistency and sweetness if necessary.
Store in the refrigerator for up to 5 days.
Recommended Products
As an Amazon Associate and member of other affiliate programs, I earn from qualifying purchases.
Nutrition Information:
Yield:
1
Serving Size:
1
Amount Per Serving:
Calories:

483
Total Fat:

18g
Saturated Fat:

7g
Trans Fat:

0g
Unsaturated Fat:

8g
Cholesterol:

31mg
Sodium:

179mg
Carbohydrates:

62g
Fiber:

11g
Sugar:

21g
Protein:

19g