*This post may contain affiliate links. Please see my
disclosure
to learn more.
Strawberry, vanilla and overnight oats make a velvety smooth grab and go meal. Sweetness of strawberries with aromatic essence of vanilla compliment the oats to make a perfect combination for your next make ahead meal prep.
The mouthwatering flavor combination of strawberries and hearty oats is admirable; these strawberry overnight oats recipes are guaranteed to knock your socks off.

Whether you like to eat hot or cold oatmeal, we have created recipes you are definitely going to enjoy. From strawberry chocolate overnight oats to strawberry cheesecake overnight oats, every spoonful is guaranteed to quench your hunger pains with a fulfilling boost of nutritious energy.
You will love this strawberry vanilla overnight oats because…
No cook recipe only takes 5 minutes to prepare.
Healthy recipe packed with generous amounts of nutritious ingredients.
Balanced meal prep contains plant based protein, healthy fats and dietary fiber.
Perfect combination of sweet and creamy goodness.
Resembles the taste of strawberry ice cream with a hearty oatmeal background. The berrylike flavor is simply delicious!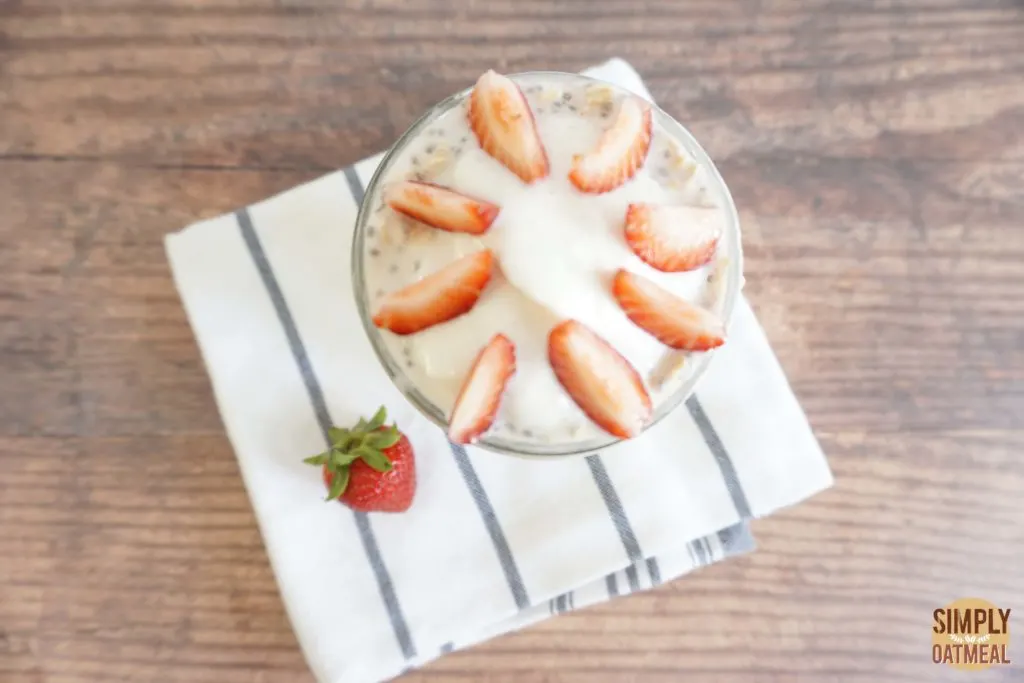 Stick to your gluten-free and vegan diet with the help of this delicious recipe. The health benefits of oats are a noteworthy addition to any balanced diet routine, especially when you include antioxidant rich strawberries.

Whether you need a brand new afternoon snack idea or are looking to change up your breakfast routine, we have the perfect solutions for you! Learn how to make this strawberry vanilla overnight oatmeal recipe!
How to make strawberry vanilla overnight oats?
Strawberry vanilla overnight oats are a recognizable twist on the classic flavor combination. Energize your body with wholesome nutrition rather than consuming empty sugar filled calories. Prepare the make ahead meal prep with 7 basic ingredients that are commonly found in a kitchen pantry:
Strawberry Vanilla Overnight Oats Ingredients:
Almond milk
Yogurt
Strawberries
Chia seeds
Vanilla extract
Honey
In a mason jar with a lid, combine oats, almond milk, yogurt, chia seeds, vanilla, and honey; stir well and then fold in the strawberries. Cover with a lid and place the container in the fridge to soak overnight.

When you wake up in the morning, give the oats a quick stir. Garnish with your favorite oatmeal toppings and serve cold!

Explore fun new topping combinations such as berries, a scoop of nut butter, sliced almonds or even a sprinkle of ground cinnamon powder. Create endless flavor options that you will continuously enjoy.
Strawberry Vanilla Overnight Oats Tips:
A large batch of no cook oatmeal can be prepared in advance so that you can store individual portions in airtight containers. As a result, you have grab and go meals ready when you reach into the fridge for a bite to eat.

Here are recommended tips to make your strawberry vanilla overnight oats taste fresh for every single spoonful you take:
Strawberry: In addition to being a powerful immunity booster, strawberries add an irresistible sweetness to no cook oatmeal. Both fresh and frozen strawberries can be used equally in this recipe preparation. Frozen strawberries will defrost overnight in the soaked oats.
Vanilla: Vanilla is a potent spice that imparts a beautiful flavor into overnight oats. In addition, it pairs magically with strawberries in a classic flavor combination.
Oats: Rolled oats are the recommended type of oats for assembling this no cook recipe. Steel cut oats are very difficult to chew when not fully cooked, while quick oats get too mushy when soaked overnight.
Liquid ratio: 2:1 liquid to oats water ratio is a good rule of thumb for preparing a porridge style overnight oats. The oats should soak for at least 12 hours before serving!
Yogurt: Yogurt adds an extra creamy taste to the soaked oatmeal. Use a dairy free alternative if you prefer.
Seeds: Hemp seed, chia seed or flaxseed are some of the superfood additions that can be easily added to this healthy meal prep.
Vegan: Use any dairy free milk, yogurt and sweetener alternative to make this recipe vegan.
Gluten free: If you are on a celiac diet, certified gluten free oats help to avoid cross contamination during processing even though oats are naturally gluten free.
Protein powder: Supplemental protein powders are a great way addition for an enhanced boost of nutrition.
Sweetener: Sweeten the no cook oats to your taste preference by adjusting the honey as necessary. Substitute the honey for brown sugar, coconut sugar or your favorite sweetener for a vegan alternative
Give it a stir: To serve, give the oats a quick stir. to combine the soft bottom with the crunch top parts. Don't be afraid to add a splash of liquid if the mixture is thick and pasty.
Add-ins: Crunchy ingredients complement the creamy texture of the soaked oats. Garnish with crushed nuts, dehydrated fruit, and fresh fruit, or check out this list of 75+ oatmeal toppings for more fun inspirations.
Storage: Try the best overnight oats jars to store the meal prep for the busy week ahead. Place in the fridge for up to 5 days to preserve quality.
LOOKING FOR MORE STRAWBERRY OVERNIGHT OATS FOR THIS WEEK?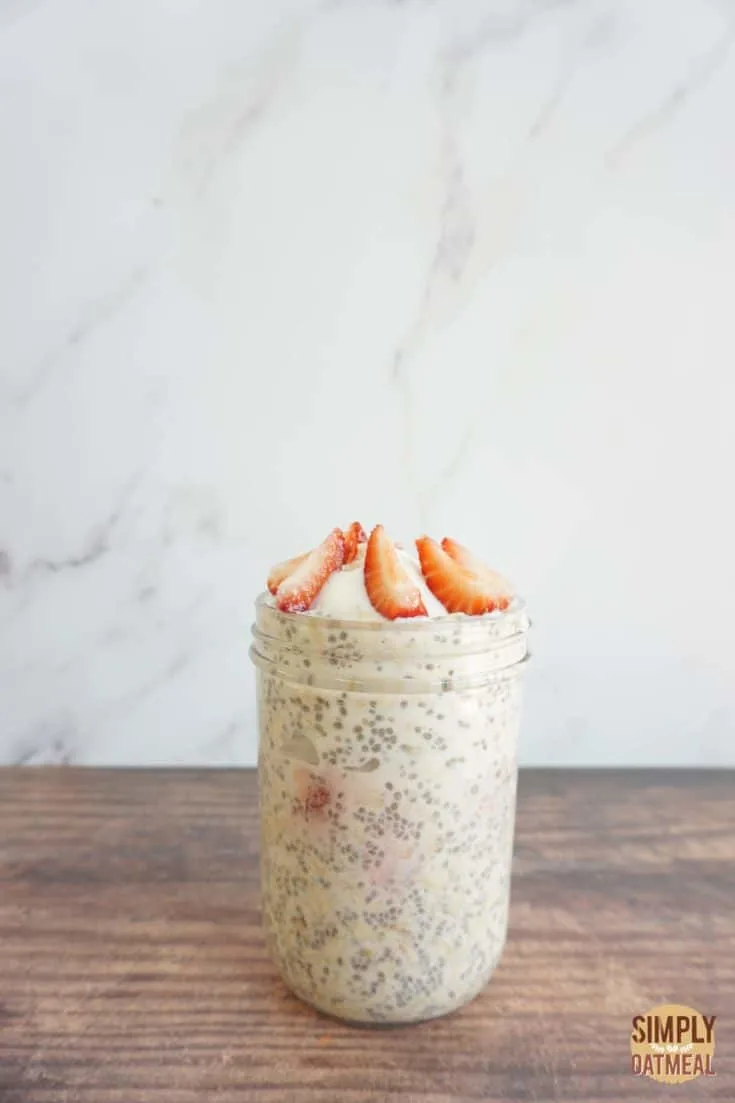 Yield:

1 Serving
Strawberry Vanilla Overnight Oats Recipe
Strawberry vanilla overnight oats combines the sweet flavor of strawberry with the delicious aromatic spice of vanilla and creamy yogurt. This fulfilling meal is guaranteed to quench your hunger and satisfy your sweet tooth craving.
Take your meal prep to the next level with this decadently delicious healthy recipe. Next time you need a quick boost of energy, reach into the fridge for a fulfilling serving of no cook oatmeal.
Ingredients
½ cup rolled oats
¼ cup Greek yogurt
½ cup strawberries, sliced
2 tablespoons chia seeds
1 teaspoon vanilla extract
1 tablespoon honey
Instructions
In a medium sized bowl or overnight oats jar, combine the oats, yogurt, almond milk, chia seeds, vanilla extract and honey. Stir well and then fold in the strawberries.
Cover the container and store in refrigerator overnight for at least 12 hours.
To serve, stir the oats once before garnishing with your favorite toppings like crunchy granola, homemade peanut butter, sliced almonds or a sprinkle of cocoa powder. Enjoy!

Notes
Make it vegan and gluten free!
Adjust the consistency and sweetness if necessary.
Store in the refrigerator for up to 5 days.
Recommended Products
As an Amazon Associate and member of other affiliate programs, I earn from qualifying purchases.
Nutrition Information:
Yield:
1
Serving Size:
1
Amount Per Serving:
Calories:

431
Total Fat:

12g
Saturated Fat:

1g
Trans Fat:

0g
Unsaturated Fat:

10g
Cholesterol:

3mg
Sodium:

31mg
Carbohydrates:

65g
Fiber:

15g
Sugar:

25g
Protein:

17g