*This post may contain affiliate links. Please see my
disclosure
to learn more.
Have you tried this chocolate chip banana overnight oats yet? There is something about the classic flavor combination of banana and chocolate together that tastes so amazing together. This recipe is a rich, delicious and wholesome meal that you won't be able to resist.
When preparing this recipe, choose ripe bananas to lend more natural sweetness and banana flavor. Also, you only need half of banana for this recipe, so you have an option to save it for later in the freezer or try another recipe from the best banana overnight oats recipes at Simply Oatmeal.

From chocolate peanut butter banana overnight oats to cocoa banana overnight oats, there are many different chocolaty flavors you can explore. Try a new combination every day of the week and never get tired of eating them.
The great news is that you don't need to feel guilty when enjoying both of these ingredients in overnight oats. Instead, with wholesome oats, protein-packed chia seeds, and plant-based almond milk creates the perfect nutritious breakfast or midday snack you were looking for.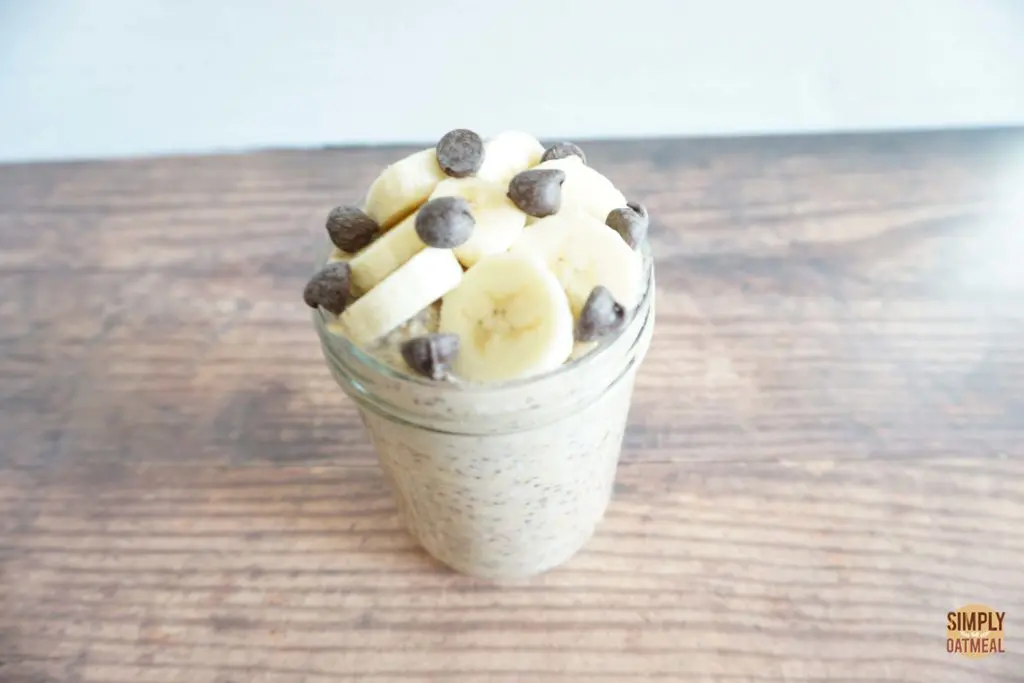 How to make chocolate chip banana overnight oats?
Making chocolate chip banana overnight oats is ridiculously easy. All you need is a few staple basic ingredients listed below.

Homemade almond milk is really easy to make! This simple 5-minute almond milk recipe requires almonds and water. In just a few minutes you have a fresh nondairy alternative that can be modified with countless almond milk flavor options!

Allow at least 12 hours of overnight time to soak the no cook oatmeal. It's a great breakfast or afternoon snack recipe for your weekly meal prep. Simply double, triple, or quadruple this recipe for the whole family to enjoy!
Chocolate Chip Banana Overnight Oats Ingredients:
Almond milk
Banana
Chia seeds
Vanilla extract
Maple syrup
Ground cinnamon
Sea salt
Chocolate chips
Mash ½ of the banana at the bottom of a mason jar and with fork. When it is smooth, then add vanilla extract, maple syrup and almond milk and stir diligently.

Combine the rolled oats, chia seeds and ground cinnamon, and lastly fold in the chocolate chips. Close the lid and refrigerate for a minimum of 12 hours to fully soak the oats.

Top with additional chocolate chips, banana chip, roasted nuts or cocoa nibs for an extra crunchy texture. Any of your favorite oatmeal toppings will taste amazing with this recipe.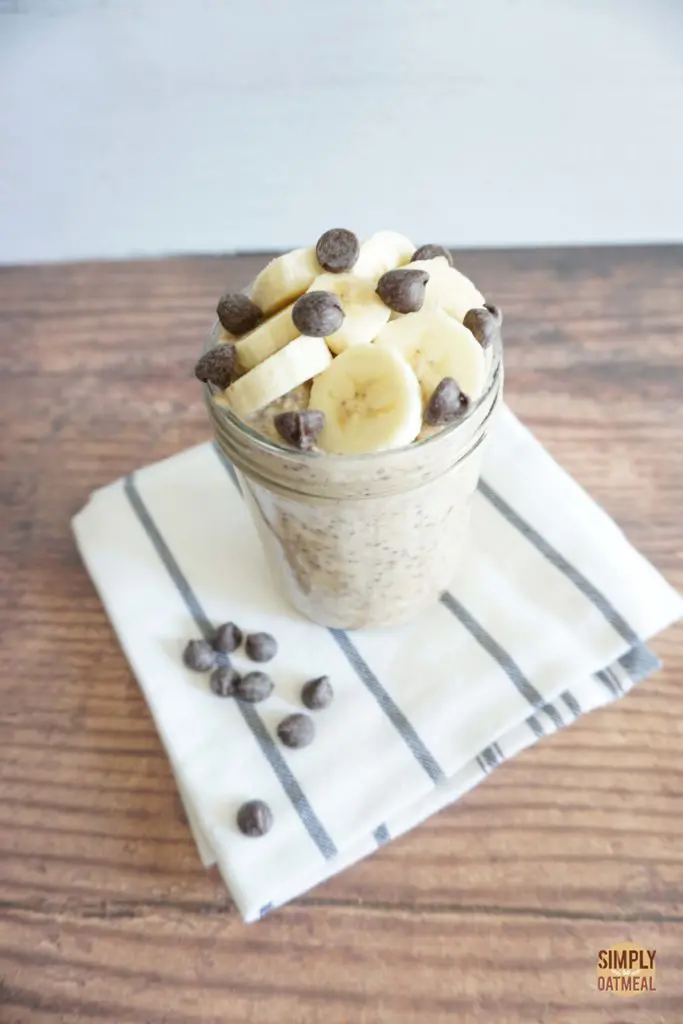 Chocolate Chip Banana Overnight Oats Tips
Chocolate chip banana overnight oatmeal is an easy and healthy breakfast idea that you can prep ahead of time for a simpler morning routine. With just a few staple ingredients, all you need are these tips to make each batch even more fresh and enjoyable.
Stir before serving and then add the topping to the oatmeal. Mix the top and bottom for overall consistency.
Add cacao nibs as a unique and crunchy topping.
Try boosting the no cook oatmeal with chocolate protein powder for a healthy post workout meal prep.
Add enough liquid to prevent a thick and pasty texture. Whether you use almond milk or any other liquid of your choice, stick with a 2:1 ratio of liquid per oats.
Substitute coconut sugar or agave instead of maple syrup.
Soak overnight oats for a maximum of 5 days before consuming.
MORE YUMMY BANANA OVERNIGHT OATS FOR YOU: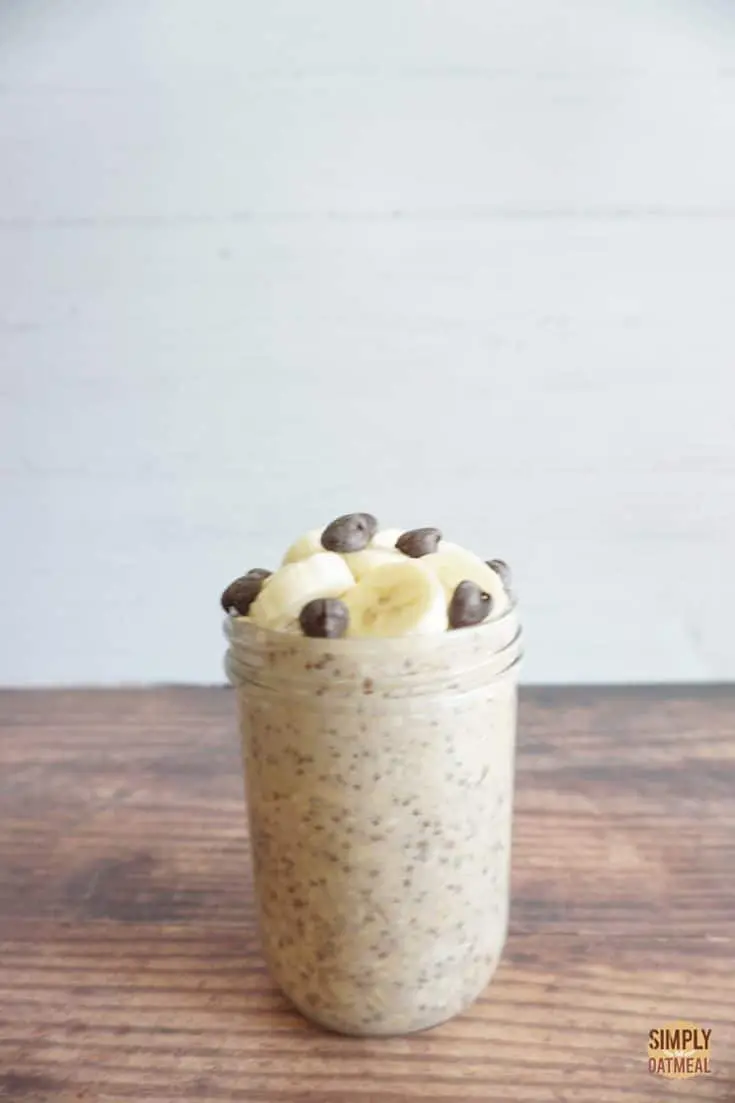 Yield:

1 serving
Chocolate Chip Banana Overnight Oats Recipe
Chocolate chip banana overnight oats is a magically delicious classic flavor combination. If you have not tried banana and chocolate blended together, then give this no cook recipe a try.
Meal prep a few containers of banana and chocolate chip overnight oatmeal so that you are covered for the busy week. The no cook meal works perfectly for a meal on the run or grab and go breakfast.
Not only does this recipe contain the benefits of oats, but it also includes wholesome and fulfilling plant-based nutrition. Start your day off with a fulfilling meal that will give you the energy needed to get going.
Ingredients
½ cup old fashioned oats
1 medium banana, divided
1 tablespoon chia seeds
1 tablespoon maple syrup
1 teaspoon ground cinnamon
1 teaspoon vanilla extract
pinch of sea salt
1 tablespoon mini chocolate chips
Instructions
Place banana in a overnight oats container or medium bowl and smash it with fork until it is smooth.
Then, add vanilla extract, maple syrup and unsweetened almond milk; stir until smooth.
Afterwards, add the rolled oats, chia seeds and cinnamon; stir to coat the oats with the liquid mixture.
Fold in the chocolate chips.
Cover and place in fridge overnight for at least 12 hours.
The next day, top with sliced banana, chocolate chips, sprinkle of cocoa powder, dash of cinnamon, chopped nuts or your favorite oatmeal toppings.
Notes
This recipe is vegan, gluten free and nondairy!
Eat within 5 days of preparation to preserve freshness.
Increase the liquid to a 2:1 overnight oat water ratio for a more porridge style oatmeal consistency.
Recommended Products
As an Amazon Associate and member of other affiliate programs, I earn from qualifying purchases.