*This post may contain affiliate links. Please see my
disclosure
to learn more.
Start your morning routine with a bowl of blueberry chia overnight oats! It is easy to make and a healthy breakfast recipe that can also be eaten as midday snack.
Make a small batch of 5 minute blueberry chia jam to add to your favorite meals. You can easily add a scoop on top of each one of the best blueberry overnight oats recipes as an addition boost of flavor to enhance the oatmeal toppings.

From blueberry cobbler overnight oats to blueberry coconut overnight oats, we've got finger licking and non-boring breakfast ideas for you to try. Here at Simply Oatmeal, we cover oatmeal recipes, snacks and meal prep ideas for you to fall in love with.
No cook oatmeal only takes 5 minutes to assemble and lasts about 5 days in the refrigerator. Before you go to bed, mix up your oats, chia seeds, your choice of liquid, and a little sweetener. You wake up to an already made soft and gloriously creamy oats that are ready to devour.

Chia seeds add a delicious texture that'll keep your blueberry overnight oatmeal from being too thin and soupy. So, if you prefer a well balanced oats ratio, don't forget to add a spoonful of chia seeds to your recipe!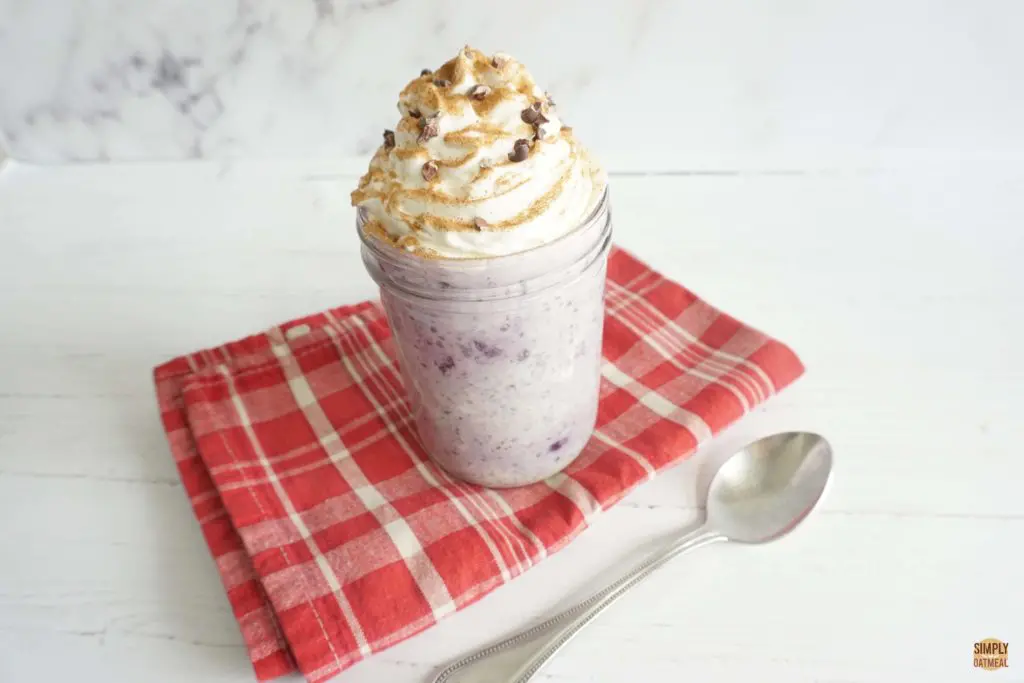 How to make blueberry chia overnight oats?
Blueberries, chia seeds and oats are packed with an array of nutrients. No cook oatmeal is a fantastic way to assemble these components and preserve their raw benefits.

Blueberry chia overnight oatmeal is semi sweet, semi tart and extremely tasty. The lemon zest adds a citrusy note that really enhances the classic flavor combination.
Blueberry Chia Overnight Oats Ingredients
Old fashioned oats
Liquid of your choice
Coconut yogurt
Blueberry chia jam
Lemon zest
Blueberries
First of all, make the chia and blueberry jam. In a medium saucepan, simmer the blueberries, lemon juice, and vanilla for 3 minutes over medium heat. Gently mash the berries and stir while cooking.

Afterwards, remove from the heat and add the maple syrup, cinnamon, and salt. Stir in the chia seeds and transfer the jam to a glass jar to cool. The chia seeds will thicken the jam, but don't hesitate to add more if you feel like the jam should be a bit thicker.
Next, assemble the no cook oatmeal. Add rolled oats to a glass jar, and then pour in almond milk and coconut yogurt.

Layer blueberry jam, blueberries, and lemon zest on top of the soaked oats. Cover and refrigerate overnight.

In the morning, add sliced almonds for crunch and a drizzle of maple syrup if you like sweeter oatmeal.

Be creative when it comes to topping the soaked oats. Dribble almond butter, unsweetened shredded coconut, fresh raspberries or sliced strawberries. From pecans to cocoa nibs, the oatmeal topping options are endless!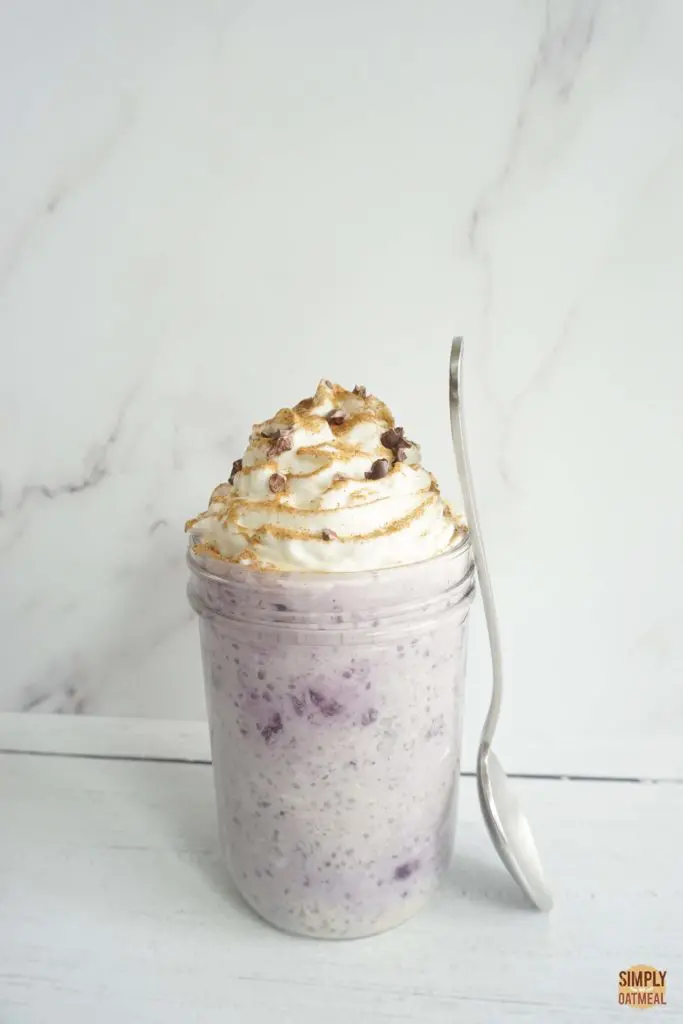 Blueberry Chia Overnight Oats Tips:
Love to know more tips for how to make your blueberry chia overnight oatmeal taste great all the time? Here is a list for you to go over to keep your oats fresh and enjoyable every time you dig in with a spoon.
Make a large batch and separate into individual mason jars. Works perfectly for to-go breakfast or afternoon snack idea!
Add any additional flavors such as apple juice, orange zest or vanilla bean.
Give yourself enough soak time overnight to make it the night before. Soaked oatmeal take 12 hours to dissolve the phytates and also develop a deep and rich delicious flavor.
Regular rolled oats are recommended when assembling no cook oatmeal.
Use plant-based milk or coconut yogurt to make this recipe vegan. Dairy based substitutes can be used in place of the vegan ingredients.
When serving, add more liquid or yogurt to thin out an extra thick mixture. Always stick with maximum of 2:1 overnight oatmeal ratio of liquid to oats.
Eat within 5 days of preparing to preserve freshness.
SAVE THESE ADDITIONAL BLUEBERRY OATMEAL RECIPES FOR NEXT WEEK: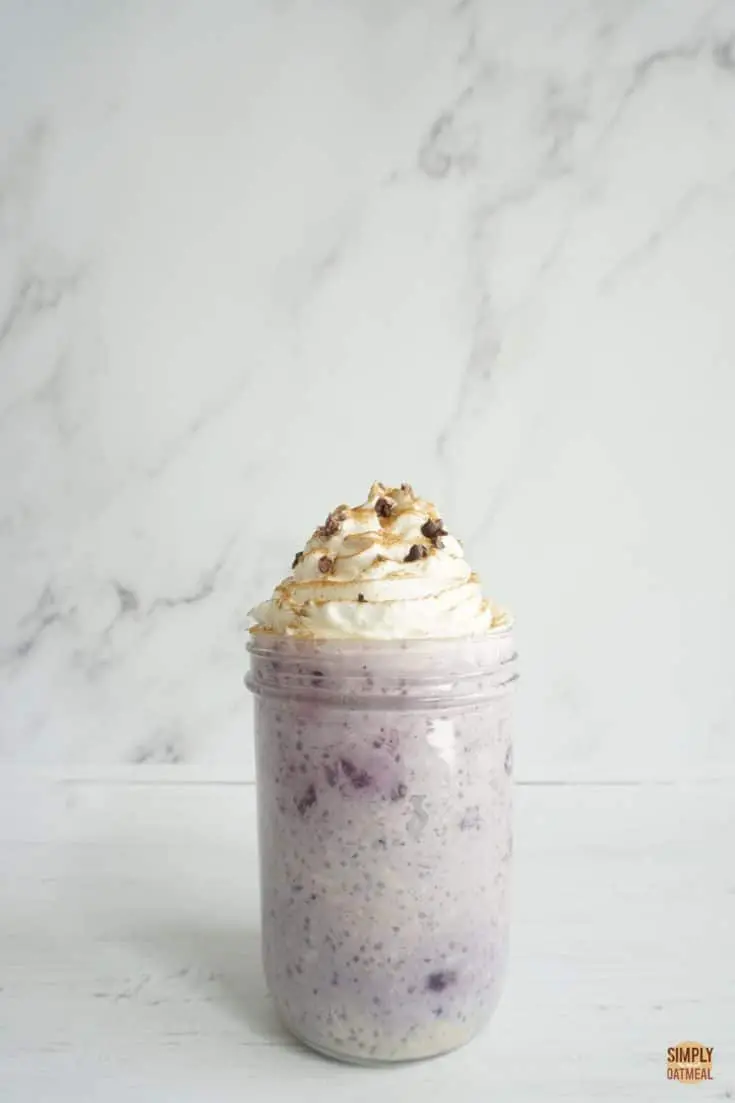 Yield:

1 serving
Blueberry Chia Overnight Oats Recipe
Blueberry chia overnight oats combine the wholesome goodness of powerful superfoods all into one meal. Oats, blueberries and chia seeds offer antioxidants, fiber and essential vitamin and minerals that the body needs.
Not only is this meal healthy, but it also is fiber rich and keeps you feeling full all day long. As a result, meal prep this no cook oatmeal for a quick breakfast on the run.
Prepare a mason jar full of soaked oats and leave it in the fridge overnight. Grab and go meals have never been this healthy before.
For breakfast, afternoon snack or even as a healthy desert option, blueberry chia overnight oatmeal is perfect for anytime of day. Here are the instructions for making your next healthy meal prep idea.
Ingredients
½ cup old fashioned rolled oats
¼ cup plain coconut yogurt
½ teaspoon lemon zest
½ cup fresh or frozen blueberries
Instructions
In a medium bowl or overnight oats container, add the rolled oats, almond milk and coconut yogurt. Mix well so that everything combines smoothly.
On top add a dollop of blueberry chia jam, blueberries and finish with lemon zest.
Cover and refrigerate overnight for at least 12 hours.
In the morning. Give the no cook oatmeal a quick stir to combine all the flavors and to mix the soft oats at the bottom with the chewy layer on top. Afterwards, top with sliced almonds, toasted coconut, a drizzle of maple syrup or your preferred oatmeal toppings!
Notes
This blueberry chia overnight oatmeal recipe is vegan, gluten free and non-dairy.
To avoid any concern for nut allergy,, try soy milk, hemp milk, oat milk or even coconut milk.
The recipe results in a porridge like texture. To thicken the oatmeal, change up the overnight oats water ratio by adding an extra spoonful of chia seeds or simply reducing the amount of liquid. Remember that you can always add more liquid when its time to serve.
To maintain freshness, eat the no cook oatmeal within 5 days of preparation.
Recommended Products
As an Amazon Associate and member of other affiliate programs, I earn from qualifying purchases.
Nutrition Information:
Yield:
1
Serving Size:
1
Amount Per Serving:
Calories:

387
Total Fat:

8g
Saturated Fat:

1g
Trans Fat:

0g
Unsaturated Fat:

6g
Cholesterol:

1mg
Sodium:

46mg
Carbohydrates:

70g
Fiber:

11g
Sugar:

29g
Protein:

11g
Nutrition information isn't always accurate.