*This post may contain affiliate links. Please see my
disclosure
to learn more.
Make your oatmeal less boring by trying this blueberry cobbler overnight oats recipe. Its guarantee to make you see oatmeal in a whole new world!
At Simply Oatmeal, we help you to feel good about eating oats because they are easy to prepare and taste better than ever before. Start the fun by filling a mason jar with blueberry overnight oats so that the meals are ready to eat when you are!

From blueberry muffin overnight oats to blueberry cheesecake overnight oats, we've covered all look-a-likes for the dessert lovers! Each recipe uses no cook methods that require zero experience. Before hopping into bed on Sunday evening, make a batch of soaked oats to enjoy all week long!
Blueberry cobble overnight oatmeal tastes like you're having dessert for breakfast. You should feel less guilty because it's filled with healthy ingredients and also contains the benefits of oats.

To enhance the berry sensation, make a quick blueberry jam to drizzle on top or layer in between the oat mixture and cover the top with a crunchy gluten-free oatmeal topping. Create pretty and yummy meal prep idea that will make all your co-workers jealous!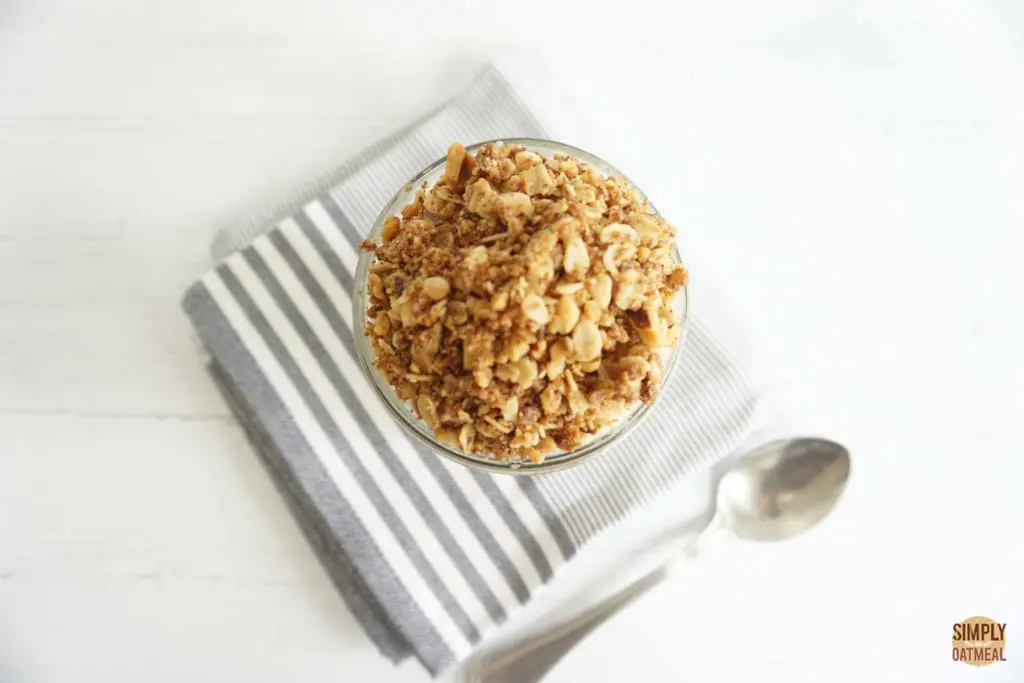 How to make blueberry cobbler overnight oats?
Blueberry cobbler overnight oats are simple to put together and bountiful flavorful fun. The oatmeal is packed with fiber rich whole grains that are guaranteed to keep you fulfilled all the way to lunch.

The cobbler topping for this recipe is definitely an extra step, but its well worth the effort. Your palate is going to enjoy the combination when you bite into the crispy and crunchy cobbler with a spoonful of soft oatmeal.
Blueberry Cobbler Overnight Oats Ingredients:
Liquid of your choice
Blueberries
Chia seeds
Vanilla extract
Sliced almonds
Cinnamon
Coconut sugar
Salt
Apple pie spice
Coconut oil
Walnuts
Prepare the cobbler topping by combining all cobbler ingredients in a small bowl. Coat the dry components with the coconut oil.

Spread the mixture on a baking sheet and toast for 15 minutes at 350 °F. The cobbler should be crusty and crunchy to pair well with the soft soaked oatmeal.

Let the cobbler topping cool before storing in an airtight container. This can be done the night before as well.
Add the overnight oatmeal ingredients in a mason jar or container. Give a quick stir so that everything gets well combined. Seal with a lid and place in the fridge overnight.

Bring out of the fridge in the morning and stir the mixture once more to combine the soft bottom with the chewy top. If the oats and chia seeds soaked up too much liquid, then you may want to add a little more almond milk before serving.

Top the soaked oatmeal with cobbler topping and a few extra blueberries. Almond butter and 5 minute blueberry chia jam also make excellent oatmeal toppings when you're looking for a flavorful variation!
Blueberry Cobbler Overnight Oats Tips: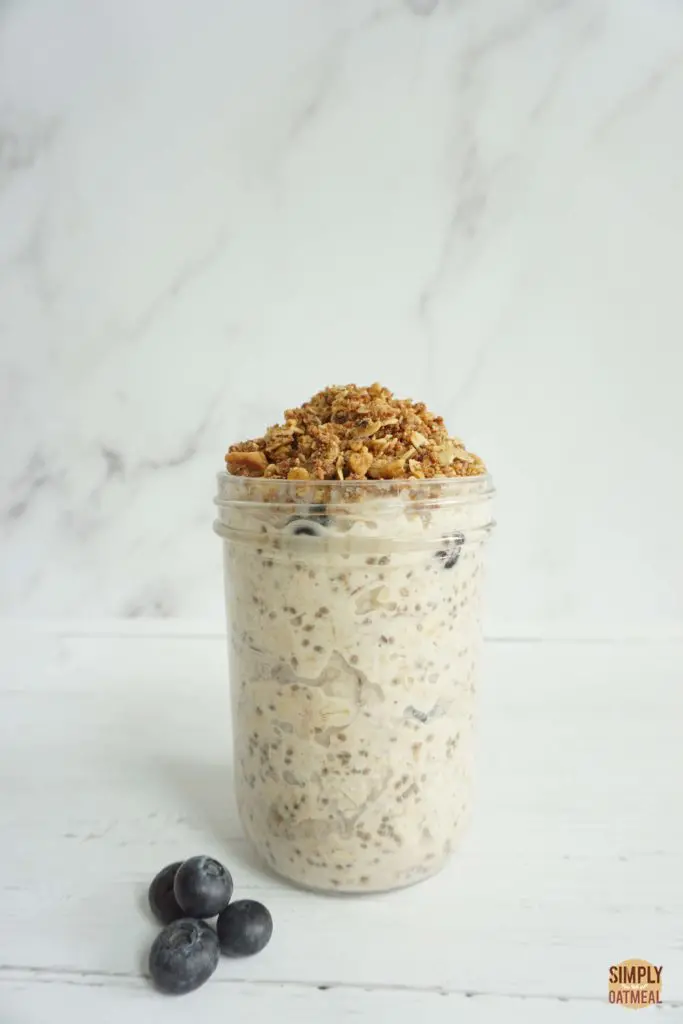 Looking for the best way to store no cook oatmeal throughout the week? Don't worry! Here are the easy tips to keep your blueberry cobbler overnight oats fresh and crumbly all week long.
Store the cobbler topping in an airtight container that is separate from the soaked oatmeal mixture.
Substitute honey or maple syrup instead of using coconut sugar in the cobbler topping.
Use apple pie spice to add a dash of aromatic spice blend like nutmeg, cardamom and ginger.
Make a batch the night before so the no cook oats have enough time to soak and develop a rich and creamy flavor.
Rolled oats are preferred over steel cut oats when making this overnight oatmeal recipe, that is unless you are looking for a chewier meal.
If the oatmeal is too thick and pasty like, add a splash of milk or a scoop of yogurt to lighten up the 2:1 overnight oats water ratio.
Always stir before the mixture before serving.
MORE DELICIOUS BLUEBERRY OATMEAL RECIPES YOU MIGHT LIKE: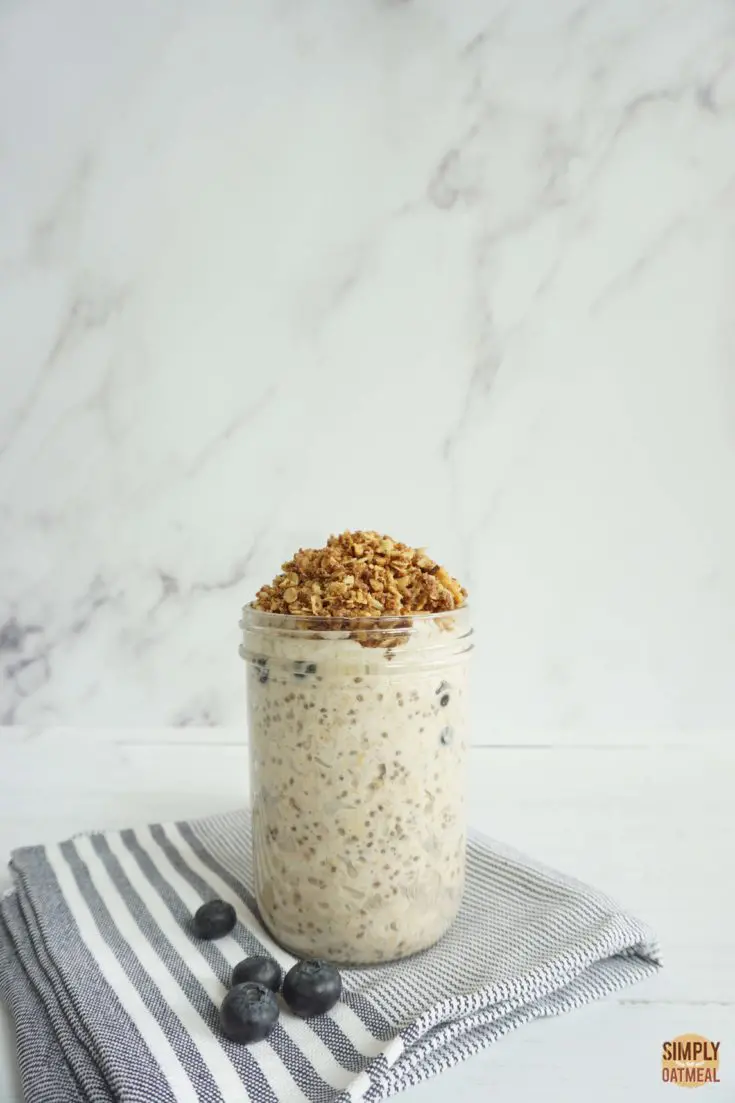 Yield:

1 serving
Blueberry Cobbler Overnight Oats Recipe
This blueberry cobbler overnight oats is made with vegan and gluten free ingredients. Enjoy this healthy and nutritious meal without jeopardizing your dietary guidelines.
Enjoy a hearty serving of fiber rich oatmeal, plant based protein and essential vitamins. This recipe is guaranteed to fill you up and keep you energized for the day.
The make ahead cobbler topping is gluten free and pairs perfectly with the soaked oatmeal. Give the soaked oatmeal a quick stir and then add more delicious oatmeal toppings on top.
When prepared in a mason jar, the recipe works very well and a grab and go breakfast or even as an afternoon snack. Meal prep is a breeze with the quickly assembled dish.
Ingredients
½ cup old fashioned rolled oats
½ cup fresh or frozen blueberries
1 tablespoon chia seeds
1 tablespoon sliced almonds
1 teaspoon vanilla extract
¼ teaspoon cinnamon
Cobbler Toppings:
¼ cup regular rolled oats
⅛ cup coconut sugar
Pinch of salt
2 tablespoons coconut oil
⅛ cup chopped walnuts nuts
Instructions
For the cobbler topping, mix together the regular oats, oat flour, coconut sugar, apple pie spice and salt. Soften the coconut oil to
room temperature, and then work it into the dry ingredients with your fingertips until all the oats are well covered. Afterwards, mix in the chopped walnuts.
Spread the cobbler flat onto a baking sheet and bake at 350 for 15 minutes. Check the oven after 10 minutes and stir the mixture. Check again after 2 minutes and stir once more. Adjust the time based on the performance of your oven.
Cool the cobbler topping, and store in an airtight container until time to serve.
To make the overnight oats, place all ingredients (except for the cobbler topping) in a container or overnight oats jar. Stir until well combined, cover and then place in the fridge overnight for at least 12 hours.
To serve, remove the container from the refrigerator and stir the
soaked oatmeal to combine the soft bottom layer with the slightly crunchier top portion. Add the cobbler topping and almond butter, blueberry jam or your favorite oatmeal toppings. Enjoy!
Notes
This blueberry cobbler overnight oats recipe is vegan, gluten free
and non-dairy. Use certified gluten free oats and make oat flour if you have difficulty finding any.
The resulting texture of this soaked oatmeal is a porridge style
consistency that pairs well with the baked cobbler topping. Thicken the overnight oats water ratio by adding an extra spoonful of chia seeds or reducing the amount of almond milk when preparing.
For best results, eat the oatmeal within 5 days of preparation to
maintain freshness.
Recommended Products
As an Amazon Associate and member of other affiliate programs, I earn from qualifying purchases.
Nutrition Information:
Yield:
2
Serving Size:
1
Amount Per Serving:
Calories:

542
Total Fat:

33g
Saturated Fat:

14g
Trans Fat:

0g
Unsaturated Fat:

17g
Cholesterol:

0mg
Sodium:

113mg
Carbohydrates:

53g
Fiber:

9g
Sugar:

16g
Protein:

11g
Nutrition information isn't always accurate.