*This post may contain affiliate links. Please see my
disclosure
to learn more.
Combine sweets and heart healthy goodness in this blueberry maple overnight oats recipe. It's a make-ahead breakfast that's packed nutrition, drizzled with maple syrup and sprinkled with grounded cinnamon!
Here at Simply Oatmeal, we've assembled the delicious blueberry overnight oats recipes for you to fall in love with. Choose different milk bases and oatmeal topping choices that makes each recipe unique and personalized to your preferences.

No wonder there is so many different ways to assemble the flavor combination. From blueberry honey overnight oats to blueberry Greek yogurt overnight oats, each recipe tastes different and is so enjoyable that you won't get tired of eating them!
Feeling unsure about eating raw soaked oats? Not a problem! Sift through the different combinations and I'm positive you'll find flavors that intrigue your palate.

Whether blueberries are in season or not, by using frozen berries you can easily make this recipe all year round. Blueberries are the perfect fruit to go well with soaked oats, maple syrup and creamy yogurt.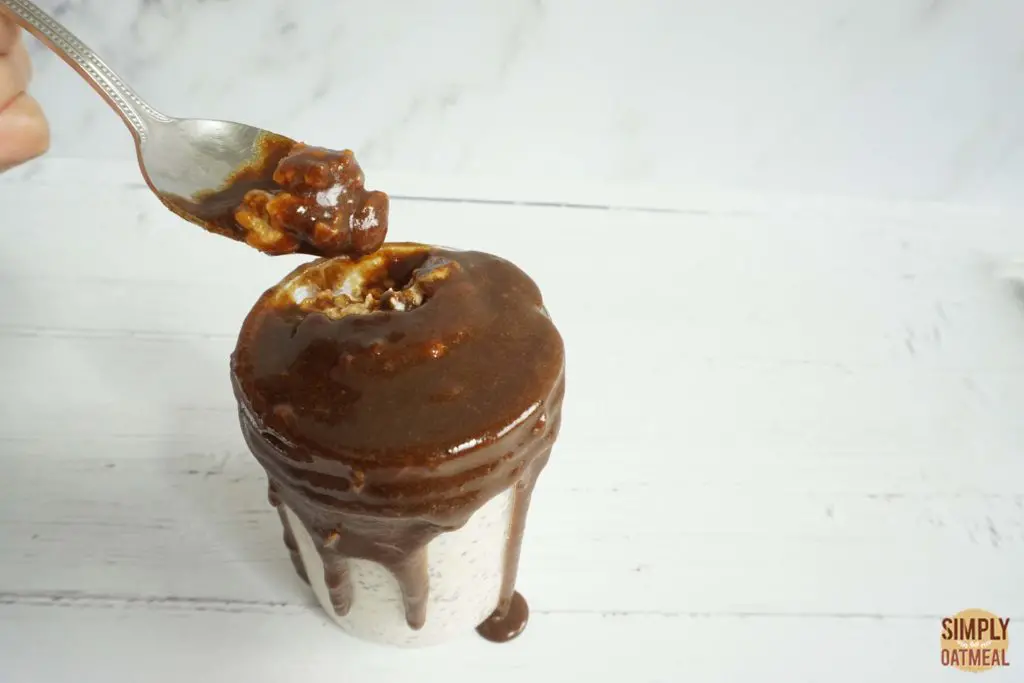 How to make blueberry maple overnight oats?
Blueberry maple overnight oats are a great year-round meal prep idea. It provides a filling breakfast option that keep you feeling energized throughout the day.
Blueberry Maple Overnight Oats Ingredients:
Liquid of your choice
Greek Yogurt
Chia Seeds
Ground Cinnamon
Maple Extract
Vanilla Extract
Blueberries
In a mason jar, combine the regular oats, chia seeds, cinnamon, maple extract, vanilla extract and milk. Add the yogurt, and mix until completely combined. Then, gently stir in the blueberries.

Place a lid on the container and store in the refrigerator overnight.

If the overnight oats are too thick when it's time to eat, then stir in a little extra milk. Top the soaked oats with extra blueberries and another serving of maple syrup.

Include additional toppings like toasted coconut, roasted nuts or even consider a spoonful of pumpkin puree. The options and flavor combinations are endless.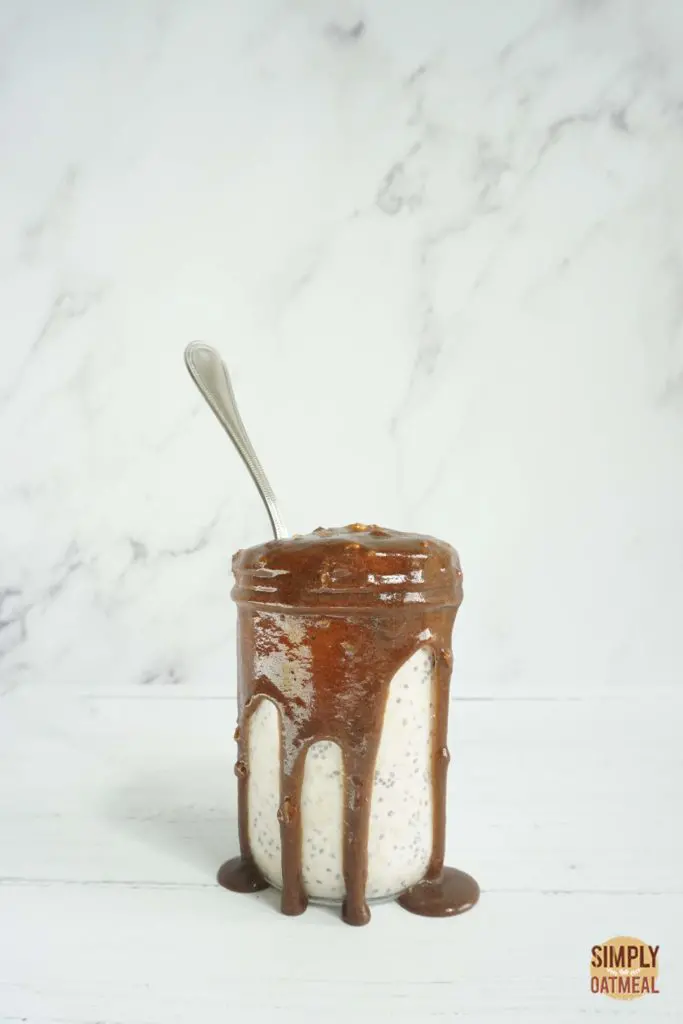 Blueberry Maple Overnight Oats Tips
Enjoy your blueberry maple overnight oatmeal every morning with a few helpful tips. Here are the simple and easy steps to executing the best meal prep each time:
Use rolled oats as opposed to quick oats or steel cut oats. Quick oats become too mushy when soaked. Steel cut oats are extra chewy and don't really provide the most desirable outcome.
Fresh or frozen blueberries can be used in this recipe.
Try plain, blueberry or vanilla yogurt. If the yogurt is extra sour, then add another teaspoon or two of maple syrup into the overnight oats.
If you are using flavored yogurt, leave out any extra sweetness from the oat mixture.
Add a scoop of blueberry chia jam on top to make the soaked oatmeal naturally sweeter.
If the mixture looks too thick and pasty like, add a splash of milk or spoonful of yogurt when serving.
The oatmeal is good for up to 5 days when stored in an airtight mason jar in the refrigerator.
MORE BLUEBERRY OVERNIGHT OATS INSPIRATION: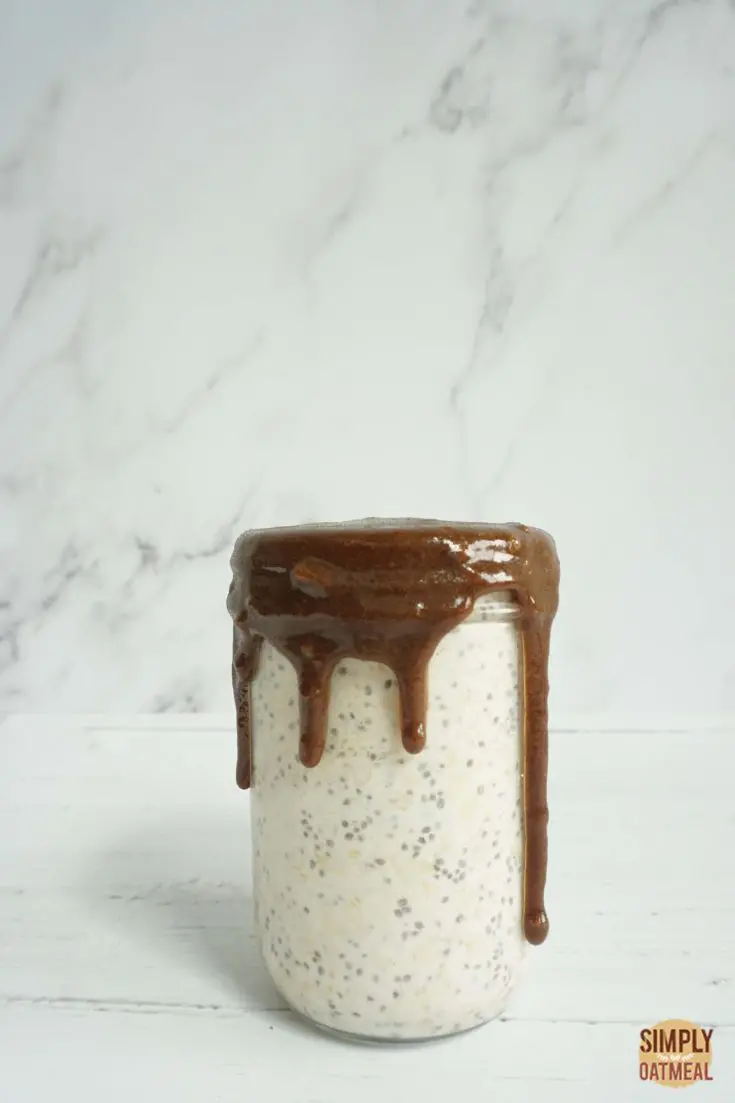 Yield:

1 serving
Blueberry Maple Overnight Oats Recipe
Blueberry maple overnight oats is easy to make and tastes like perfection. Assemble this recipe as a meal prep idea and you will have easy grab and go breakfasts for the busy work week.
Not only does blueberry maple overnight oats taste great, but it is also extremely nutritious. Aside from the healthy benefits of oats and antioxidant blueberries, it keeps you feeling full all day long.
Follow the recipe and feel free make adjustments based on your dietary preferences. Be sure to check the notes at the bottom for more helpful tips.
Ingredients
½ cup rolled oats
½ cup whole milk
¼ cup plain Greek yogurt
1 tablespoon chia seeds
1 tablespoon maple syrup
1 teaspoon vanilla extract
½ teaspoon ground cinnamon
½ cup fresh or frozen blueberries
Instructions
In a medium bowl or overnight oats container, combine the rolled
oats, milk, yogurt, chia seeds, cinnamon, maple syrup, and vanilla extract. Mix well and then fold in the blueberries afterwards.
Cover the container and leave in the fridge for at least 12 hours.
In the morning, stir in a little extra milk if the overnight oats are too thick and top with blueberries, extra maple syrup, toasted nuts and whatever oatmeal toppings you desire to add.
Notes
If the soaked oats are too thick for your liking, then adjust the overnight oats water ratio before serving. It's easy to add an extra spoonful of yogurt or another splash of milk to make a porridge-style oatmeal consistency.
To make this recipe vegan, substitute the milk and yogurt for dairy-free alternatives like coconut or almond products.
The blueberry maple overnight oats are best eaten within 5 days of preparation to ensure the freshness of each individual ingredient.
Recommended Products
As an Amazon Associate and member of other affiliate programs, I earn from qualifying purchases.
Nutrition Information:
Yield:
1
Serving Size:
1
Amount Per Serving:
Calories:

427
Total Fat:

11g
Saturated Fat:

3g
Trans Fat:

0g
Unsaturated Fat:

6g
Cholesterol:

15mg
Sodium:

81mg
Carbohydrates:

65g
Fiber:

11g
Sugar:

28g
Protein:

17g
Nutrition information isn't always accurate.