*This post may contain affiliate links. Please see my
disclosure
to learn more.
Start your fuss-free morning with a serving of vegan blueberry overnight oats. Getting out the bed is easier when you know there is healthy plant-based breakfast ready and waiting for you!
Try each of the tasty blueberry overnight oats recipes so that you are covered for the entire week. As a result, you are guaranteed to not skip breakfast anymore.

From blueberry coconut overnight oats to blueberry peanut butter overnight oats, we are here to make the best no cook oatmeal recipes. Each recipe is plant-based friendly to make your meal prep easy and breezy!
Every Simply oatmeal overnight oatmeal recipe is extremely versatile. Personalize the exact tastes based on your preference using your favorite liquids, sweeteners and oatmeal toppings.

You can eat vegan blueberry overnight oats cold or even heat it up in the morning for a more cozy breakfast. As a result, the blueberries melt and pop to give an intense blueberry jam like taste.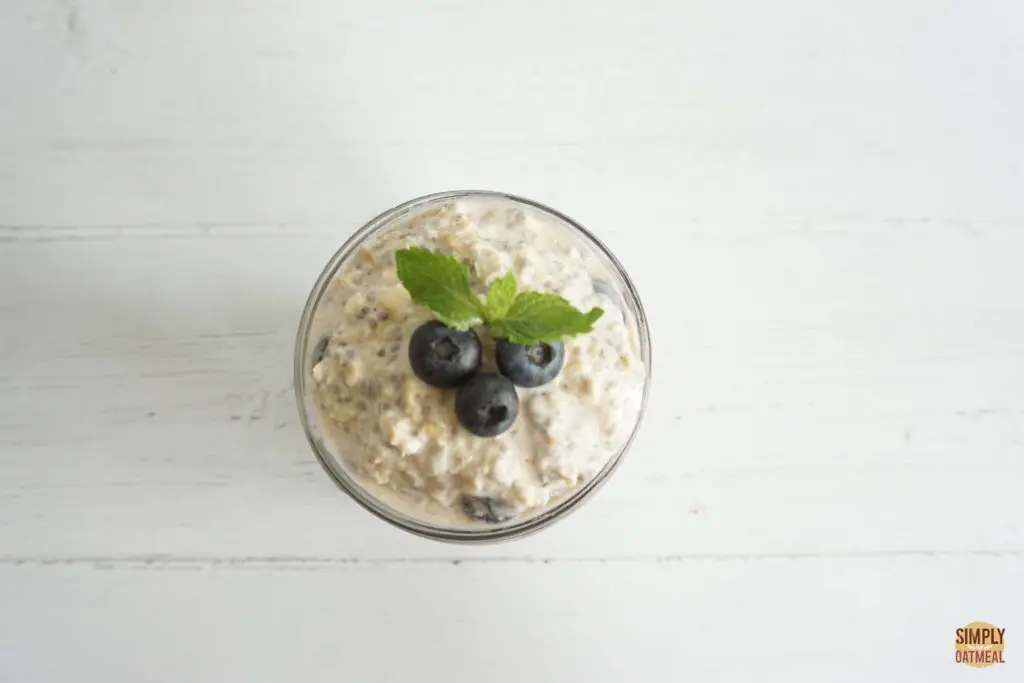 How to make vegan blueberry overnight oats?
Time to make vegan blueberry overnight oats. Prepare the oats the day ahead and top with nuts or 5 minute blueberry chia jam the next morning.
If you use frozen blueberries in this recipe, they will naturally defrost into the oats mixture while they are soaking in the fridge. This will create a beautiful lavender pastel color inside the container.

Don't worry; the taste stays the same whether you use fresh or frozen blueberries!
Be creative and switch up the liquids like hazelnut milk or rice-coconut milk to soak your oat mixture. Now lets grab the basic ingredients so that we can start assembling your breakfast for the next few days.
Vegan Blueberry Overnight Oats Ingredients:
Rolled oats
Coconut milk
Almond milk
Chia seeds
Maple syrup
Vanilla extract
Salt
Blueberries
When making vegan oatmeal, choose old fashioned oats instead of the other available options. Regular oats keep their shape when soaked overnight, instead of becoming too mushy or soupy.

If you are gluten-intolerant, then make sure to select gluten-free certified oats just to be certain. Oats are naturally gluten-free, but this is the best way to avoid cross-contamination during production.
Combine the rolled oats, milk alternatives, chia seeds, vanilla extract, salt and maple syrup in a mason jar.

Stir together until well combined. Fold in blueberries after everything else is well mixed.

Refrigerate for at least 12 hours to fully hydrate the oats and also to dissolve the phytates. When ready, top with your desired oatmeal toppings and enjoy!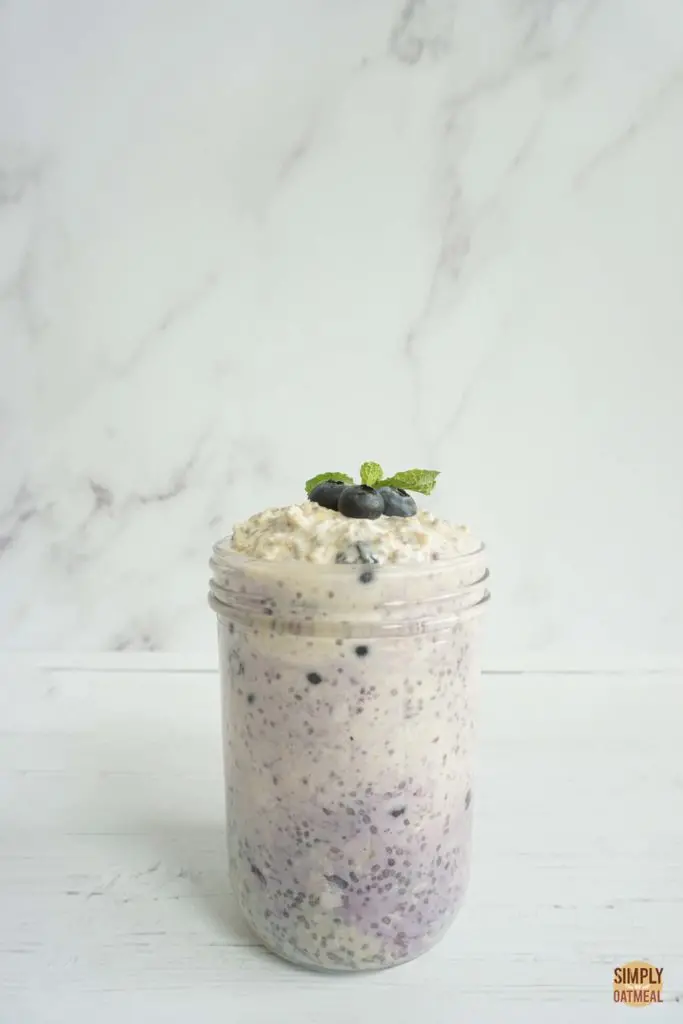 Vegan Blueberry Overnight Oats Tips:
Vegan blueberry overnight oats are a healthy meal prep is you feel like improving your plant-based diet. If you're like me, then there is always a need for more diverse breakfast ideas.

Review these tips for vegan blueberry overnight oats to make the most of your first meal for the day. As a result, you will enjoy each and every bite.
Choose rolled oats instead of quick oats or steel cut oats. Rolled oats have the perfect balance of soft and chewy texture. Instant oats become to mushy when soaked, and steel cut oats tend to be too chewy unless they are soaked for more than 24 hours.
When it comes to sweetener, avoid honey and use maple syrup or your favorite vegan alternatives.
Feel free to use soy milk, oat milk or even try this 5 minute almond milk to switch up the base flavors.
Assemble in an air-tight mason jar or overnight oats container.
Heat up in microwave to serve warm or even eat cold, it's totally up to you. Don't worry the temperature won't change the texture and taste even after heating it up.
Top with roasted nuts and toasted coconut for a tad bit of extra crunchiness.
Meal prep vegan blueberry overnight oats in advance. They stay fresh in the refrigerator for up to 5 days.
MORE VEGAN BLUEBERRY OVERNIGHT OATS RECIPES: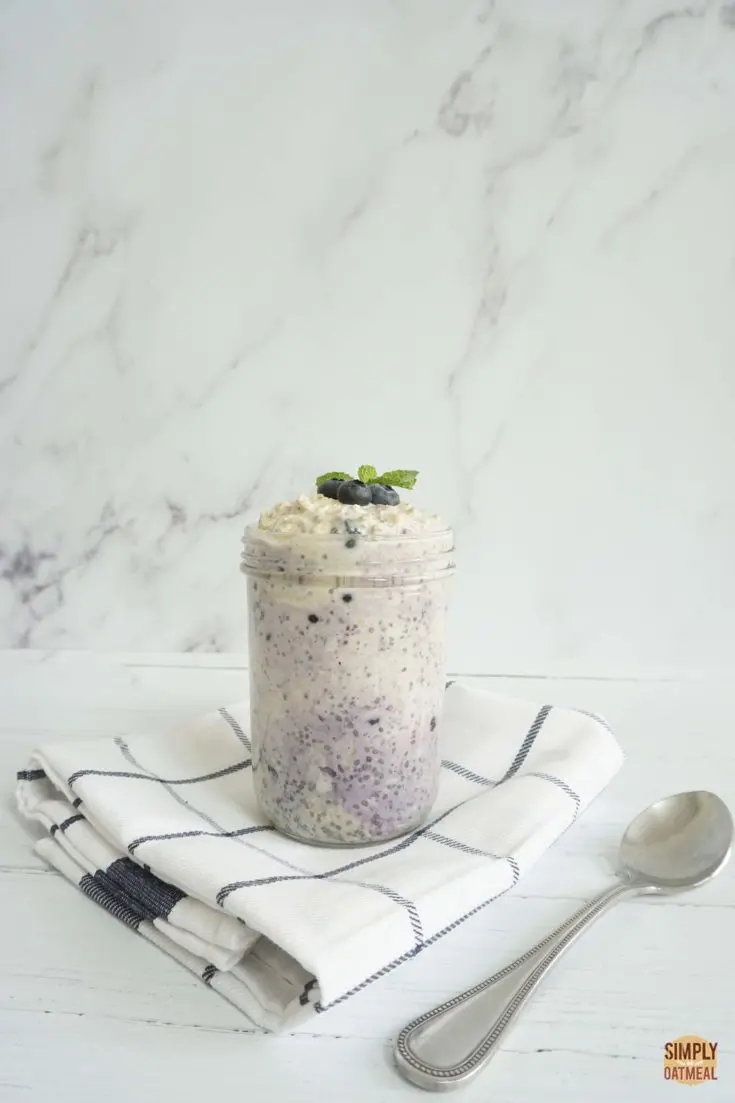 Yield:

1 serving
Vegan Blueberry Overnight Oats Recipe
This vegan blueberry overnight oats recipe is gluten free and full of nutrition. Get your busy day started off on the right foot by eating a hearty and wholesome meal.
The ingredients are common kitchen staples that be assembled in just 5 minutes. Meal prep ahead of time so that you a prepared with grab and go breakfasts for the workweek.
Its a great meal no matter what time of day you have a craving. Vegan blueberry overnight oats work well for a midday snack or even a slightly sweet after dinner dessert.
Ingredients
½ cup rolled oats
½ cup unsweetened almond milk
¼ cup unsweetened coconut milk
1 tablespoon chia seeds
1 tablespoon maple syrup
1 teaspoon vanilla extract
pinch of salt
½ cup fresh or frozen blueberries
Instructions
In a medium bowl or overnight oats jar, combine oats, milks, chia seeds, vanilla extract, salt and maple syrup in a large bowl. Stir together until everything is well combined.
Fold in fresh blueberries trying to maintain the whole shape without mushing.
Cover and refrigerate for at least 12 hours before consuming.
When ready to serve, top with nut butter, non-dairy yogurt, fresh blueberries or your favorite oatmeal toppings.
Notes
This recipe is non-dairy, gluten free and vegan!
The mixture results in a fairly thick and spoonable oatmeal consistency. Soften up the base by changing up the overnight oats water ratio. Add more liquid or even a spoonful of vegan yogurt for extra creaminess when assembling.
If uncertain about how much liquid to add during preparation, then wait until its time to eat. Then add the amount of liquid that you desire to make a porridge like thickness.
To ensure freshness and that the individual ingredients don't spoil, this vegan blueberry overnight oats recipe should be eaten within 4-5 days of preparation. Enjoy!
Recommended Products
As an Amazon Associate and member of other affiliate programs, I earn from qualifying purchases.
Nutrition Information:
Yield:
1
Serving Size:
1
Amount Per Serving:
Calories:

342
Total Fat:

9g
Saturated Fat:

2g
Trans Fat:

0g
Unsaturated Fat:

6g
Cholesterol:

0mg
Sodium:

144mg
Carbohydrates:

57g
Fiber:

11g
Sugar:

20g
Protein:

8g
Nutrition information isn't always accurate.