*This post may contain affiliate links. Please see my
disclosure
to learn more.
Soak your overnight oats with a combination of apple and lemon to create a fresh-tasting flavor that will make you want to go back for more! Not only is this lemon apple overnight oats super delicious, but it gives you an energy boost that'll jump-start your day.
Soaking in lemon juice provides you with a potent immunity booster that can kickstart your body functions. Here are lemon overnight oats that combine the power of lemon with the wholesome heartiness of oats. Or, try these Apple Cinnamon Oats!

From lemon banana overnight oats to blueberry lemon overnight oats, we've rounded up the best tasting meal prep ideas for you. Save money and avoid temptations with these healthy eats during your busy workweek.
You will love this lemon apple overnight oats because…
Takes just 5 minutes to prepare.
Packed with nutritional elements like plant based protein, dietary fiber and healthy fats. All around healthy breakfast idea that'll energize your day!
Perfect amount of tartness, sweetness and creaminess.
Tastes just like a tarty applesauce with a hearty oatmeal base, its delicious!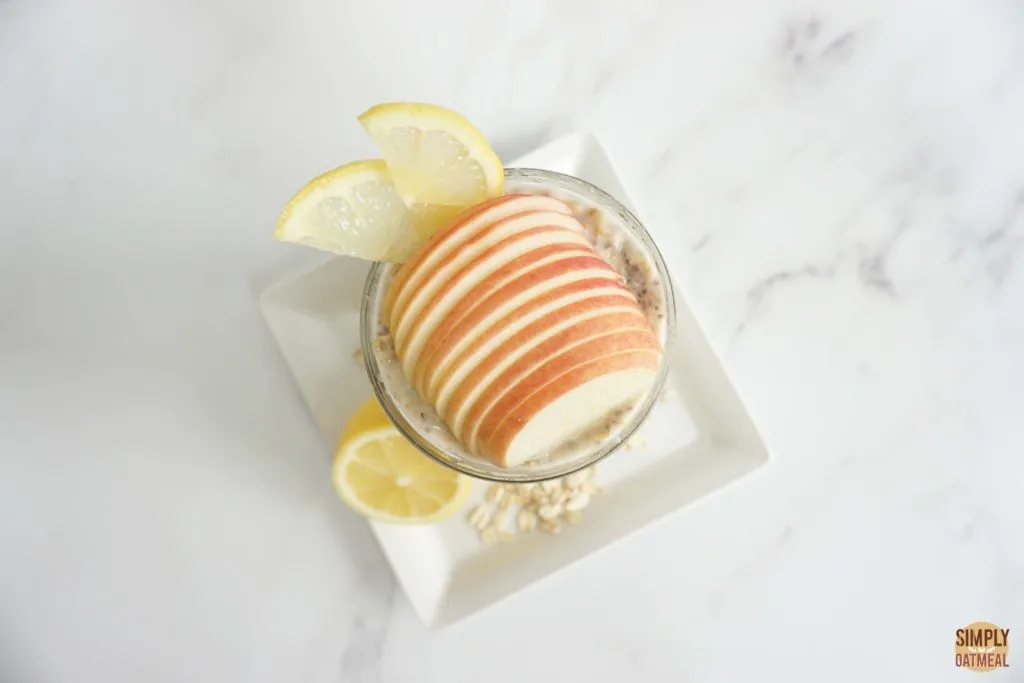 Lemon juice is a bright tasting liquid that is perfect for soaking oats, pair with your favorite milk for a creamy citrusy taste. Soaking oats helps your body to improve digestion and absorb the complete benefits of oats.

Whether you are searching for a new breakfast idea, or need a mid afternoon snack to boost your energy, let this lemon apple overnight oats be the answer for you.
How to make lemon apple overnight oats?
Grab a short list of ingredients to make this delicious overnight oats come to fruition.

You may also enjoy this homemade applesauce recipe for a quick method. This 15 minute recipe minimizes the need for added sugar and give the nuance of made from scratch freshness. Give it a try and whip up a small batch of homemade applesauce.
Lemon Apple Overnight Oatmeal Ingredients:
Almond milk
Yogurt
Applesauce
Apple
Lemon
Chia seeds
Cinnamon
Maple syrup
Vanilla extract
Combine the oats, almond milk, yogurt, applesauce, lemon juice, chia seeds, cinnamon, maple syrup and vanilla in a mason jar. Stir well, and then fold in the diced apple. Cover and soak overnight in the fridge.

Serve cold or heat the oats in the microwave or on the stovetop for 1-2 minutes before eating. Top with fresh apple, toasted nuts, lemon zest and an extra sprinkle of cinnamon if you wish.
Lemon Apple Overnight Oats Tips
There are a few additional tips and tricks to making this the best overnight oats with lemon and apple. Read through the following suggestions for a few simple adjustments that will the overall experience.
Apple: Apple a day keeps the doctor away, right? Apples are packed with flavor and wholesome nutrition. From dietary fiber to essential vitamins and minerals, apples compliment a balanced diet.
Lemon: Lemon juice is a powerful immunity booster. Lemon juice can easily be purchased in the juice aisle at the market and stored in the fridge. Although there are quality juices available, this prevents the ability to add lemon zest before juicing the lemon. If you juice your own lemon for this recipe, clean, dry and zest the lemon before cutting into it.
Oats: Rolled oats are preferred over steel-cut oats and quick oats for a smooth mouthfeel. Steel-cut oats result in a chewy texture, while quick oats get too mushy when soaked overnight.
Liquid ratio: Overnight oats soak up lots of liquid, so add enough liquid. If necessary, add a splash of liquid to loosen up the mixture just before serving. For a porridge-style oatmeal, 2:1 ratio of liquid to oats works best. You can always adjust the consistency by adding more liquid when it comes time to serve.
Chia seeds: Chia seeds soak up lots of extra liquid, so if the oats thicken too much overnight simply adjust with an extra splash of liquid. As chia seeds hydrate, they plump into tiny jelly like boba balls that pop in your mouth when you chew on them. Stir the chia seeds well so that they don't clump together in the no cook oatmeal.
Vegan: Use a dairy free milk and yogurt alternatives to make this recipe vegan.
Gluten free: Although oat are gluten free, certified whole grain oats are recommended if you are on a strict wheat free diet.
Protein powder: Boost the availability of nutrition with a scoop of protein powder. Select your favorite brand of unflavored or vanilla supplement.
Give it a stir: When serving, give the no cook oats a quick stir before adding any toppings. This will combine the soft bottom layer with the crunchy top layer to provide a consistent mouthfeel throughout.
Add-ins: Fresh fruit and chopped nuts will add a crunchy texture to the creamy soaked oats. For more inspiration, check out this list of 75+ oatmeal toppings.
Storage: Overnight oats remain fresh for up to 5 days when stored in the fridge inside an airtight container.
More lemon overnight oats recipes for your next meal prep: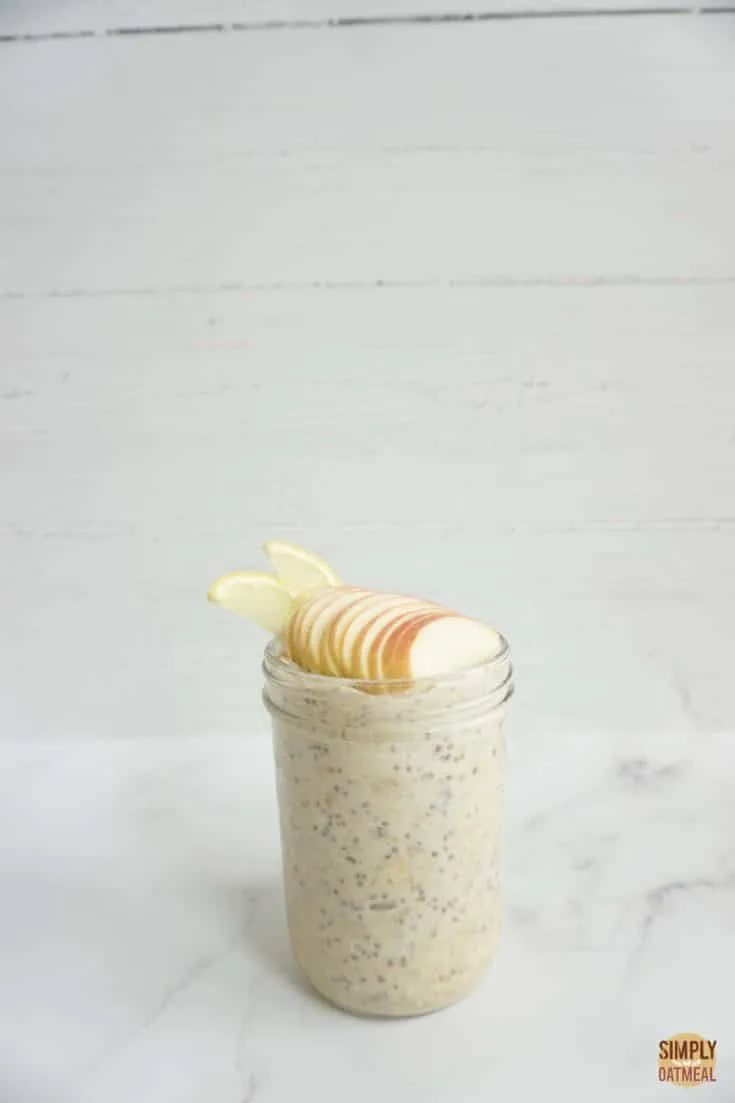 Yield:

1 Serving
Lemon Apple Overnight Oats Recipe
Lemon apple overnight oats is a sweet sour combination of flavor. Give your body an immunity boost from the nutritious oats, fresh lemon and wholesome apple.
There is a perfect balance between the sweet apple taste and tart lemon sourness. Assemble this make ahead meal prep so that don't leave the house hungry anymore.
Ingredients
½ cup old fashioned rolled oats
¼ cup plain Greek yogurt
½ cup apple diced
1 tablespoon lemon juice
1 tablespoon lemon zest
1 tablespoon chia seed
1 tablespoons maple syrup
1 teaspoon vanilla extract
Pinch of cinnamon
Instructions
In a medium sized bowl or overnight oats container, mix together the oats, almond milk, yogurt, applesauce, lemon juice, chia seeds, cinnamon, maple syrup and vanilla. Stir well, and then fold in the diced apple.
Cover with a lid and place in the fridge overnight.
The next day, give the oats a good stir and garnish with your favorite oatmeal toppings like crushed nuts, dried raisins and a dash of ground cinnamon.

Notes
Make it vegan and gluten free!
Adjust the consistency and sweetness if necessary.
Store in the refrigerator for up to 5 days.
Recommended Products
As an Amazon Associate and member of other affiliate programs, I earn from qualifying purchases.
Nutrition Information:
Yield:
1
Serving Size:
1
Amount Per Serving:
Calories:

382
Total Fat:

8g
Saturated Fat:

1g
Trans Fat:

0g
Unsaturated Fat:

6g
Cholesterol:

3mg
Sodium:

34mg
Carbohydrates:

64g
Fiber:

11g
Sugar:

26g
Protein:

14g
Nutrition information isn't always accurate.