*This post may contain affiliate links. Please see my
disclosure
to learn more.
Allow the flavors of autumn to come together nicely in this pumpkin chia overnight oats. This recipe just requires a handful of ingredients and also takes a few minutes to put together, so let's get started.
If you are looking for more fall inspired breakfast ideas, we've put together the best pumpkin overnight oats. Each recipe is healthy and hearty to help you enjoy your day by helping your stomach stay fulfilled.

That's why adding chia seeds to any overnight oatmeal is a great idea. From pumpkin pie overnight oats to pumpkin spice latte overnight oats, you can easily add chia seed to make any oatmeal even healthier.
Meal prep a batch of pumpkin chia overnight oats the night before. Make enough so that your morning routine becomes a total breeze with quick and easy grab and go meals.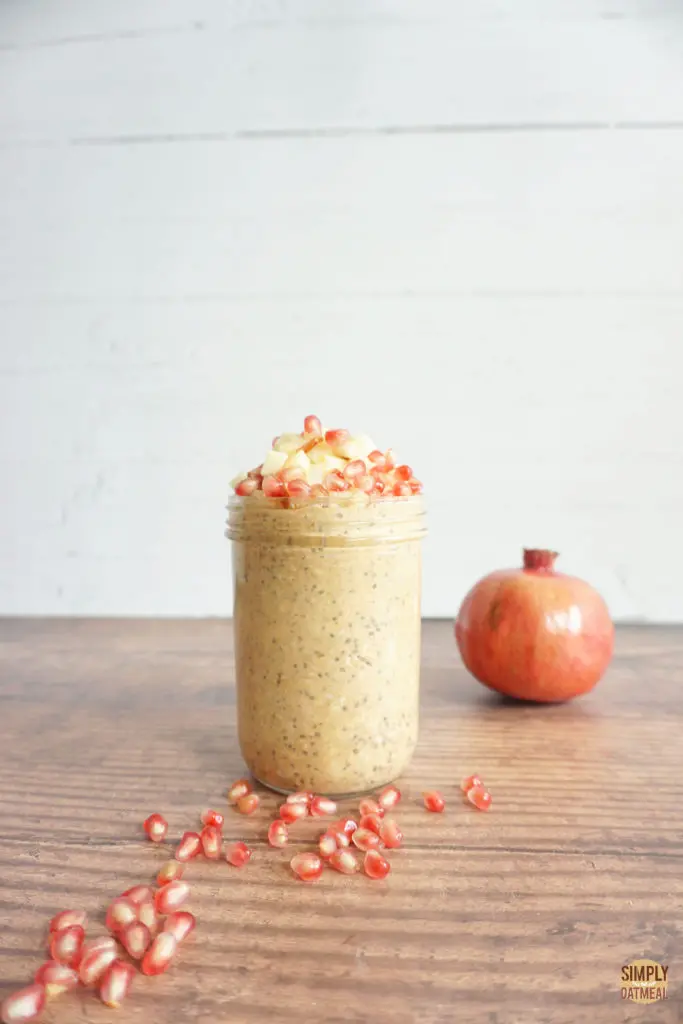 Why should you soak chia seeds in overnight oatmeal before eating them?
Chia seeds help you feel full because they absorb ten times their weight in water. When soaked, the chia seeds form a jelly-like texture. The overnight oats and soaked chia seeds slows digestion because it takes more time for your stomach to empty.

The results are that you feel full for a longer period of time. In addition, this helps to prevent blood sugar spikes, decreases cholesterol and even keeps you hydrated longer.
How to make pumpkin chia overnight oats?
Give a fall twist to your diet with this pumpkin chia overnight oats recipe. This meal prep idea will keep you full the whole day because it is loaded with natural sweetness, hearty pumpkin puree, fiber-rich chia seeds, and the health benefits of oats.

You only need a few components to make the recipe. Grab these kitchen staple ingredients and let's make the magic happen.
Pumpkin Chia Overnight Oatmeal Ingredients:
Chia seeds
Liquid of your choice
Pumpkin puree
Maple syrup
Ground cinnamon
Pumpkin pie spice
Place the oats and chia seeds in a mason jar and stir to combine.

Add the milk, pumpkin, maple syrup, cinnamon, and pumpkin pie spice to the oat mixture and stir to combine.

Cover with a lid and place in the refrigerator for a minimum of 12 hours.

Serve with add-ins such chocolate chips, toasted pecans, pumpkin seeds, or coconut flakes!

Enjoy within 5 days to ensure that freshness is maintained.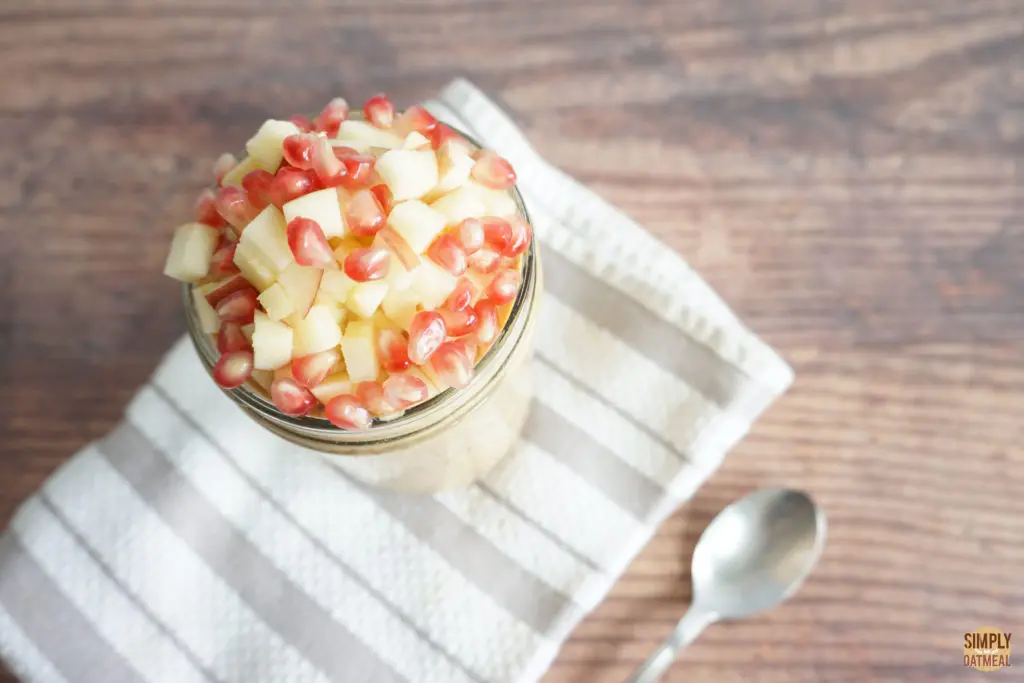 Pumpkin Chia Overnight Oats Tips:
Enjoy your pumpkin chia overnight oats by sticking to these tips. Keep your oatmeal fresh and tasty all day long whether you have them for breakfast or as a midday snack.
Choose rolled oats because the consistency is optimal compared to steel-cut oats or instant oats. Steel cut oats tend to be chewier when making overnight oatmeal, and instant oats just turns into mush.
Rolled oats really makes you feel fuller for longer, which assists in helping to control weight.
Top with pumpkin seeds when serving because it'll add a crunchy texture, and they're also a good source of heart-healthy magnesium, zinc, protein and omega-3s.
Always keep in mind the 2:1 ratio of oats to liquid, which results in a creamy consistency and spoonable texture.
Add a scoop of protein powder for an energy boost after early morning workout routine.
Before serving, stir once more and add oatmeal toppings on the overnight oatmeal.
MORE FINGER-LICKING PUMPKIN OVERNIGHT OATMEAL FOR YOU: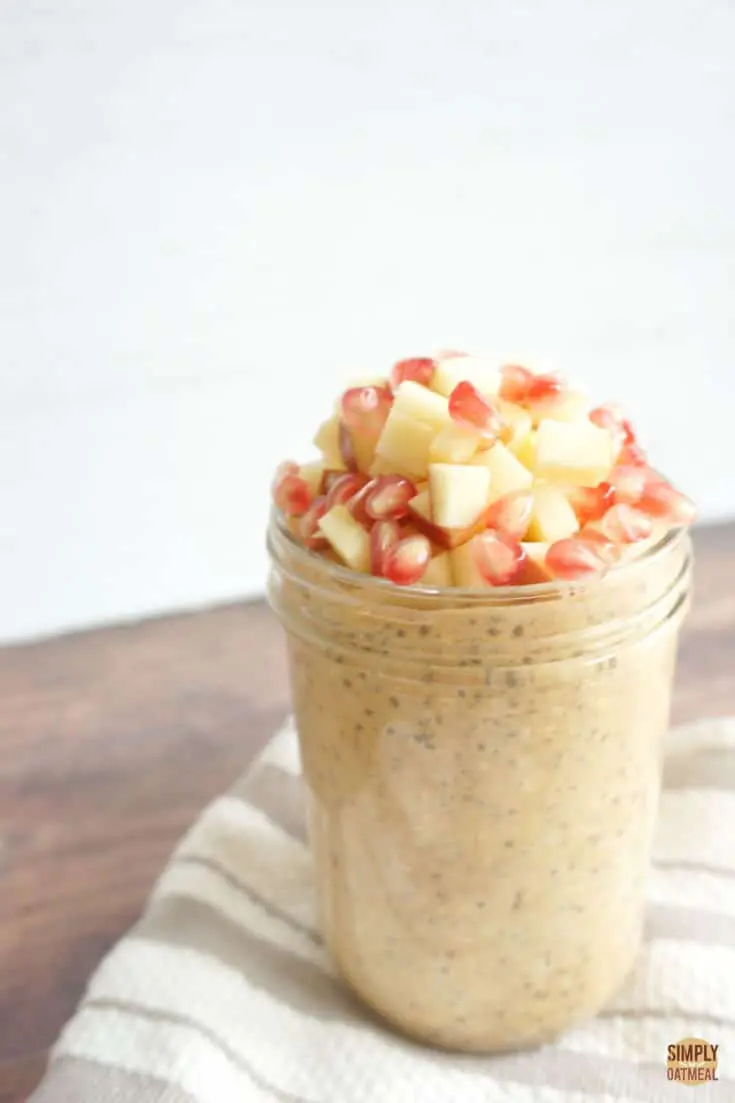 Yield:

1 serving
Pumpkin Chia Overnight Oats Recipe
The flavors meld nicely in the pumpkin chia overnight oats recipe. The soaked oats combine nicely with the smooth creamy pumpkin puree and the jellied texture of the soaked chia seeds.
The overnight oatmeal, pumpkin puree and chia seeds makes for a wholesome meal that will keep you full all day long. Whether you eat it for breakfast or afternoon snack, it will keep you satiated until the next meal.
Because its so easy to make, you can meal prep a large batch and store it for the week. As a result, you will have grab and go meals that you can enjoy at anytime.
Ingredients
½ cup old fashioned rolled oats
2 tablespoon chia seeds
1 tablespoon maple syrup
¼ teaspoon ground cinnamon
Instructions
In a medium-sized bowl or overnight oats jar, place the oats, soy milk, pumpkin puree, chia seed, maple syrup, pumpkin pie spice and cinnamon. Stir to combine all ingredients and separate the clumps of chia seeds.
Cover and store overnight in the refrigerator for at least 12 to 24 hours before consuming.
To serve, remove from the fridge and top with chocolate chips, toasted pecans, pumpkin seeds, coconut flakes or your selection of oatmeal toppings.
Notes
This recipe makes a thin and creamy porridge-like oatmeal. Change up the overnight oatmeal ratio by reducing the liquid or adding another tablespoon of chia seeds to prepare a thick and spoonable oatmeal consistency.
This recipe is vegan, gluten-free and non-dairy!
For freshness and to ensure ingredients don't spoil, this pumpkin chia overnight oats recipe should be consumed within 4-5 days of preparation. Enjoy!
Recommended Products
As an Amazon Associate and member of other affiliate programs, I earn from qualifying purchases.
Nutrition Information:
Yield:
1
Serving Size:
1
Amount Per Serving:
Calories:

421
Total Fat:

13g
Saturated Fat:

2g
Trans Fat:

0g
Unsaturated Fat:

8g
Cholesterol:

0mg
Sodium:

101mg
Carbohydrates:

63g
Fiber:

15g
Sugar:

19g
Protein:

15g
Nutrition information isn't always accurate.