*This post may contain affiliate links. Please see my
disclosure
to learn more.
Pumpkin seed overnight oats combines the best of both worlds. The smooth pumpkin puree and crunchy pumpkin seeds creates a mouth-watering experience that you will not want to miss.
Breakfast is an important meal of the day, which makes you rethink about the ingredients you choose to eat. These pumpkin overnight oats recipes use wholesome and natural ingredients that help boost the energy level that you need for the busy day.

Whether you are coming from the gym in the morning or looking for a breakfast alternative, we have healthy fall meal ideas for you to try. Check out pumpkin chia overnight oats or pumpkin Greek yogurt overnight oats that provide the added protein you need.
Magical flavors happen when pumpkin seeds are added to overnight oatmeal. If you are roasting pumpkin to make puree, save those pumpkin seeds to make healthy and easy meal prep ideas for the whole family!

In this meal you will combine the wholesome nature of pumpkin with the benefits of oats. You will be nourished with fiber, plant based protein, and a number of essential vitamins and minerals.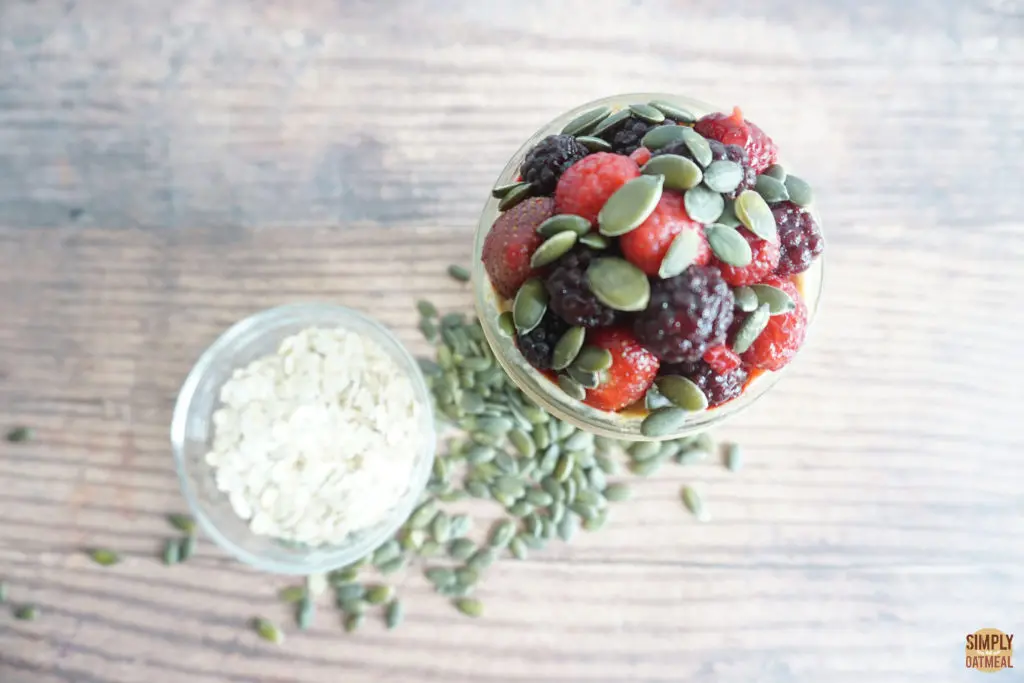 How to make pumpkin seed overnight oats?
This pumpkin seed overnight oats recipe uses a small amount of pumpkin puree, however you can always add more as a topping. Either mix it in or serve the soaked oats with a spoonful on top.

Either way, you're in for a wholesome and delicious meal. Enough said, plan your overnight oatmeal by gathering the handful of ingredients listed below.
How do you make roasted pumpkin seeds? Soak those seeds in salt water. By doing so, you are actually stripping away the enzymes and making the seeds much easier to digest.

You may also like how to roast pumpkin seeds! The recipe is easy to make and it's a great way to use up the byproducts when you make homemade pumpkin puree.

Soaking pumpkin seeds and oats helps to increase the vitamins that your body can absorb because it dilutes the anti-nutrient phytic acid. Consuming pumpkin seed overnight oats is perfect combination.
Pumpkin Seed Overnight Oats Ingredients:
Liquid of your choice
Pumpkin puree
Greek yogurt
Chia seeds
Honey
Vanilla extract
Pumpkin pie spice
Pumpkin seeds
Stir together the oats, soy milk, pumpkin puree, yogurt, honey, chia seeds, vanilla and pumpkin pie spice in a mason jar. Refrigerate for at least 12 hours.

Top with berries, pumpkin seeds and pepitas. Drizzle with a spoonful of honey just before serving, and also add more almond milk if desired.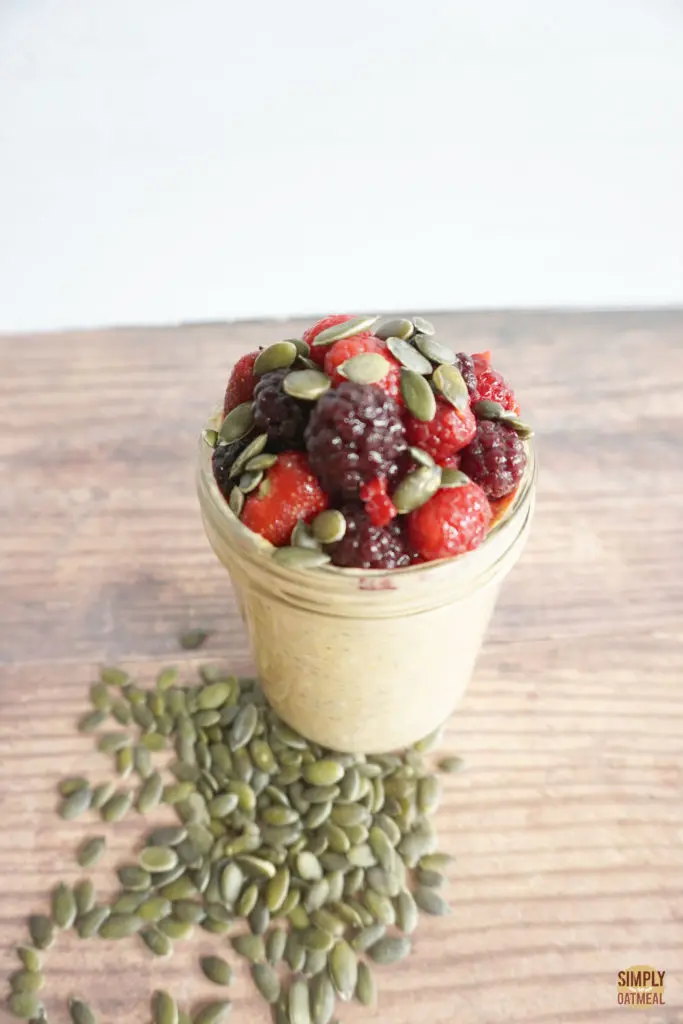 Pumpkin Seed Overnight Oats Tips:
From sweet pumpkin puree to nutty pumpkin seeds, enjoy every morsel in this pumpkin seed overnight oatmeal recipe. Enjoy eating soaked oats every time by following these tips that make the meal even more enjoyable.
For an extra boost of protein, add Greek yogurt or a scoop of protein powder. Note that the protein powder will change the taste and texture, so start with half of serving to see if you still enjoy the same great taste.
Naturally sweeten your oatmeal with chopped dates or fresh fruit. Stir it into the oats or even add them in the morning just before serving.
For extra creaminess, include nut butter like homemade almond butter or consider trying this 5 minute peanut butter recipe. It's really fun to experiment with all the fun flavors you can make!
Store your oats in the best containers for overnight oats. They are reusable, microwave and dishwasher safe, and also never absorb any bad food smells.
If you are using frozen berries such as blueberries, strawberries or raspberries, add them on top of the oats the night before and they will defrost by the morning time.
Eat the overnight oats within 5 days of preparing in order to maintain quality and freshness.
LOOKING FOR MORE HEALTHY PUMPKIN OATMEAL IDEAS? TRY THESE EASY AND NUTRITIOUS PUMPKIN OVERNIGHT OATS: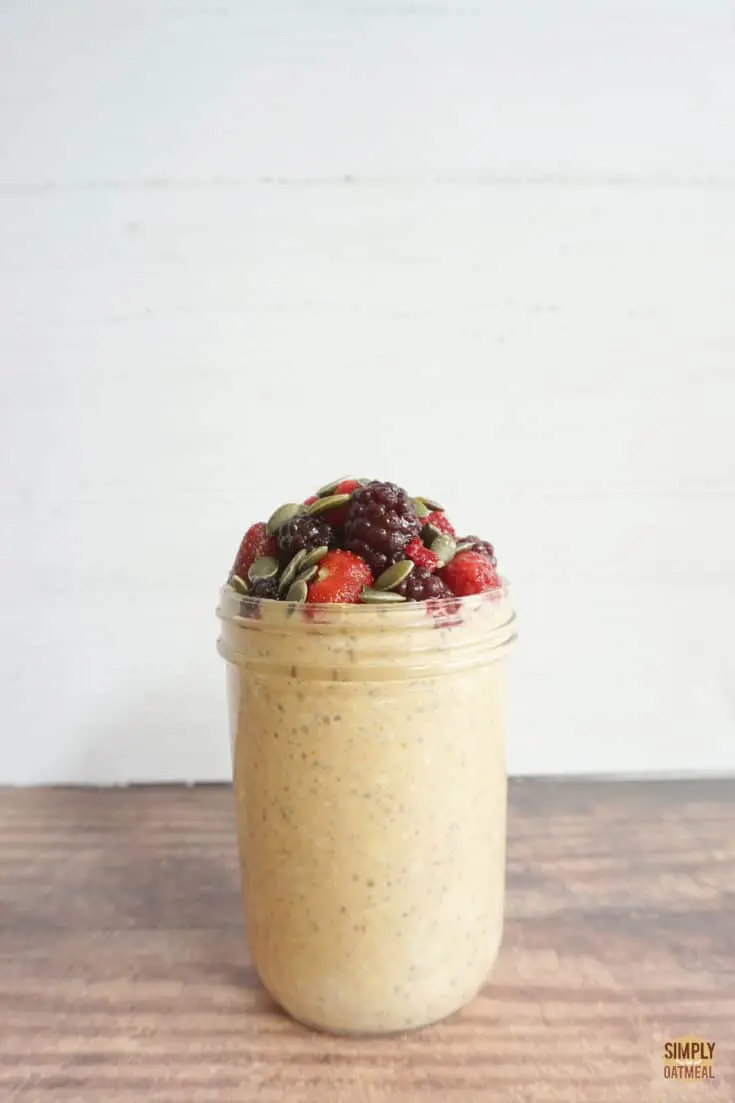 Yield:

1 serving
Pumpkin Seed Overnight Oats Recipe
Experience both creamy and crunchy in this pumpkin seed overnight oats recipe. The smooth pumpkin puree is complimented by the roasted pumpkin seeds.
The main ingredients naturally pair well together because the seeds are a byproduct of the squash. Make pumpkin puree from scratch and roast pumpkin seeds at the same time.
This recipe is a hearty and wholesome meal prep idea. Make a large batch and you will be all set with breakfasts or afternoons snack ideas for the entire week.
Follow along because pumpkin seed overnight oats are so easy to make. Furthermore, its simple to change up the oatmeal toppings so that you never get bored eating the same flavors everyday.
Ingredients
½ cup rolled oats
2 tablespoons Greek yogurt
1 tablespoon chia seeds
1 tablespoon honey
½ teaspoon vanilla extract
Instructions
In a medium-sized bowl or overnight oats jar, add the
oats, soy milk, yogurt, chia seeds, honey, vanilla extract and pumpkin pie spice. Stir well to combine the ingredients and the chia seed don't clump up.
Cover and store overnight in the refrigerator for at least 12 to 24 hours before consuming.
To serve, remove from the fridge and top with mixed berries, roasted pumpkin seeds or your preferred oatmeal toppings.
Notes
This recipe prepares a very thick oatmeal. Add more liquid before serving or even change up the overnight oatmeal ratio to make a creamy porridge-like oatmeal.
To make this recipe dairy free, use a vegan or non-dairy yogurt alternative like almond or coconut . The recipe ingredients also blend well with these non-dairy options!
For freshness and to ensure ingredients don't spoil, this pumpkin seed overnight oats recipe should be eaten within 4-5 days of preparation. Enjoy!
Recommended Products
As an Amazon Associate and member of other affiliate programs, I earn from qualifying purchases.
Nutrition Information:
Yield:
1
Serving Size:
1
Amount Per Serving:
Calories:

414
Total Fat:

12g
Saturated Fat:

2g
Trans Fat:

0g
Unsaturated Fat:

8g
Cholesterol:

1mg
Sodium:

97mg
Carbohydrates:

62g
Fiber:

11g
Sugar:

24g
Protein:

17g
Nutrition information isn't always accurate.