*This post may contain affiliate links. Please see my
disclosure
to learn more.
Use your leftovers to make this pumpkin purée overnight oats. It's the perfect dish, especially if you don't knowing what to make next.
Made with oven-roasted pumpkin purée, cozy spices, and hearty oats, these pumpkin overnight oats recipes are guaranteed to knock your socks off.

Whether you like to eat hot or cold oatmeal, we have created the perfect recipes for you to try. From pumpkin cheesecake overnight oats to pumpkin apple overnight oats, every bite will take you deeper into the cozy autumn weather.
Combine a gluten-free and vegan diet without having to change up any ingredients. The health benefits of oats are widespread, and combined with pumpkin you have a wholesome and nutritious meal.

You are in a perfect place to learn a classic flavor combination! Pumpkin purée overnight oatmeal only requires 5 ingredients to create this healthy and delicious meal.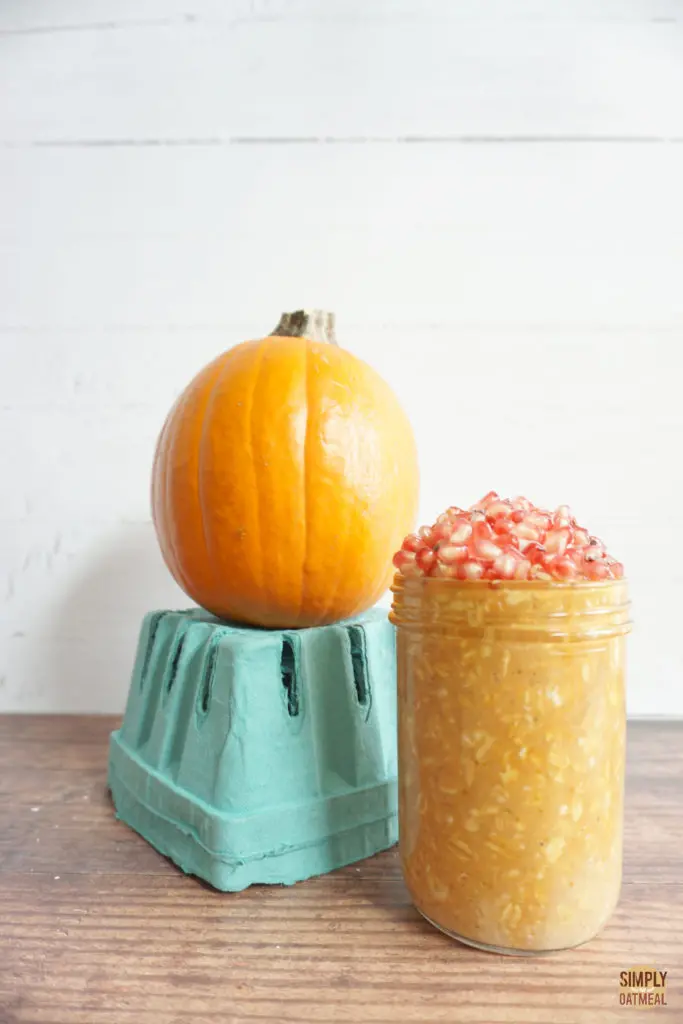 How to make pumpkin purée overnight oats?
Pumpkin purée overnight oats is an easy breakfast twist on the classic pumpkin pie. Fill your home with fall spices and enjoy as much pumpkin as possible. There is no need to worry about your skin changing orange.

When making a batch of homemade pumpkin purée, set aside some leftovers so you can whip up pumpkin purée overnight oatmeal. Prepare your customized meal plan with these 5 ingredients listed below.
Pumpkin Puree Overnight Oats Ingredients:
Liquid of your choice
Pumpkin puree
Pumpkin pie spice
Maple syrup
In a mason jar with a lid, combine all the dry ingredients. Lastly, add in the pumpkin purée and milk of your choice.

Stir well to mix everything together and then cover with a lid. Leave the container in the refrigerator overnight.

When you wake up in the morning, open the container and drizzle your favorite toppings on top and enjoy!

Be creative and select toppings such as pepitas, a scoop of nut butter, or even a sprinkle of ground cinnamon powder and extra maple syrup. The options are endless to the different combinations you can create.

You may also like this easy almond butter recipe!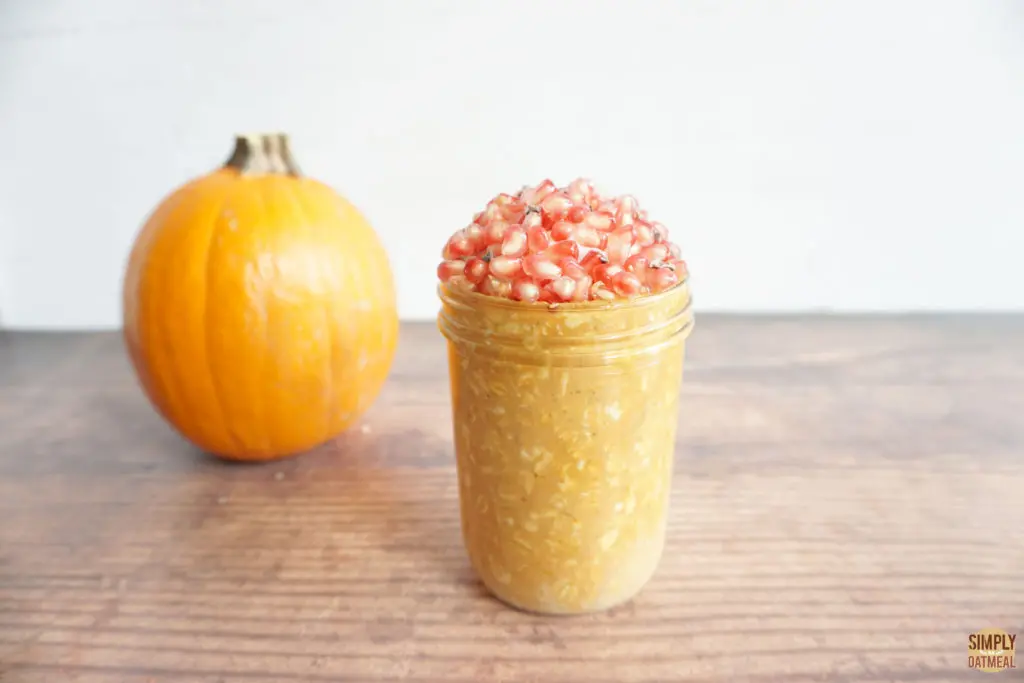 Pumpkin Purée Overnight Oats Tips:
There are many ways to make and store overnight oatmeal for the week. Here are our recommended tips to make your pumpkin puree overnight oatmeal taste fresh and enjoyable every time:
If the mixture is thick and pasty like, add more liquid and stir to achieve the desired consistency.
Add a scoop of Greek yogurt to make the texture even more creamy.
Use a small to midsize canning jar. Try the best overnight oats jars and meal prep them ahead of time. Easy grab and go meal during your busy week.
Simply let the oats soak for a minimum of 12 hours. They are ready to eat for a delicious and nutritious snack!
Add protein powder, chia seeds or flaxseed for an additional energy booster. Quick energy fix to carry to work or for a post workout snack.
Store in the fridge for up to 5 days to ensure peak freshness.
LOOKING FOR MORE PUMPKIN OVERNIGHT OATS FOR THIS WEEK?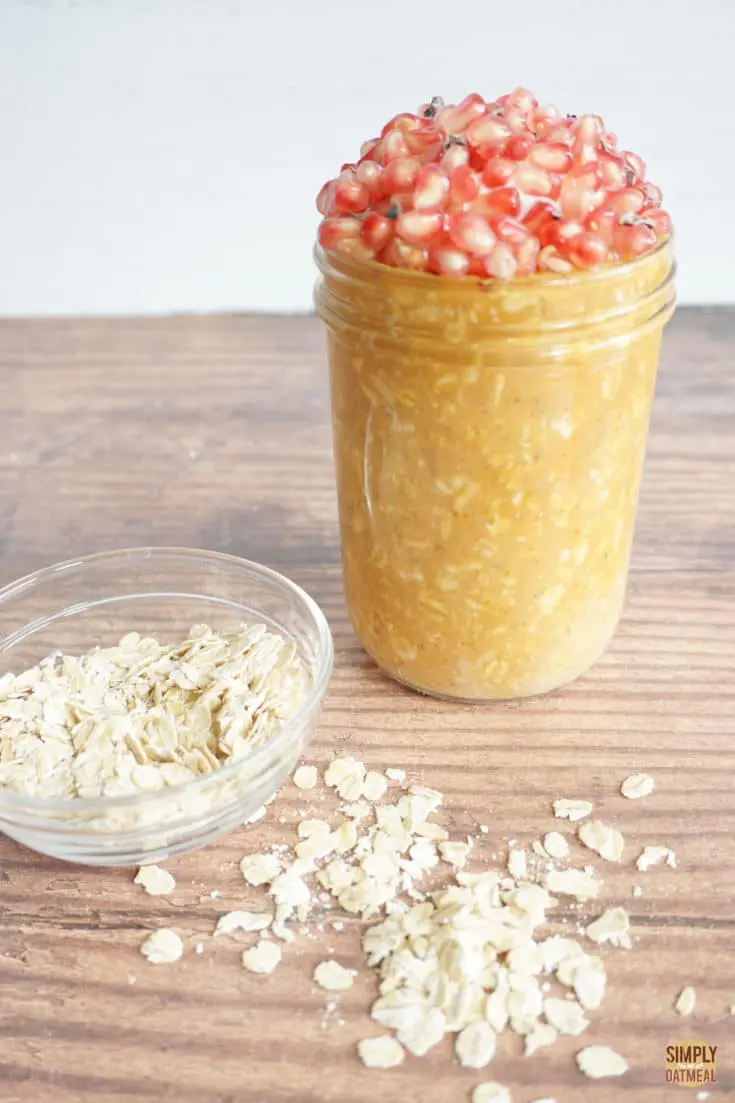 Yield:

1 serving
Pumpkin Puree Overnight Oats Recipe
Enjoy a healthy meal with this pumpkin puree overnight oats recipe. The wholesome pumpkin puree and hearty oats make a delicious combination that will keep you full all day long.
This recipe is easy to make and works really well as a meal prep idea for the busy week. Use it as a grab and go breakfast or even as a mid afternoon snack, either way it is a prefect way to eliminate the cravings.
Follow along and make a batch of this simple pumpkin puree overnight oats. Load it with your favorite toppings and you will be guaranteed to enjoy it at any time of day.
Ingredients
½ cup rolled oats
1 tablespoon maple syrup
Instructions
In a medium-sized bowl or overnight oats jar, add the oats, almond milk, pumpkin puree, pumpkin pie spice and maple syrup.
Mix very well to combine all ingredients.
Cover and store overnight in the refrigerator for at least 12 to 24 hours before consuming.
To serve, remove from the fridge and top with your favorite oatmeal toppings.
Notes
This recipe serves up a very thick-style oatmeal that is spoonable. Consider adding more liquid or pumpkin puree just before serving. Its easy to change up the overnight oatmeal ratio to make a thinner and creamy porridge-like oatmeal.
This recipe is vegan, gluten-free and non-dairy!
For freshness and to ensure ingredients don't spoil, this pumpkin puree overnight oats recipe should be consumed within 4-5 days of preparation. Enjoy!
Recommended Products
As an Amazon Associate and member of other affiliate programs, I earn from qualifying purchases.
Nutrition Information:
Yield:
1
Serving Size:
1
Amount Per Serving:
Calories:

251
Total Fat:

4g
Saturated Fat:

1g
Trans Fat:

0g
Unsaturated Fat:

3g
Cholesterol:

0mg
Sodium:

11mg
Carbohydrates:

49g
Fiber:

7g
Sugar:

15g
Protein:

7g
Nutrition information isn't always accurate.