*This post may contain affiliate links. Please see my
disclosure
to learn more.
Do you look forward to the seasonal pumpkin spice latte from your favorite coffee shop? You are in the right place! Make yourself a healthy pumpkin spice latte overnight oats that tastes exactly like your favorite latte and also gives you a caffeine boost at the same time.
Looking for more recipe ideas to make with homemade pumpkin puree? Don't worry! We've rounded up the best pumpkin overnight oats recipesto make your autumn cozy and hearty all season long.

From pumpkin spice overnight oats to pumpkin apple overnight oats, each recipe can be specifically customized for your taste and dietary preference. Meal prep a large batch and you will be ready with breakfast or afternoon snack ideas for the week.
We all know that the morning time already requires caffeine, so start your day off on the right foot. Add a spoon of Greek yogurt to make this creamy latte like meal prep. Finish the overnight oatmeal with a sprinkle of pumpkin pie spice on top that'll make the soaked oats taste exactly like the autumn beverage.

Oats contain a number of research supported health benefits. Combined with pumpkin, this is a wholesome and fulfilling meal.

As the autumn weather begins to change and the seasons transition, its time for a hearty serving of pumpkin spice latte overnight oats. The warming spice blend, hearty oats, natural sweetness from the pumpkin puree, and the taste of coffee all go well together.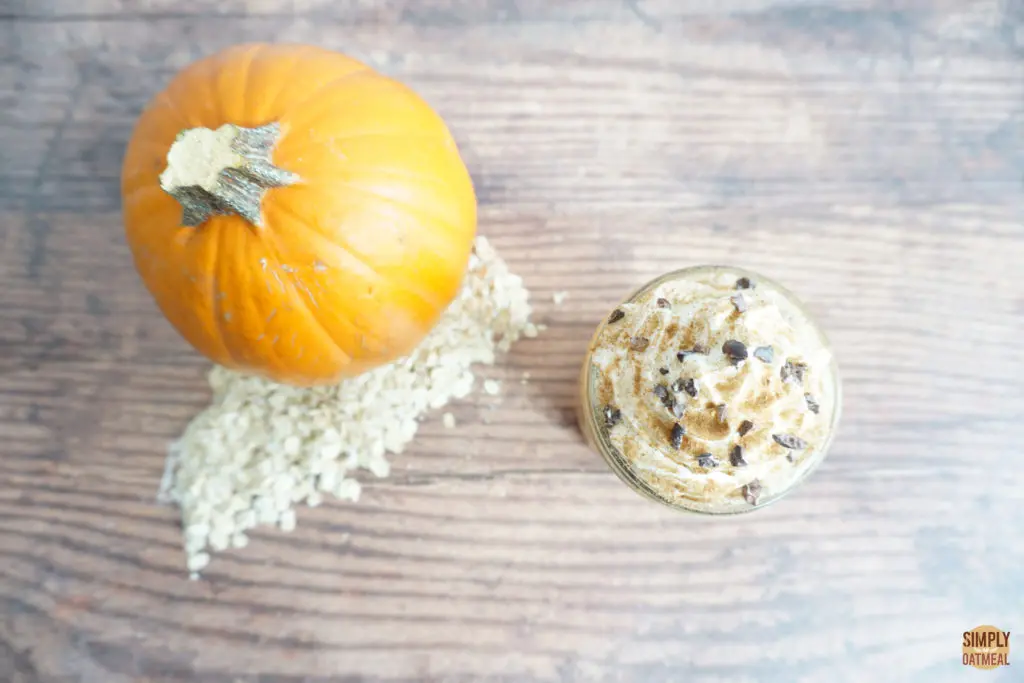 How to make pumpkin spice latte overnight oats?
Pumpkin spice latte overnight oats easy to make and also a popular breakfast on the go. Simply blend brewed coffee and pumpkin puree for the foundation of this overnight oats recipe.

Do you use leftover coffee or cold brewed coffee for overnight oats? Whether you use leftover coffee or cold brewed coffee, the choice is up to you. However, they do tend to taste slightly different because cold brewed coffee is about 67% less bitter than traditionally brewed coffee.

Grab your favorite type of coffee and the few additional ingredients listed below. Follow along and let's make a finger-licking combination of flavors.
Pumpkin Spice Latte Overnight Oatmeal Ingredients:
Liquid of your choice
Greek yogurt
Pumpkin puree
Pumpkin pie spice
Vanilla extract
Chia seeds
Combine all of the ingredients except the oats in a mason jar. Stir until very smooth and everything is combined well.

Add the oats and stir until the oats have been fully moistened. Cover and place in the refrigerator overnight.

In the morning or late afternoon snack, sprinkle on your preferred oatmeal toppings. Stir in any additional milk to soften the oats and make a porridge style oatmeal before serving,.

As far as toppings are concerned, be creative and add granola, a drizzle of maple syrup over the top, and mini chocolate chips to fuel your sweet cravings for the day! Nuts, seeds and cocoa nibs also sound great to me!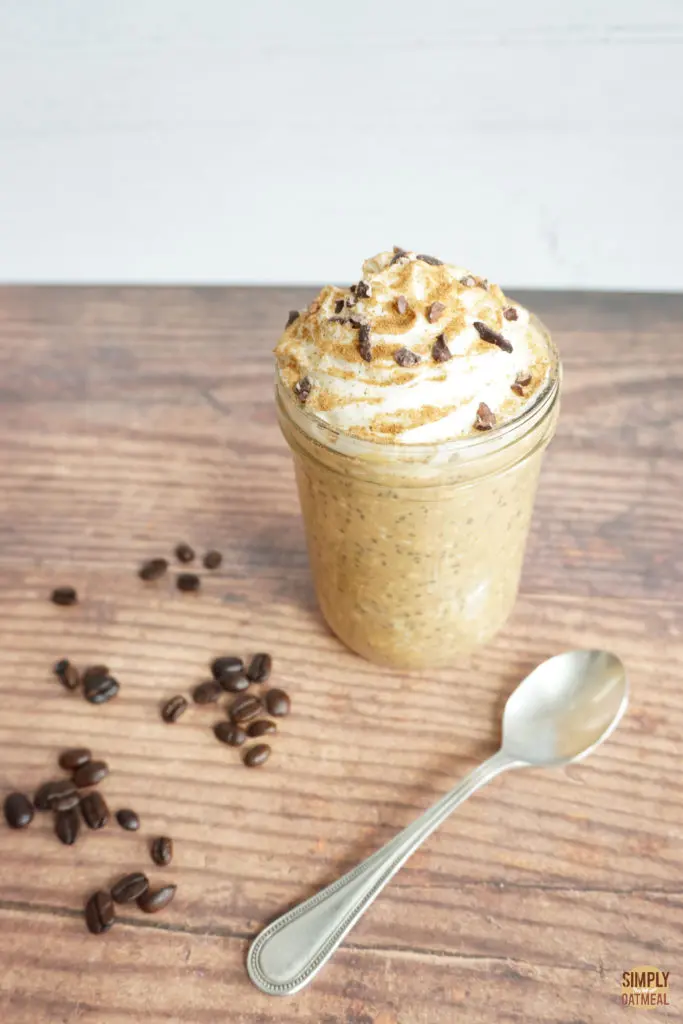 Pumpkin Spice Latte Overnight Oats Tips:
There are countless variations when it comes to assembling soaked oatmeal. Here are important tips to remember when making pumpkin latte overnight oats.
To achieve a spoonable porridge-like consistency when making overnight oats, stick with a 2:1 ratio of liquid to oats.
Add a pinch of salt to make the overnight oats taste less like cardboard and actually enhance the flavor.
Substitute your favorite sweetener if you prefer not to use honey.
Use old fashioned rolled oats instead of instant oats to give your creamy and smooth texture to the pumpkin spice latte overnight oatmeal. Instant oats become too mushy for soaked oats
Eating protein when drinking coffee reduces the hormones linked to anxiety and depression.
Store several batches in the best overnight oats containers. They are tall enough to soak the oats properly and are also microwave-safe. Simply heat up the soaked oats on a chilly morning and you're all set to go.
MORE PUMPKIN OVERNIGHT OATS TO TRY NEXT: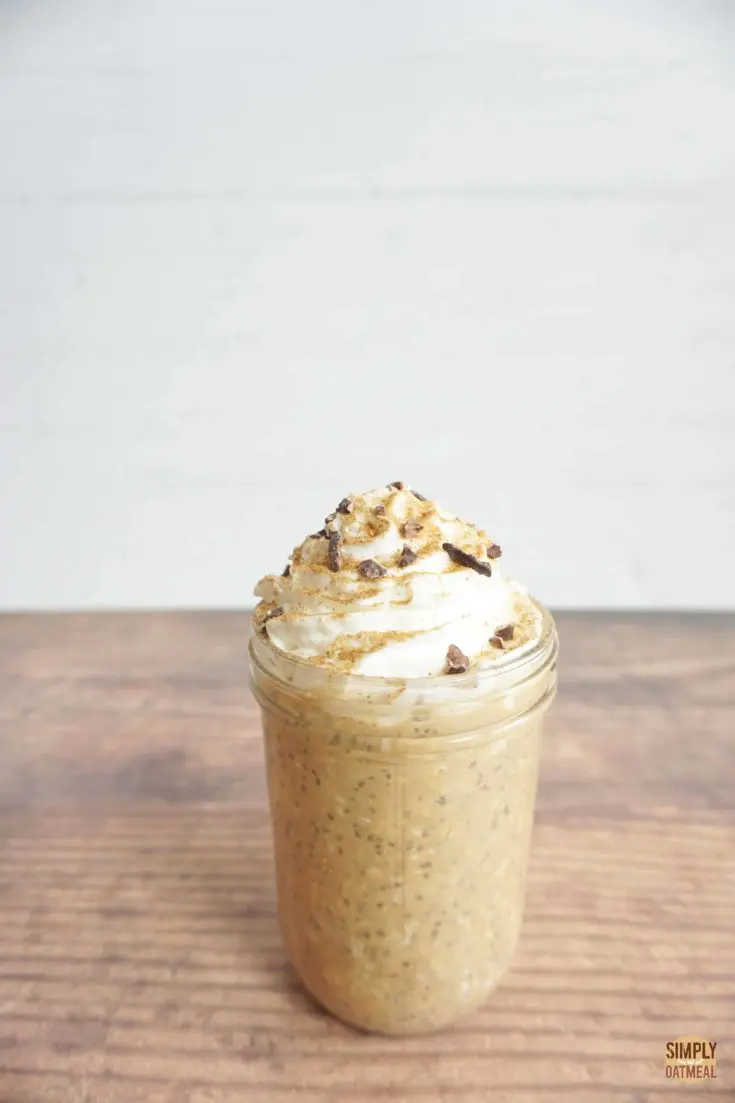 Yield:

1 serving
Pumpkin Spice Latte Overnight Oats Recipe
Enjoy the autumn flavors of this pumpkin spice latte overnight oats recipe. It'll become your new favorite combination.
Brewed coffee, sweet pumpkin puree and the aromatic blend of spices all pair extraordinarily well with the oats. It tastes just like the seasonal favorite from the local coffee shop.
The meal contain enough caffeine to serve and a nice afternoon pick me up. In addition, the creamy oats will help you stay full until your next meal.
Grab your meal prep container and let's quickly prepare a batch of pumpkin spice latte overnight oats.
Ingredients
½ cup old fashioned oats
½ cup brewed coffee, cold
2 tablespoons Greek yogurt
1 tablespoon chia seeds
1 tablespoon honey
½ teaspoon vanilla extract
Instructions
In a medium-sized bowl or overnight oats jar, add the oats, cold coffee, almond milk, yogurt, pumpkin puree, pumpkin pie spice, vanilla, honey and chia seeds.
Stir well to ensure the chia seeds don't clump together.
Cover and store overnight in the refrigerator for at least 12 to 24 hours before consuming.
To serve, remove from the fridge and top with chocolate chips, coca nibs, pepitas or your choice of oatmeal toppings.
Notes
This recipe makes a thicker oatmeal preparation that is very spoonable. Add more coffee, almond milk or yogurt to change up the overnight oatmeal ratio and make a creamy porridge-like oatmeal.
To make this recipe dairy free, use a vegan or dairy-free yogurt alternative like almond or coconut. The flavor substitution will also blend very well with this recipe!
For freshness and to ensure ingredients don't spoil, this pumpkin spice latte overnight oats recipe should be consumed within 4-5 days of preparation. Enjoy!
Recommended Products
As an Amazon Associate and member of other affiliate programs, I earn from qualifying purchases.
Nutrition Information:
Yield:
1
Serving Size:
1
Amount Per Serving:
Calories:

296
Total Fat:

7g
Saturated Fat:

1g
Trans Fat:

0g
Unsaturated Fat:

5g
Cholesterol:

1mg
Sodium:

23mg
Carbohydrates:

47g
Fiber:

10g
Sugar:

11g
Protein:

11g
Nutrition information isn't always accurate.