*This post may contain affiliate links. Please see my
disclosure
to learn more.
Pumpkin Greek yogurt overnight oats are filled with the natural sweetness of pumpkin puree. The creamy Greek yogurt adds enough protein to qualify this meal as a healthy post workout breakfast or midday snack.
Whether you are struggling to use up leftover pumpkin puree or simply looking for a healthy meal, try making pumpkin overnight oats. Make a large batch of pumpkin Greek yogurt overnight oats and you are guaranteed to enjoy every bite!

From pumpkin puree overnight oats to pumpkin seed overnight oats, you will be tempted to use every drop of pumpkin puree that you have left. Satisfy your belly and fulfill your taste buds with a hearty batch of pumpkin Greek yogurt overnight oats.
The combination of pumpkin puree and ground cinnamon in the pumpkin pie spice brings the taste of fall to your rise and shine. In addition, Greek yogurt makes the overnight oats thick, creamy and definitely full of protein.

Oats are a nutritious food that is packed full essential vitamins and minerals. Combined with the roasted pumpkin puree, the soaked oats will be a fulfilling meal at any time of day.

Preparing overnight oatmeal is super easy and it also makes a perfect grab and go breakfast in the morning. Cooking is an option, but many of the recipes only take a few minutes to make.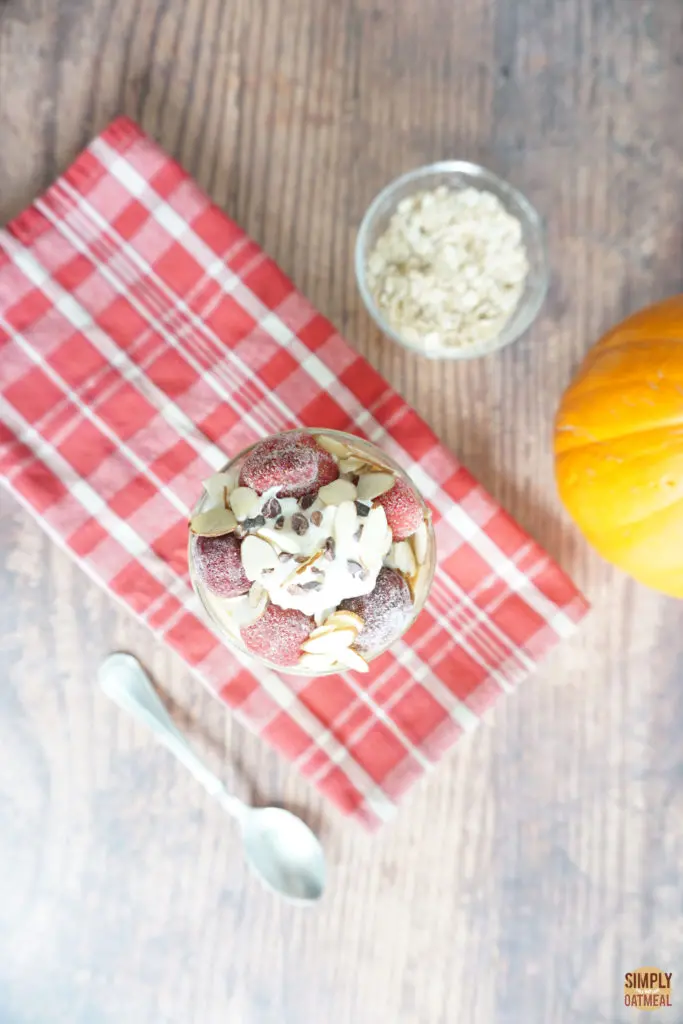 How to make pumpkin overnight oats Greek yogurt?
Include this pumpkin Greek yogurt overnight oats in your meal prep ideas for the week. All you need are a few staple ingredients listed below to make your own overnight oatmeal in less than 5 minutes.

You may also like this: There is no need to mix your own spice blend or to even cook the pumpkin from scratch. However, you can learn how to make pumpkin puree at home if you want to make it from scratch. We also make our own pumpkin pie spice recipe to enhance the complexity of the flavors.
Pumpkin Greek Yogurt Overnight Oats Ingredients:
Liquid of your choice
Greek yogurt
Pumpkin puree
Honey
Pumpkin pie spice
Chia seeds
Combine the Greek yogurt, milk, pumpkin puree and sweetener in a mason jar. Stir until fully combined.

Next, add the oats, pumpkin pie spice and chia seeds. Mix well so that the spices and chia seeds don't clump up. Cover with a lid and then refrigerate for at least 12 hours for best results.

Prepare a large batch and store the leftover overnight oats in separate jars. Keep in the refrigerator for up to 5 days.

When it comes to oatmeal topping, try adding more yogurt, chopped nuts, cacao nibs, diced apples or even candied ginger. A tablespoon of raisins will also customize your overnight oats and help to change it up every morning.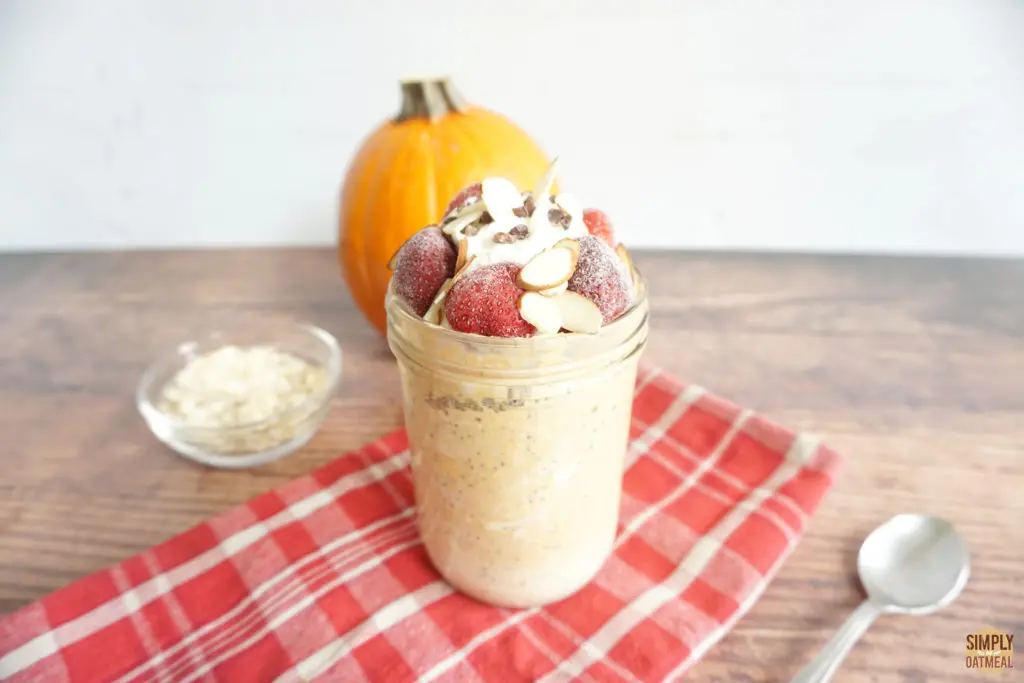 Pumpkin Greek Yogurt Overnight Oats Tips:
A scoop of Greek yogurt is great addition to make your pumpkin overnight oats extra smooth and creamy. Here are the best tips to keep your soaked oats fresh and delicious every time.
Use certified gluten-free rolled oats to make sure that your oatmeal is gluten-free.
Quick oats will get too soggy and turn into mush when soaked with milk.
Steel cut oats won't soften very much, which results in a much chewier texture.
To make it vegan, choose a dairy-free alternative like soy milk, oat milk or almond milk. Instead of honey, use maple syrup to keep it free from animal byproducts.
Overnight oats are typically served chilled. However, if you prefer warm oats, you can heat them in the microwave. Use a jar that is microwave-safe and stir frequently while you're warming it up.
Meal prep overnight oats ahead of time by making a batch on Sunday evening. As a result, you will have it on hand in the fridge for the whole week. They typically stay fresh in the fridge for up to 5 days.
If you want to reduce the creaminess, then substitute water to balance out the effects of the Greek yogurt.
TRY THESE PUMPKIN OATMEAL RECIPES: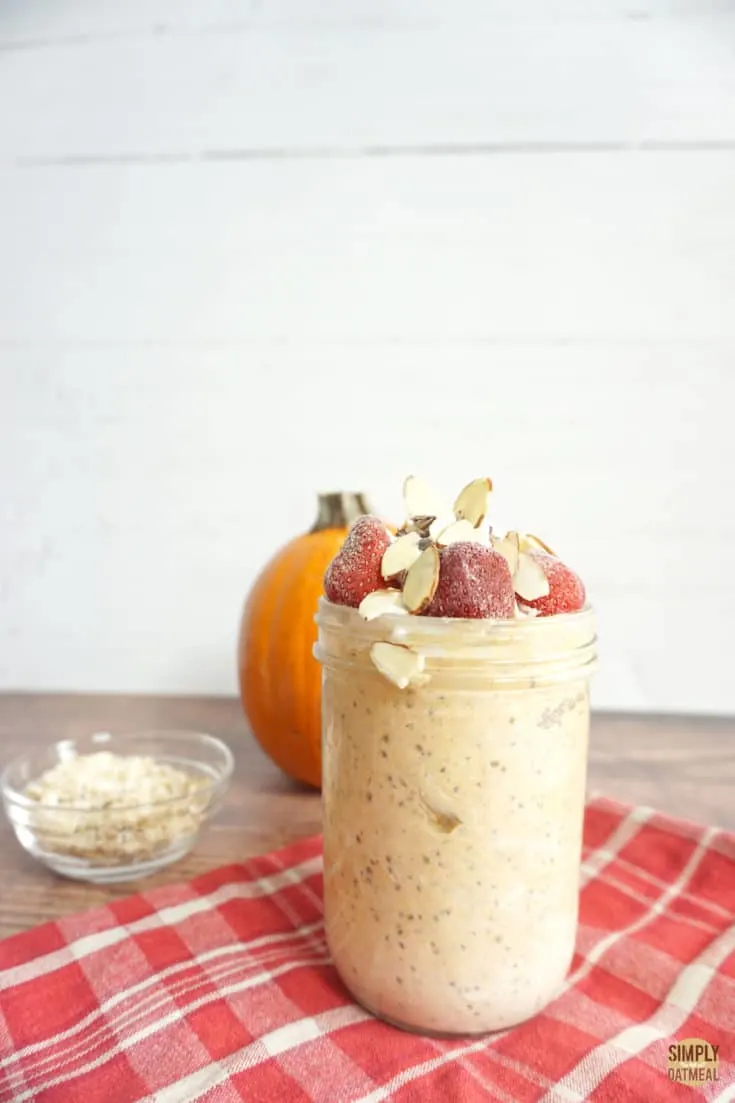 Yield:

1 serving
Pumpkin Greek Yogurt Overnight Oats Recipe
Enjoy the creamy combination of pumpkin Greek yogurt overnight oats. This recipe is easy to follow and is jam packed with nutrition.
Enjoy this fall flavored meal prep idea. Prepare it as a grab and go breakfast, or even a midday snack to tide you over until dinner.
The wholesome pumpkin puree and protein rich yogurt leaves you feeling satiated all day long. You are guaranteed to enjoy this autumn inspired dish.
Grab you mason jar or container and let's quickly prepare a batch of pumpkin Greek yogurt overnight oatmeal.
Ingredients
½ cup old fashioned oats
½ cup Greek yogurt
¼ cup milk
1 tablespoon chia seeds
1 tablespoon maple syrup
Instructions
In a medium-sized bowl or overnight oats jar, combine the oats, Greek yogurt, milk, pumpkin puree, maple syrup, pumpkin pie spice and chia seeds. Stir well so the chia seeds and spice blend doesn't clump together.
Cover and store overnight in the refrigerator for at least 12 to 24 hours before consuming.
To serve, remove from the fridge and top with more Greek yogurt, nuts, seeds, cocoa nibs or your preferred oatmeal toppings.
Notes
This recipe contains lots of yogurt, which makes a creamy porridge-style soaked oatmeal. Change up the overnight oatmeal ratio by reducing the liquid or by adding more oats to thicken the oatmeal.
To make this recipe dairy free, use a vegan or dairy-free yogurt alternatives like almond or coconut yogurt. Eliminate the honey or substitute for maple syrup or sweetener of your choice. Furthermore, you will need to substitute the milk with apple juice, water or another dairy-free beverage. The recipe is versatile and these ingredients also blend well with the overnight oats recipe!
For freshness and also to ensure the ingredients don't spoil, this pumpkin Greek yogurt overnight oats recipe should be consumed within 4-5 days of preparation. Enjoy!
Recommended Products
As an Amazon Associate and member of other affiliate programs, I earn from qualifying purchases.
Nutrition Information:
Yield:
1
Serving Size:
1
Amount Per Serving:
Calories:

384
Total Fat:

8g
Saturated Fat:

2g
Trans Fat:

0g
Unsaturated Fat:

5g
Cholesterol:

11mg
Sodium:

83mg
Carbohydrates:

58g
Fiber:

10g
Sugar:

18g
Protein:

22g